It is with a broken heart and flowing tears that I take a moment to honor and celebrate my sweet kitty Gypsy who was often my DIY model and muse. She died unexpectedly on November 25, 2022. and, as I looked for pictures of her, I realized what a big part of my upcycling and transformational journey she has been.
My first commission project, as an artist, was a bench for Dance Place created from chairs collected from neighbors (see photo). This pretty black cat, who I had not seen before, had kittens in next door and all watched me create this project in my backyard. I fed them; she stayed from then on while her kittens found other homes in the nearby neighborhood. Since then, she graced my gardens and yard with her furry beauty and chatty personality. Each time I did DIY projects outside, you can bet that she was by my side, managing things with her expressive meows.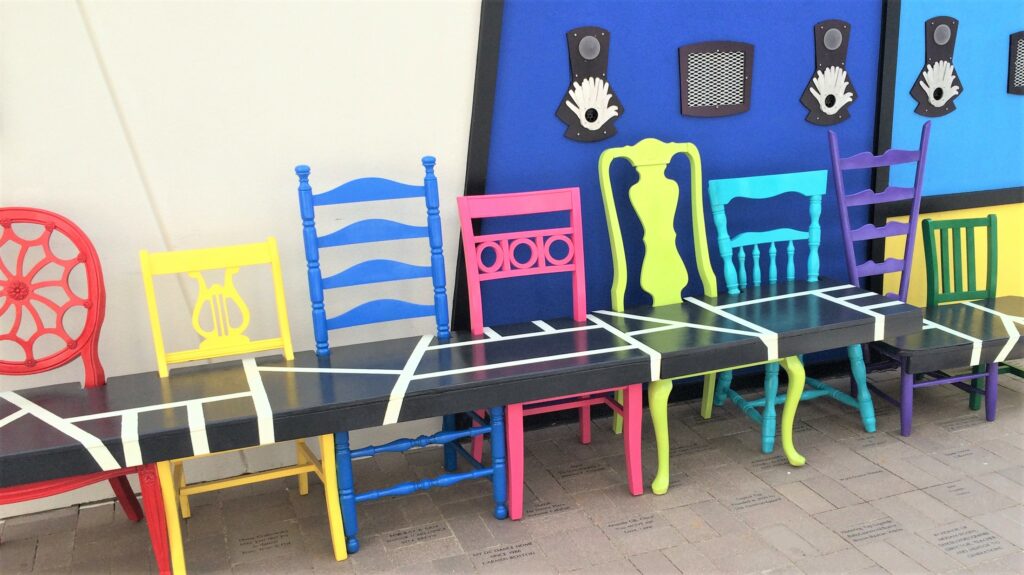 In her honor, here are 6 DIY projects where she provided her own special feline style to my blog pics and posts.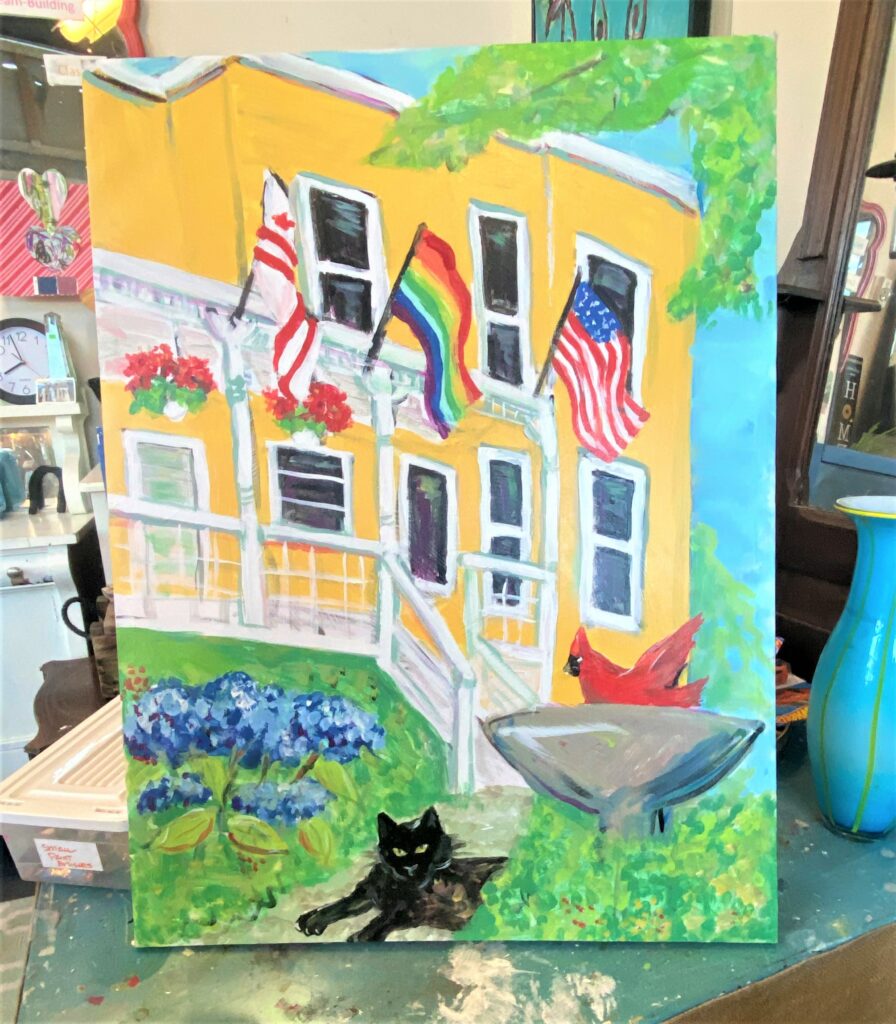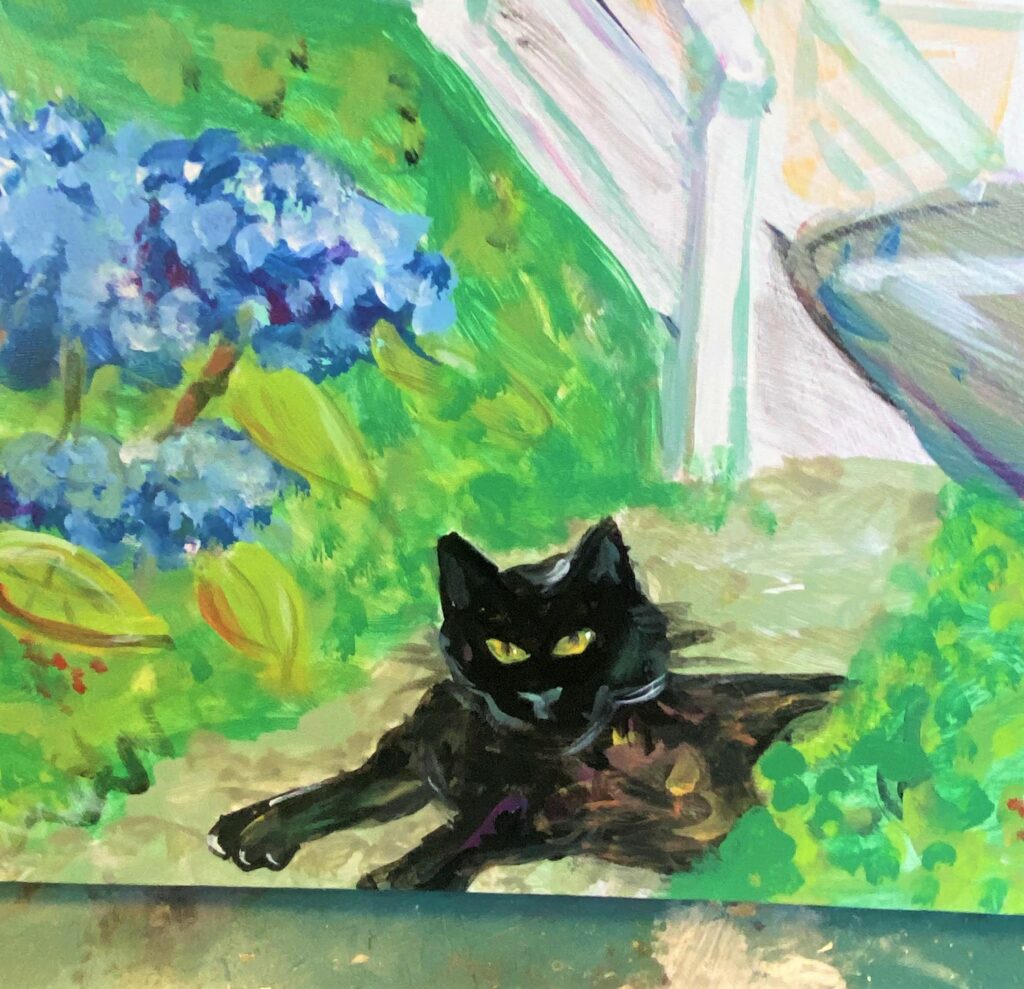 Thank you sweet, Gypsy for all the joy and love you brought to my life. Thank you, thank you, thank you for adding a special something to my world. I miss you dearly, my kitty family member.
Here's How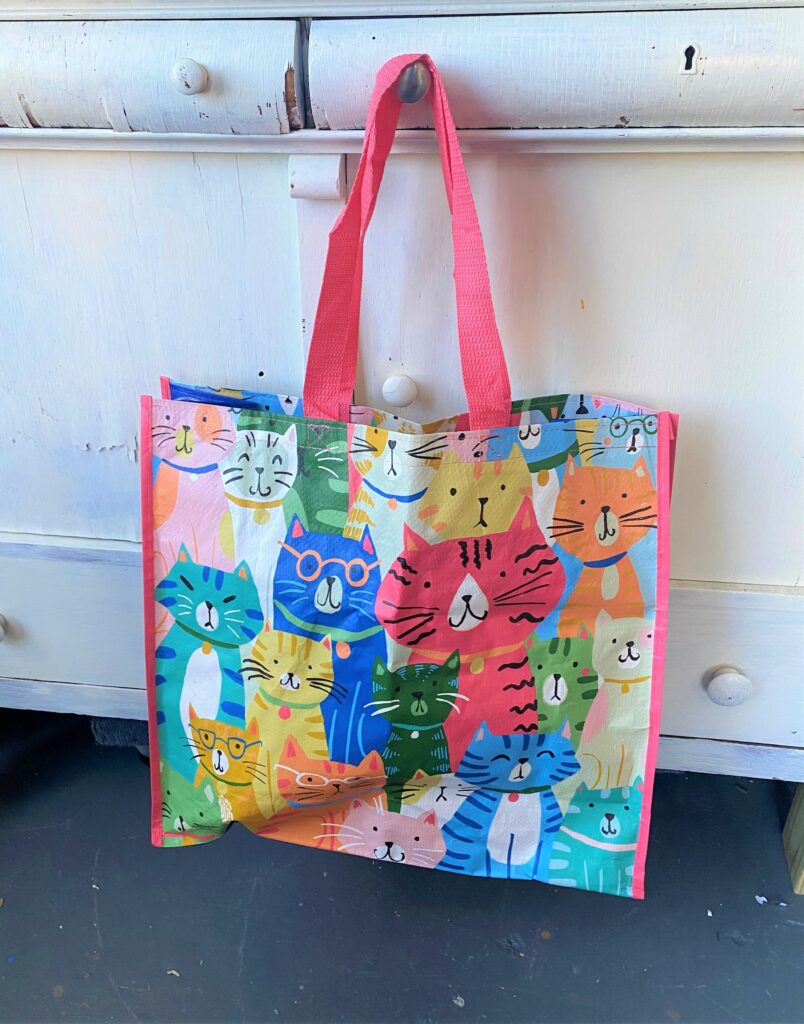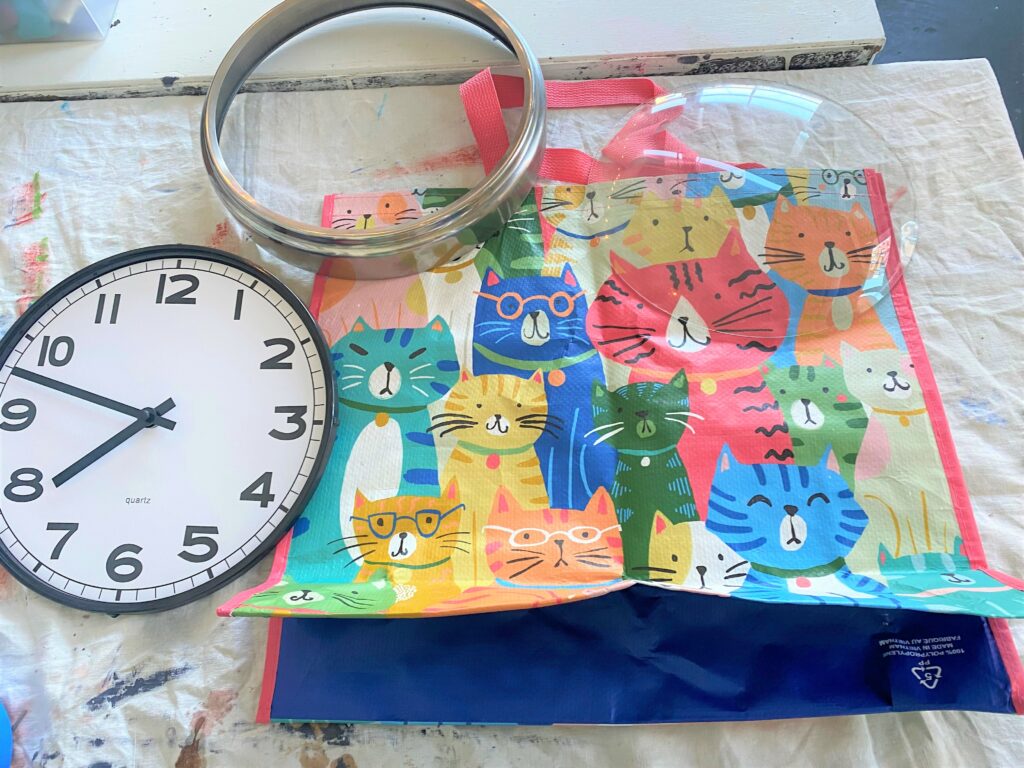 Upcycle a thrifted schoolhouse clock by using the artwork from a reusable shopping bag.  This project is totally a favorite of Mother Nature as well as Gypsy given the friendly feline images.  The clock was taken apart and it base was traced on the kitty-covered bag.  The circle was cut from the bag.  In order to fit it on the clock face, a small line was cut from the outer edge to the center.  This was carefully placed over the clock's hands and secured in place with Mod Podge.  It was easy reassembled and is now well-loved by a fellow cat lover. 
Here's How
A lonely single chair was given the team USA treatment. The chair seat was removed; parts of second-hand blue denim jeans were cut to size then secured to its underside with staple gun and staples. The chair's wooden frame was spray painted with a bright cherry red tone. White paint was carefully applied to the frames various parts to call attention to them and add visual interest. Small stars, cut from a map, were adhere to the front side of its back using Mod Podge. It became the perfect pooch for my sweet kitty friend before being used as a desk chair for a cute kid.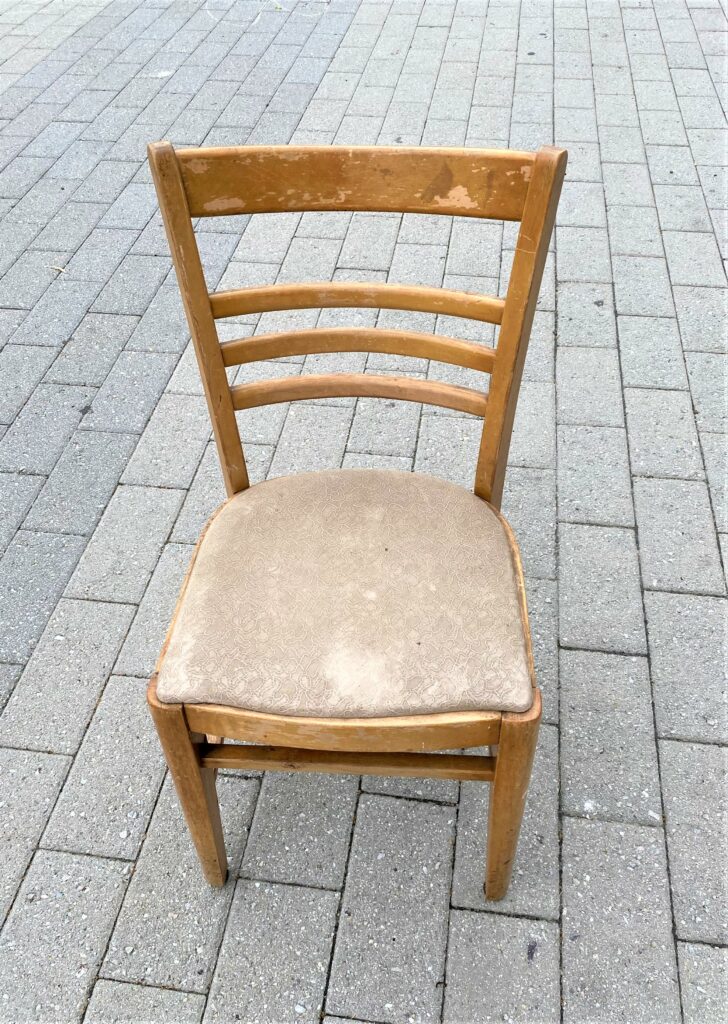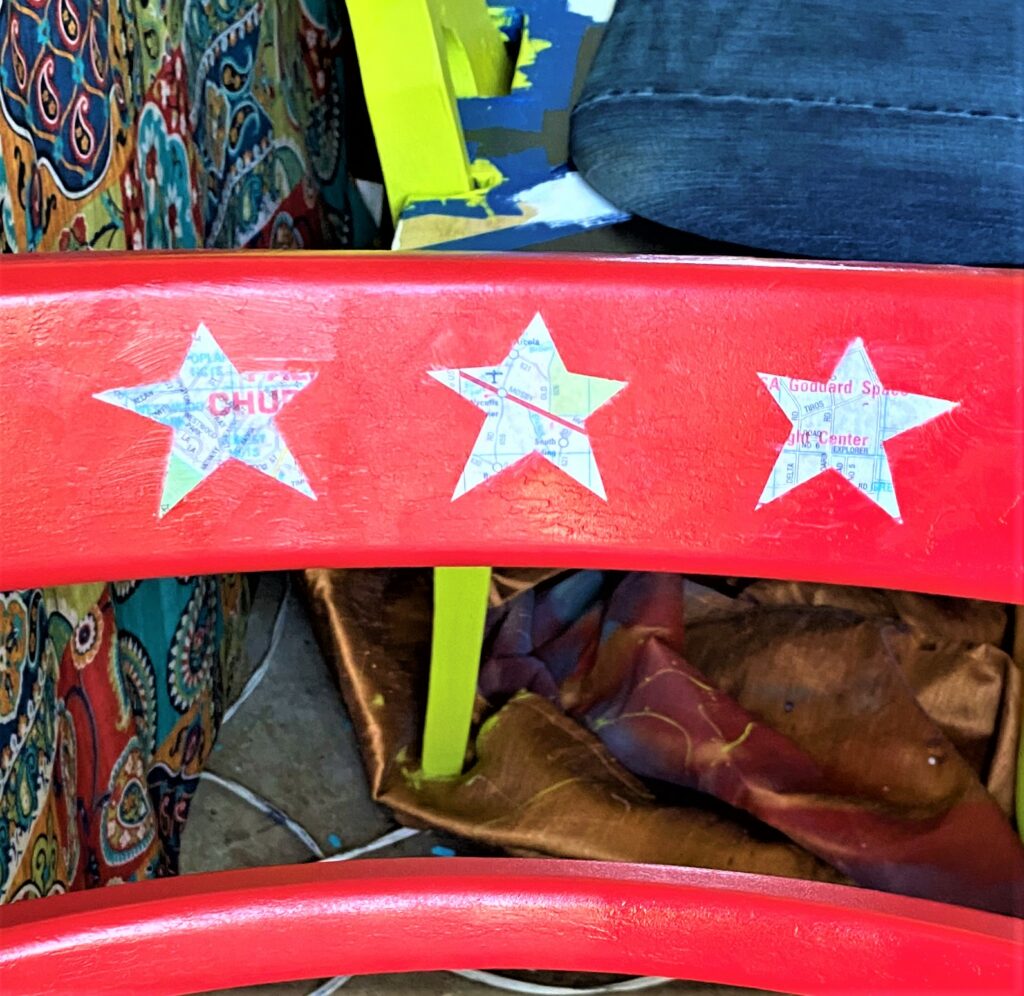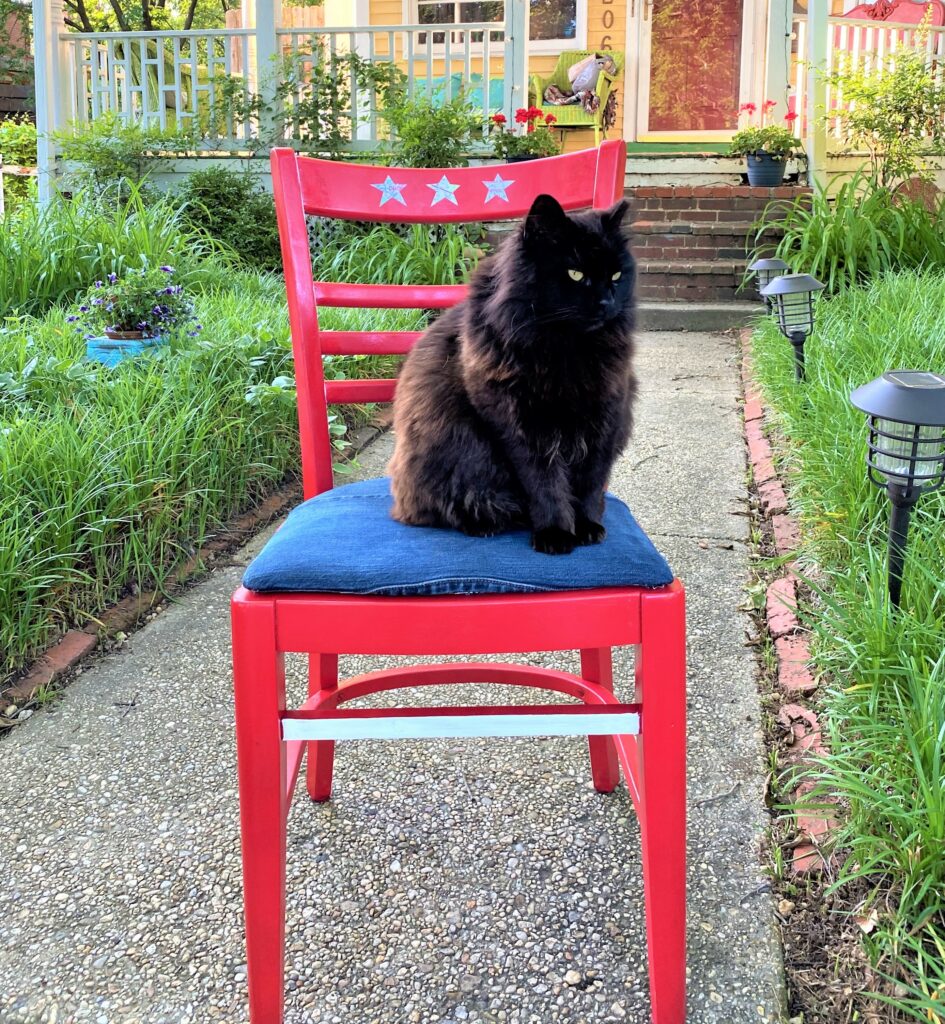 Here's How
One of my most popular blogs was when I took a part of metal bedframe to create a unique, whimsical and very functional trellis.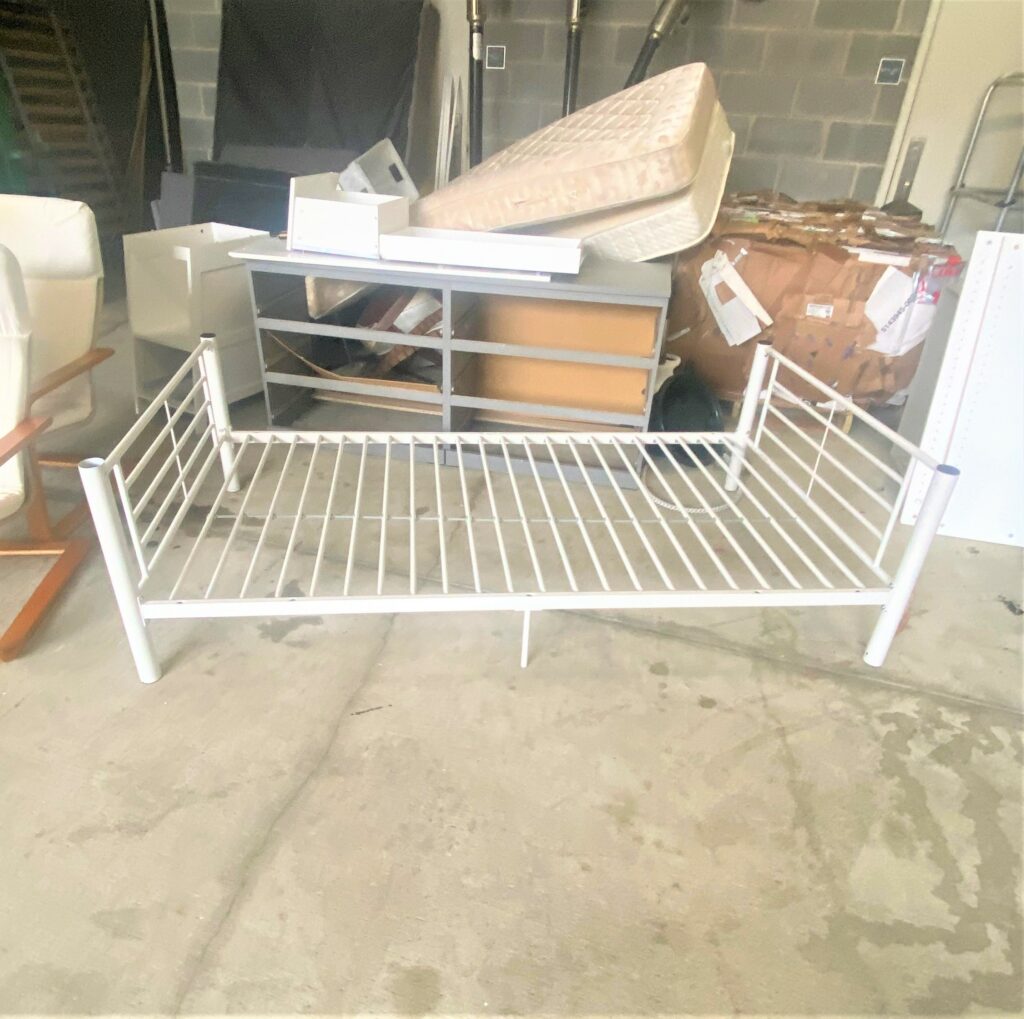 Using drills, hooks and parts of chains, the bed's base was hung from the top edge of my front porch ceiling.  Two smaller bed pieces were stacked on top of each other and also hung from hooks and chain links.  Lastly, two metal art pieces with plants were sprayed painted bright green and added using the same hook and chain process.   Flower boxes were secured to the rail and flowering ivy was added.  A silver metal watering was repurposed as a flowerpot.  The trellis and its flowing vegetation gave additional shade for Gypsy and friends when they chilled on the porch.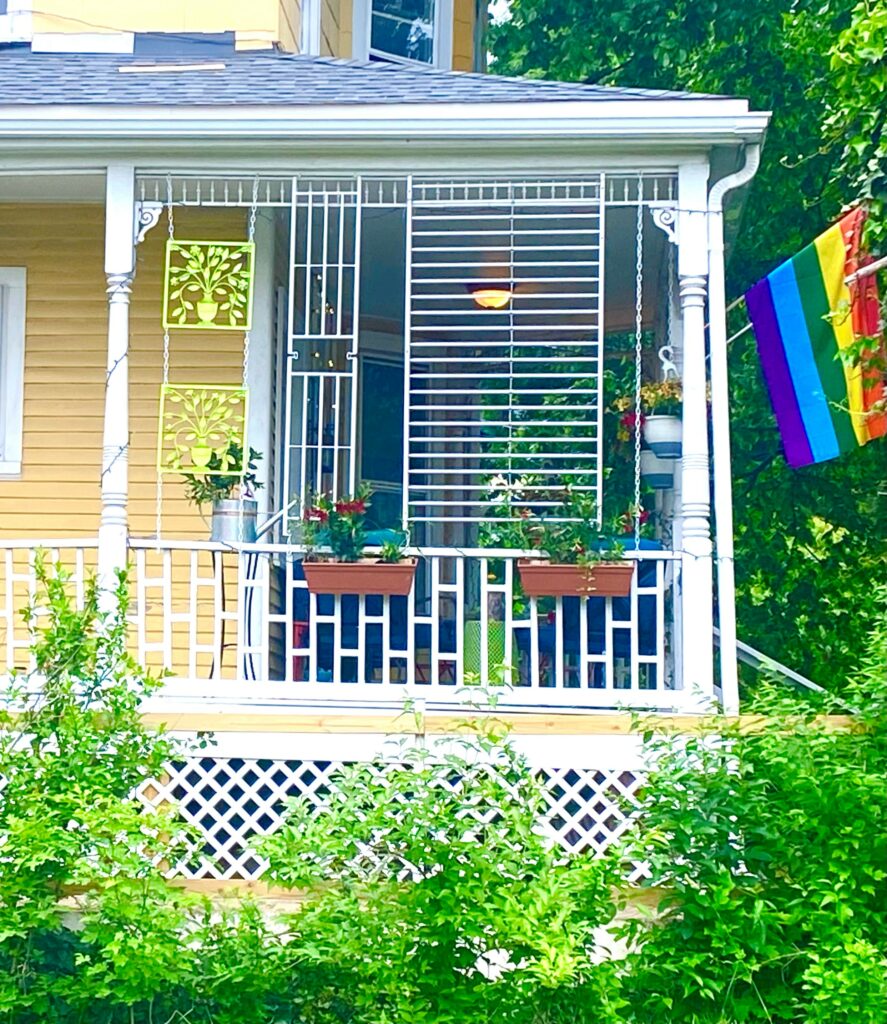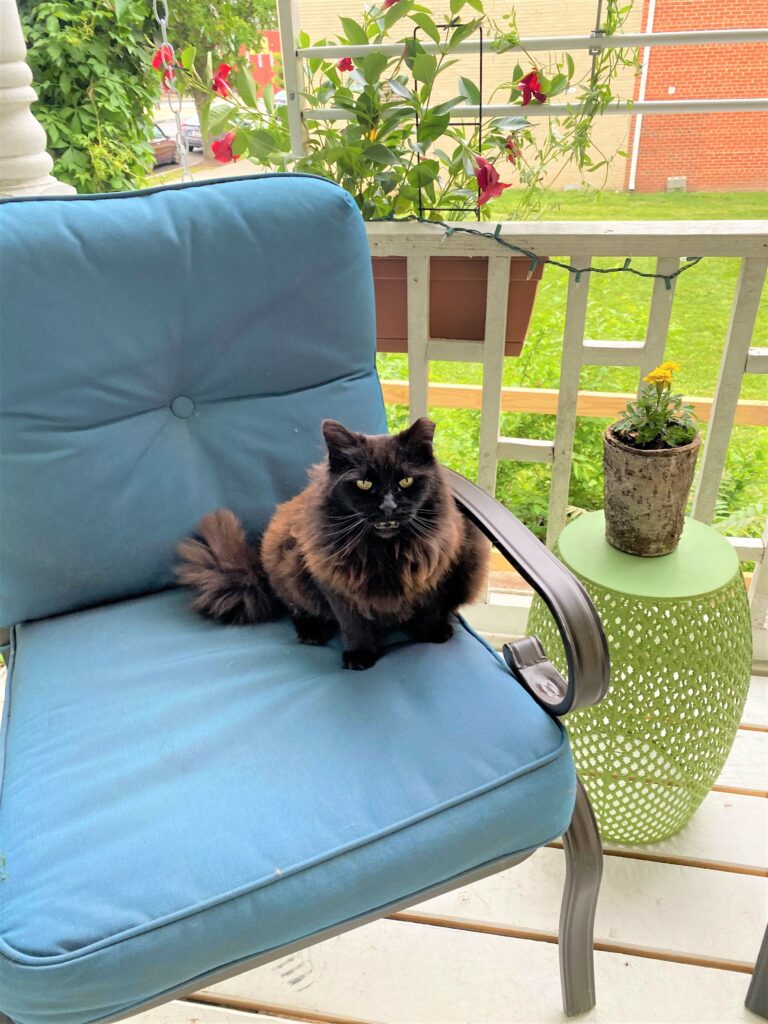 Here's How
Goodwill always has interesting and beautiful containers that can be repurposed as vases.  There is something elegant and inviting when a silver-plated tea pot/server is reused to hold flowers.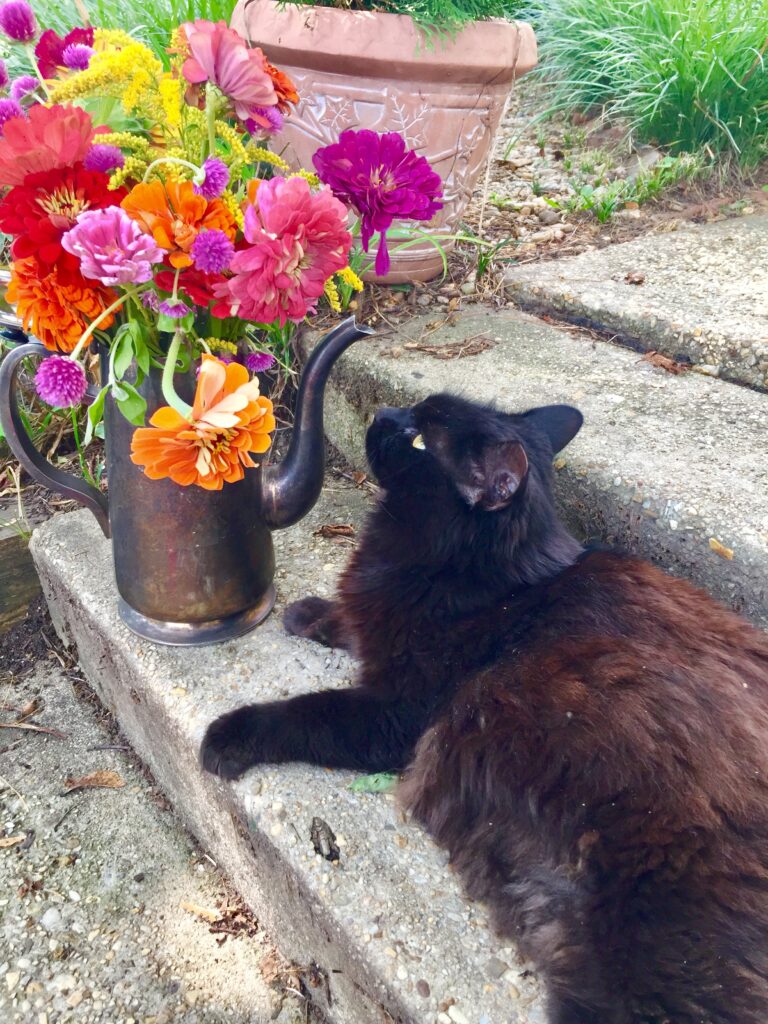 We don't typically use these pieces much more, so give it a new life, too.  Simply add water and fresh flowers—and a pretty kitty to keep it company.
Here's How
This is another project that combines Goodwill finds with colorful reusable shopping bags.  Use several shades of green to add light layers to the stool's legs to give it a fresh new look.  The various shades, one on top of the other, gives depth and delight.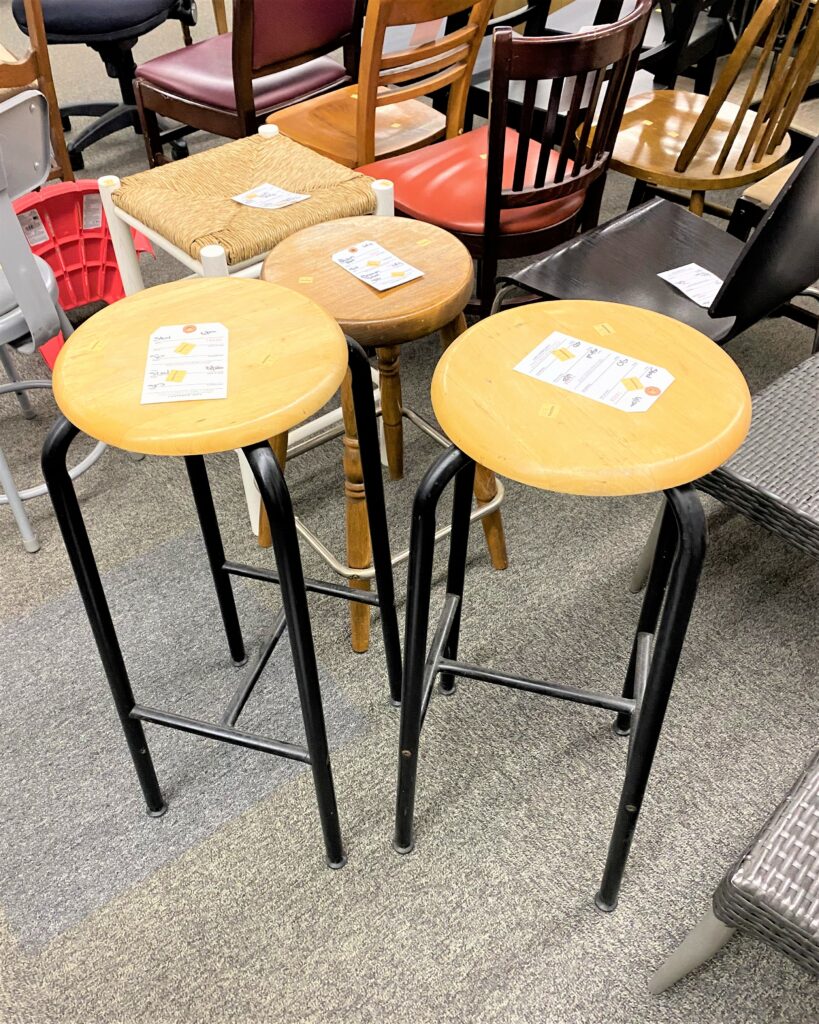 Trace the stool's seats on the shopping bag, cut it out leaving an extra inch border around it.  Use your stable gun to secure it beneath the seat.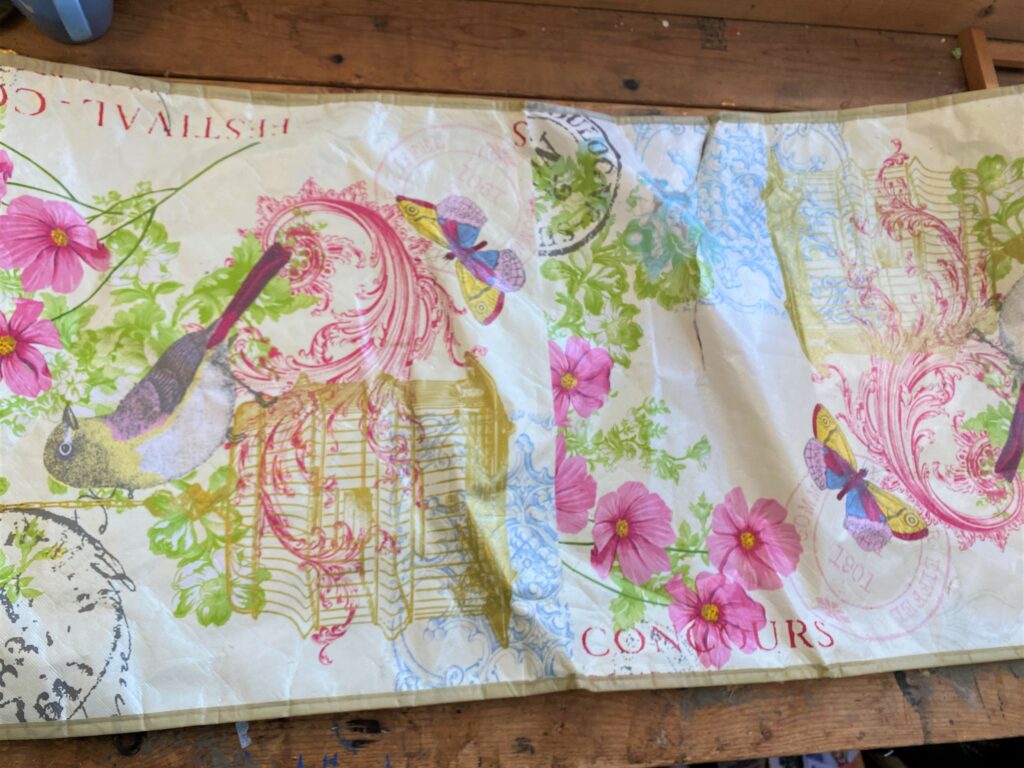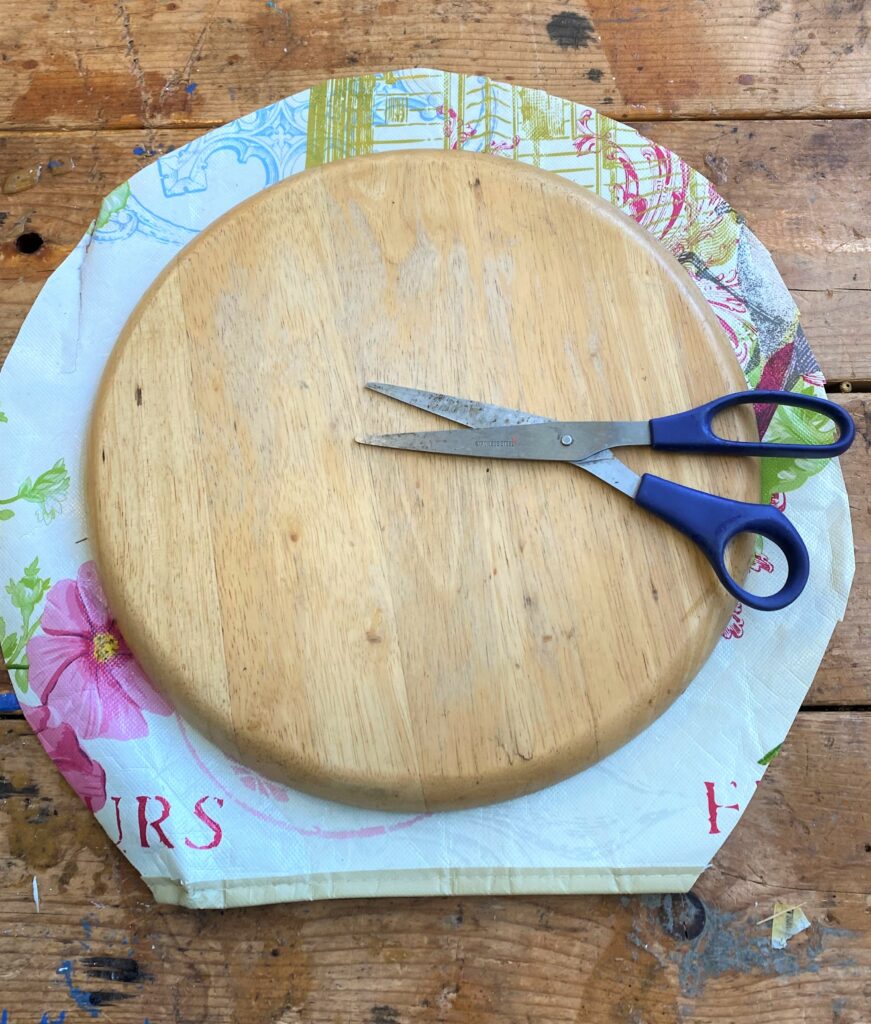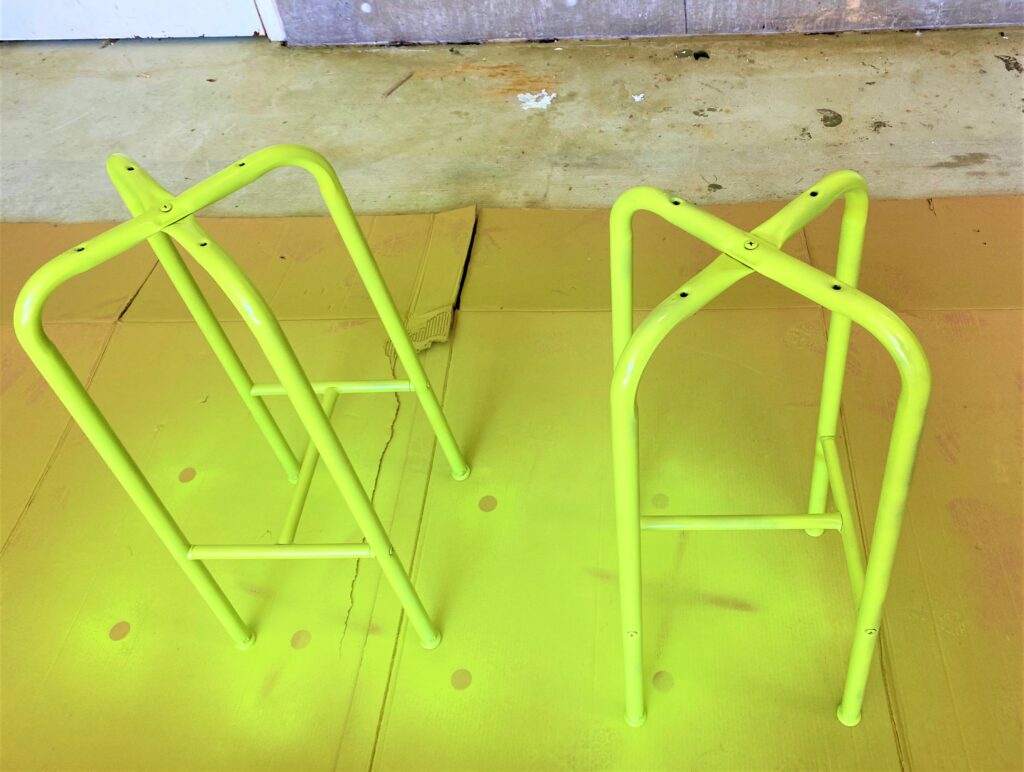 Use this happily transformed pair as extra seating in your kitchen or as a place for your four-legged family members to keep watchful, loving eyes on you.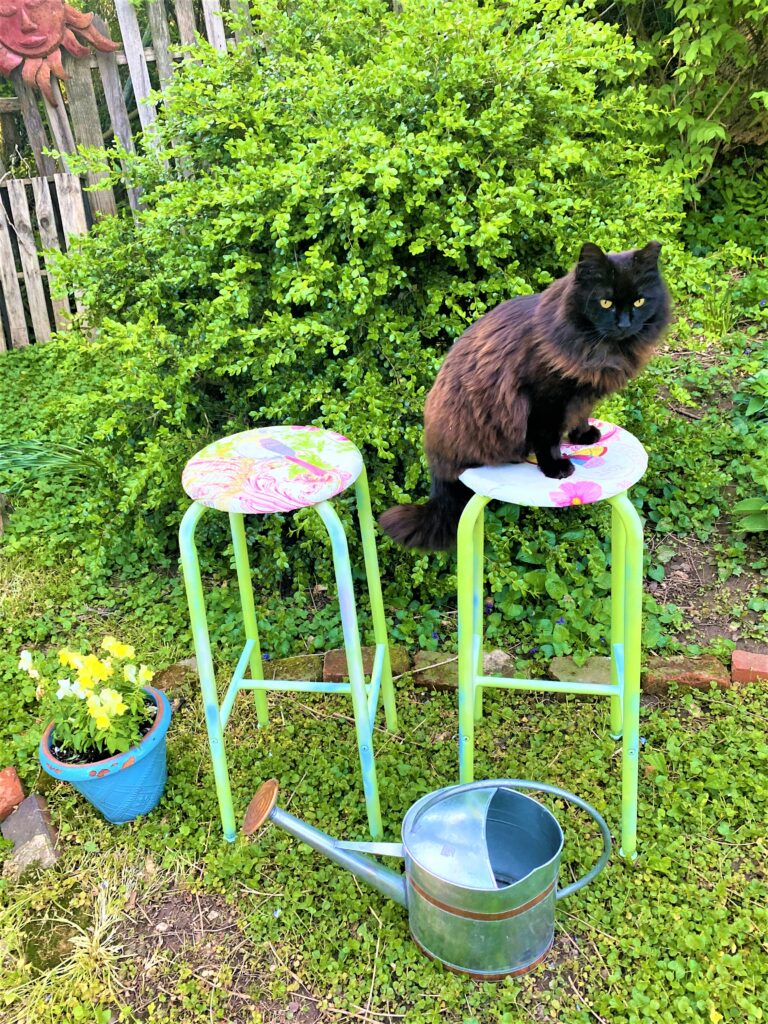 6. Halloween Decorations
Here's How
While Halloween is now behind us, it doesn't mean we can't start planning for next year.  And what spooky, creepy (and creative) DIY projects wouldn't benefit from having a real-life black cat to add to the festivities?  A doll house turned haunted house, kitchen containers upcycled into Jack O lanterns, and painted pumpkins got to take advantage of Gypsy's black furry looks.  See links for each with details on how you can do the same for future trick-or-treaters.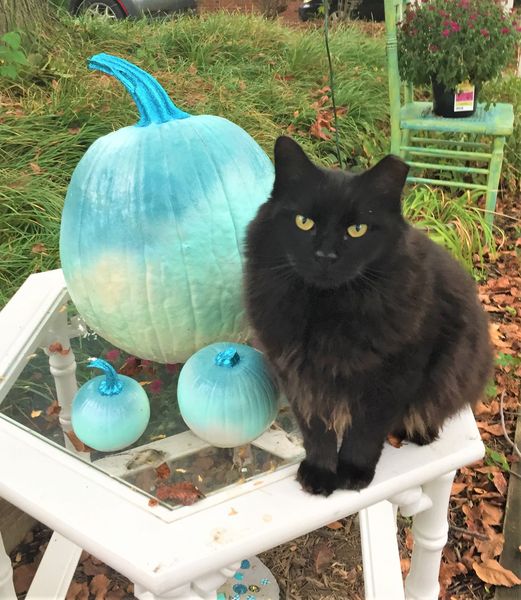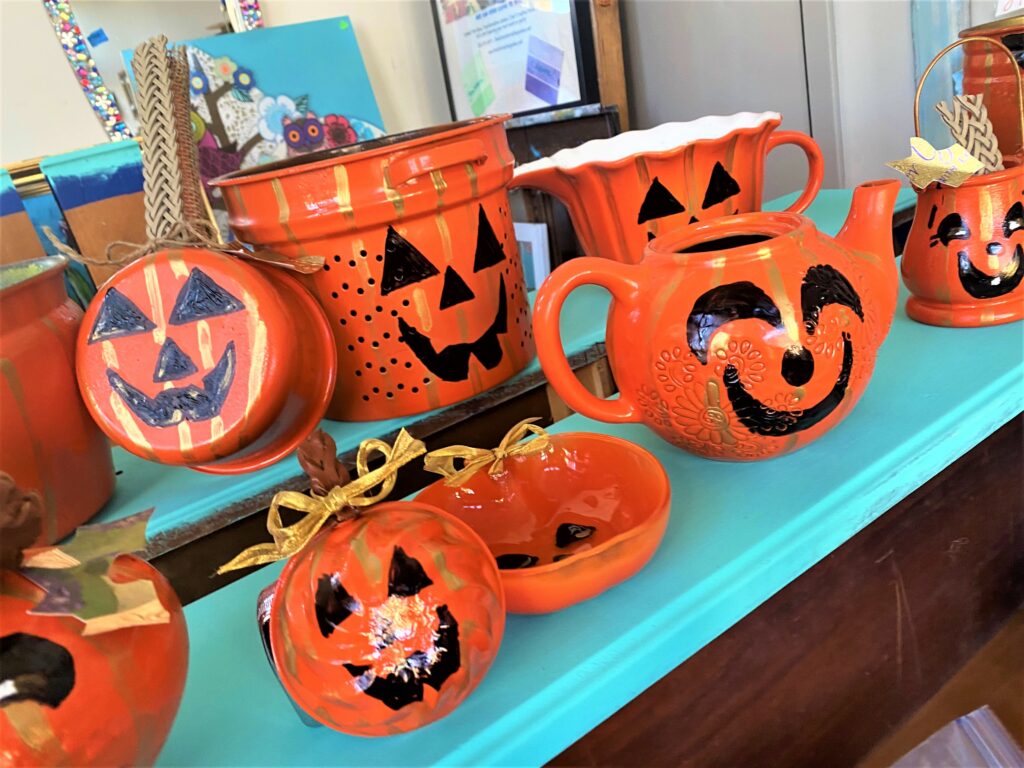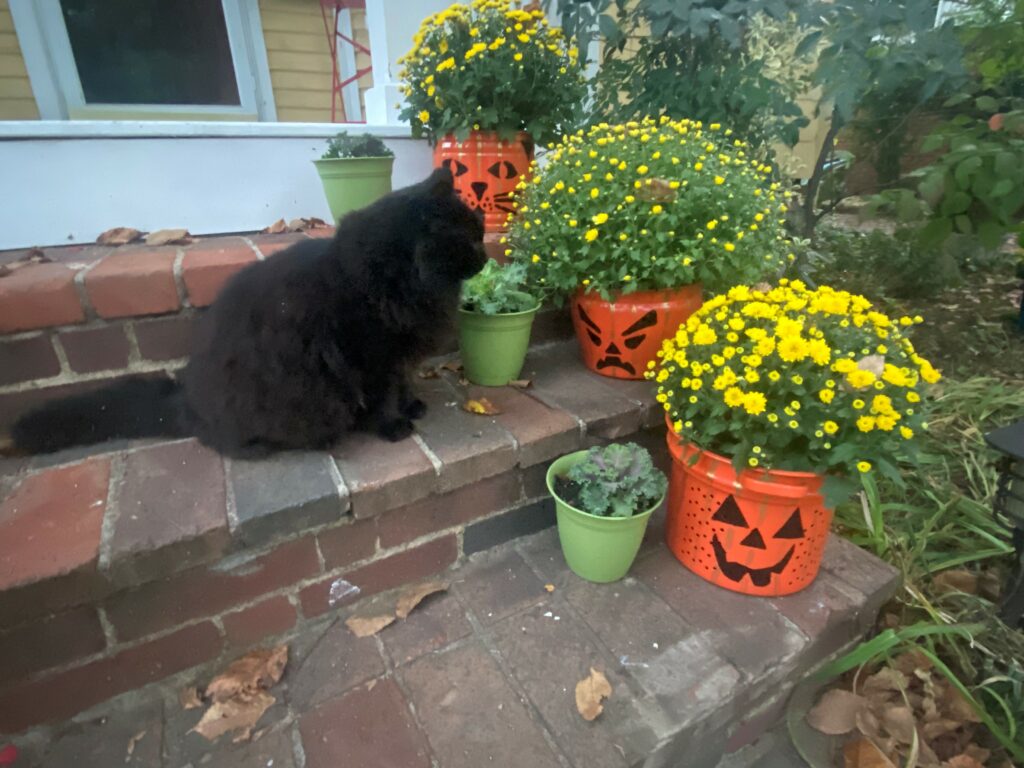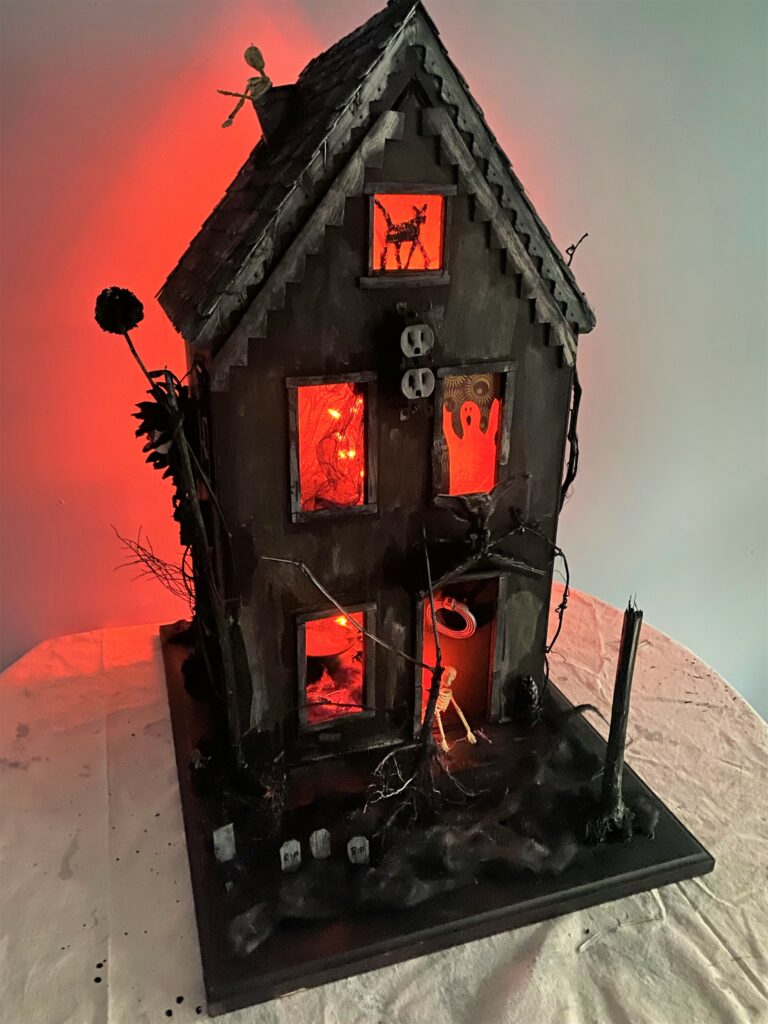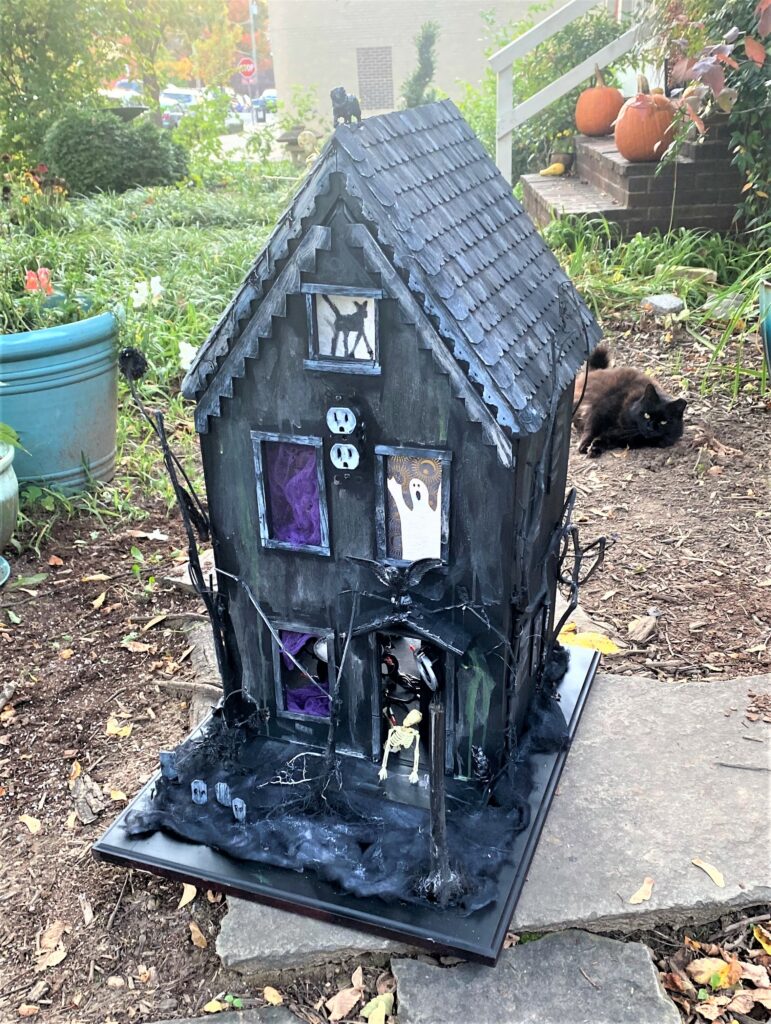 Thanks to Finding Your Good for the opportunity to reflect on these feline-friendly DIY projects featuring my sweet BFF Gypsy. I will miss my kitty family member very much and am grateful for the fun moments together. Doing upcycling projects and spending time with Gypsy—life doesn't get much better than that. RIP dear Gypsy. (Yes, the tears are flowing again.)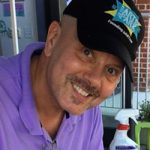 Tim Kime
Artist, Motivational Speaker, Life Coach
Tim Kime is an artist, life coach, and connector. He is the President of Kime Leadership Associates, offering executive coaching, meeting facilitating, and motivational speaking. He is also Chief Creative Force of Transformation Junkies, which upcycles furniture and other household items into functional works of art. He combined his two passions—unleashing the potential in people and transforming items with the launch of the Art of Possibilities Workshops. These workshops are part upcycling, part dreaming, and part goal setting.