"Transylvania-ize" a dollhouse by transforming it into a haunted house for Halloween.  This child's toy becomes a house of horrors when you upcycle it (or should it be down-cycle it?) with creepy creatures and spooky spirits.  Little ones of all ages will squeal in delight—we hope! When you scare up this DIY project.  And you won't mind living next door to this place when you use it to decorate for the upcoming trick-or-treating fest!
Items needed:
· Dollhouse
· Black spray pain, matte finish
· Old cabinet door or piece of scrap wood
· Items to embellish it
· Glue gun & lots of glue stick
· Nick-nacks and other small household items
· Gray, silver, green craft paints
· Small detail paint brushes
· String of lights, ideally orange, green or purple
1. Replace the "Hello Dollie!" with "Hello Zombie!" when shopping at Goodwill
It's never scary when you shop at Goodwill for unique items.  While you might be pleasantly surprised by what you find there, you'll never be frightened by the prices because they are so, so low!  While finding your good there, look for a dollhouse to transform in a spooky way for Halloween.  This one was made from wood a while ago and was still in its original box!  It certainly wasn't feeling like Friday the 13th because I got fortunate with this find!
While at Goodwill, check out the various sections and aisles to see what other items you can snag for this project. Small statues, strings of lights, Halloween decorations might be available so be sure to hit every part of the store.
My first step was to glue the dollhouse together which was fun and challenging at the same time. I used some of the parts intended for its interior on the outside to add visual interest. Can you see the staircase step parts along the roofline?
2. Give your haunted home a plot
Every haunted house needs a plot—like a cemetery plot or a ghoulish garden plot! An old cabinet door was repurposed as the foundation for this house's plot/yard. A small side table's top would have worked well, too, once the table was deconstructed. While you are at Goodwill, see what small, wooden furniture items are on hand to take apart, too. If you don't find what you want, a scrap piece of wood is always a great option.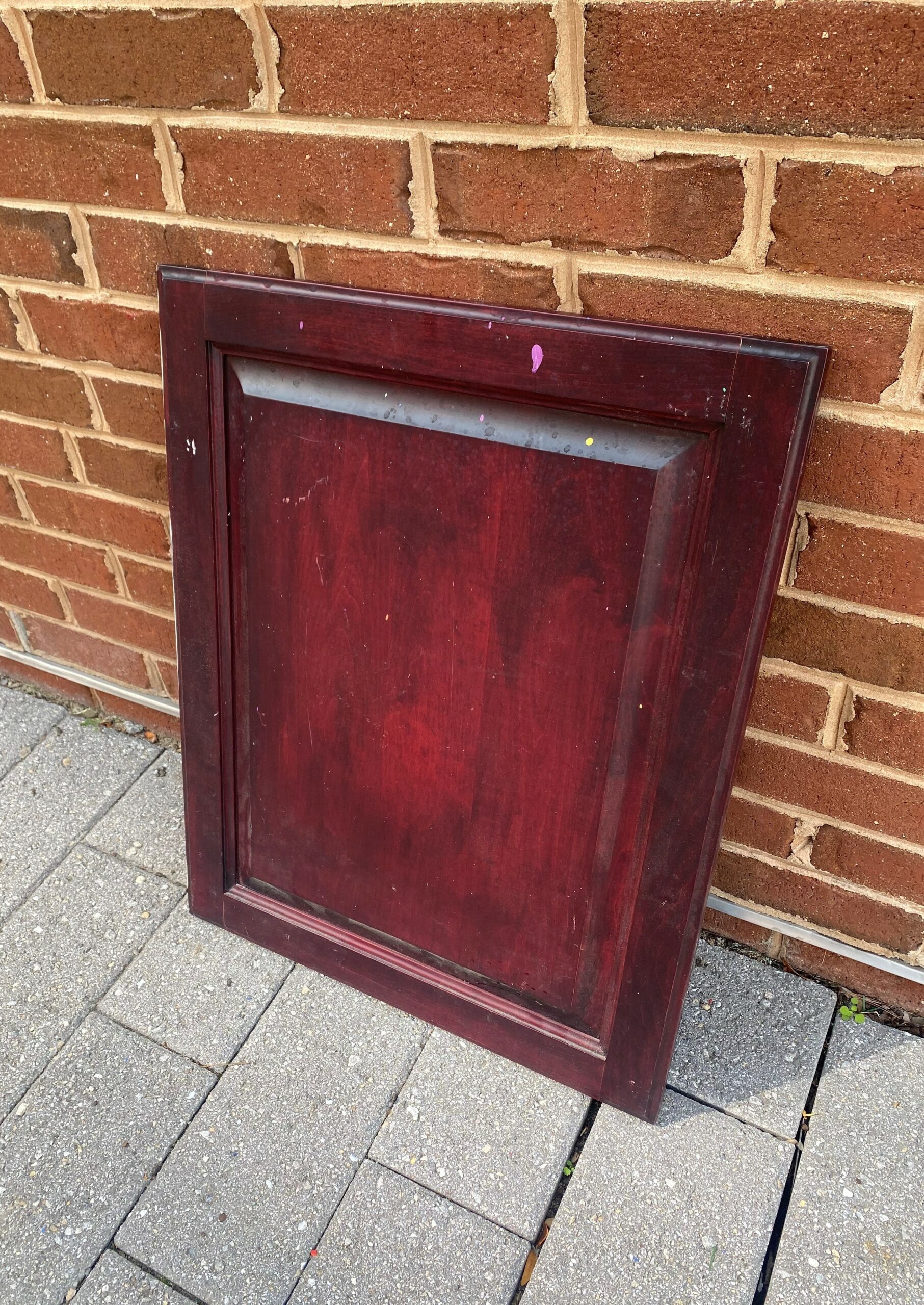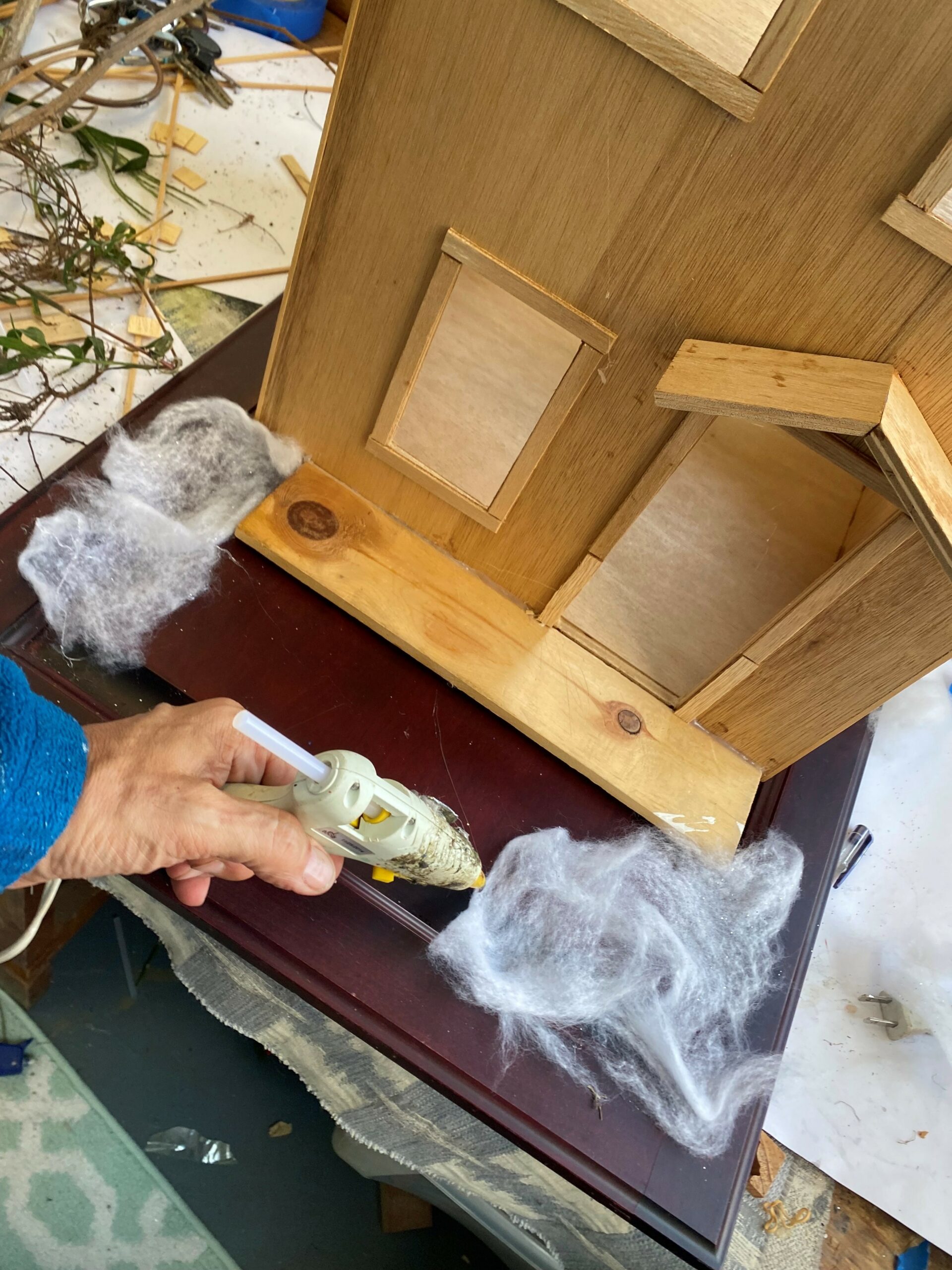 Hot glue your dollhouse on the plot, giving you more space to be creepily creative!  Fleecy material was pulled apart and glued to cover the cabinet door and provide a spooky base for the outdoor landscaping.  Crumpled-up newspapers or tissue are good options, too.
3. Glue on the creeps, accessorizes to create chills
Now let your creative juices flow! Turn your dollhouse from cute to crypt keeper by adding small twigs, withered flowers and other nature items to add to your house's front yard. Use your hot glue gun to position them around your house.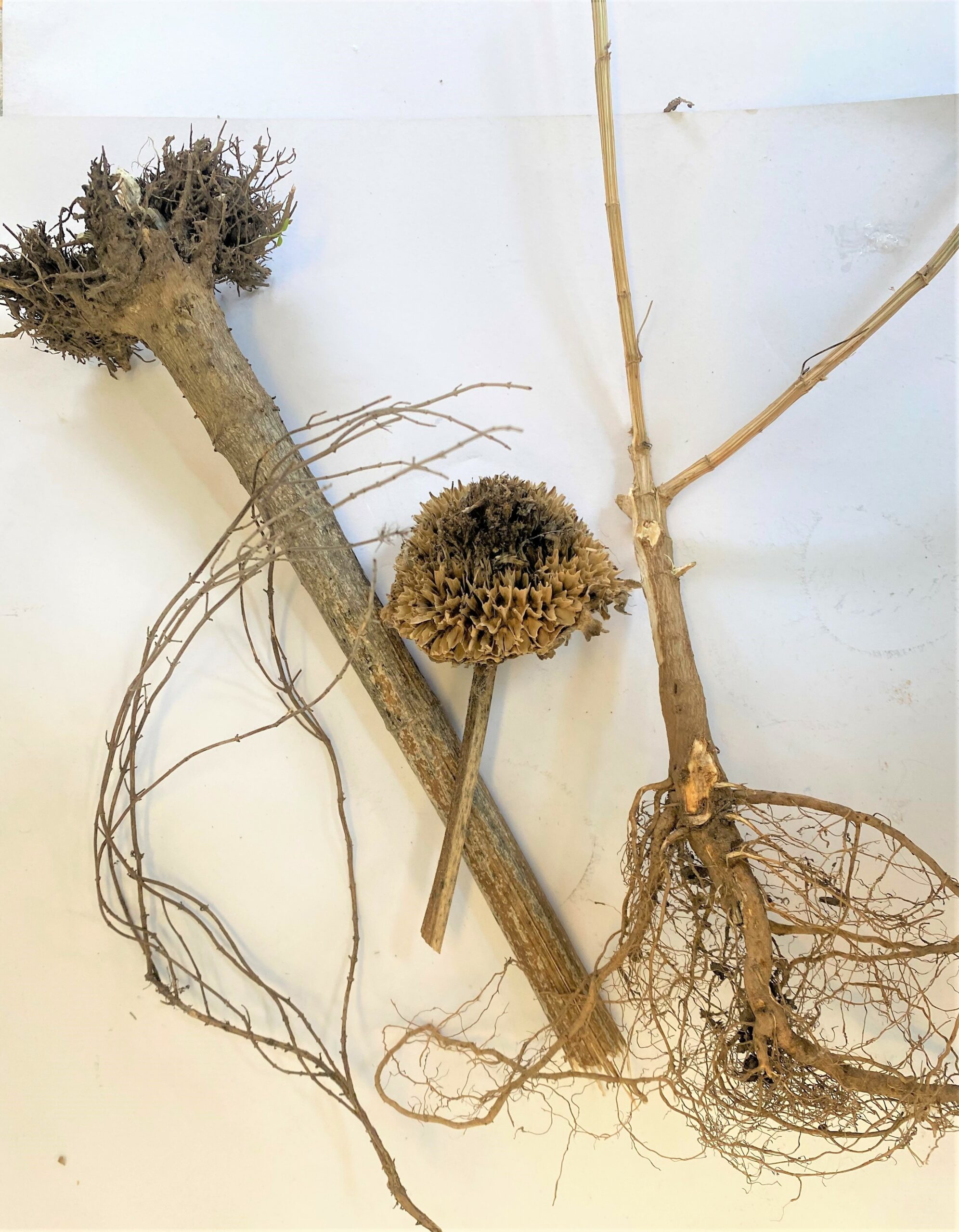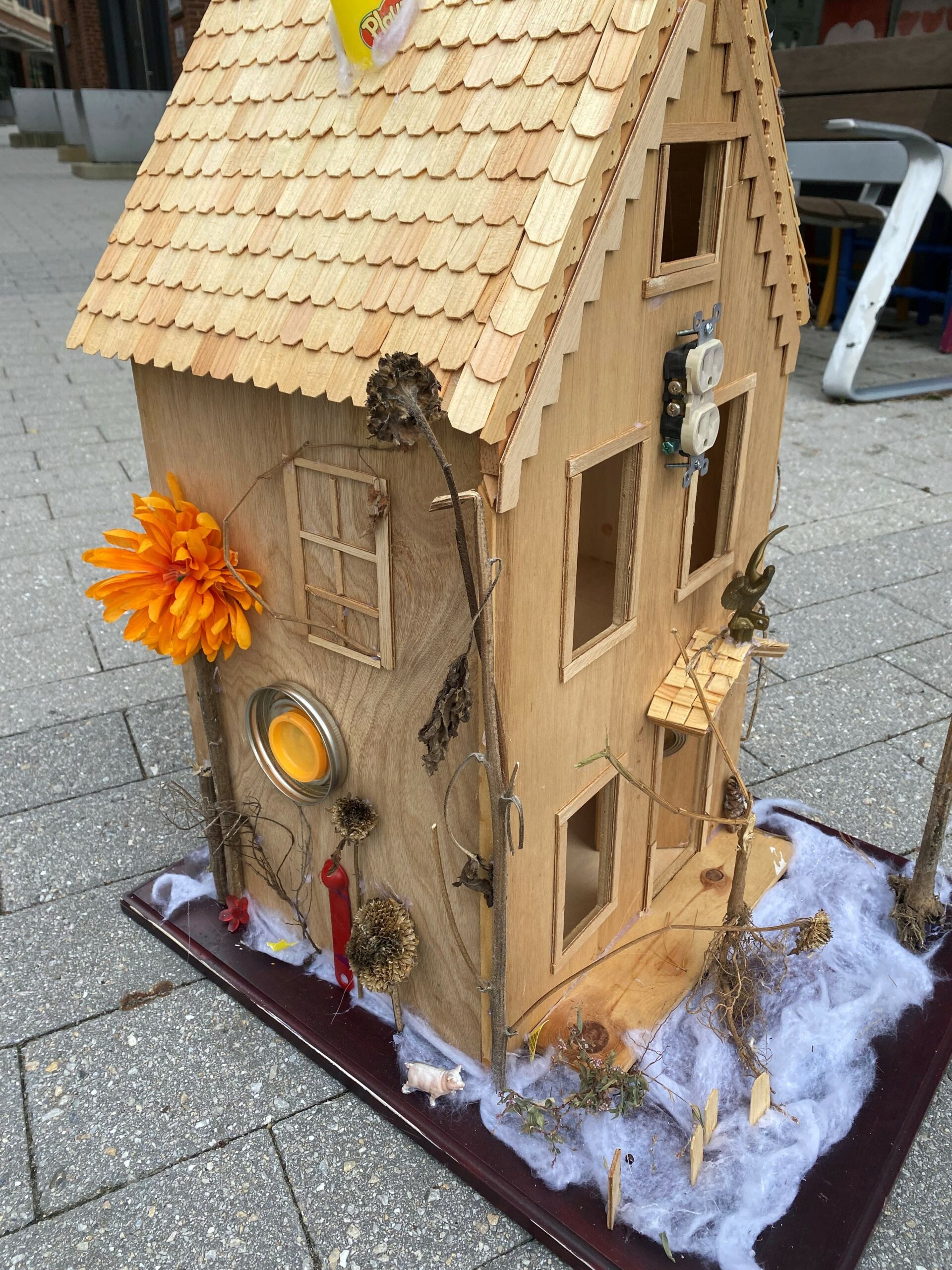 Adhere household items, too, to add visual interest. Plastic toy animals, an eagle from a flagpole, a broken watch and even an old hinge were glued in place. A round cabinet handle was added to the front door because it looked like a big door knocker. Are you shaking in your shoes yet? I was shaking in delight as I found items to repurpose for this project.
4. Darken your DIY with black paint
If possible, enlist a friend or family member to help you move your dollhouse on its yard outside and on a drop cloth. 
Using your black spray paint, add a couple of layers from top to bottom, right to left, inside and out, to ensure everything is well covered. 
For safety purposes, you may want to consider wearing a mask to prevent you from inhaling all the paint fumes and overflow. Medical masks, like for COVID, are recommended over Halloween masks!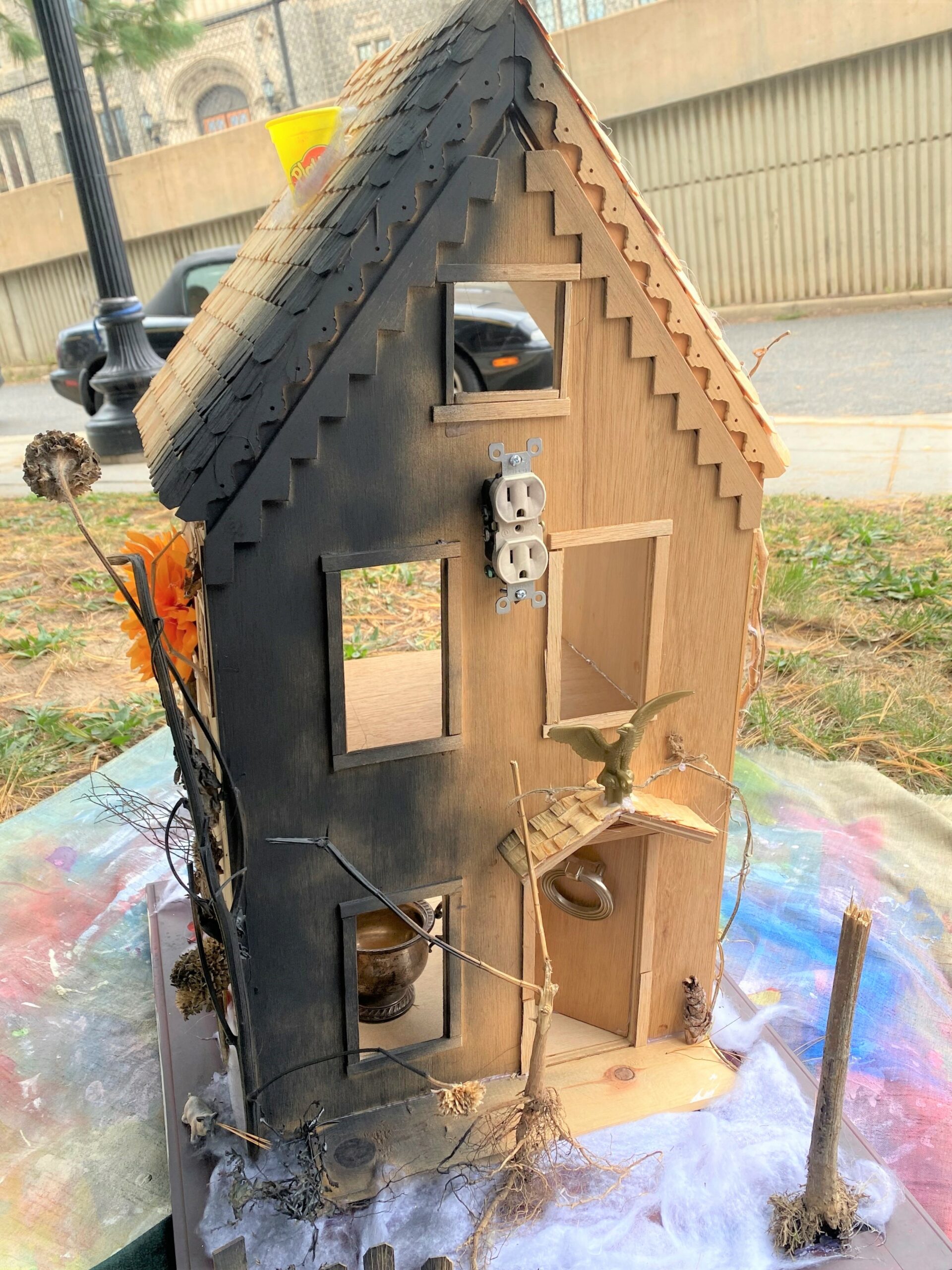 5. Bring out the details with craft paints
Apply silver or gray craft paints on various parts of your now haunted house to call attention to the devilish details. 
Use a very light touch so that you are able to see the black paint through the silver/gray strokes.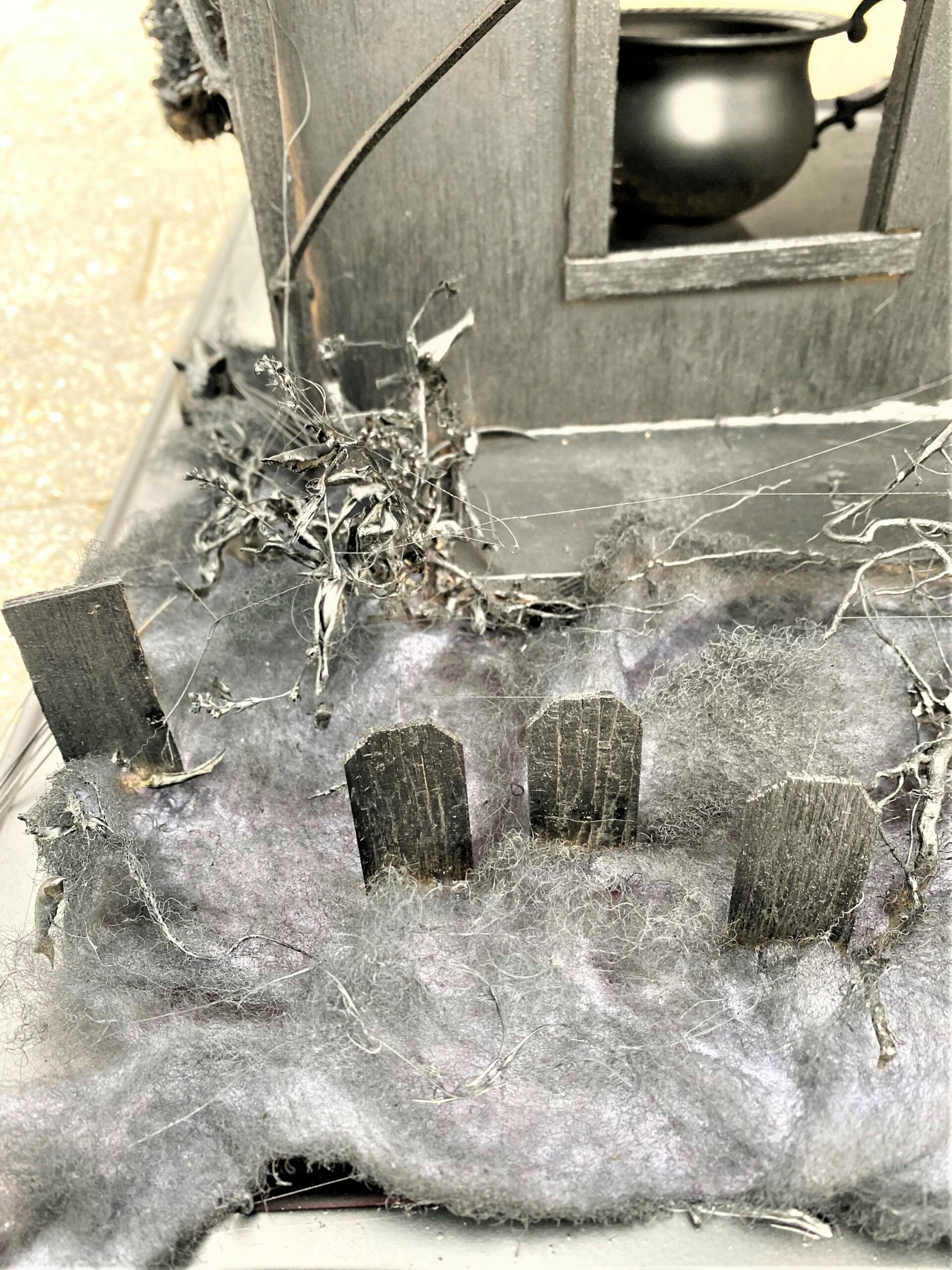 6. Add Halloween horrors
Every haunted house deserves some frightening friends.  Consider how you might add a monster or two as well as a gaggle of ghosts.  Dollar store skeletons were placed around so they look like they are escaping from the chimney and front door. 
A green skinned witch stirs a brew in her caldron—the witch was a plastic doll, and the caldron was a silver-plated sugar holder!  Headstones now grace the front yard; a black cat and ghost are silhouetted in the windows.  A fake eyeball is now the center of the flower.  Was I having too much fun?  You know it!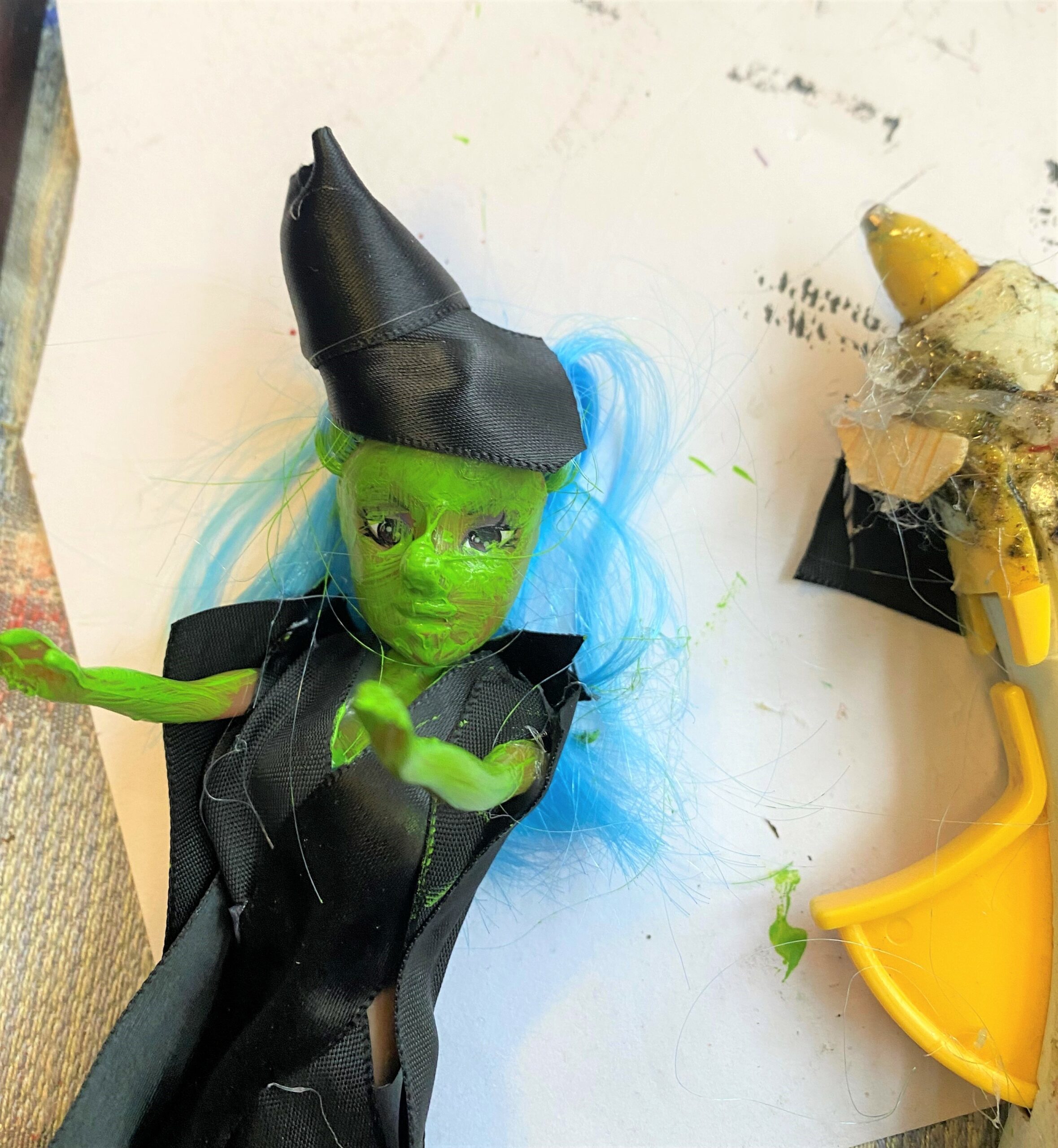 7. Add some lights to create shadows
Secure your string of lights on the inside of your haunted house. Spread them out so each window is illuminated. Place your haunted house in your place where all will see it, then turn off the other lights for an eerily grewsome (and giddy-making) glow!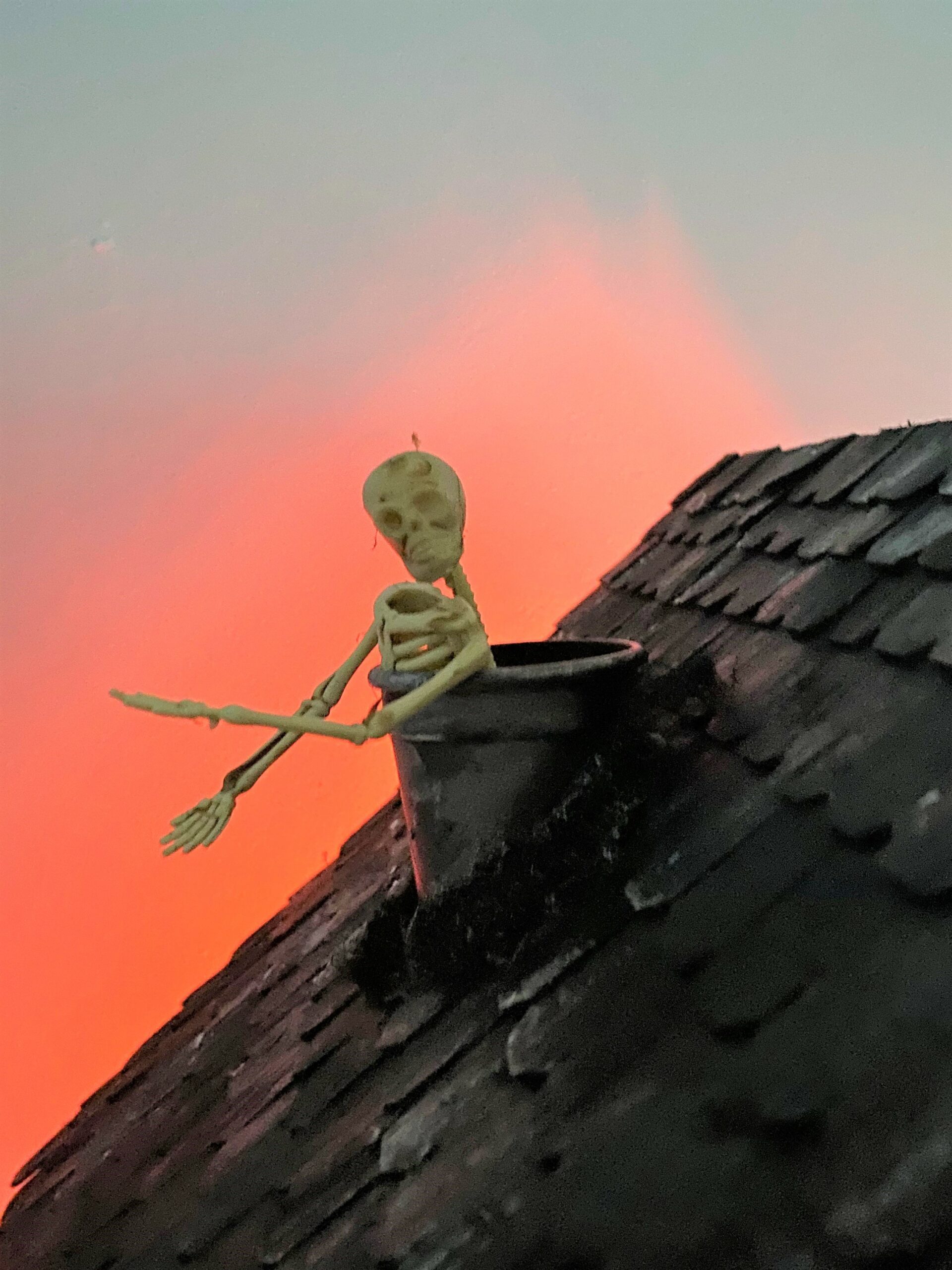 You, too, will glow inside with delight as your family, friends and trick-or-treaters are happily horrified by your dollhouse turned haunted house!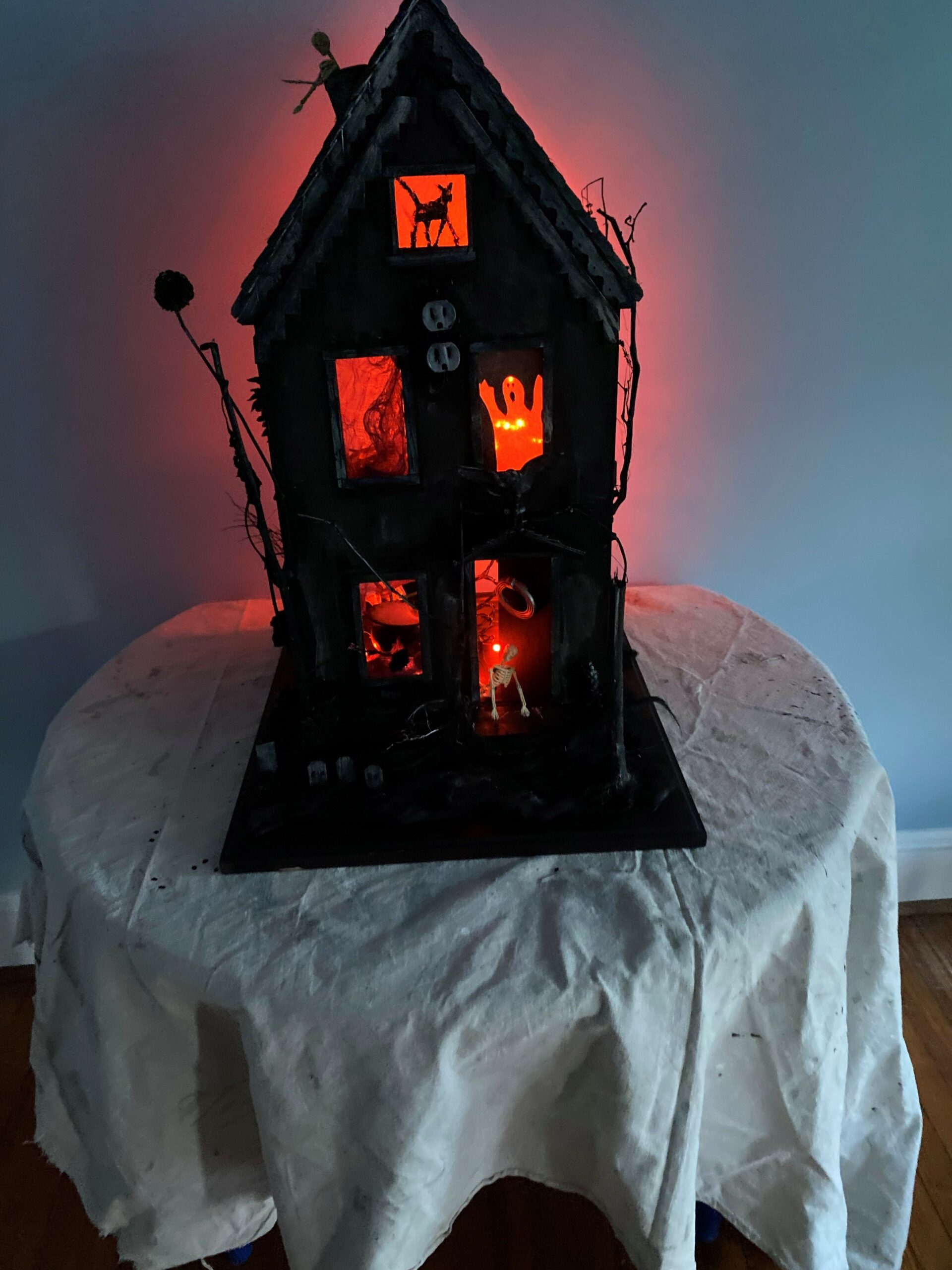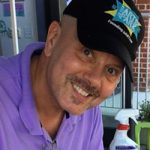 Tim Kime
Artist, Motivational Speaker, Life Coach
Tim Kime is an artist, life coach, and connector. He is the President of Kime Leadership Associates, offering executive coaching, meeting facilitating, and motivational speaking. He is also Chief Creative Force of Transformation Junkies, which upcycles furniture and other household items into functional works of art. He combined his two passions—unleashing the potential in people and transforming items with the launch of the Art of Possibilities Workshops. These workshops are part upcycling, part dreaming, and part goal setting.