Upcycle a mismatched chair and bench into a stylish pair using metal and mink!   Spray on shiny silver paint and recover cushions with lush fake fur fabric for a high-end, elegant style.  Top it all off with black embellishments to bring out fine details.  
Using thrift store finds and repurposed fabric; you'll only spend a few bucks for this million-dollar look.   And it's so easy, you won't even break a sweat (which is hard to do given the winter weather), but you get the point!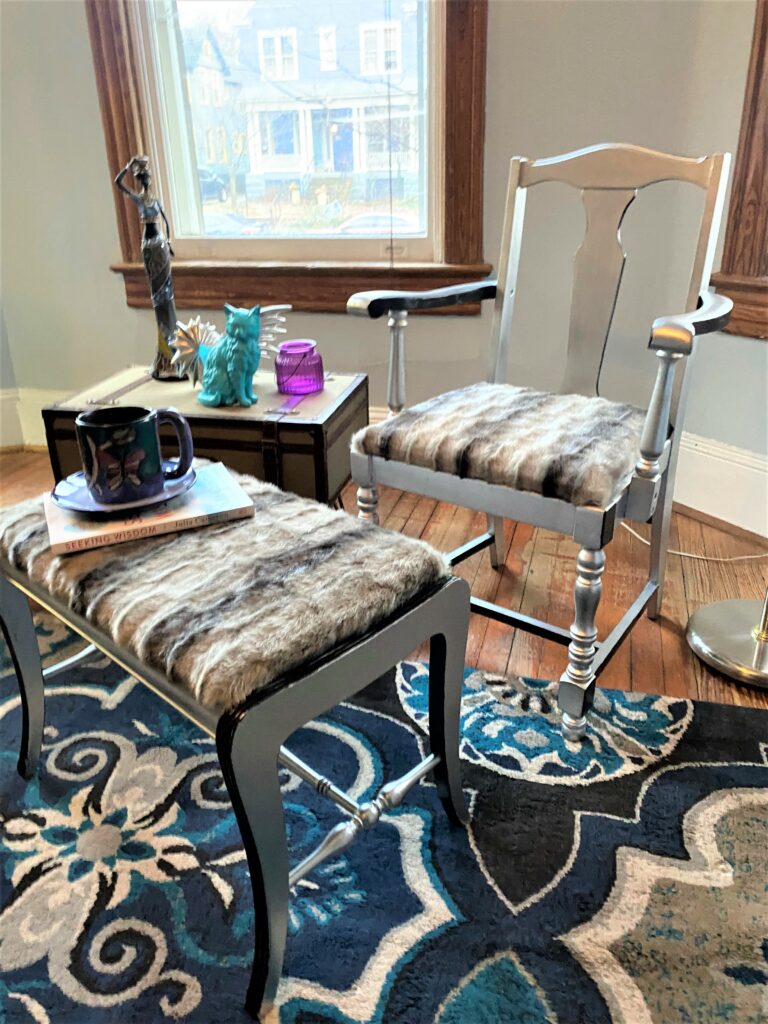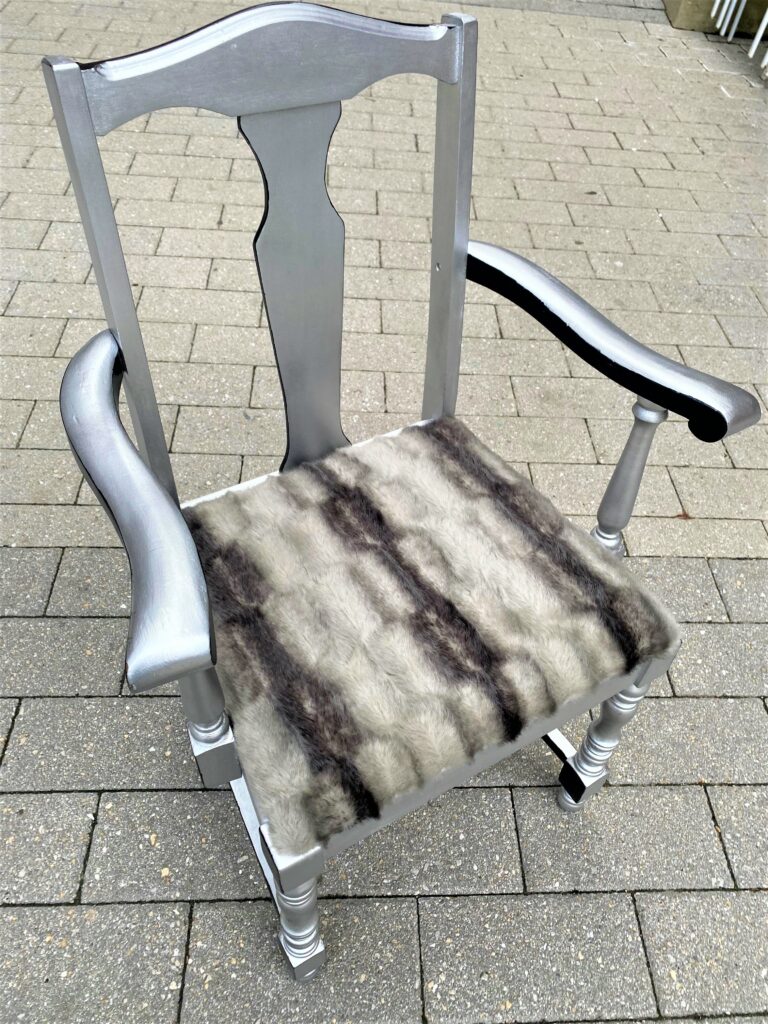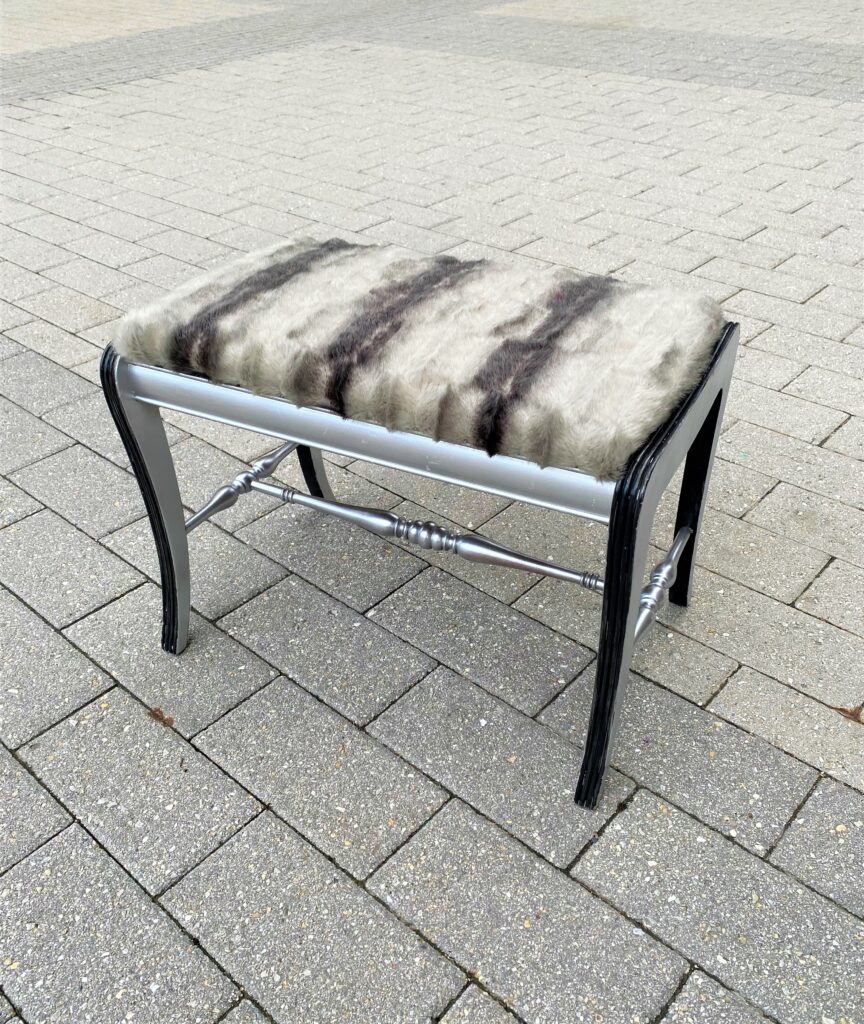 Items needed:
· Wooden chair, bench with upholstered seats
· Silver spray paint
· Black paint
· Scissors
· Fake fur fabric
· Staple gun
· Foam brushes
· Painter's tape
· Screwdriver
1. Take a thrifting adventure to Goodwill
Put on your comfortable shoes, then spend lots of time perusing your favorite Goodwill store (mine is DC's South Dakota Avenue NE) to find items to give this chic and stylish makeover.  In the furniture section, you will find lots of great options, so look for pieces like this chair and bench, which are made of wood, sturdy in construction, and have removable/upholstered seats.   
The two featured here came from different places at different times and are now united by their colors and covering.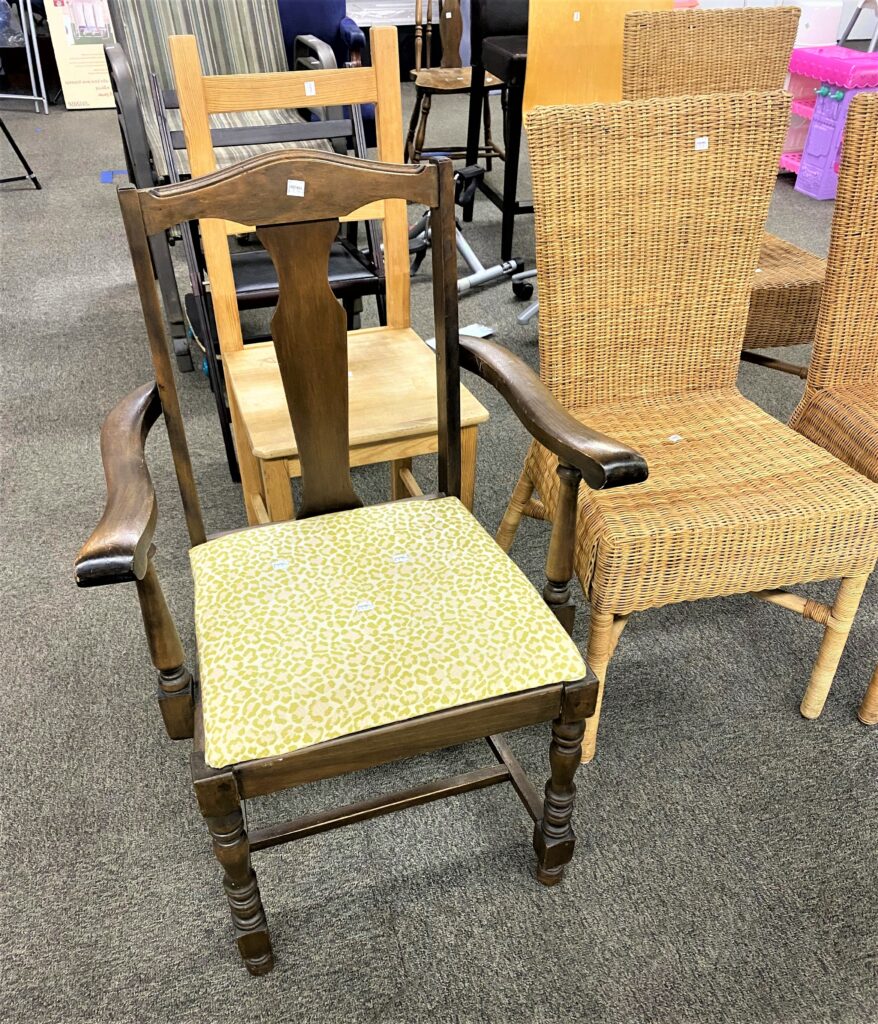 You could follow the same steps here using two stools or even a set of dining room chairs.  Remember to always look past a piece's current color by focusing on lines, shape, and construction.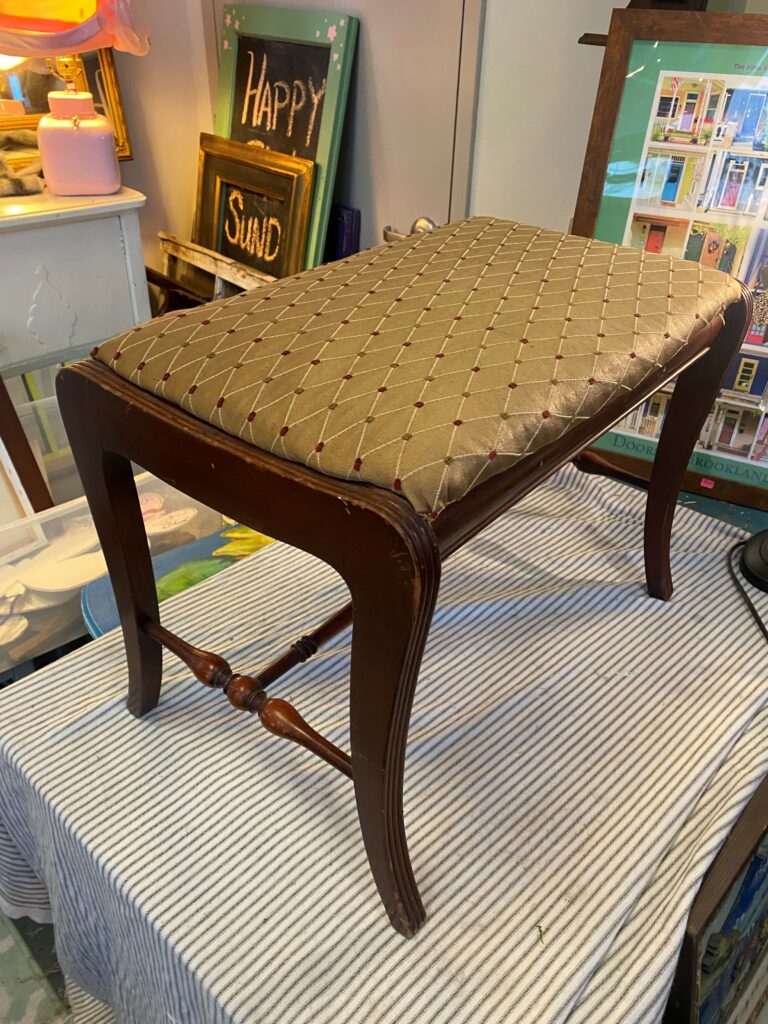 Also, while at Goodwill, hit the clothing and bedding sections to look for a coat, vest, blanket or pillow made of fake fur to repurpose. For previous projects, I have found such items which worked well and now look cool in their new, upcycled lives!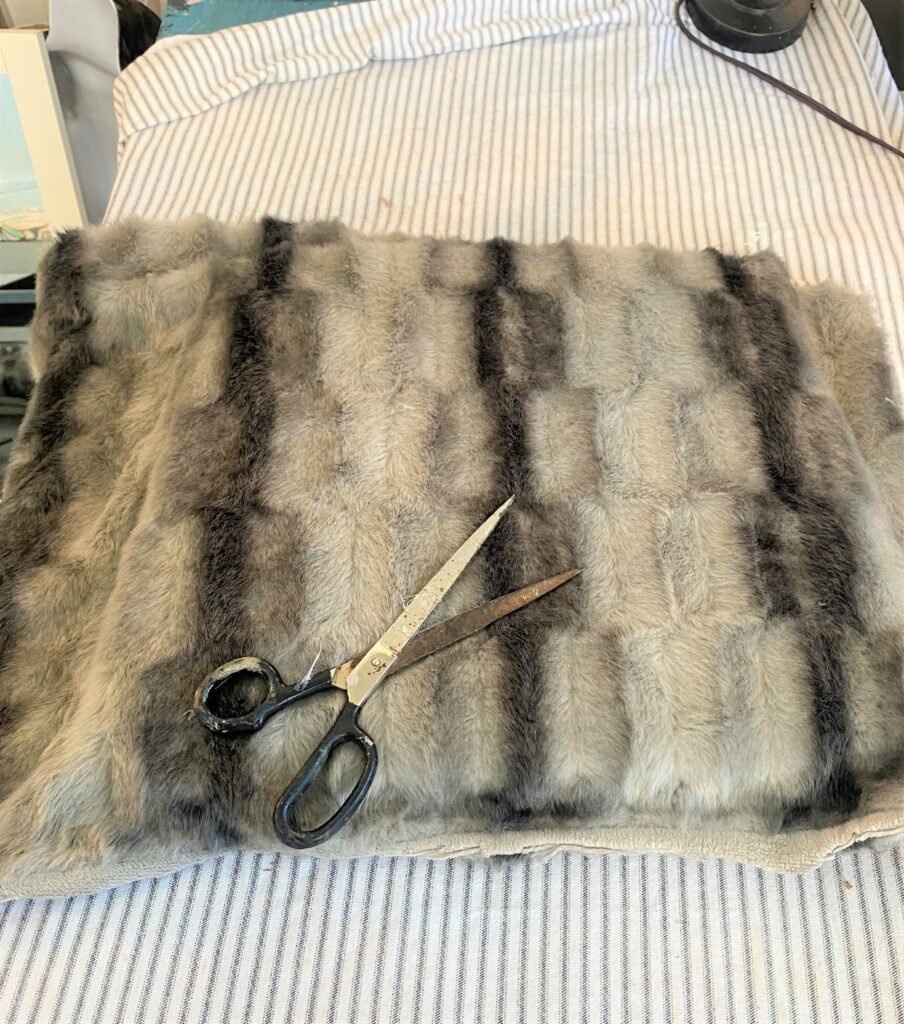 2. Put the pedal to the metal: Spray on Silver
Silver is a timeless tone which always looks sharp in any decorative style or in any space. Also, given the wintery weather, you see silver all over these days with snow, ice cycles and frost. Therefore, this was the perfect palette for these projects.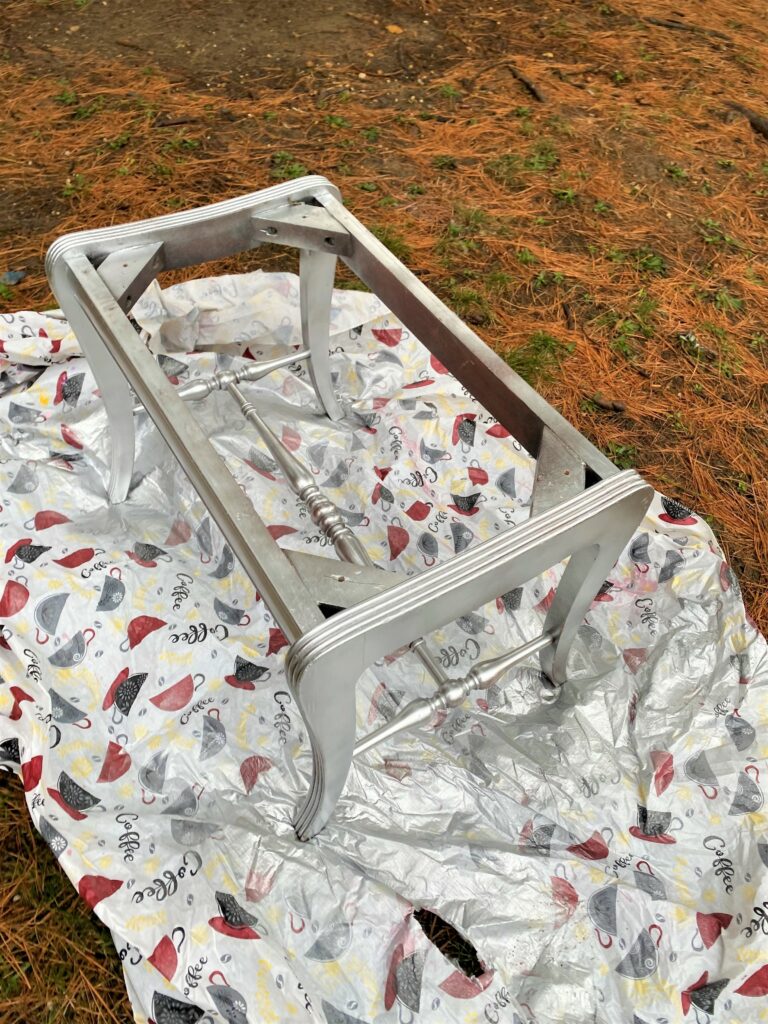 Flip over your chair and bench then, with a screwdriver, remove the seats and place aside. 
Wipe down your pieces with a damp rag to remove any dirt or dust and to ensure clean surfaces for painting.  
Place on a drop cloth outside, if the temperatures aren't too cold, or in a well-ventilated space.  
Add a light layer of paint as you move around your pieces.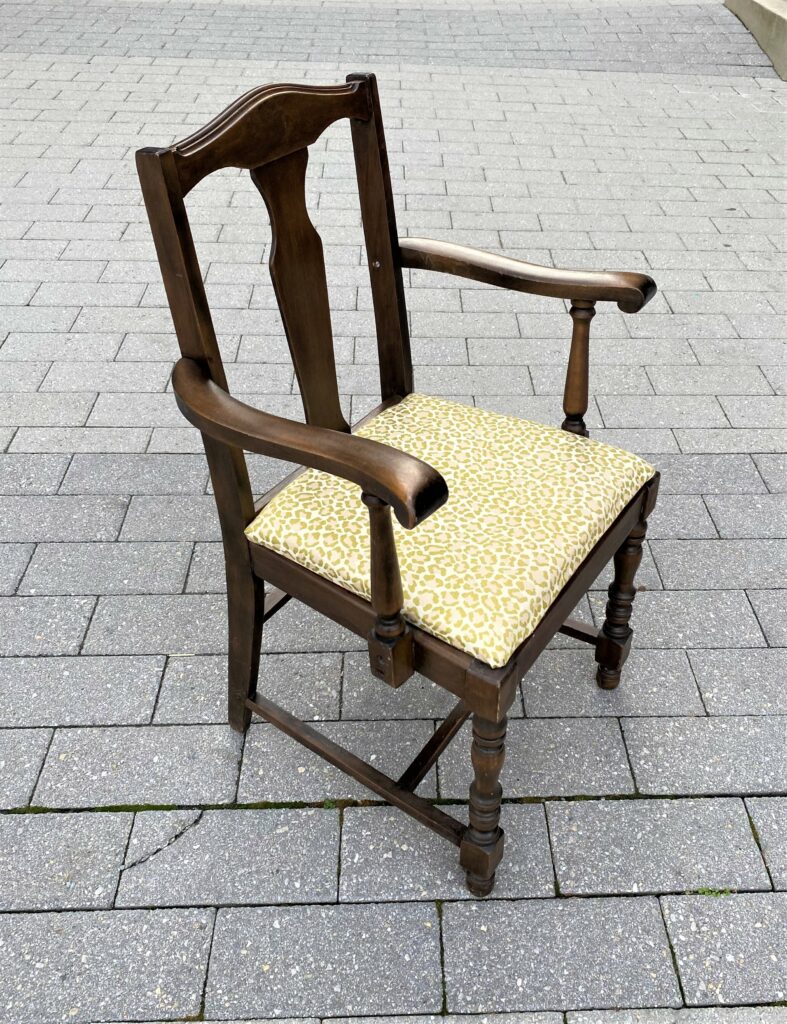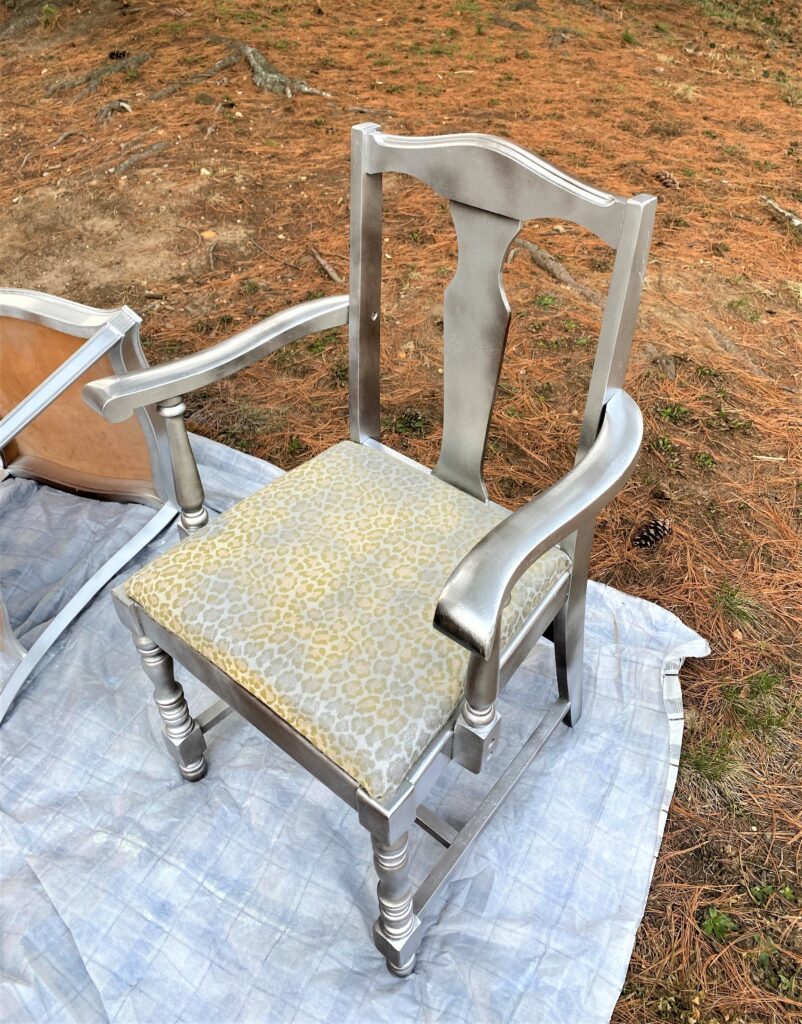 Once dry, turn your chair and bench over to get the other sides and ensure solid coverage. Do this several times until every part is well-covered with silver. 
You're going to shiver with excitement (and hopefully not from the frigid temps) when you see the immediate transformation from granny to gorgeous!
3. Fake fur fosters fabulous-ness
While your painted pieces are drying, it's time to tackle the seat covers.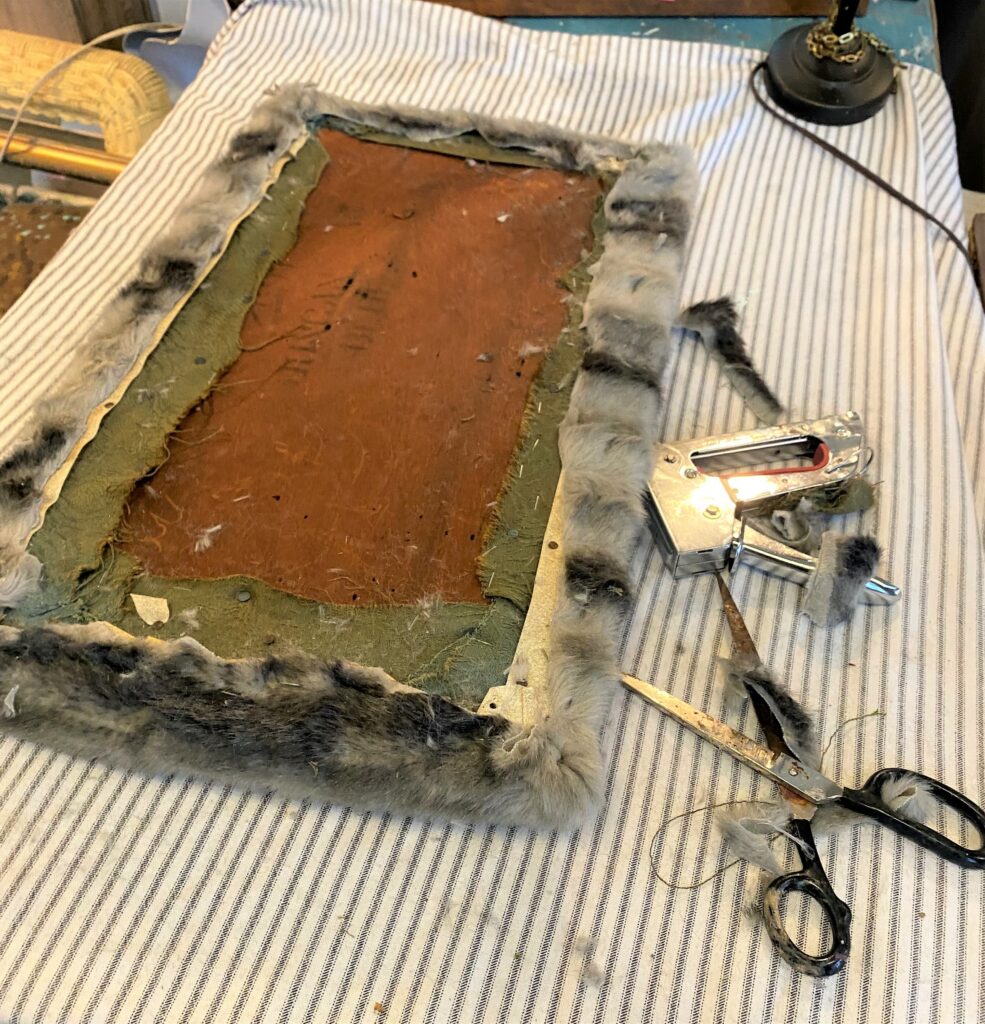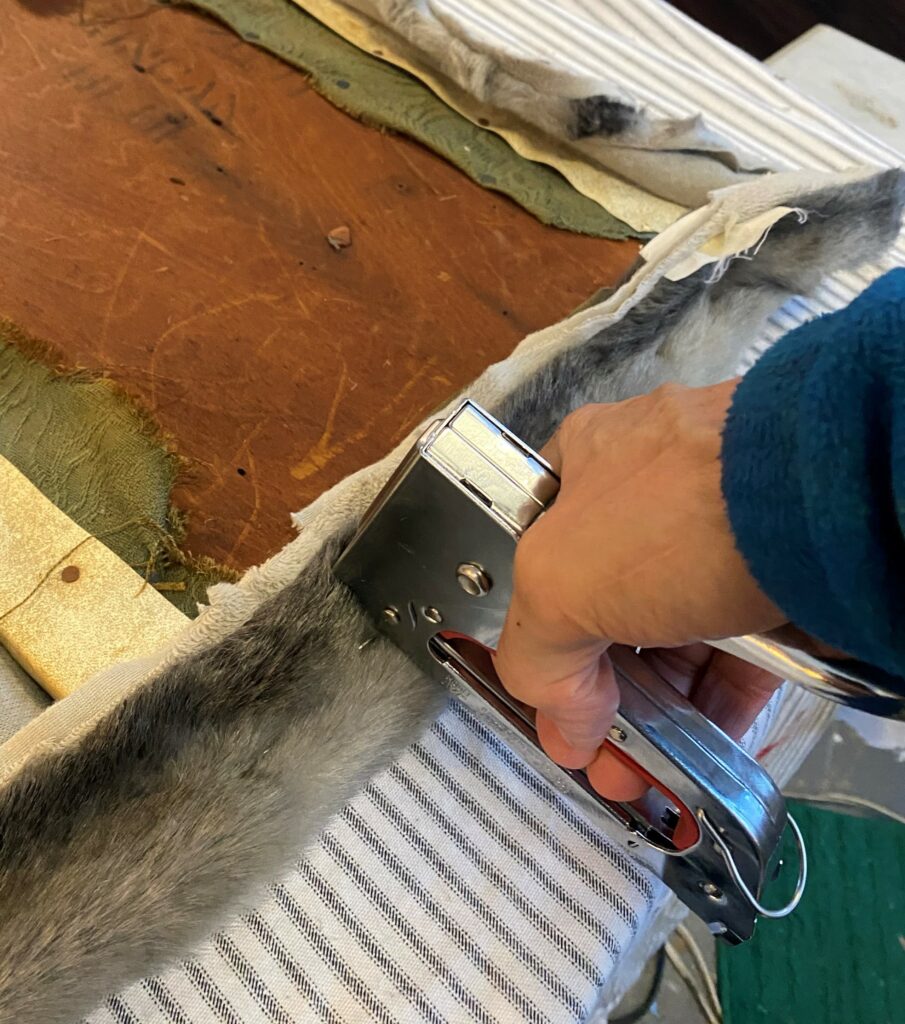 Place your fake fur down first with the "good" side down and place the seat on top with its underside upward.  Ensure that there is enough material to overlap the sides.  
Using your staple gun, add a staple to each side to hold the fabric in place, then fill in the gaps with lots of staples to hold it snuggly.  
Scissors will help to trim away the extra fabric. 
Flip it over and, "Voila!"  Your seats now look super chic—and are wonderful to touch, too!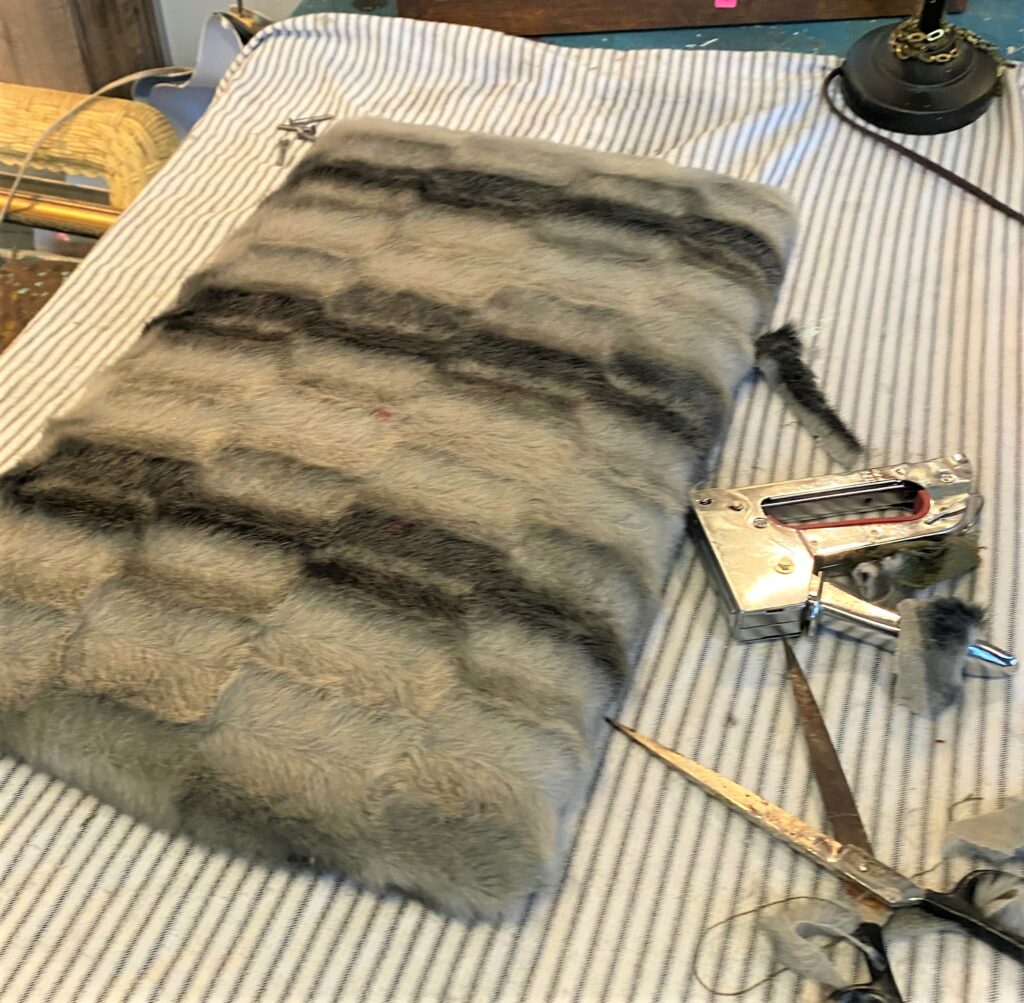 4. Black brings out beauty
To take your now silver, shiny and sparkling pieces from good to gorgeous, consider highlight parts or details using a glossy black paint.  The inside and outside edges of the chair's arms were painted with black to guide your eyes to their curvy shapes.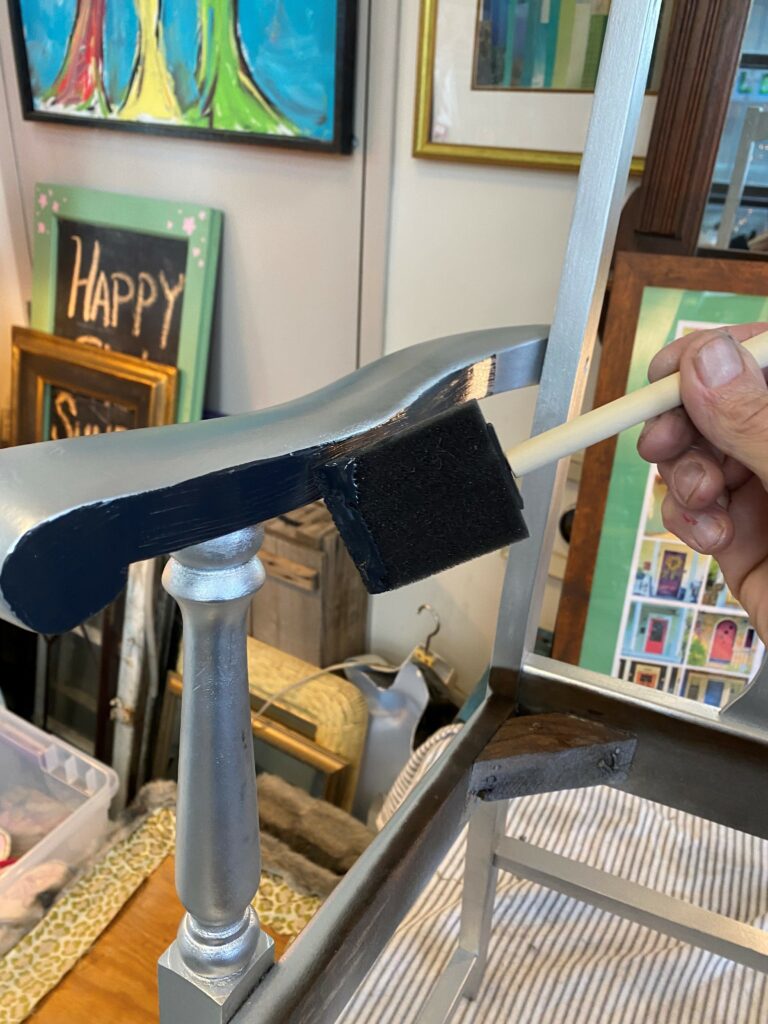 The bench's legs got additional dimension with black on their inside and outside parts, too.  Other parts were highlighted in the same process.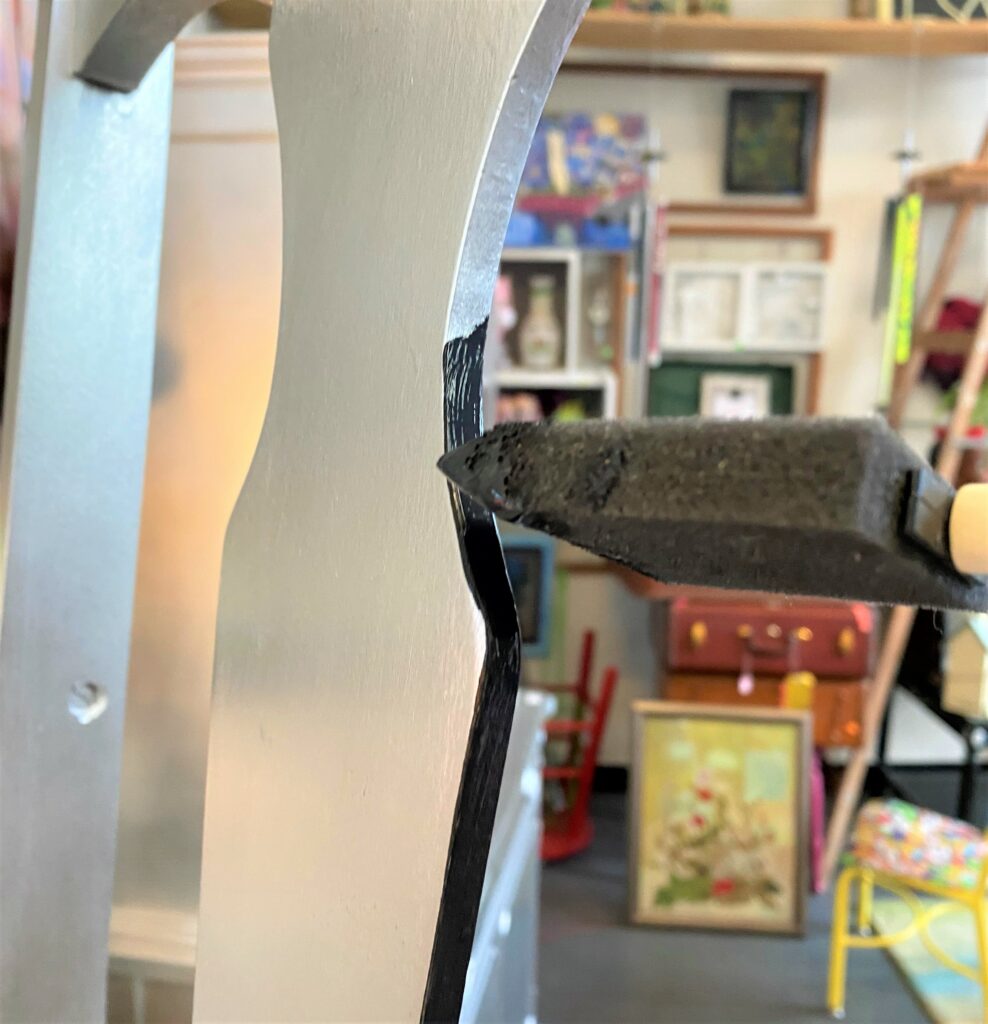 In addition to making your pieces feel even more special, the black paint matches the darker tones of the fake mink fur and helps to connect all parts and pieces. Perfecto!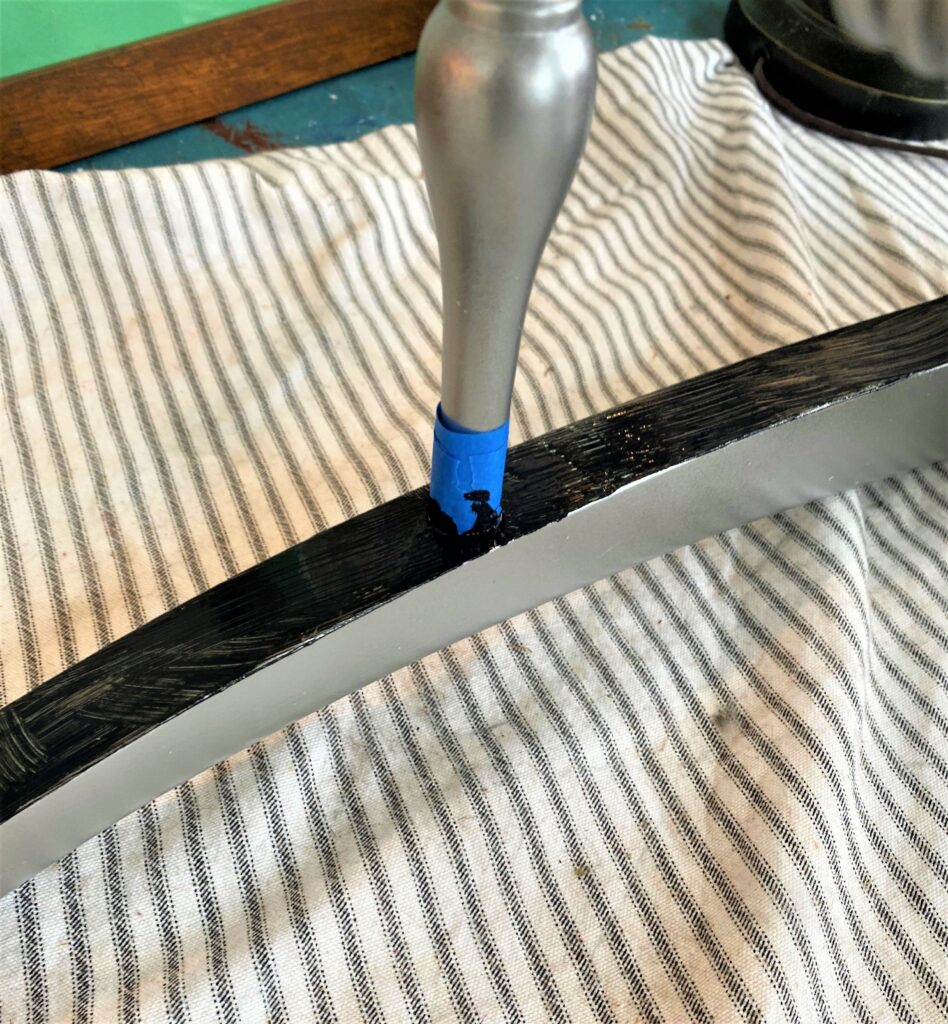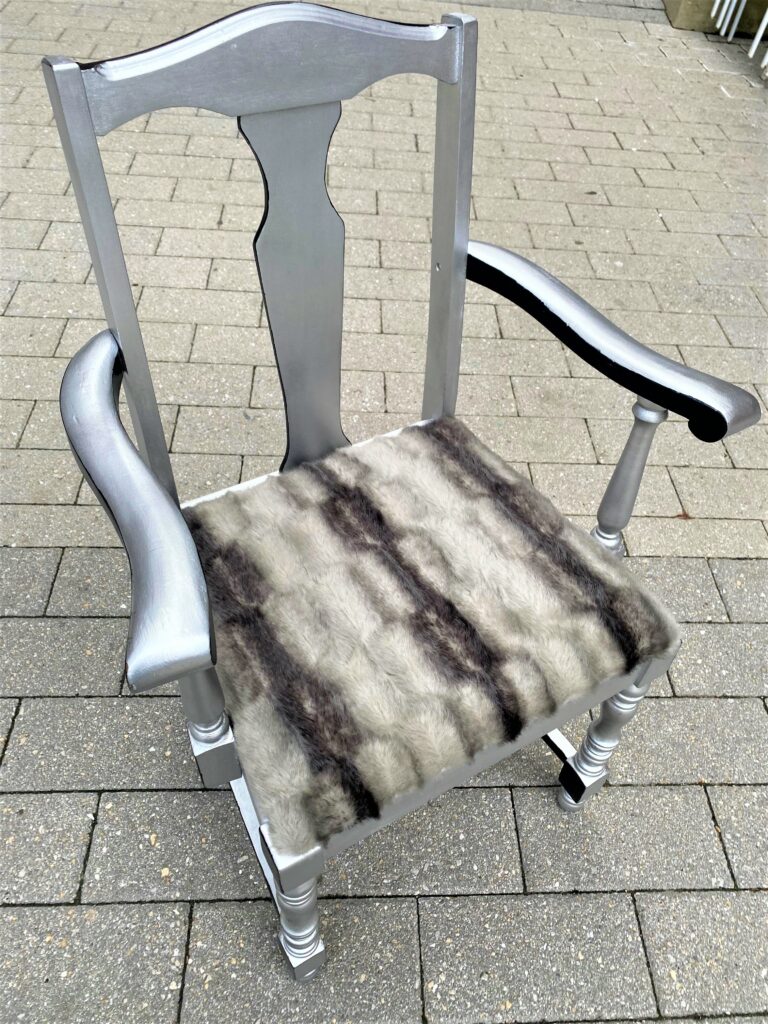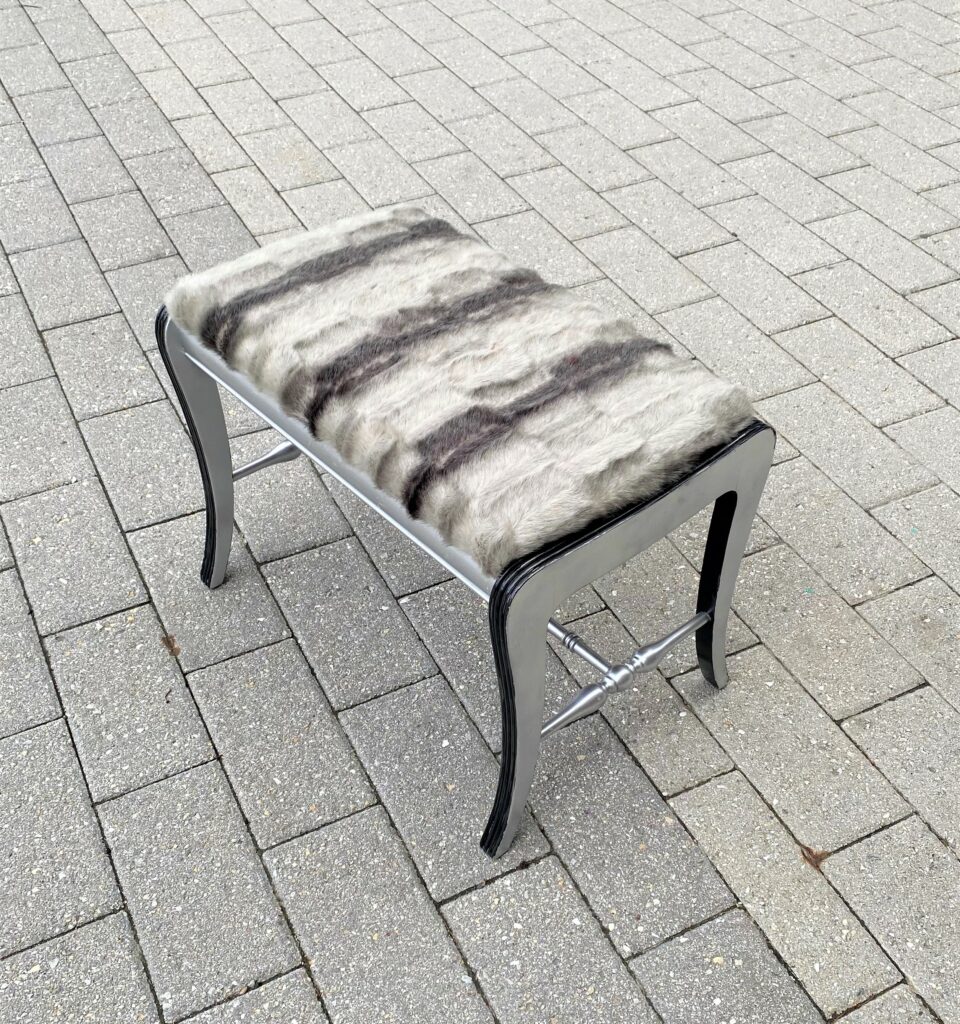 5. Reassemble for results
After the black detail paint had dried completely, place the mink covered seats back in place and secure again with their screws. 
See, I told you it was simple!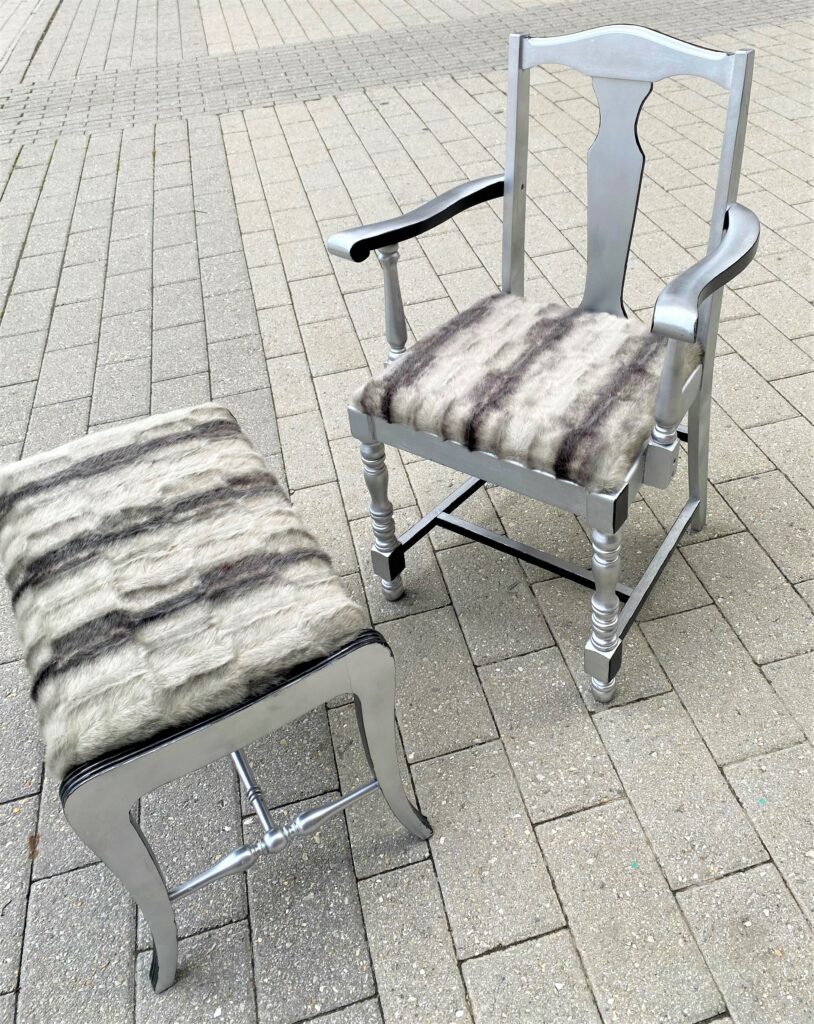 Place in your living room with other beloved and matching furniture items and decorative accessories- many of which can be picked up at Goodwill for super low prices but that have very high style!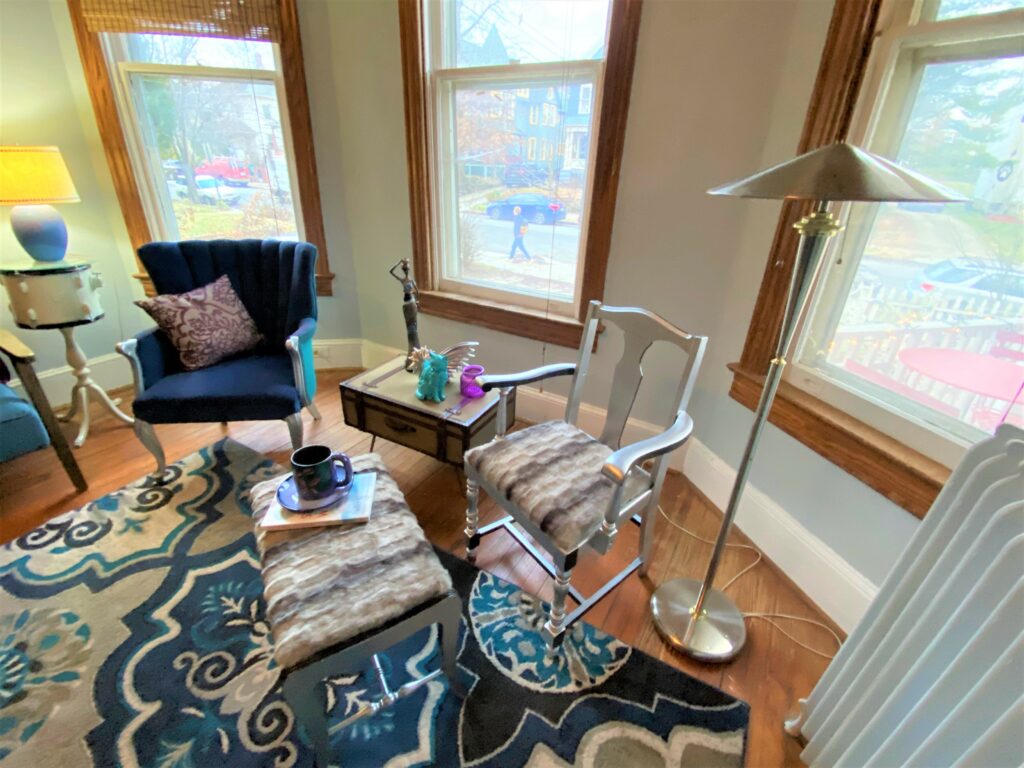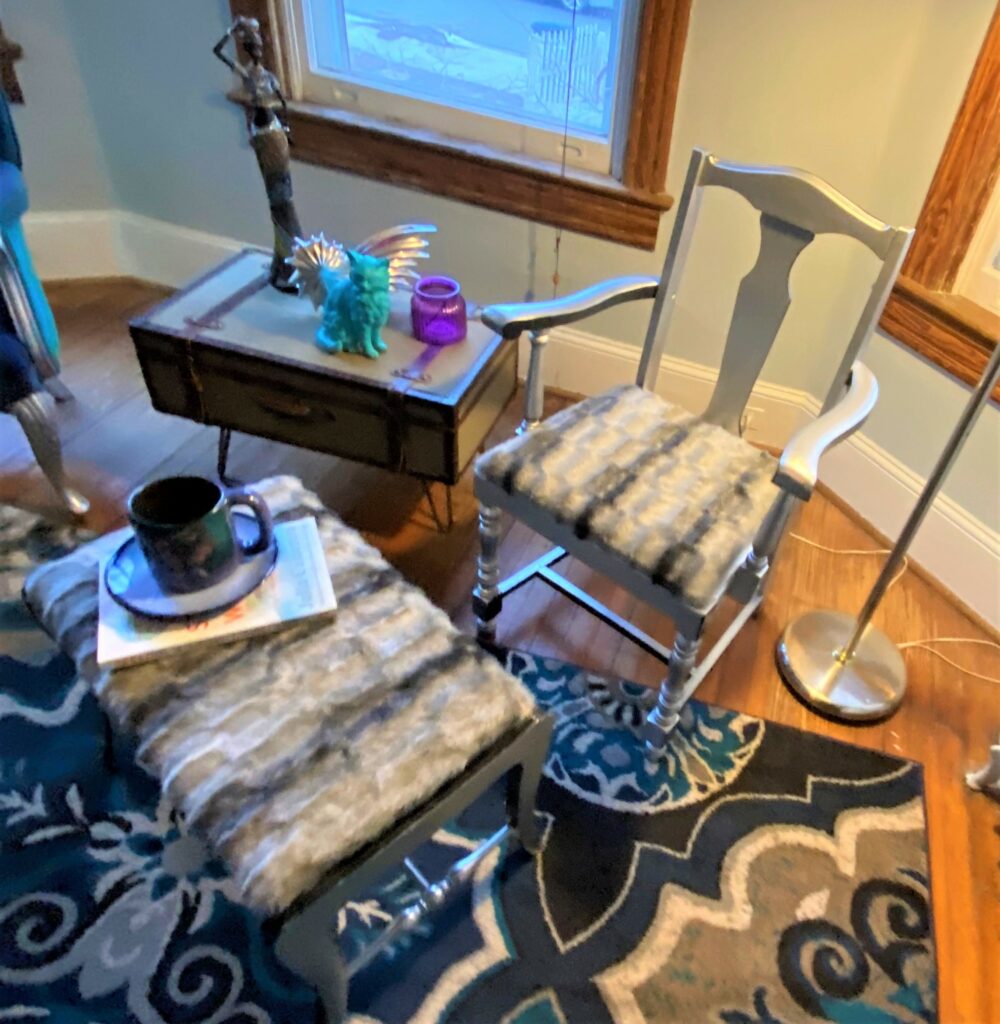 Stay tuned for Part 2 featuring more silver style transformations!
Thanks to Finding Your Good for all the ways you make our community shimmer and shine!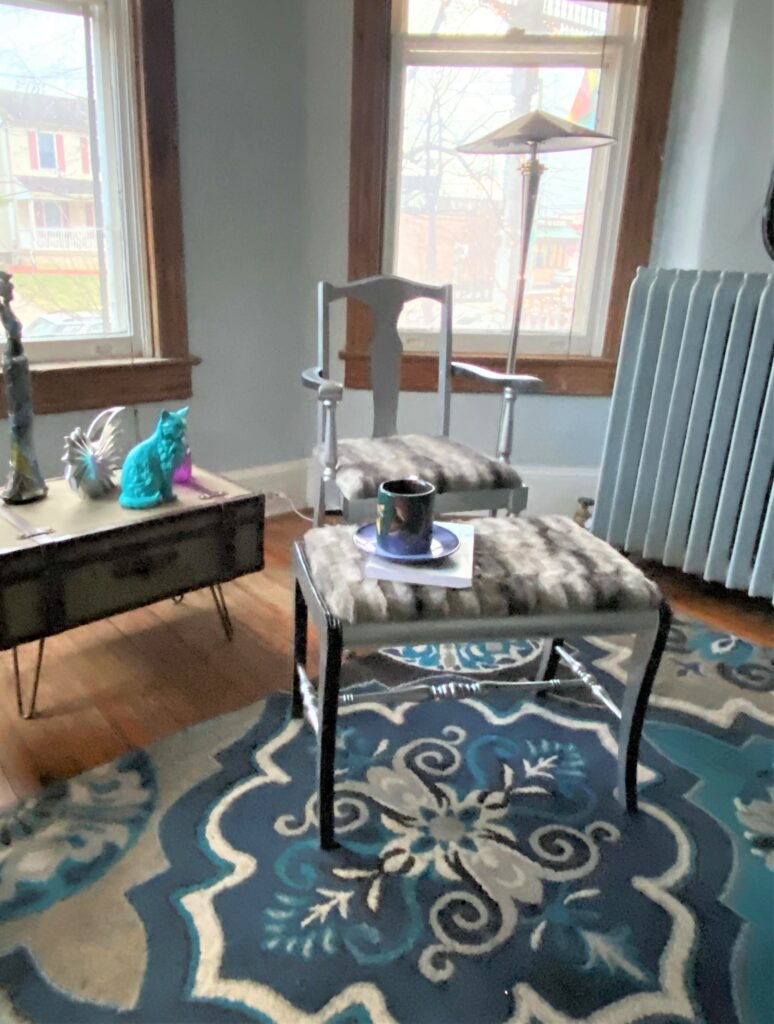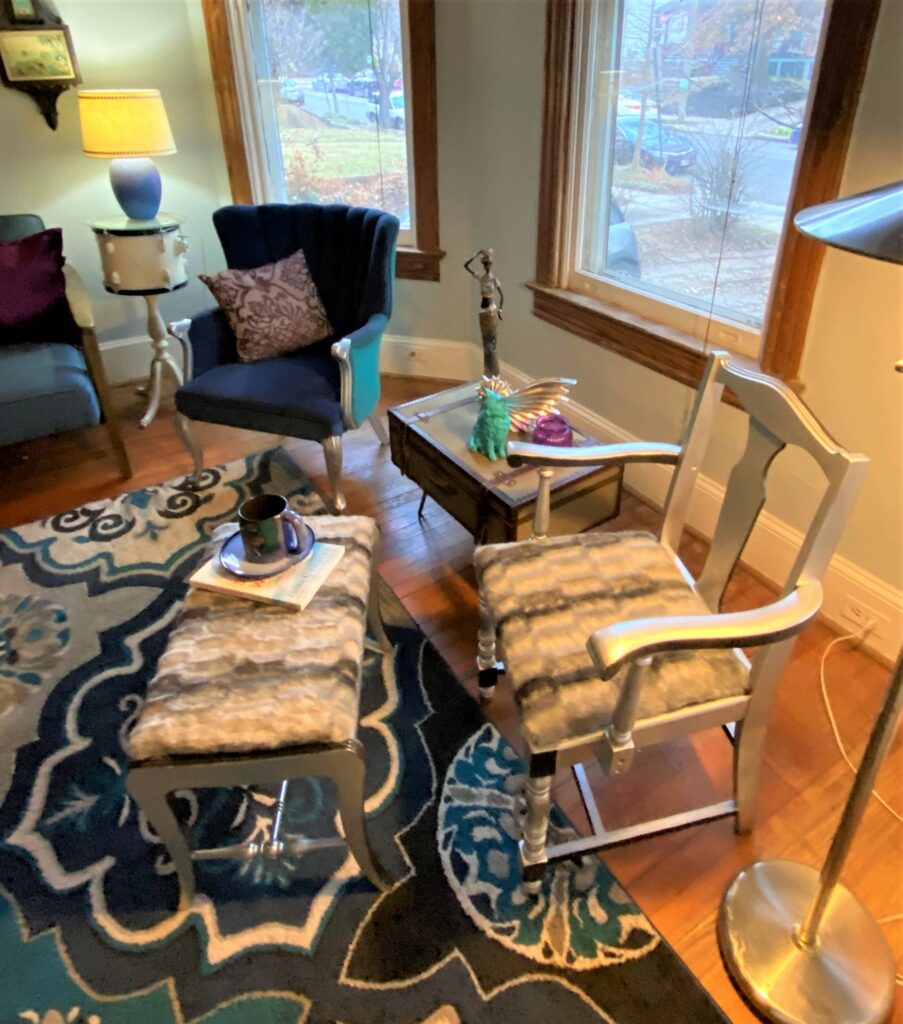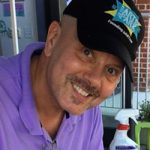 Tim Kime
Artist, Motivational Speaker, Life Coach
Tim Kime is an artist, life coach, and connector. He is the President of Kime Leadership Associates, offering executive coaching, meeting facilitating, and motivational speaking. He is also the Chief Creative Force of Transformation Junkies, which upcycles furniture and other household items into functional works of art. He combined his two passions—unleashing the potential in people and transforming items with the launch of the Art of Possibilities Workshops. These workshops are part upcycling, part dreaming, and part goal setting.