Rethink/Reuse/Repurpose Pieces for Cool/Clever/Kooky Jack O-Lanterns
The temperatures are dropping as the excitement is going up with Halloween just days away. Skip the pumpkin patch by creating clever and cool Jack O-Lanterns upcycled from everyday household items. Salt & pepper shakers? Certainly not a scary idea. A teapot? Put aside your fears, it's perfectly spooky!
This festive and fun DIY project is ideal for kids of any age because it gets everybody looking at things with new eyes. And by shopping at Goodwill, you will only spend a few dollars at the most, so you will get shivers (of delight) at a super low cost.
Items needed:
Round, circle-shaped or curvy household items
Orange spray paint
Black, gold, white craft paints
Small paint brushes·
Black Sharpie, Chalk
Items like ribbon, twine, wine corks to embellish
Scissors
Glue-gun & glue sticks
Mums, flowers, and, of course, candy to fill them!
1. See pumpkins wherever you go, so go to Goodwill today
This project will get your pulse rate pumping when you hunt for items to give your place some Halloween flair. Hit your favorite Goodwill store to see what items can be transformed into decorations for this spooking holiday. Items reused for this blog include a water pitcher, candle votive, and even a colander. What good (and possibly creepy) items will you find while shopping there?
2. Make some pumpkin magic with paint
Place your items outside and on a drop cloth or other protective item. I flipped some big canvases over for this purpose.
Spray on bright orange paint to instantly connect it to its new role as a Jack O' Lantern decoration.
Let dry then flip or turn your items over to ensure each side, edge and surface gets well covered with the paint.
Your pumpkin pieces may need several light coats.
Once done, be sure to let your newly orange-colored items dry well.
3. Paint on faces and personality
With your chalk, sketch in your pumpkin's face.
Using black craft paint and small detail paint brush, give your Jack O-Lantern some eyes, a nose and a mouth.
The black paint on top of the orange tone will immediately tell the world that your item is a pumpkin and it's getting pretty (or scary) for the upcoming Halloween holiday.
Add a little more dimension by adding a little white paint as highlights in the eyes and other black areas.
Design Tip:
To give your Jack O' Lantern's facial details a crisp line, you may want to use a black Sharpie/marker to touch up your painted areas. After the black eyes were painted and dried, you may want to fill in or add a border so they pop out (figuratively speaking) a little more.
4. Give it a gold stripe or two
Always go for the gold and your good when doing a DIY project with Goodwill items.
With your gold craft paint and a small brush, add vertical stripes on your Jack O' Lantern; this will mimic the ridges on a real pumpkin while adding a little bit of shimmer.
5. Optional: make it sing (or scream) with embellishments
Given your item, you might want to add an embellishment or two. A braided belt was cut and hot glued to make a stem. The burlap ribbon was wrapped around a pot handle, too. Gold ribbon (reused from an old greeting card) was cut and tied around the stem to add more charm and whimsy. What do you have on-hand or might you grab while at Goodwill?
6. Consider its new purpose
Add candy, fresh flowers, mums, or candles to make your upcycled decoration serve a new role.
7. Partner it with other items to create a Halloween vignette
Position your Jack O-Lanterns with fall mums, decorative cabbage plants, or other Halloween and fall-related items.
Line them up on a window sill or porch steps.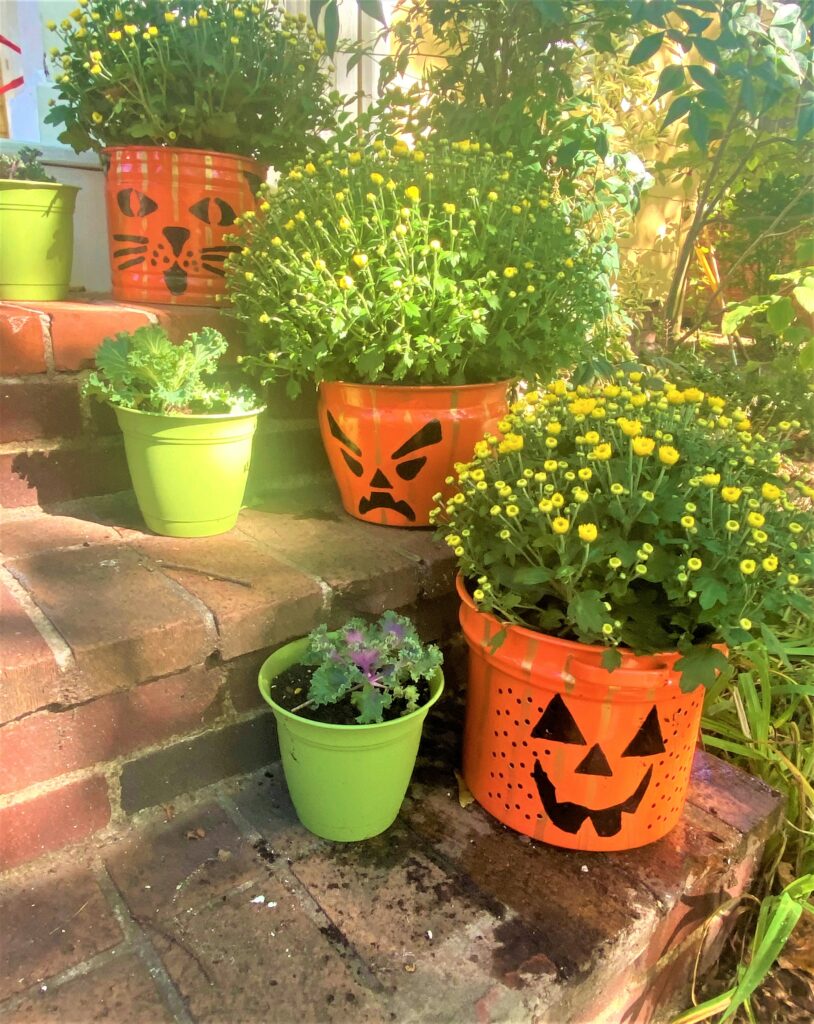 Use them as centerpieces for your Halloween bash.
Place them next to the candy bowl for a frighteningly fun display to greet trick-or-treaters.
Or if you are lucky like me, you can pose them with your black cat (mine's name is Gypsy) for a charmingly chilly vignette!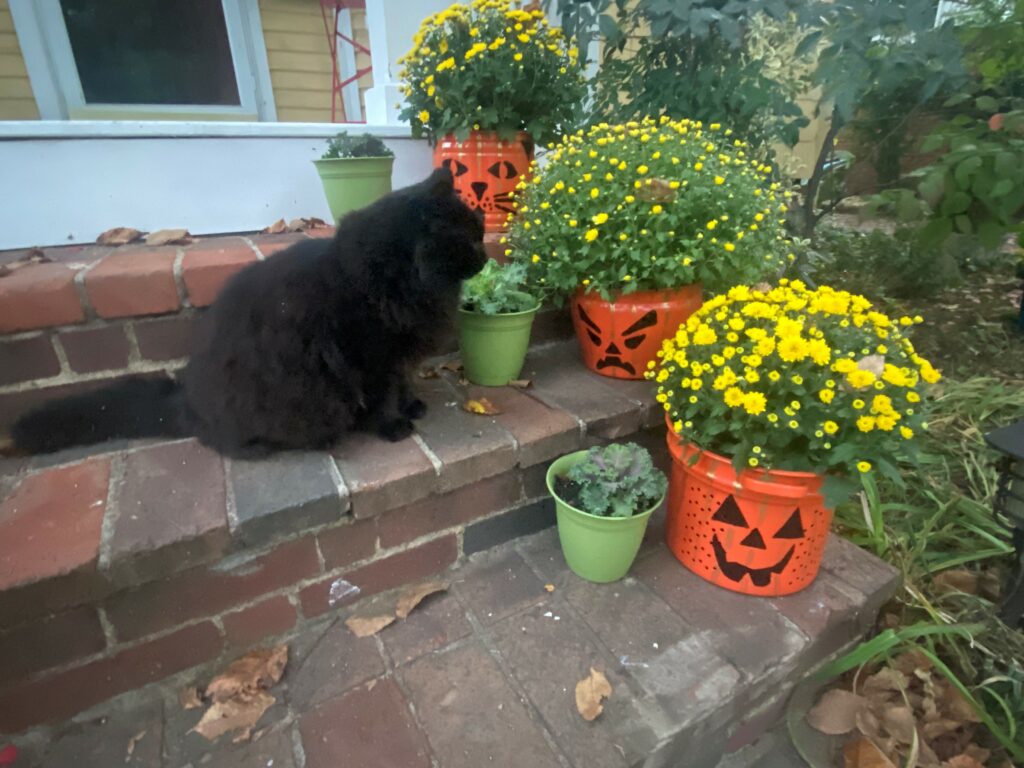 These cool and creative Jack O-Lanterns won't fade away like the real pumpkins, so when the holiday passes, you now have a fun items to remember Halloween 2021 for years to come!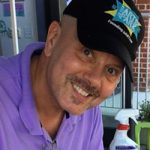 Tim Kime
Artist, Motivational Speaker, Life Coach
Tim Kime is an artist, life coach, connector. He is President of Kime Leadership Associates offering executive coaching, meeting facilitating and motivational speaking. He is also Chief Creative Force of Transformation Junkies which upcycles furniture and other household items into functional works of art. He combined his two passions—unleashing the potential in people and transforming items with the launch of the Art of Possibilities Workshops. These workshops are part upcycling, part dreaming, part goal setting.