During the third week of October 2020, SWEAT DC and Goodwill's Finding Your Good are excited to join forces in order to promote the importance of health and wellness, especially during these increasingly stressful COVID-19 times.
To spread awareness around sustainable methods of healthy living, both organizations will be sharing tips and tricks on their digital platforms, and provide special offers and services to make wellness a more accessible, priority for the community.
FREE and/or Low-Cost Community Programming & Offerings:
On social media, SWEAT DC and Finding Your Good will share FREE fitness and sustainability-focused tips and resources on social media to help the community stay well (both mentally, stylishly, thriftfully, and physically) during COVID-19.
Follow us on these channels for inspiration!
Finding Your Good: FACEBOOK // INSTAGRAM
SWEAT DC: FACEBOOK // INSTAGRAM
FINDING YOUR GOOD:
Through October 25th, Finding Your Good will be hosting a raffle for four (4) Goodwill of Greater Washington Gift Certificates at SWEAT DC's studio. On the mornings of October 24th and 25th at 9:15 AM, Finding Your Good will be providing thrifty tips and resources at SWEAT DC's location. They will also give away four (4) more Goodwill of Greater Washington Gift Certificates to members of the community.
SWEAT DC:
SWEAT DC is offering a $29 flat rate with the customized discount code FINDYOURSWEAT – this allows FYG x SWEAT DC participants a week of unlimited classes (both small group training and cardio).
Below is the customized link to the Challenge pass for FYG readers. It'll take you right to the sign-up page (you do need to have a MindBody account to purchase this pass so you will need to make one if you don't have one already).
https://clients.mindbodyonline.com/classic/ws?studioid=891039&stype=41&sTG=45&prodId=101334
Why are SWEAT DC and Goodwill of Greater Washington's Finding Your Good Collaborating?
Whether through an active lifestyle or secondhand fashion, both organizations prioritize the needs of the greater Washington community in creative, engaging and informative ways.
We both value and prioritize inclusivity in our operations. We know that providing safe, fun and welcoming spaces creates strong and united communities.
What is Finding Your Good?
Powered by Goodwill of Greater Washington, Finding Your Good is a lifestyle platform that focuses on providing sustainability-focused inspiration, tips and resources through a community of experts. The platform hosts multiple virtual and in-person thrift-focused events around the DC area and operates a DIY, thrift and sustainable living podcast, hosted by local radio personality, Sarah Fraser.
What is SWEAT DC?
SWEAT DC is the ONLY Black- & LGBTQ-owned fitness studio in DC. Their mission is to provide a welcoming, diverse, & encouraging fitness studio that pushes the community to be joyfully uncomfortable for the purpose of mental and physical growth. Our main values are inclusivity, inspiration, fun, and challenge.
Their award-winning 45 minute high intensity interval training has been recognized by Fox 5, ABC 7, WUSA 9, the Washington Blade, the Washington Post, the Washingtonian, and more!
SWEAT DC's session offerings include yoga, step classes, mobility, strength training, barre, private workouts, and total body training to ensure we meet our members' needs regardless of their fitness level.
Just like with Goodwill of Greater Washington, their COVID-19 health practices are above and beyond the requirements. This includes limited class sizes, temperature checks at the door, masks at all times, UV lights and air filters utilized during sanitation process, no rotation of equipment, and social distancing during sessions.
SWEAT DC is located studio located in the heart of Shaw on Georgia Avenue, at 3232 Georgia Ave NW Ste 105, Washington, DC 20010.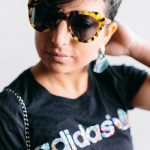 Carolyn Becker
A self-proclaimed thrifty spunky petite fashionista who works in the marketing field by day, and is an artist and thrifter by night. You can find her bragging about her designer Goodwill thrift finds on her Instagram: @petite_punk.