This post is for all you Banana Republic fans, fashionistas! Read more and you will not be disappointed. 🙂
Of all of the brand's great attributes, one thing I love about Banana Republic is your ability to style an entire outfit with a consistent look by a single brand!
This look will be sure to make a statement at the office no matter what type of office setting you're in. It's not only 100% appropriate for work, but it will bring color and pizzazz to your work space.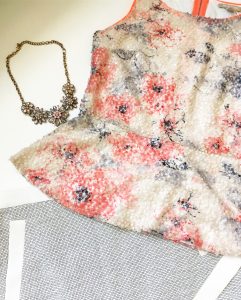 To start off this whole look, I found this multi-colored top that will go with most black skirts in your closet. This sequin top, in a size 4, has a slight peplum at the bottom and a zipper in the back. It's piped with a neon orange material while the body of the blouse has a soft floral print with clear sequins. At full retail, this would have sold for around $50.

For the bottom, I envision this peplum beauty looking fabulous with a modern black and white panel skirt, also from Banana Republic, in a size 2. It's a mini skirt, so if you're petite, feel free to rock this at work with heels. If you're taller, flats will work perfectly as well. The back of this skirt has a silver zipper. At full retail, this gem would have sold for around $60.

Finally, to round out the whole look I'd pair it with these black flats from Talbots in a size 7.5. These black leather-upper flats with a cut out design originally sold for around $70.
Although I'm not offering up accessories today, this look could benefit from a pair of gold stud earrings, a jazzy necklace or a simple black cross-body handbag. Luckily, you can find these at DC Goodwill stores for up to $10 a piece, even from Banana Republic, too! 🙂

Thoughts on today's look, fashionistas? How would you style these Banana Republic beauties at work?