Fashionistas, one of the best accessories you can use to elevate a simple ensemble is with a unique pair of statement earrings. Whether their large or small, a pair can become your look's focal point, or to add another touch to the look.
What's also great about earrings is the huge selection in which they come in. The colors, the sizes, the styles….the options are endless! And that's proven in today's feature: five different styles of earrings, each for under $5 a pair.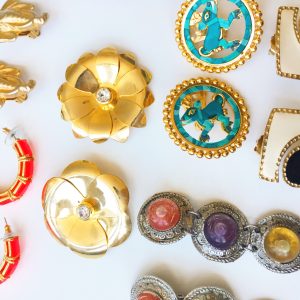 At DC Goodwill stores, I'm always finding must-have earrings of all shapes and styles. I swear, since shopping at Goodwill, my collection has at least quadrupled in the past year. Oops! 😉
Here are my latest earring finds: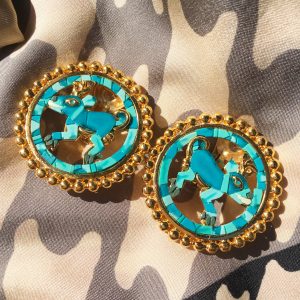 1.) Peruvian Vintage Clip on Blue & Gold Medallions
My first favorite pair, fashionistas, is this vintage Peruvian gold and turquoise medallion clip-on set that I snagged for $4 from Alexandria. I know some people aren't the biggest fans of clip-on earrings, but my favorite thing about this style of earring is I don't wreck my ear lobes with weight. Clips allow heavier flashy styles to be worn without stretching your ear holes out. I can't wait to wear these earrings in an all-black look!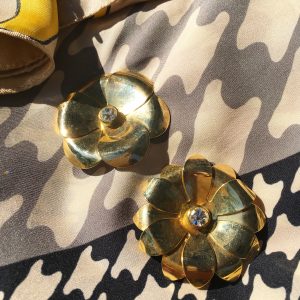 2.) Vintage Gold and Rhinestone Flower Power Petals
For $3, I knew I had to take home this pair of earrings as well. Another pair of clips I cannot wait to wear these charming flowers with one of my beloved vintage bright floral maxi dresses. The warm gold in these earrings will match any colorful dress because the yellowish tone of the metal is versatile. These were scored from the Gaithersburg store.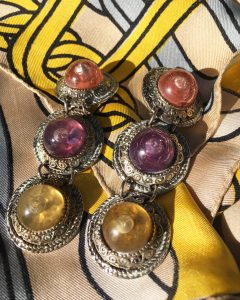 3.) Silver Rainbow Vintage Dangles
I'm in LOVE with these earrings. Because they're so unique and weighty, I wouldn't be able to rock them if they were not clips! Although I'm not the biggest silver tone fan, I cannot wait to wear these pieces of art. The colorful stones will allow me to wear this pair with a lot of dresses of mine. Although since these are so wild, I'd wear plain black with these, similarly to my first pair I mentioned. For $4, I scored these at the Gaithersburg store.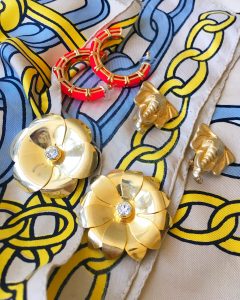 4.) Elephants!
As a big animal lover, you know I had to take these home! These vintage clip-on elephant earrings always have people making positive comments because they're such little pieces of ear art. Whenever I rock these, I usually wear basic or vintage pieces to complement the earring vibes. For $3, I got these at the Bowie store.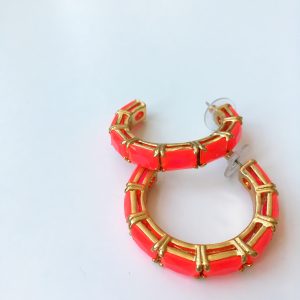 5.) Hot Pink Kate Spade Hoops
Now these are my absolute favorite pair as of late – these Kate Spade hot pink and gold rhinestone hoops. Need I say more about these!?! Whenever I score Kate Spade at Goodwill, it's like I've hit the jackpot. I cannot wait to rock these with a preppy summer dress in green or yellow! I could also wear these with jeans, black sandals, and a tunic. I scored these for $4 from the Gaithersburg store. They originally sell for $100+!

Which pair of these earrings in today's feature was your favorite, readers? Will you look to Goodwill to meet your next earring needs?