Fashionistas, every time summer hits, my schedule becomes jam packed with fun activities and concerts.
When the sun comes out, I have a major itch to be outside, get active, and see what Washington, DC has to offer.
This past weekend marked one of those occasions.
On Saturday, I was able to score a handful of tickets to the Sweetlife Sweetgreen Festival block party. This outdoor music event kicks off the upcoming All Things Go Music festival featuring a ton of talented musicians from across the country.
While this event was free, it was ticketed to limit the amount of attendees. Luckily, I was able to get some tickets before the Eventbrite sold out in less than 24 hours!
When I arrived, this party was poppin'! I did not expect it. I figured it would just be a free concert with some vendors. But no, I was way wrong.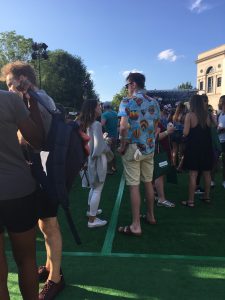 The event had free food from tons of local restaurants such as Maketto and Misfit Juicery.
They also had some free tote bags, a neat selfie booth, and multiple music acts to entertain the crowd.
I tried to snap some selfies but it got so crowded! However, I did manage to take a couple of outfit pics to show you what I wore.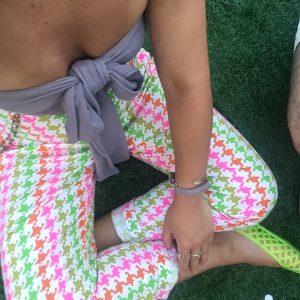 I rocked a vintage, high-waisted, houndstooth printed pants along with a gray American Apparel tie tube top leotard and my beloved neon green jelly flats. This whole look was under $40.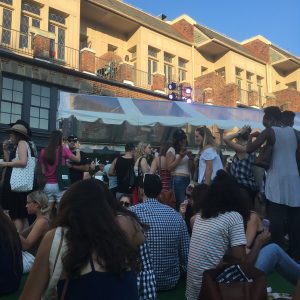 As you can see from some crowd pics, other DC folks were dressed well too. It is apparent boho hippie modern style is all the rage this summer with off the shoulder tops and high-waisted shorts making large waves.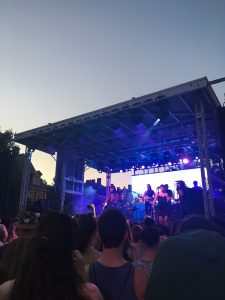 To conclude the event, my favorite neo-soul, Price-sounding musician, Blood Oranged, played a powerful set. The crowd was in a trance when he played – it was spectacular!
What cool events will you be attending this summer, fashionistas? What do you plan on wearing to them?