Fashionistas, ever since I hit the beach a few weekends ago I've been in the ultimate beach bum spirit. Now I want to hit Rehoboth Beach, DE to soak in the sun rays and kick back every weekend!
Summer is all about relaxation for me. There's really nothing like going to the beach to sit back and let the waves take your mind away.
One thing I love about going to the beach is those cool and fun summer nights. Just walking up and down the boardwalk, eating fries or ice cream… it's absolutely priceless. There's no one you have to impress and you can dress however you'd like. And for me that means dressing cute but, most importantly, warm n' comfy. Today's look is ideal for this type of summer situation.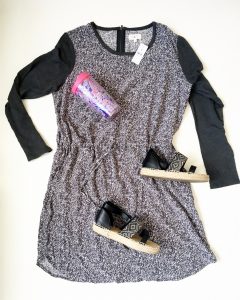 Today's #MyGoodwillFind is a NWT, dark gray and white, long-sleeved, patterned, Lou & Grey summer dress in a size large. The gray sleeves are crafted from a warmer sweater material. The bottom section has a drawstring to loosen and tighten as you prefer.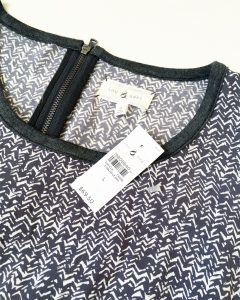 The price tag lists this item as originally selling for $69.50. Lou & Grey is owned by the Ann Taylor brand.
If I were to rock this laid-back warm dress during a cool beach evening I'd throw on a pair of sandals, leggings, and cross-body bag. Essentially, I want to wear items that are simple and easy to put on yet still fashionable.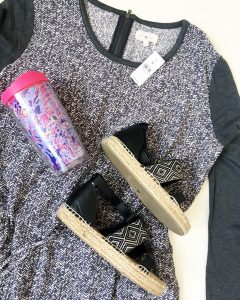 Since the evening might be a little chilly I'd want to drink tea. So to save some money I'd bring a Goodwill tumbler with me and fill it with my favorite evening warm drink: apple cinnamon herbal tea.
The one pictured here is a new Lilly Pulitzer cup I scored at a DC Goodwill store for a dollar. This has been one of my best and smartest purchases yet! I use it all of the time.
How would you style this Lou & Grey dress, fashionistas? Would you wear it with sandals and leggings on a cool summer evening?