Fashionistas, I'm still on my vintage kick! And this time, I'm trying to decorate my home. For this activity of finding five Goodwill gems for under $5, I decided to challenge myself to find different kitchen items, both vintage and modern, to add a little spark to my living space this summer.
And guess what?! I did it! After much digging and searching, I found five types of items I'm very excited about.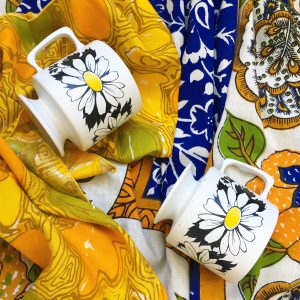 1.) Vintage Cups

First up, at the Alexandria Goodwill, I found 4 vintage, plastic, floral cups for about 50 cents a piece – meaning I only spent $2 total on these!
I can't wait to drink my beloved Chai tea out of these and treat my friends to a summer tea party.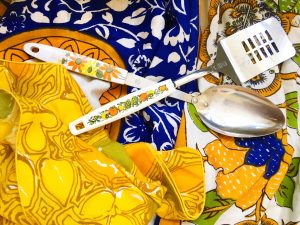 2.) Vintage Floral Cooking Gear
But wait, there's more floral! What's great about Goodwill is you can pick up cooking gear, like spatulas, of all decades! These two vintage floral-handle beauties were each about $1-$2 an piece.

I'm in love with these handles! They're so unique and it reminds me of something you would find at Anthropologie for a lot more money.

I'm going to display these in my kitchen on the wall with pins.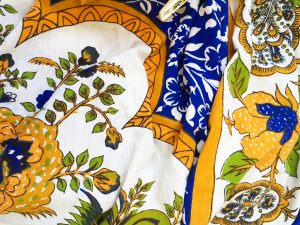 3.) Vintage Tablecloth
And this gem?!?! When I saw it, I was speechless. For just $3.99 I knew I had to take it home! This beautiful pattern will make my table a conversation piece at any upcoming meal. I snagged this gem from the Alexandria Goodwill during my June Meetup.
With some wooden plates, my table will look rustic and Italian.
4.) Vintage Napkins
These napkins will be the perfect accompaniment to my table cloth! For under $5 a pair, I picked up these yellow, vintage, Vera napkins at the Waldorf store.
I have other kinds of vintage napkins from Goodwill too – I guess I now have a collection!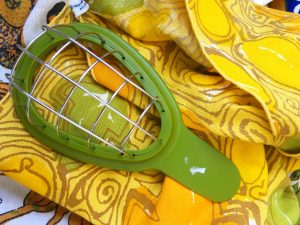 5.) Kitchen Hacks – Avocado Cuber
This is the most fun and "I-didn't-know-I-needed-it-until-I-found-it" tool I've discovered in months!

For $1, I picked up this avocado cuber at a DC Goodwill location. When you place this on top of an avocado, it slices it perfectly into cubes for snacking or guac.

I'm on a big avocado kick at the moment, so it was perfect timing that I found this. I usually keep it at work and utilize it during lunch for my salad.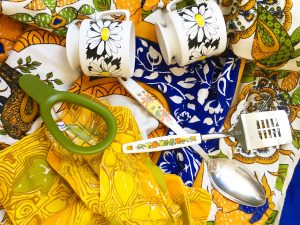 Have you found any kitchen items for under $5 lately you're jazzed about, fashionistas?