Fashionistas, one thing I love love LOVE about summer is the fact I can start busting out all my snazzy, new-to-me, vintage finds and rock them on the streets, at the pool, at home… everywhere! Summer, to me, is all about vibrant colors and funky fashion. So this season, I'm embracing vintage to the next level!
And guess what?! DC Goodwill stores have gifted me with some stellar pieces the past few weeks. All for under $5 a piece! But I did leave a lot of items behind, so don't worry readers! You can find plenty of vintage gems too!
For under $5 an item, you can spice up your summer wardrobe with beauties such as: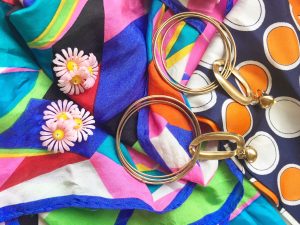 1.) Vintage Earrings Galore
For between $1-$3 a pair, I'm constantly snagging retro, vintage earrings, like these, at all Goodwill stores. I recently purchased these two pairs from the Waldorf and Clinton locations. The gold ones will look so cute with a shift dress or strapless top!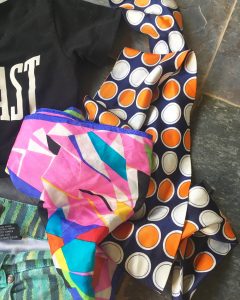 2.) Psychedelic Scarves
Speaking of accessories, now's the time to also pick up a colorful scarf or two. For up to $4 a luscious silk beauty, you can add a needed touch of color to any modern or vintage inspired look! This orange and blue long head scarf and 80's Casca were each about $2 at the Gaithersburg store. I can't wait to wear these around my head like Twiggy or on a plain purse to add a pop of color!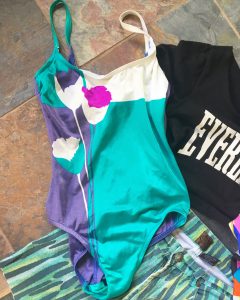 3.) Bathing Suits
Sometimes I like to embark on tiny Goodwill missions to find certain items, just as fun activities or to fulfill personal fashion needs. And this season in particular I've been in search of vintage bathing suits to wear at the pool or as leotards with everyday outfits.
So when I last visited the Clinton store a few weeks ago, I stumbled upon one of my best hauls ever: vintage 80's/90's swimwear.
For under $5 an item, I picked up all sorts of retro one-pieces, tops, and sets of all different styles and colors.
One of my latest fashion goals is to look like I came out of Saved by the Bell while at the beach. And holy cow, I will definitely now earn this trend achievement! I scored at least 10 suits! And you'll see them all on the blog this summer. 🙂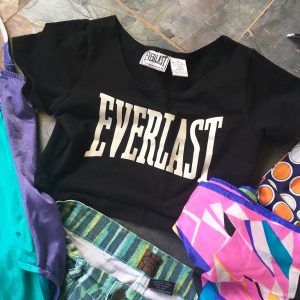 4.) Retro Logo Crop Tops
So what does one wear on top of a bathing suit or with vintage accessories? A top of course! And you can find all the coolest vintage crop tops at Goodwill to channel your inner Valley Girl or Salt n' Peppa. For under $4 I scored this 80's, black, Everlast crop top at the Falls Church store in the athletic wear section.
Sometimes it's hard to figure out what to wear with a crop top without showing the stomach. But I do have one style solution for you and it's my next 5 under $5 find… drum roll please…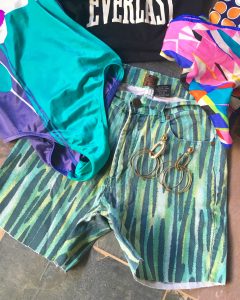 5.) High Waist Shorts
Yes! High waist shorts are the perfect bottom to rock with a crop top or bathing suit during the summer. You can either buy these for about a penny under $5 at any DC Goodwill or for well under $5 during a Super Saturday Sale or 50% off Customer Appreciation Tuesday event.
If you can't find shorts, a pair can easily be created by buying and DIYing a pair of pants. That's what I did with this printed, jungle pair. I scored these at Clinton.
And there ya have it! Five fun, vintage, summer items for under $5 from DC Goodwill. I challenge you to embark on this mission! 🙂