Fashionistas, for today's edition of #MyGoodwillFind, we're basically offering up a whole entire look! DC Goodwill stores have SO many great clothing finds that pair well together, I figured I'd start composing some outfits.
Today's look is a little more out there in terms of patterns. But readers, I guarantee this outfit will turn heads and create positive conversations! The vintage meets modern combination is a timeless fashion tactic that has always proven to be a smashing success.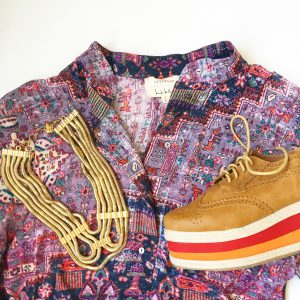 For the top, I found this pattern-mixing, artistic, party button-down by designer Nicole Miller Atelier in a size medium. It originally retails for over $150. The fabric is a tad sheer, so you must wear a cami underneath. The top of the blouse does not have a structured collar and is decorated with bright blues and purples.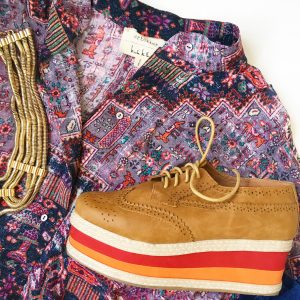 To complement the oranges in this designer blouse, you can purchase these like new Nature Breeze platforms in a size 7.5. They are sure to be a head-turners! Even though they are platforms, the tan oxford cut gives it a casual everyday look. At full retail these would have sold for around $30-$50. But for you fashionistas today, you're getting quite a deal! My favorite part about these shoes is the stacking of colors on the foam platform. It's so unique!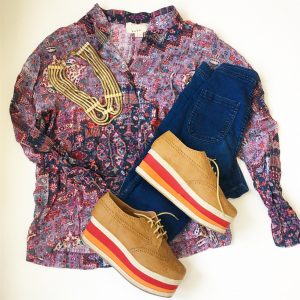 To tie the whole look together and create a playful, complete ensemble, I'd rock some denim skinnies and a statement necklace. You can find a rockin', flattering pair of blue pants at all DC Goodwill stores for under $10 a pair. And you can even pick up some designer ones too! I've seen modern styles of brands like James, Paige, Joe's, and 7 for All Mankind on the racks at Goodwill.
Although this look is a bit loud already, why not take it up just one more notch with a fun, sculptural necklace? Today, I laid out my beloved, gold, bib-style, BCBG necklace. You can find a similar one at any store. Although this neck bling is mine, I've found similar ones at the Gaithersburg Goodwill for $8 a beauty.
If you want to wear earrings while rocking a big necklace under the shirt's collar, I'd wear tiny jewel or metal-tone studs. You don't want to wear anything too wild to distract from the other focal components of the look.
Fashionistas, how would you style this Nicole Miller and platform oxford match-made-in-Goodwill-heaven?