Fashionistas, this whole week I'm at Rehoboth Beach kicking it with my family and relaxing in style.
I'm taking my beach vibes and channeling them into today's #MyGoodwillFind ensemble comprised of name brand designers with fun beachy prints.
To celebrate the sunshine, here is a beach tropical-patterned halter top by Paul Smith that literally has the beach on it.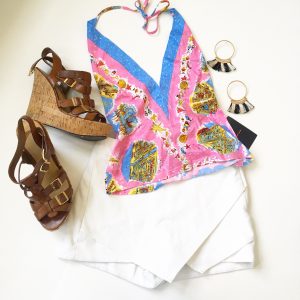 I'm in love, love, LOVE with this British designer! I found this pink, beach-pattern, halter top with tags in a size 42. It's made of a light cotton material and ties at the top. The best part about this top is it originally retails for $100. But on here you can have it for much less! On a hot summer day, this shirt will feel like air.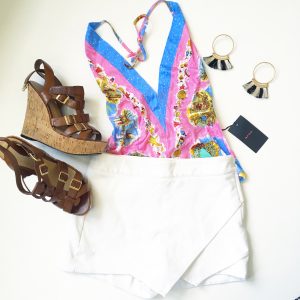 Next up, I wanted to keep this look cool and breezy. So I opted to pull out my white skort. Usually I wear black, but since the sun can be so hot the color white will breathe as opposed to soaking up and absorbing the sunshine. Even though I'm pairing this halter with my skort, white pants or shorts will easily look just as great.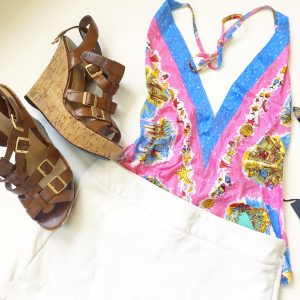 You can't complete this look without some comfy, yet sassy and sophisticated, shoes! I'm styling today's top with these gorgeous Aldo cork wedges in a size 38. The warm brown straps with gold hardware are made of a leather-like material. The cork heel is a bit tall but the platform style still allows for comfort when walking. At full retail, these would have sold for at least $110.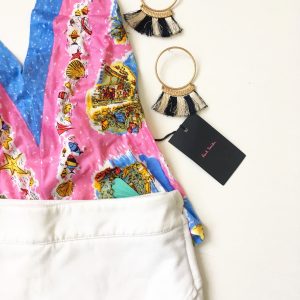 And last but not least, every fashionista needs to add some jewelry to their look! I recommend rocking some statement dangly or large earrings with the halter. The long lines of the earrings will echo the verticals in the top on the halter, further elongating your neck. Earrings like these will also draw the eye to the face and shoulders in a sensual manner.
How would you style this Paul Smith halter and luscious, brown, cork, Aldo wedges, fashionistas? Are you feeling the tropical vibes?