Remember this brand, fashionistas? A few months ago, we featured another My Goodwill Find by this name.
Today's My Goodwill Find is a gorgeous light dress that is perfect for layering this season. It's by Broadway & Broome, one of Madewell's house labels. Fun fact! Madewell is a part of the J. Crew family making this brand and dress all that!
In a size 2, this dress will fit a figure that is more on the smaller side. Unfortunately, it's too big on me, but if I find it in a size 0 on the Goodwill racks. I'll be sure to snag it.
This mustard and cream floral gem hits above-high above the knee, making if perfect to wear with a pair of knee-high boots. The front of this dress has buttons, and it's sleeves are crafted with a bit of ruching – a very feminine type of detailing.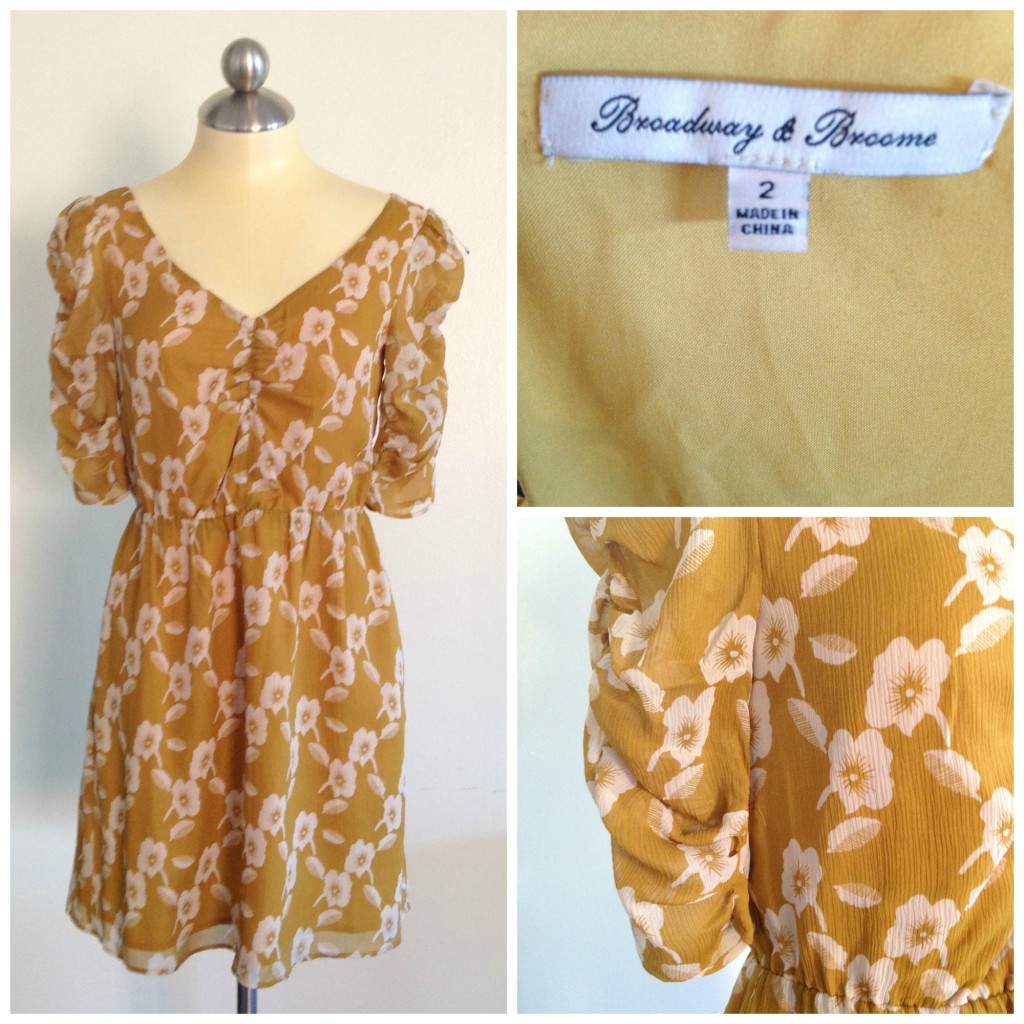 To transform this dress for a Summer to Fall/Winter staple. A good pair of boots will make the outfit. With a simple pair of tights of any color or texture, a pair of boots will keep your feet and legs extra warm.
I'm envisioning either a knee-high boot of a dark brown or plum color to play off of the natural color of today's dress. The boot could have a heel to keep you sassy at work, but a flat one will work as well. Whatever makes you the most comfortable.
A bootie-style of footwear will also look nice with this boho chic dress. Again, plums, browns, dark navys….these will complement the mustard color without looking too harsh. I would stay away from wearing black.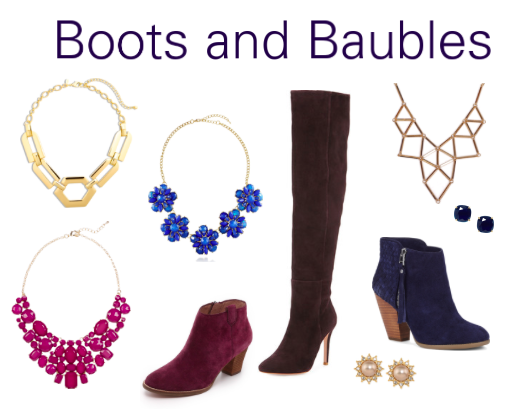 Image by Polyvore.
Now onto the baubles. Let's play around with color and shapes, fashionistas! Similar to the boots, a blue or plum will look stellar. Play with golds and or cranberry tones as well. The options are endless! However, with this dress in particular, I'm strongly leaning towards a bib style necklace with a party in the front. Today's dress is a bit innocent, so why not throw some wildness into this mix. You can find necklaces like these at Goodwill for under $8, and with your Customer Loyalty discount on certain purchases, the price could be under $5!
In terms of earrings, if you are going to have a necklace that's a conversation piece, play it subtle with earrings. Golds, pearls, blues….anything that isn't to flashy.
With any piece of jewelry with this dress, I'd opt for gold metals. The gold color will echo the warmth of the mustard yellow in the dress. A silver might look too cold. On a cold winter day, looking warm might actually make you feel it! 🙂
How would you wear today's dress, readers? Are you feeling the boho hippie chic, like I am?