Today's #MyGoodwillFind is by a brand that I love and enjoy immensely. If you haven't heard of it before, Broadway and Broome is a label that is sold at the casual meets classy expensive store, Madewell. They have a few locations throughout DC and is owned by the notable J. Crew. In a past post, I've written about Madewell and their collection brands, the quality of clothing, and trends that they follow.
To recap, Madewell is a line that is known for its simple, cute, sometimes boho chic, and rustic style. They have garments of all colors and styles but most of the tones are muted tones. Today's dress, however, is an outlier. And that's why I love it.
This polka dotted short-sleeved gem is a popping bright cherry red color and is decorated with big dots. The garment is a size 4 (Small) and originally retails for around $100. It's made of a soft silk rayon combination and has a polyester lining, making the dress semi-worn during cooler seasons. The length of today's pick hits above the knee and the sleeves have a nice cut that provides the shoulders a nice feminine shape. The cinching around the waist adds a nice hourglass shape and it the perfect spot for a belt of any color.
This dress can be sported during the last days of summer, or throughout fall because the shape and style aren't particular to any singular season. It's also flexible fashion style wise. No matter if you enjoy pin-up clothing or cowboy boots, this dress can fit in your closet.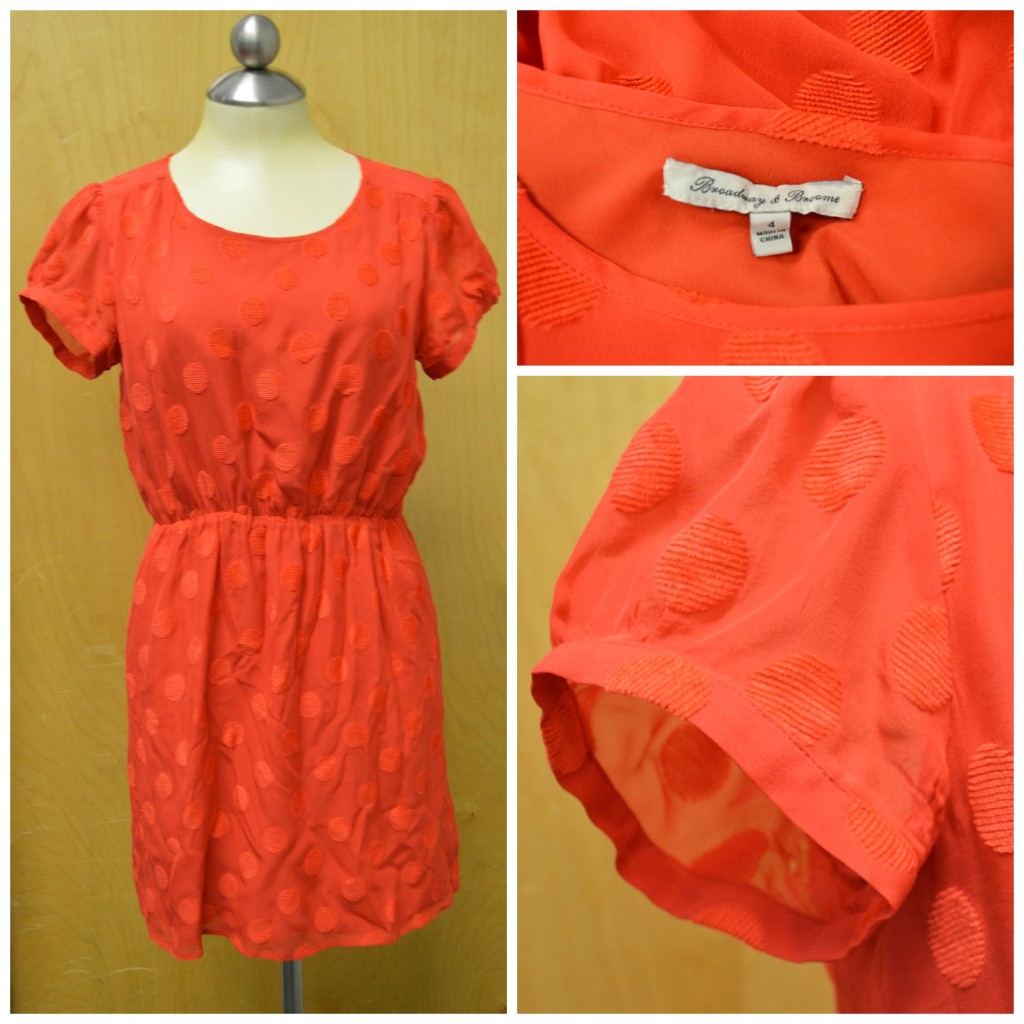 With or without a belt, I see this dress meshing well with any look you choose!
Date night? Check. Work? Of course! No matter what type of jacket or shoe you pair with this dress, it will most likely always look fab.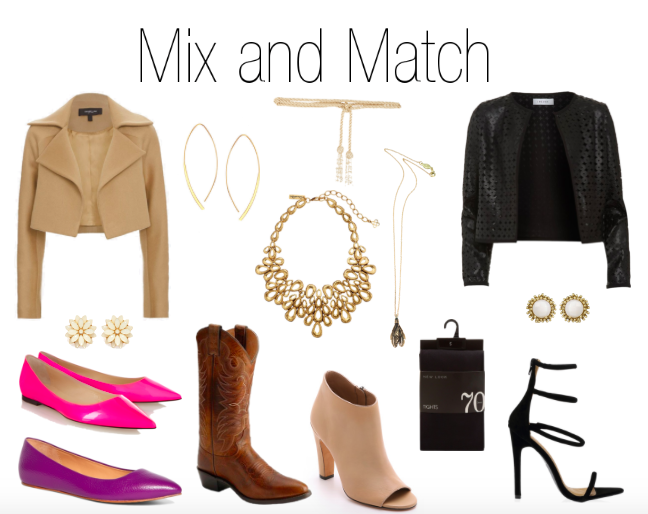 Image by Polyvore.
For a more casual look, I'd rock some nude flats in order to allow the red glow and the dots to dance. In contrast, I also might wear purple or pink ones to play off of colors, and do color blocking to the max. For a fall look, I'm feeling a pair of beautiful dark brown luscious cowboy boots. And with those, I'd rock a pair of colored or simple tights underneath. This will keep your legs warm on a nice fall day. For a fancier evening, I'd definitely wear some sandal heels; I think these make the foot look incredibly feminine. Booties will certainly work as well for this dress is the perfect length to not make your legs look cut off or seemingly short.
For some reason, this dress is screaming jacket, but always a cropped one. A longer one might look a bit too baggy or shapeless. I'm thinking a motorcycle jacket for the evening, and/or a nude one for the day. A colored blazer or jacket would definitely work as well. I'm all about mixing colors and going a tiny step beyond the norm.
To pull a whole look together, gems are mandatory. Whether you prefer to go simple or extravagant, you need at least one accessory to complete the ensemble. On the ears, little stone studs would look stunning and simple. Their size and cuteness would be classy and not too flashy. On the neck, I'm thinking a big bib necklace in a gold tone or one embellished with colored stones and decor. On a simpler side, you could wear a necklace with a small pendant that hits right below the neckline of this piece. OR you could go the complete opposite and wear a longer necklace that hits the chest, rib or stomach area. This type of accessory would also have a pendant, but one that's larger and more of an eye-catcher.
This beauty is one that we can all love, enjoy and want to wear. It's in great condition so one can get a lot of wears out of it – I know that's something all of us fashionistas can undoubtedly appreciate.
How would you style this red bombshell, dear readers? Would you mix colors or keep the dress the center of the show?