Don't miss the recent Redfin article I was featured in: "Halloween Home Décor Ideas to Make Your Space a Little Spooky."
To help you get started, I, along with other experts shared spook-tacular advice to decorate your home with Halloween style. Check out what we had to say so you can give your space a fright this October!
Halloween Home Décor Ideas to Make Your Space a Little Spooky
Skeletons, ghosts, and vampires… oh my! Halloween is creeping upon us so it's time to enjoy all that comes with Halloween home décor. Whether you're an avid decorator with a boo-tiful theme to decorate your home or you're into the thrills of thrifting your home décor, these ideas will help make your home spook-tacular.
We've consulted the crystal ball and they've given us 14 experts from Bracebridge, CA to Austin, TX, for their spookiest and fang-tastic Halloween home décor ideas. Find out what they had to say so you can decorate your home with Halloween style – pumpkins and all.
Don't be afraid to stray from traditional black and orange. I like to switch it up and add unique colors to black décor, like pink or teal, for a fresh Halloween look. Adding more traditional decorations like skulls, spiderwebs, and pumpkins keeps things spooky and on theme. – Carolina Villarreal, MINT Event Design
Pumpkins are always a classic. When it comes to Halloween décor, don't underestimate the power of pumpkins and black accents mixed with your everyday neutrals. Shop your home first to see if there is anything you could give a black spray paint makeover, then check your local Dollar Tree, HomeGoods, & Target for affordable seasonal accent pieces. That's where I found everything pictured in this spooktacular tablescape, which I combined with my existing table runner, placemats, china, & cloth napkins. – Jennifer Digiacomo, Pixels And Pop
Keep it simple and stick with a theme. I love to entertain, so I love to decorate my kitchen/dining area for Halloween. I stick to the "Keep it Simple" philosophy, so I might use some themed pieces such as witches or ghosts, along with garlands of fall leaves or cranberries and dried apples. I top it off with our line of Pumpkin Family hand-painted glassware, usually to enjoy some mulled wine and hot apple cider with friends. – Golden Hill Studio
And go all out on that theme. When it comes to Halloween, Austin-based Lifestyle Blogger and TV Host, Lauren Petrowski, loves to go all out. Whether it's spooky or neutral décor, she recommends picking a theme and running with it. When decorating for fall, she also suggests using a mixture of faux and real pumpkins along with dried stems to perfect the look. – Lauren Petrowski
Decorate with what you already own. A great way to easily decorate your home for Halloween is to use something around the house. This darling Halloween wreath is made completely of mason jar rings that were hiding in the back of a junk drawer. Now it's our favorite Halloween decoration that is adorning our front door. – Debbie McEwen, This Grandma Is Fun
And bonus points if you make your wreath extra spooky. Welcome people to your home in the creepiest way possible by decorating a wreath to hang on your door filled with rats and spiders. This is such an easy craft to make, and is a great way to put some fear into your trick or treaters, not to mention your UPS guy. – Jillian Tohber Leslie, Catch My Party
Switch it up with spooky artwork. There are so many artists who make fun spooky artwork for the season- try switching out your artwork to reflect the change of seasons. Make it easier by placing the prints together in the same frame, one behind the other, that way when it is time you do not have to go digging around to find the next piece. – Jackalope: an indie artisan fair
Make your mantle stand out this Halloween. I love Halloween home décor that centers around a mantle. They're great focal points in a room and offer a lot of different heights and textures to play with. Unfortunately, I live in an apartment without a mantle so I use my TV as my focal point. My best tip for having a big impact in this space is to pick a single, large element to start your décor and build out from it. This year, I draped crepe paper streamers out of a dollar store witch hat to create a focal point and give my décor some height. Then, I layered the rest of my décor on bookshelves. It looks perfectly spooky and was all done in a single afternoon. – Miranda Enzor, Spooky Little Halloween
Incorporate scented candles into your décor to make your spooky setting more authentic. To create a gothic vibe, we topped basic black candle holders with scented white pillars that have a foggy, woodsy scent. Or, if you prefer a Halloween that reminds you of childhood nostalgia, we love the sweet, mysterious scent and molten lava wax color of Goose Creek's Trick or Treat candle. – How This Smells, a friendly and funny candle blog
Group themed items for a visual impact. Decorating for Halloween doesn't have to mean covering your house in tacky, bright orange and black plastic junk. A well-placed murder of crows, painted pumpkins, serving bowls filled with skulls and bones, a colony of bats flying up your living room wall—try grouping Halloween props together to create a visual impact and a sense of whimsy. – EBB & FLOW
Don't forget to DIY. With the haunting season upon us, it's never been easier to DIY with Goodwill North Central Texas. Thrifters can always expect a wide variety of holiday decorations in our donated goods area, or browse through our seasonal collection of new goods for the perfect spooky find. With these finds and just a few art supplies and a little "magic" you can craft your own Halloween décor and costumes. Check out our step by step guide to creating decorative witches' brew, or how to find two kids costumes for just $20. – Goodwill North Central Texas
Your front porch brings the spooky thrills. What's spookier than giant spiders collecting human heads in cages to welcome (and give chills and thrills) Trick-or-Treaters? Make your front porch a web of scary fun with spiders whose legs are foam pipe covers, eyes are ping pong balls and bodies are plastic milk bottles. Combine these with caged "bloody" heads created from painted, styrofoam styling heads for a Halloween vignette they won't soon forget. – Tim Kime, Finding Your Good and Goodwill of Greater Washington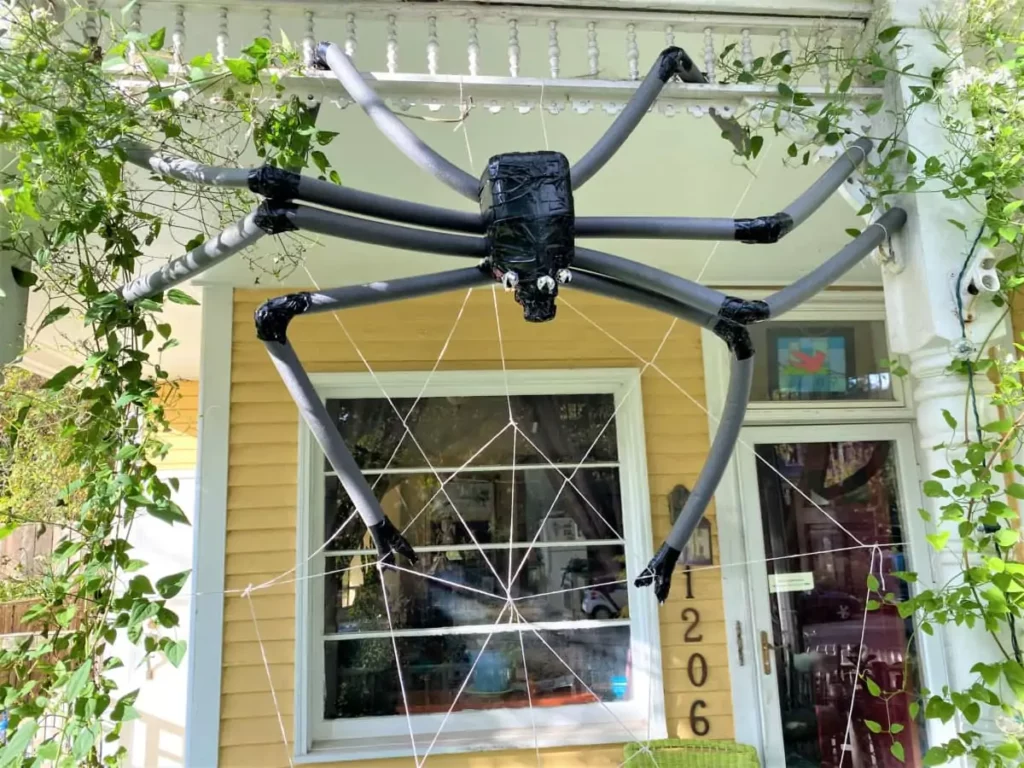 Choose weatherproof items to decorate your yard. Through the month of October, you can find low-cost Halloween décor at Goodwill, your Halloween headquarters. As you shop for items to decorate your yard this spooky season, remember to buy items made of plastic, wicker or foam. All of these items are weatherproof or can be made into weatherproof items using waterproof spray.
Plastic cauldrons, skeletons and pumpkins are great for outside décor, easy to clean and can withstand multiple weather conditions. Waterproof spray can easily make wicker and foam items weatherproof. Add mums or plants to wicker baskets or foam pumpkins to window sills and outside décor to transform your home this Halloween. – Goodwill Industries of the Southern Piedmont
Paint or etch your pumpkin designs. Etch your pumpkin using scary but fun pumpkin art using stencils. These are great if you aren't confident in your ability to draw onto your pumpkin directly. Pumpkin painting is especially fun to do alongside friends and family during a pre-Halloween crafting night. Once you are done etching (or painting if you prefer) everyone can display their carved work of spookiness at their doorstep. The coolest thing about decorating your front porch with stencils is that you can include the kiddos in the fun, slow down life just a little with the hands on crafting, and allow everyone to take pride in the final results that they created. Stay creative and spooky. – Stencil Me Pretty
Originally published by Redfin