June is Pride Month, so we're offering some ideas and inspiration as you show community support and rainbow love.  Upcycle thrift store finds into colorful statement pieces that are fun and festive for your home or office.  These projects received some love and the rainbow treatment using spray paint. 
1. Check out Goodwill for items to transform
It's always fun to hunt for items at Goodwill to see what's on-hand and available for your space.  Two mirrors, in very different shapes and construction, were given a unified look in this week's blog.  A very traditionally styled chair got a bright make over to make it stand out of the crowd.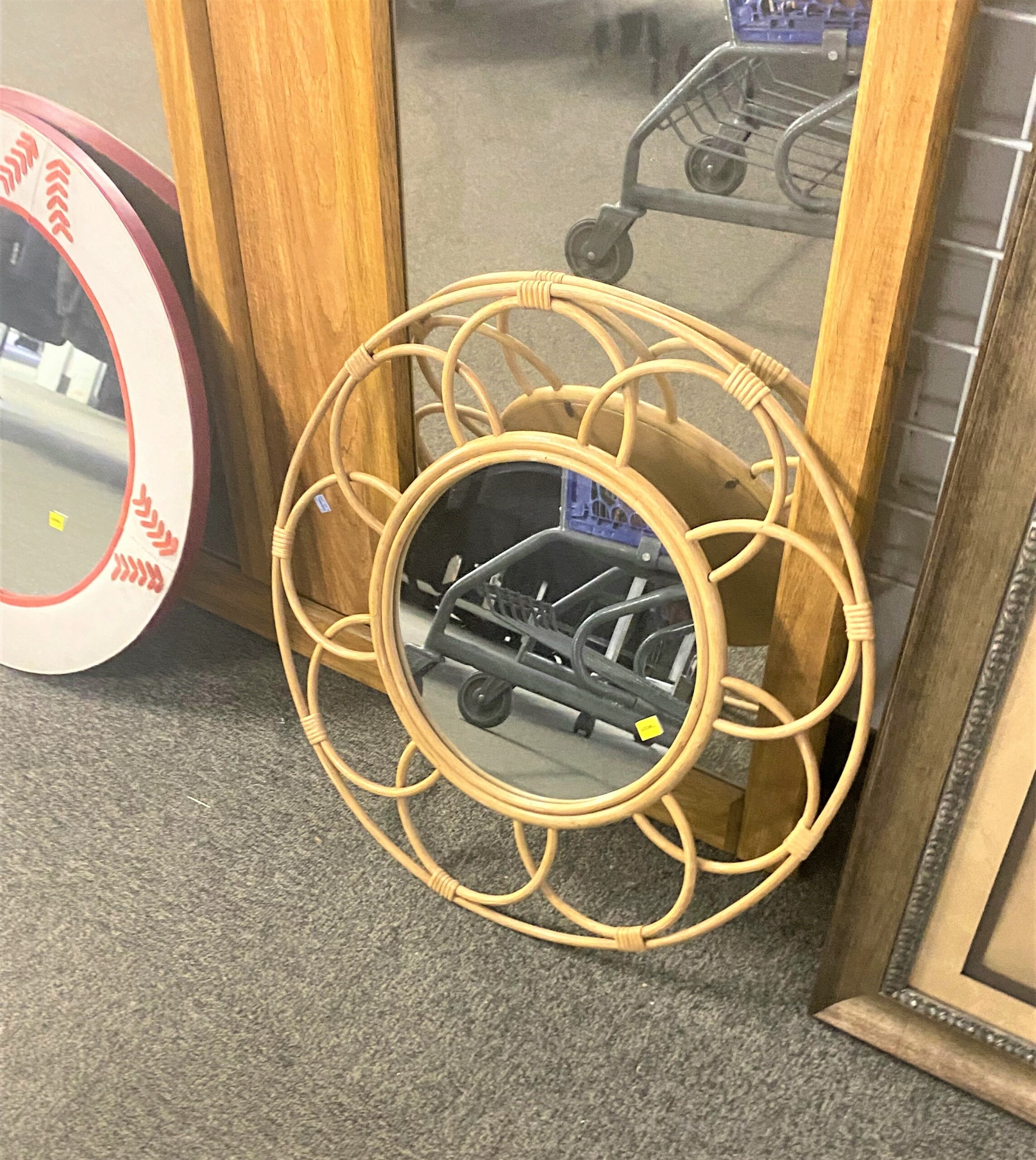 And given the various sales happening at stores each month, you are likely to find something interesting to transform that will be budget-friendly too. I am feeling the love already, aren't you?!

What items have you seen at Goodwill that could be transformed to show your pride with this simple and creative painting technique?  Wooden serving trays, small side tables, picture frames, and even lamp bases will look super cool and inviting when given some rainbow flair.
2. Prep your pieces
Time to prep for painting. 
The small, flower-shaped mirror had small screws on the back, which held it all together.  They were unscrewed to allow the mirror glass to be removed.  The square mirror, made of tin ceiling tiles, was prepped by protecting the mirror glass with painter's tape.  So simple!
The wooden side chair was given a quick once over with medium grade sandpaper to rough up the very smooth varnish. 
This step helped to give a surface which better received and hold paint. 
After sanding, it was wiped clean with a damp cloth. Easy, easy, easy!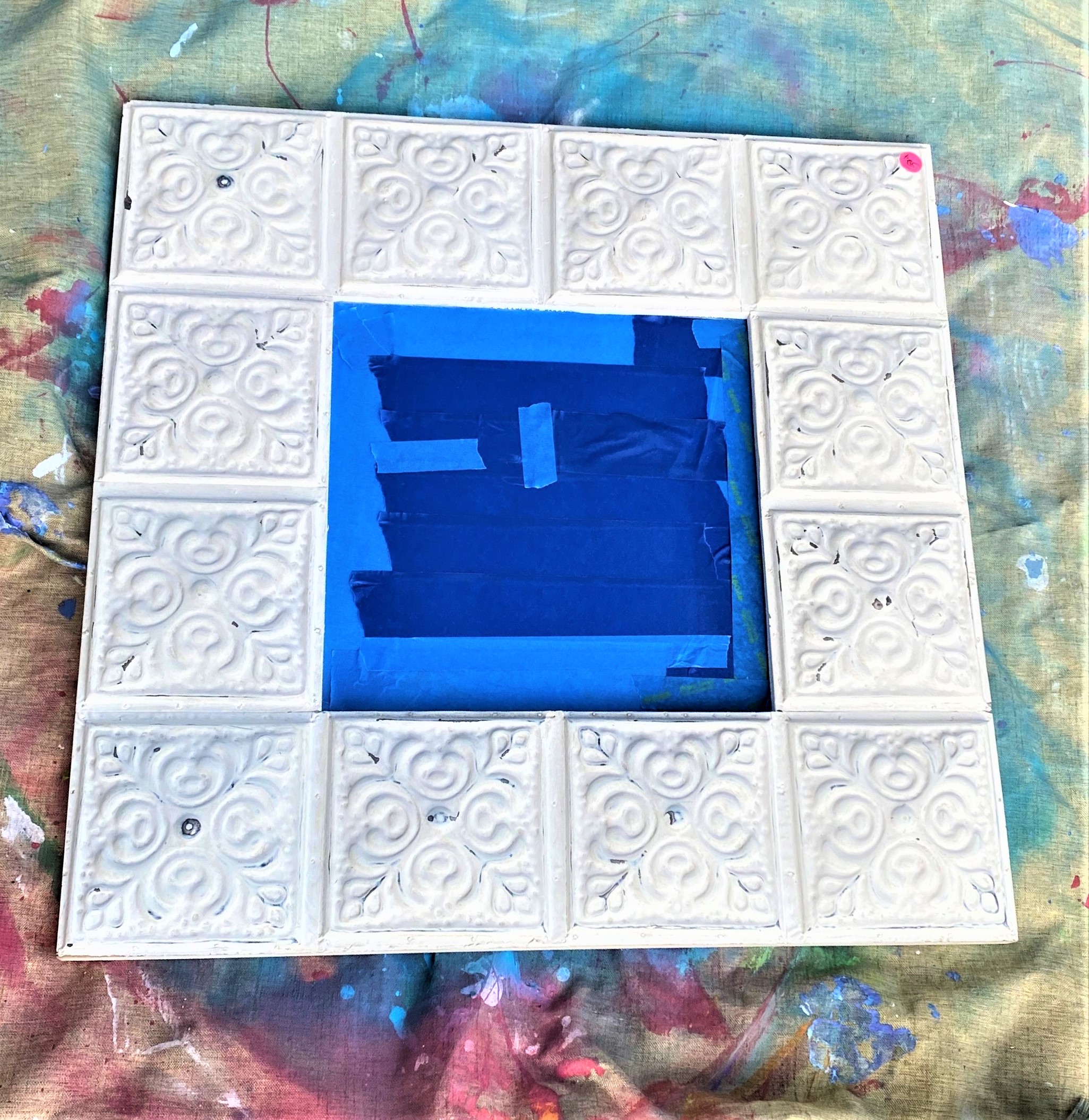 3. Collect your cans—spray paint ones
As you may recall from one of your grade school classes, a rainbow is comprised of seven colors: "ROY-G-BIV" or red, orange, yellow, green, blue, indigo and violet. Check your spray paint supply to see which of these colors you already have on-hand or if you need to pick up some from your neighbor hardware store.
4. Place outside on a drop cloth
Place your items to be spray painted outside, if possible, and on a drop cloth to catch the overspray or any drips.  
For the square mirror and chair, I started from the top with red and worked my way down through the rainbow-colored paint cans.  As with any items you are painting, do your best to move around the piece to get all edges, nooks, and crannies.  And my advice learned the hard way: add very light layers to avoid drips and runs which impact the overall look of your pieces.  Don't worry about one perfect coat of paint; instead, shift your thinking to that of light layers.  Even if you return to your piece with the same color several times and with a soft touch, you will like the final look, even more, I promise you!
Start with your red then move through the various colors and their respective matching paint cans. 
Lightly overlap one color to the next, so they blend together just like a real rainbow!
Let your pieces dry, very, very well and completely before moving to avoid smudging and leaving fingerprints.  If you're painting a side chair or small table, you may want to place it on its side to give you easy access to all parts of it.
For the flower-shaped mirror, I thought it would look nicer and more natural to have the rainbow colors start from its center and work their way out, rather than doing a stripe from top to bottom or one side to the other. 
Red was added in the center and the rainbow colors were painted on, one after another.  As the various paints were applied, a couple of colors got a little lost in the process, so I went back and touched them up lightly.  Now the flower mirror is blooming with pride!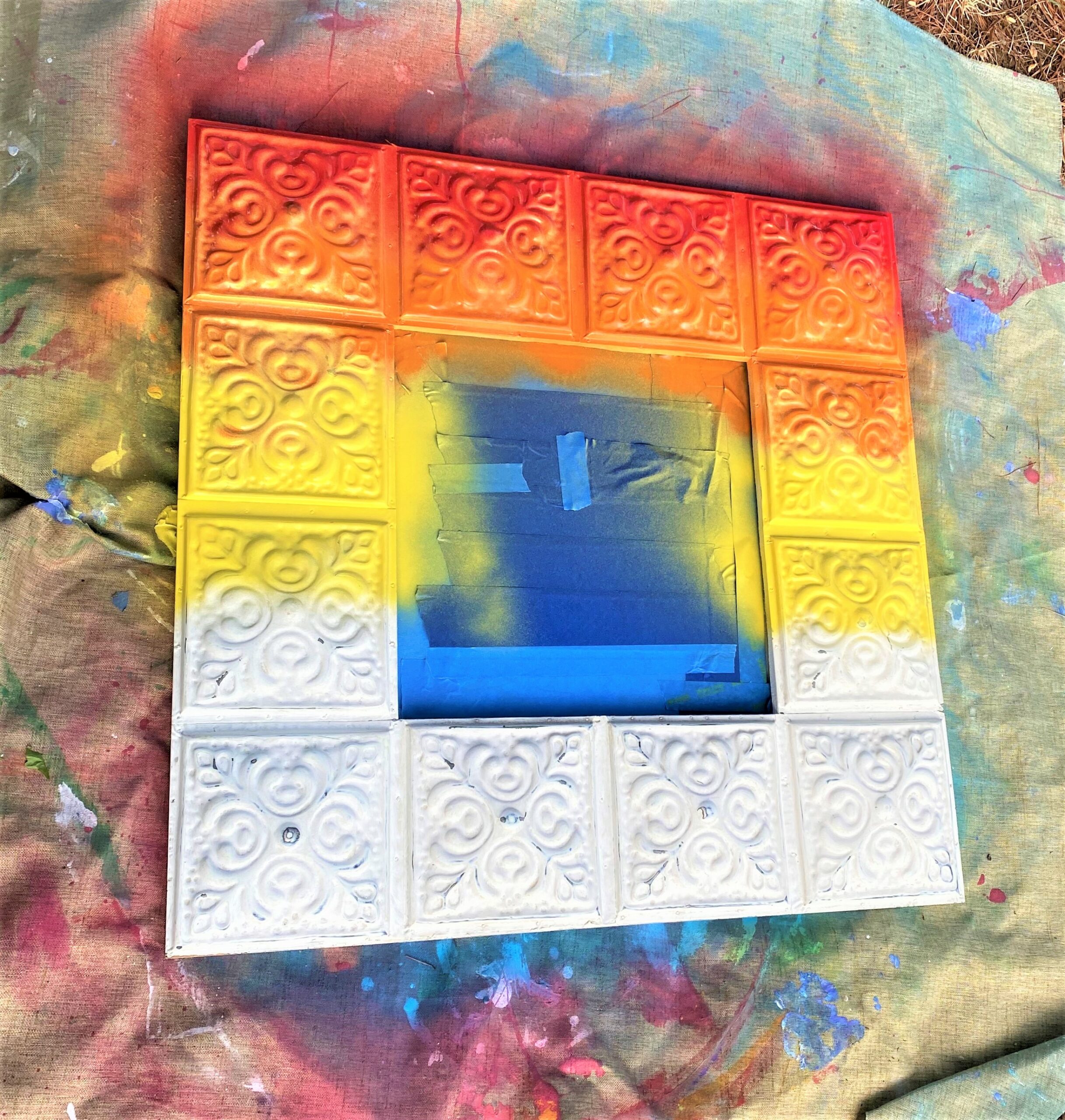 Design Idea: I didn't have a true purple paint available in my collection, so I substituted it with a bright berry pink.  It is super cheerful, and you can still quickly tell the overall look is a rainbow.  I love it, what about you? You could replace a traditional forest green color with a granny smith apple green or switch a darker blue with a really vibrant turquoise color.  You really can't go wrong as long as you start with red and work your way through the colors!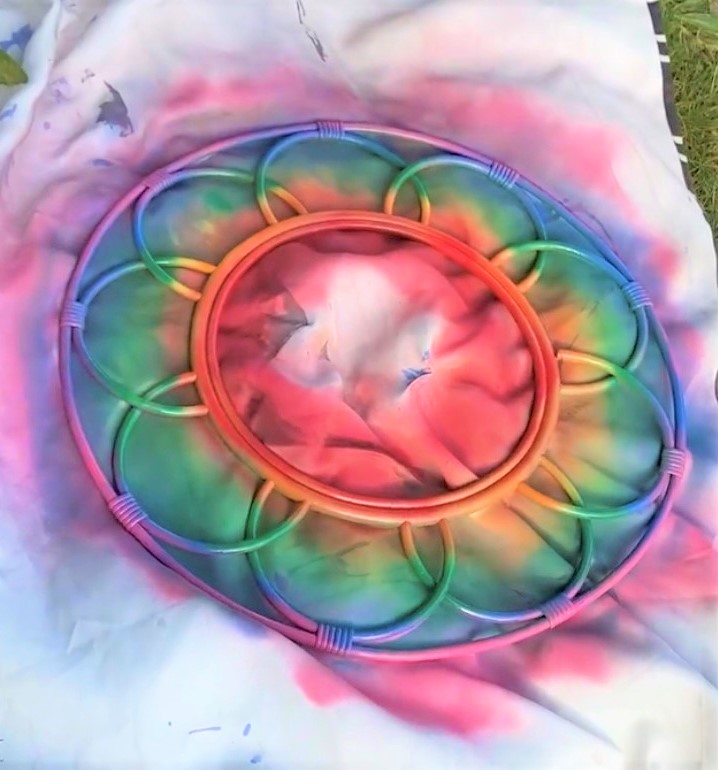 5. Show your pride
Hang your rainbow-colored mirror by your front door to make you smile (and to check it!) as you come and go.  Place one in your bathroom to add a pop of color and pick up towels to match some of bright tones.  The result? An instant transformation.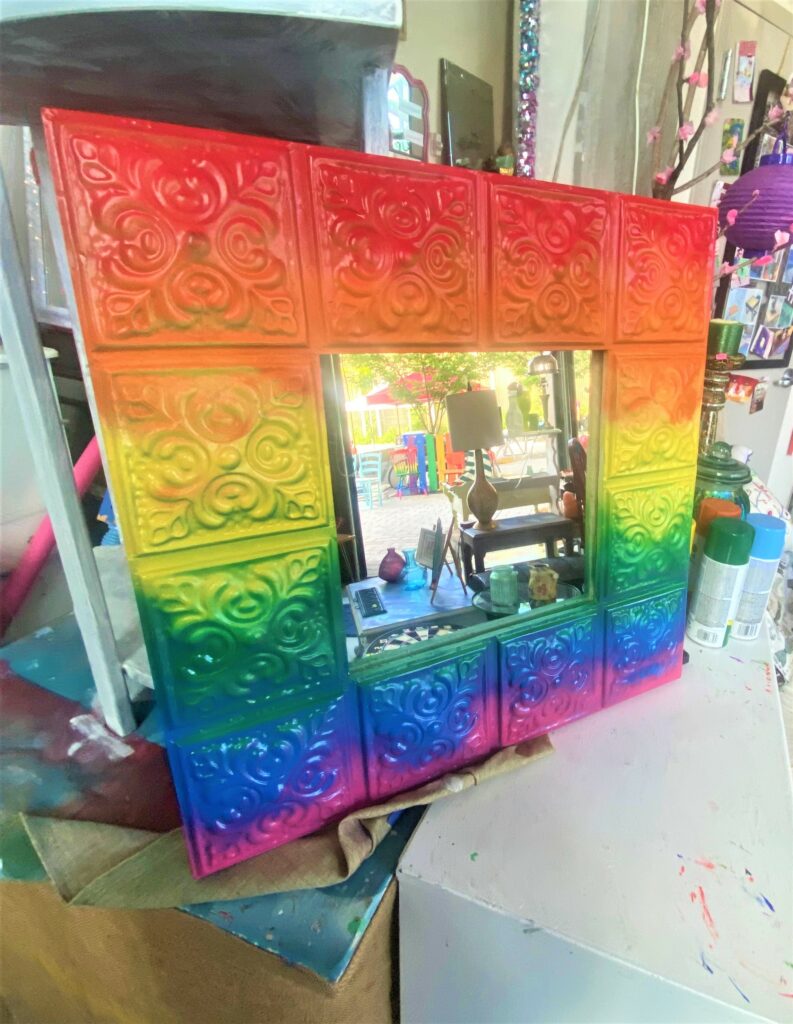 Put the painted chair by your desk to add vibrancy to your office.  Paint four of them this way, then position them around your kitchen table for a charming look that you and your family, friends, and guests will love!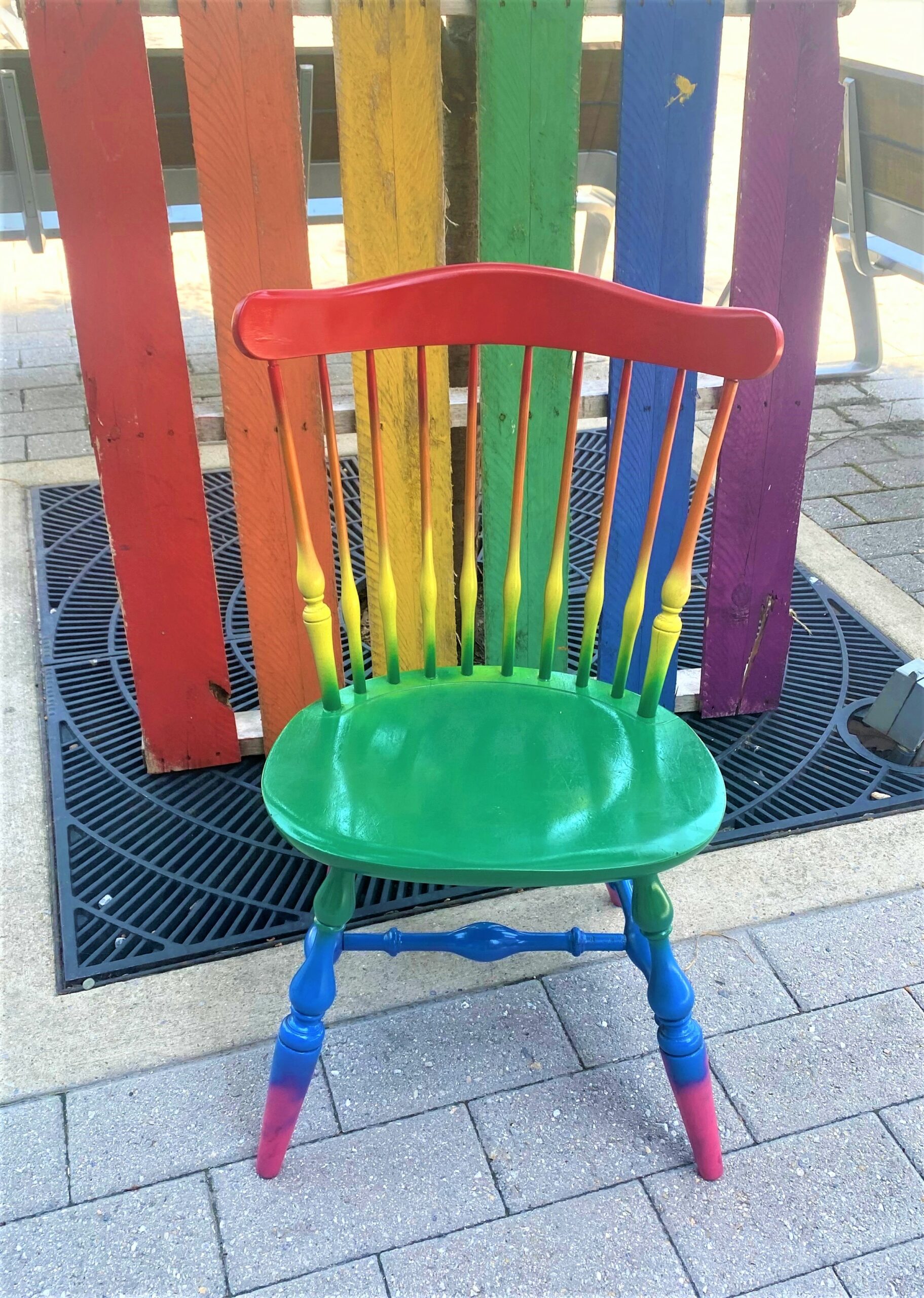 This project was so easy and so inexpensive which added to my sense of pride in upcycling them this way! Please show us your Pride-inspired painted projects, so we may be moved by your creativity, too.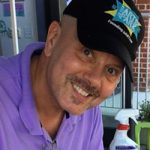 Tim Kime
Artist, Motivational Speaker, Life Coach
Tim Kime is an artist, life coach, connector. He is President of Kime Leadership Associates offering executive coaching, meeting facilitating and motivational speaking. He is also Chief Creative Force of Transformation Junkies which upcycles furniture and other household items into functional works of art. He combined his two passions—unleashing the potential in people and transforming items with the launch of the Art of Possibilities Workshops. These workshops are part upcycling, part dreaming, part goal setting.