I am excited that Goodwill has started re-opening stores with new safety precautions. Treasure hunting at Goodwill is one of life's little delights that I really enjoy. I miss walking through the doors of Goodwill thinking: I don't know what I'm going to find today, but I know it will be something good!
As I was working on my Spring Home Refresh Checklist last month, I looked around my living room and realized there are a lot of little pieces of Goodwill right here. I rarely buy anything brand-new for my home. Between Goodwill, yard sales and items given to me over the years, I don't really need to.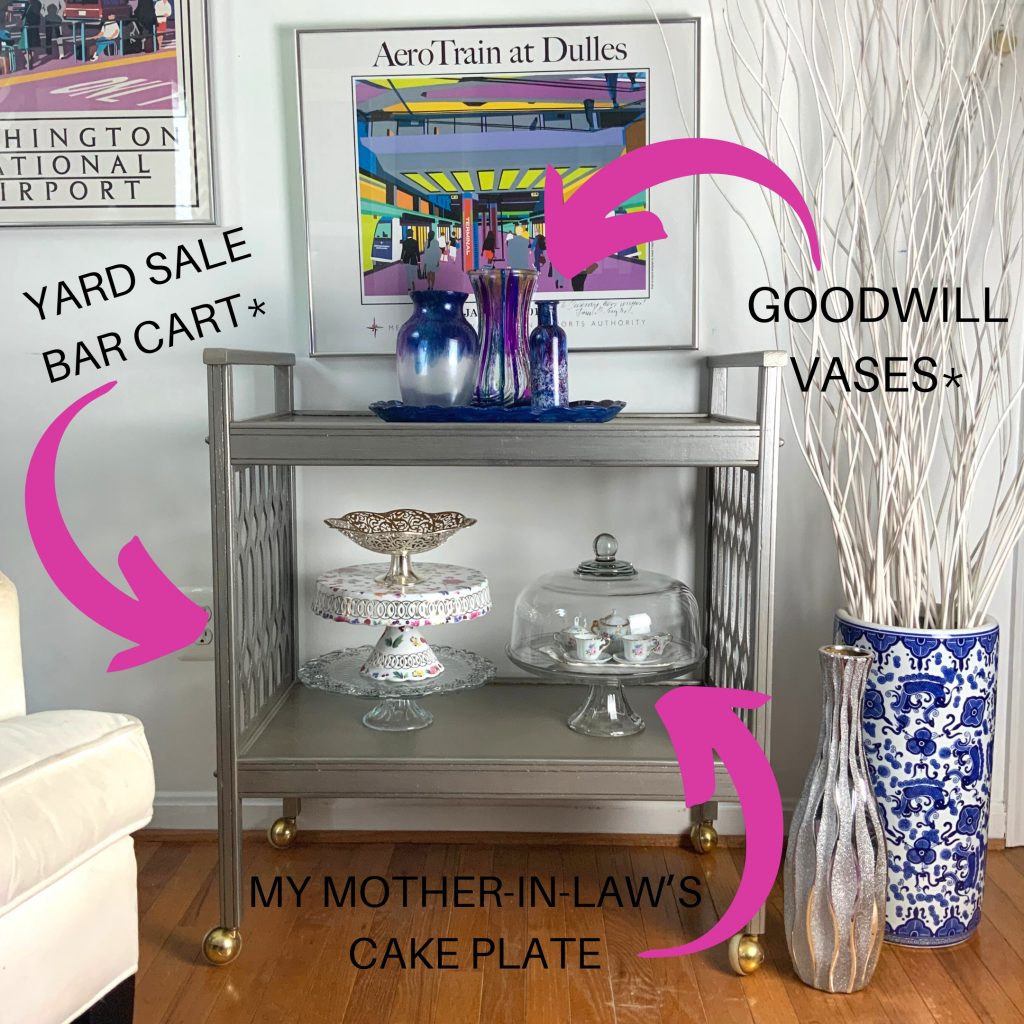 * The items in these photographs with asterisks are things I have painted to update the look and/or better reflect my personal style.
Decorating your home by re-inventing furniture and home décor items other people no longer want or need is a more sustainable way of living. And I would argue, it's also more fun. The challenge is designing a look that perfectly reflects your personal style — and simply feels good whenever you walk through your door.
Getting started is easy. Just choose home décor items that appeal to you. You can design a room around a favorite color or a beloved collection or even just a really comfy chair. 
Remember: What other people think of your design choices doesn't matter.
YOU are the one who lives here!
If it looks good – and feels good – to you, it's perfect.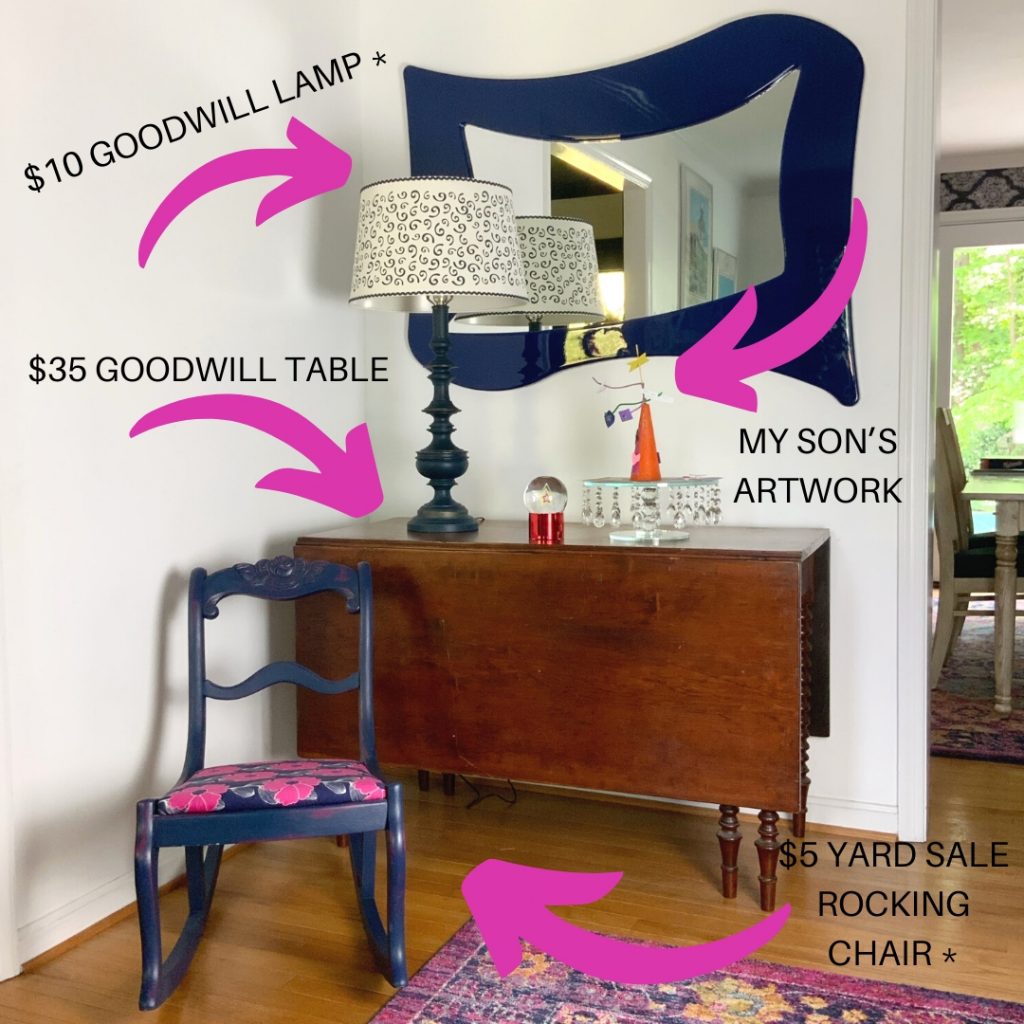 Choosing vintage furniture is another great way to design a more sustainable home. Vintage furniture is usually sturdy, well made and functional. And it costs less than buying new.
If you have children (or amazing nieces and nephews!), you probably have one-of-a-kind artwork. Decorate your home with it! It will make them proud to see their work on display in your home. And it always makes me happy knowing this art was created especially for me with love.
The next photo is a good example of what I mean when I say simply choose home décor items that appeal to you. I started with my grandmother's fancy old lamp. It doesn't really "go" with anything in my home. But it reminds me of her and it makes me happy so I found a spot for it.
Next, I perused my bookshelf and found two books with turquoise covers that matched the lamp. (Goodwill also has a nice selection of books for sale if you are looking for something to read—or something to decorate with!)
Finally, I topped off the books with a flower arrangement I purchased at Goodwill for $3.99. I'm not good at keeping plants alive so this was perfect for me. Hydrangeas are one of my favorite flowers. I didn't have an exact spot in mind when I purchased the flowers. I just liked them because they didn't look too "fake" and they reminded me of summer. They appealed to me so I bought them. When I got home, I found the perfect spot.
It seems I do that a lot. In this corner of my living room is another Goodwill treasure. I'm not even sure what this thing is supposed to be. It features several sparkly glass balls stacked onto a stick.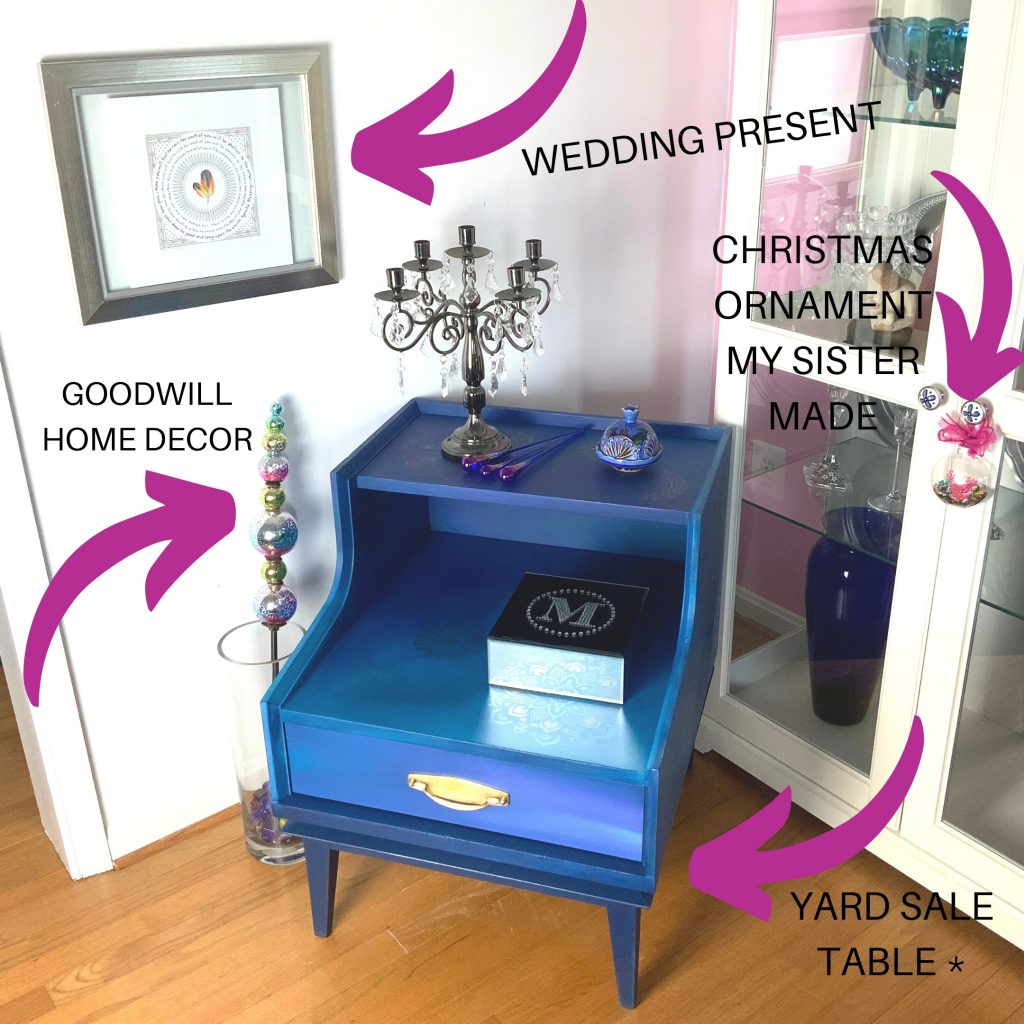 It reminded me of Christmas ornaments and the colors matched my rug so I bought it. I also found a tall vase to stick it in. (Goodwill has lots of those too!) Now I have an inexpensive and unique little objet d'art tucked into this corner thanks to somebody who donated it to Goodwill instead of tossing it into a landfill.
Will it appeal to everyone? Nope.
But that's OK. Everyone doesn't live here. I do! And I like it.
(Bella likes it too.)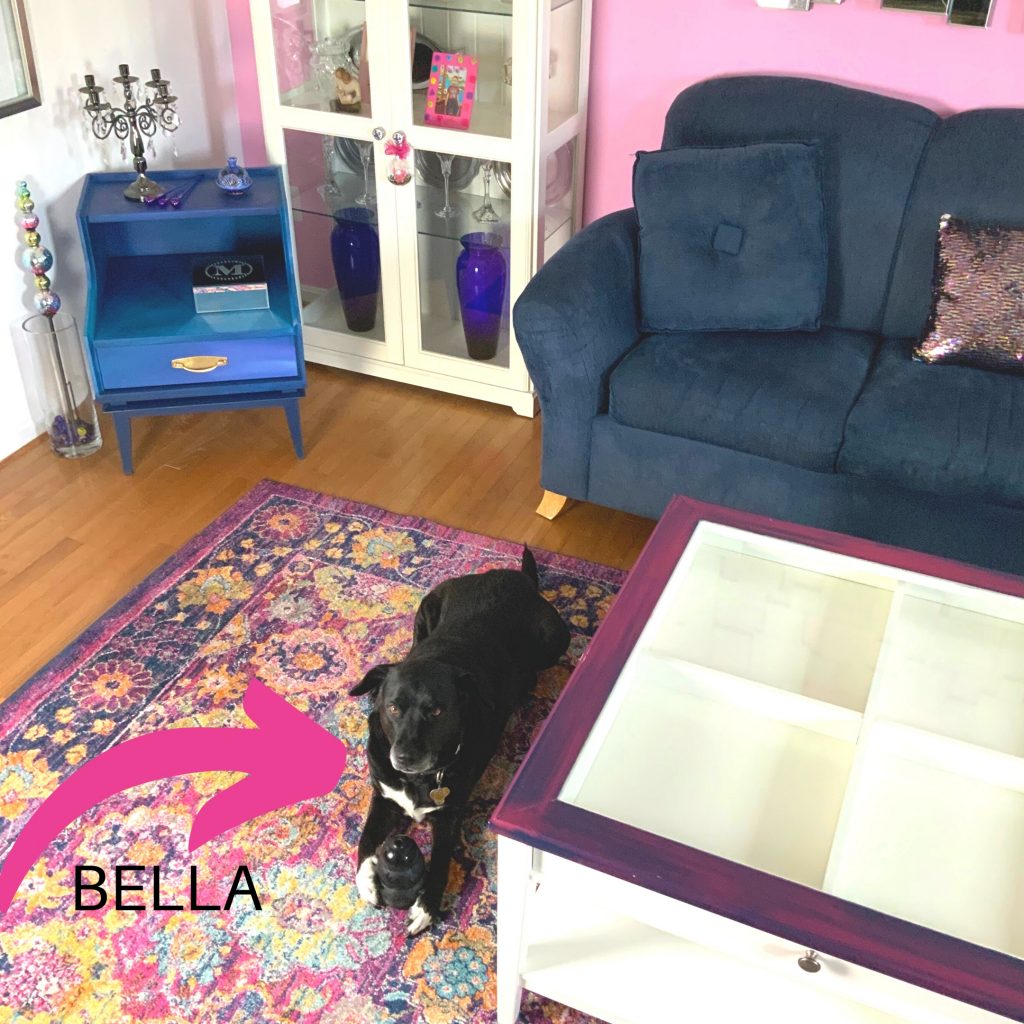 I hope this post encourages you to follow your instincts and choose home décor items simply because they appeal to you. You don't need to justify it with a good reason why you like it. You just need to like it! 
And by shopping for items you like at Goodwill, you are curating a home that reflects your personal style perfectly—and you are doing it in a sustainable way.
That not only looks good, it feels good too.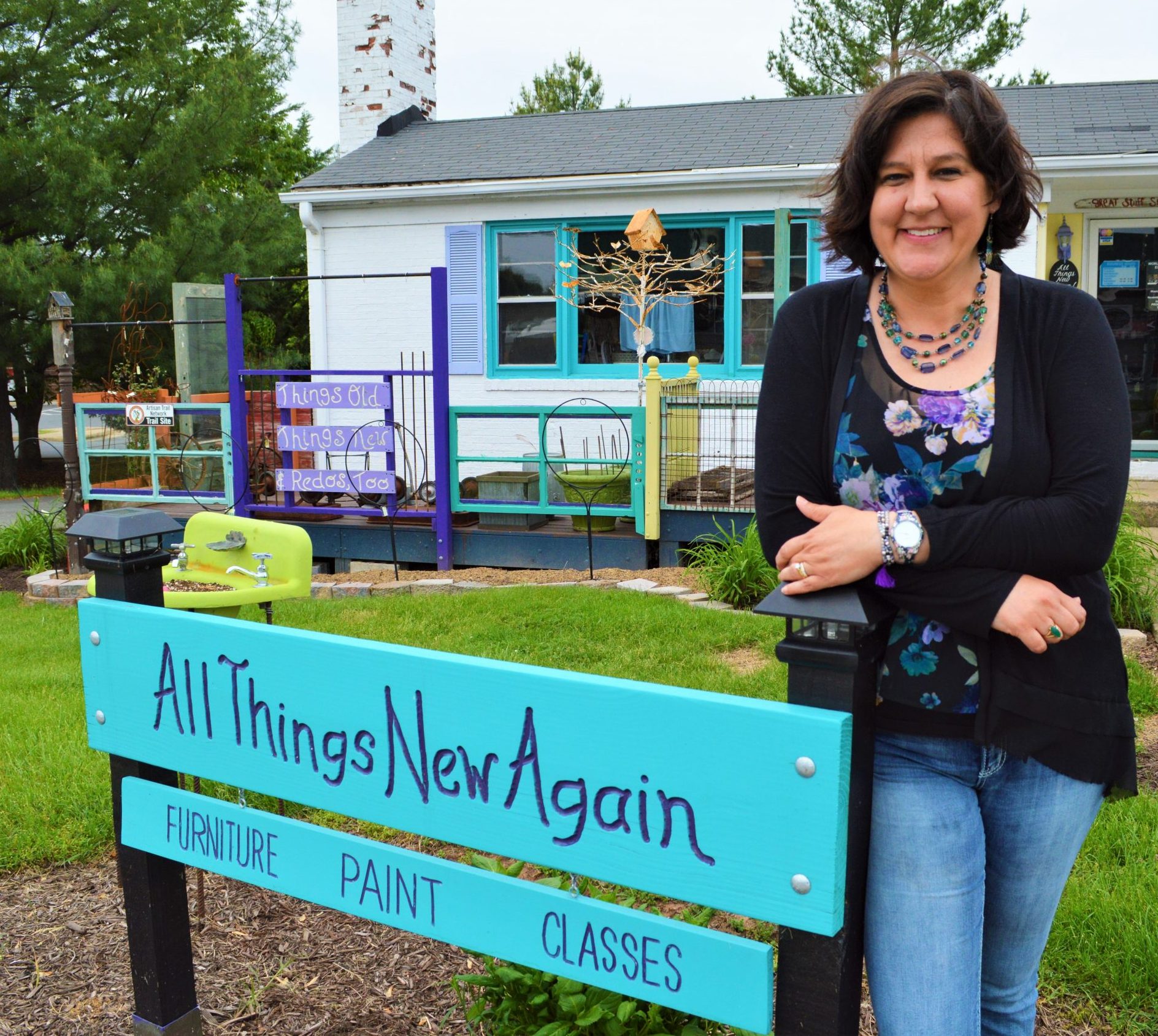 Courtney Mickalonis
Artist/Teacher/Blogger at All Things New Again
Courtney Mickalonis is an artist, teacher, and treasure hunter at All Things New Again, a furniture and paint boutique in Leesburg, VA. She finds old furniture that nobody loves anymore and makes it beautiful—and useful—again. Courtney teaches a monthly Learn How to Paint Furniture class at their Leesburg studio and hosts The Furniture Painting Friday Show every Friday at 12 noon on the All Things New Again Facebook page.