Goodwill's shelves are loaded with plain glass vases like springtime is blooming with flowers. Even though the vases only cost a few dollars, I usually pass them by. They always seemed too plain and, well, a little boring for my crazy-colorful home.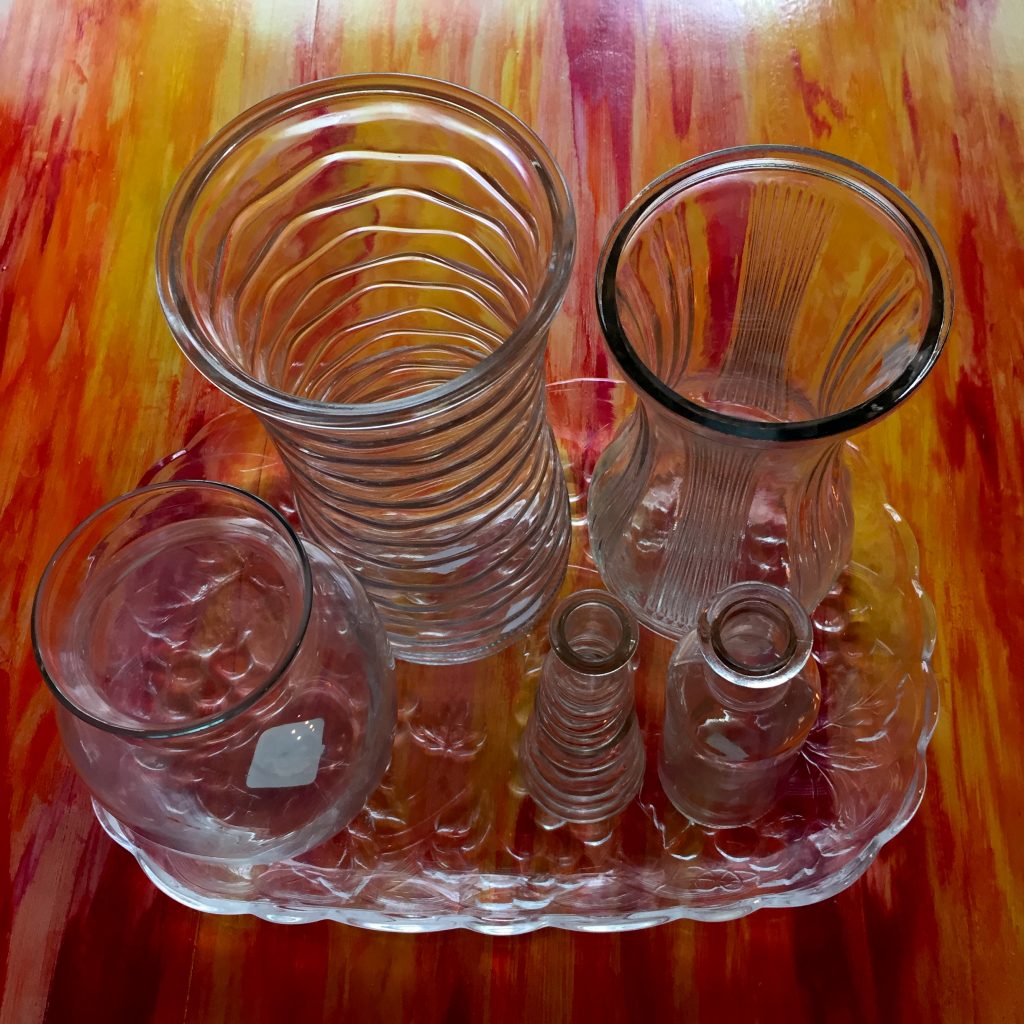 On my last trip to Goodwill before they closed temporarily due to the COVID-19 coronavirus, I realized I could transform those boring vases into colorful décor that fit my home's eclectic style perfectly.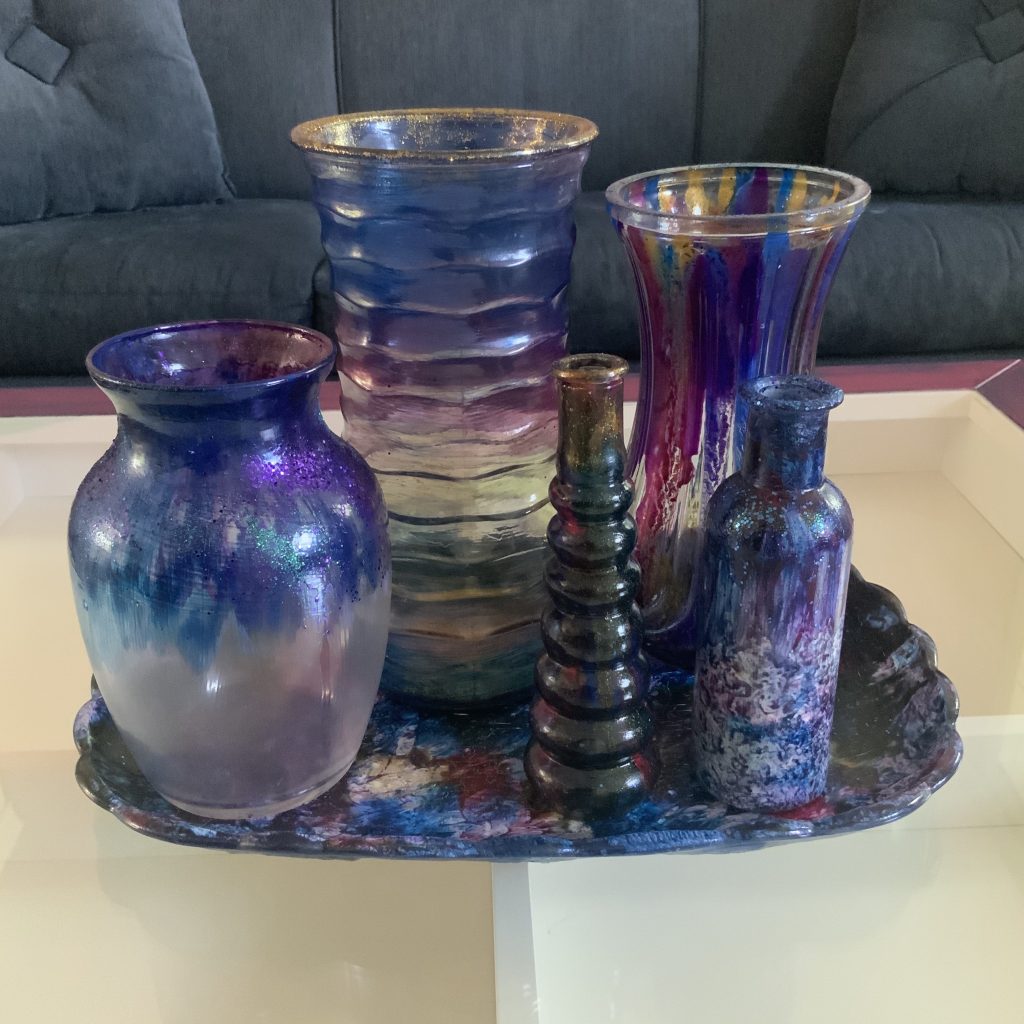 I spent about $14 on several plain vases in various sizes and shapes plus a glass tray to hold them. It was a great deal! When I googled "colorful glass vases" for ideas, some of the items that popped up cost over $100—each!
I used a product called Unicorn Spit (yes, that's really the name of it) to create vibrant designs on the vases and the tray. Unicorn Spit is a product we sell at our store and I use frequently in my work. I chose a palette of cobalt blue, hot pink, purple and gold to match my living room rug.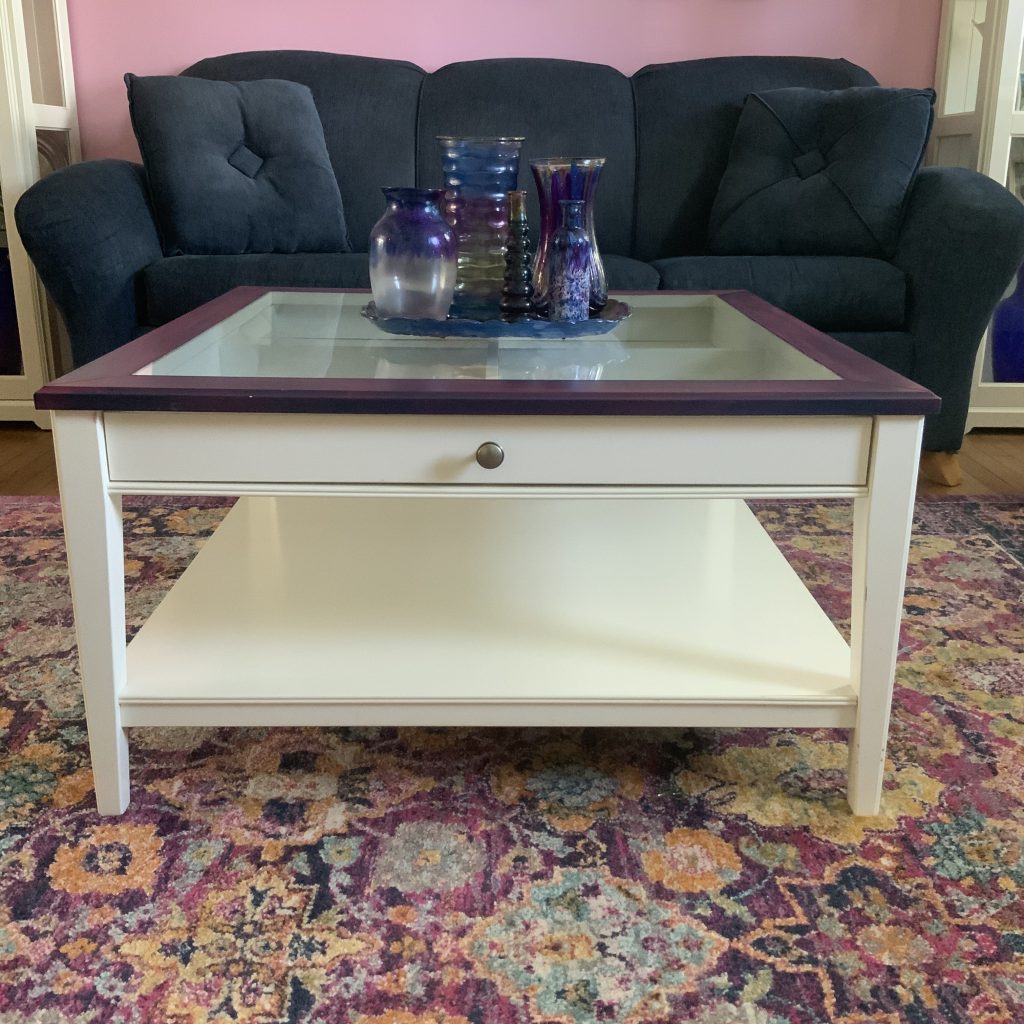 You can create similar looks using any paint that will stick to glass. I prepped some of my vases with a product called Slick Stick, which helps paint stick better to slick surfaces like glass. I prepped the others with Mod Podge, which dries clear, but also gives the Unicorn Spit a better surface to stick to.
Here's a video I did on our All Things New Again Facebook page showing how I created some of the designs on my vases with Unicorn Spit. I used plastic wrap, bubble wrap and a paper towel to make different textures. I like experimenting with random items I find around the house to see what unique textures and looks I can create. That's part of the fun!
If you don't like how it looks, you can always wash off the Unicorn Spit and start over. (You can do the same with other types of paint before it dries all the way too.) That's what I did with one of the vases that I wasn't 100% in love with after the video.
Instead, I tried simply squirting some blue Unicorn Spit inside of the vase and letting it drip to the bottom.
I did this again with the other colors, overlapping in places, until ribbons of color dripped down the entire vase and pooled at the bottom.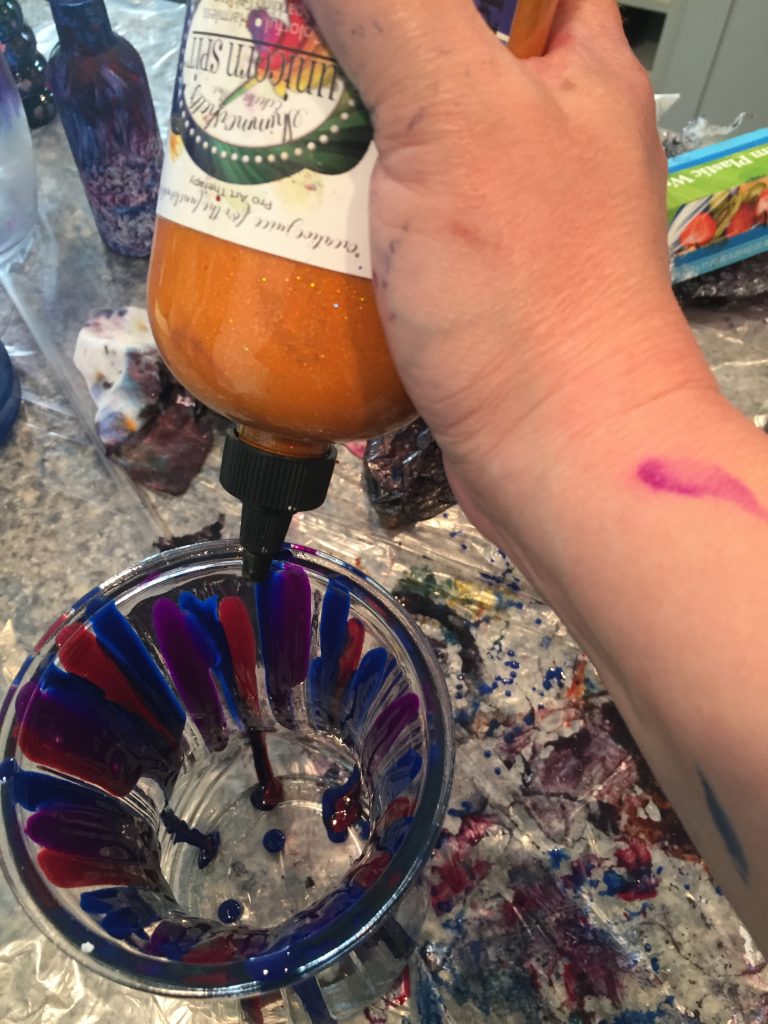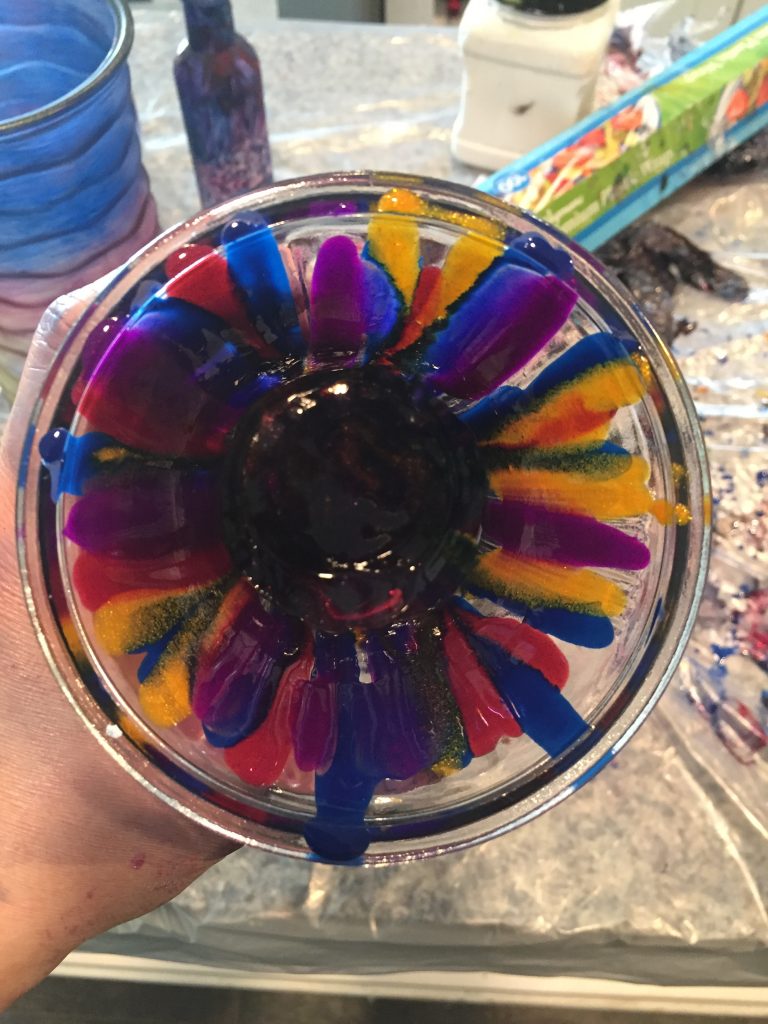 I sealed all of the vases with oil-based Minwax Polyurethane to give the colors a glorious shine. You can see the difference in the shine in this photo where one side has polyurethane on it and one side does not. Now the Unicorn Spit looks like stained glass when the light hits it the right way.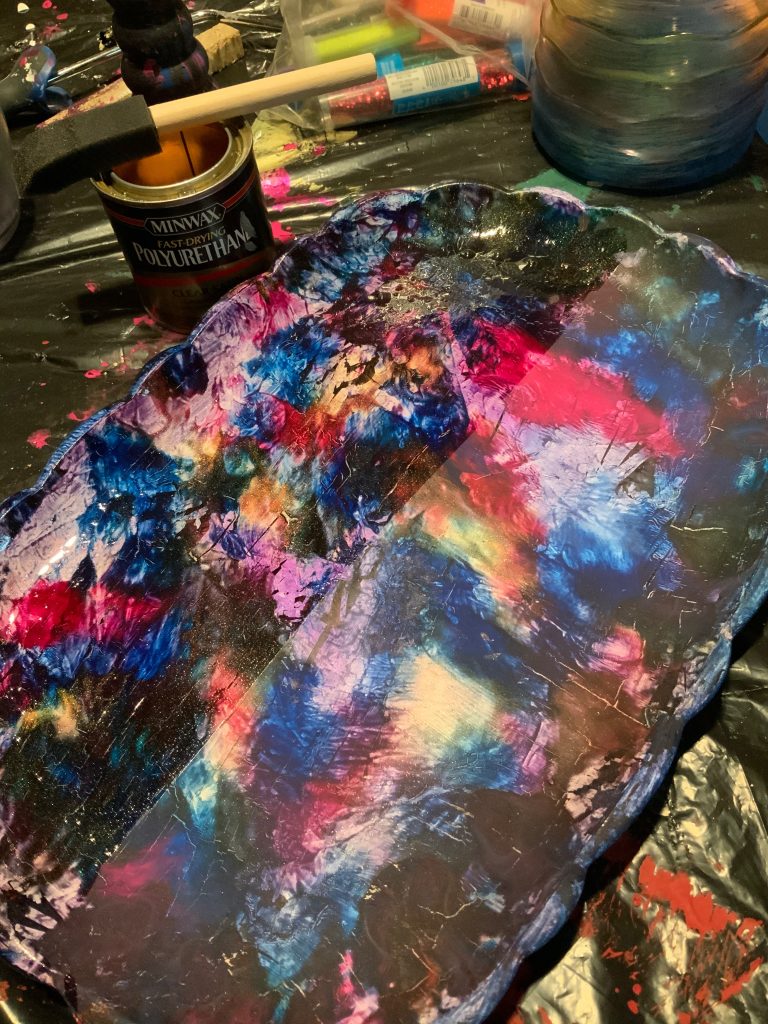 As the finishing touch, I sprinkled a little bit of glitter here and there while the polyurethane was still wet. I always like a little sparkle!
Here are my fancy colorful vases now. I love how they turned out!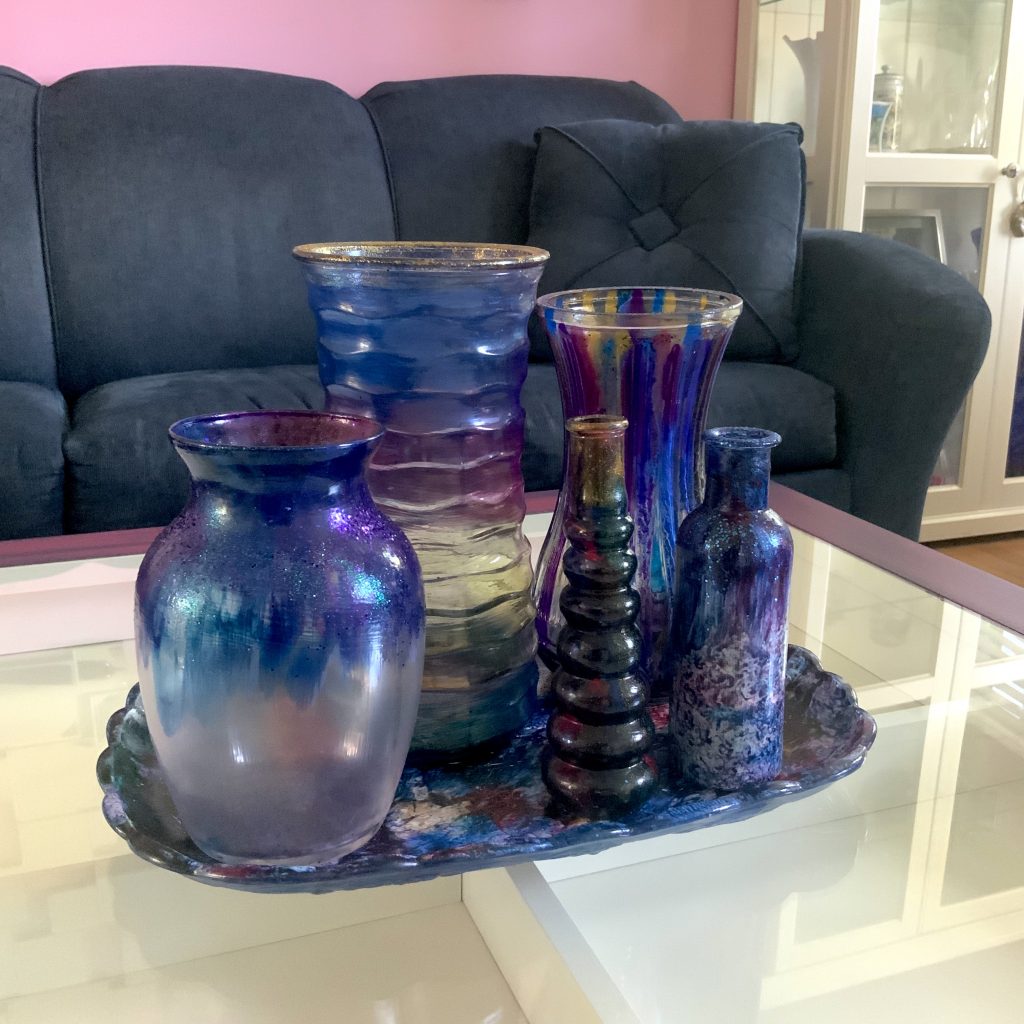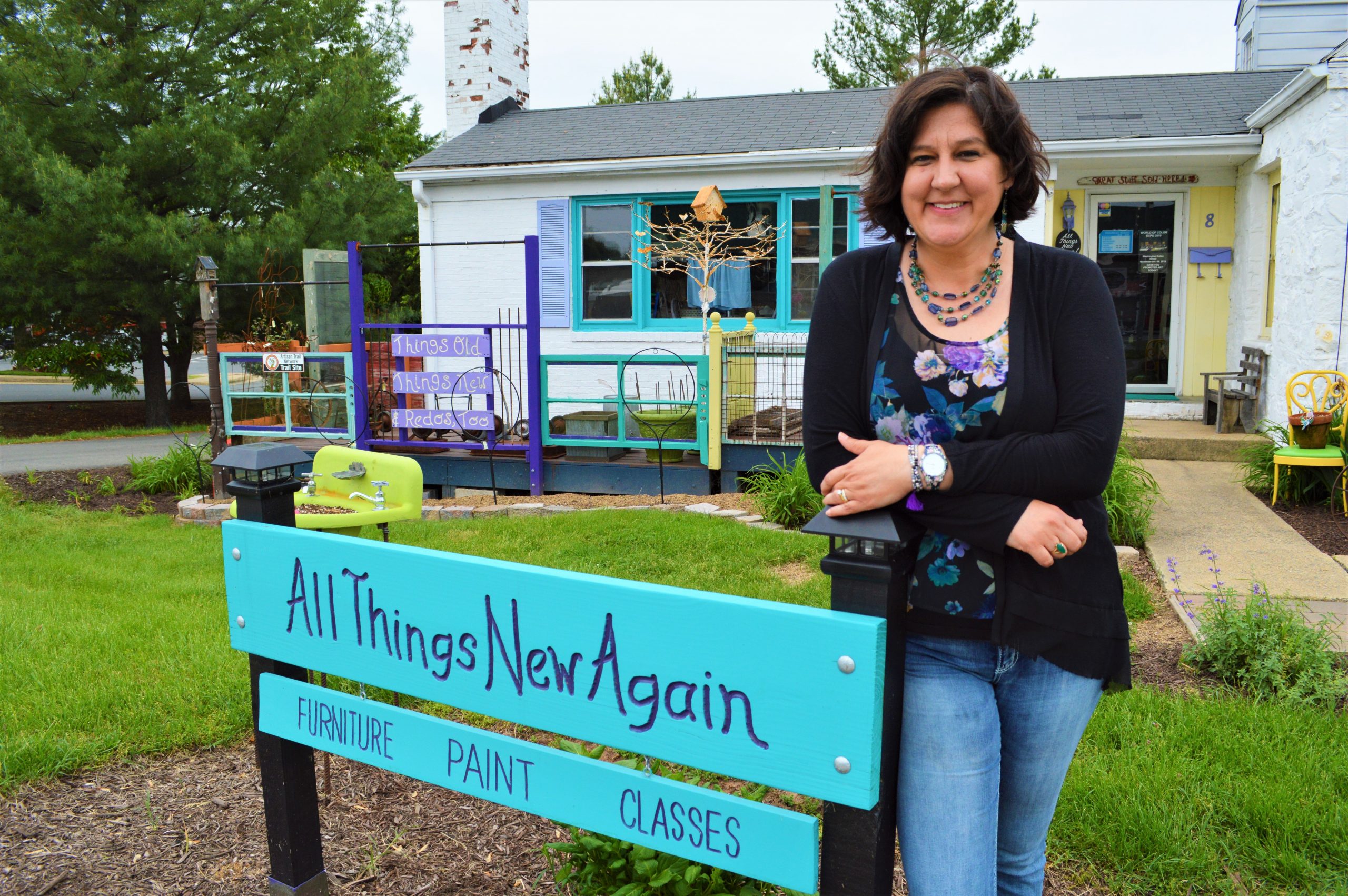 Courtney Mickalonis
Artist/Teacher/Blogger at All Things New Again
Courtney Mickalonis is an artist, teacher, and treasure hunter at All Things New Again, a furniture and paint boutique in Leesburg, VA. She finds old furniture that nobody loves anymore and makes it beautiful—and useful—again. Courtney teaches a monthly Learn How to Paint Furniture class at their Leesburg studio and hosts The Furniture Painting Friday Show every Friday at 12 noon on the All Things New Again Facebook page.