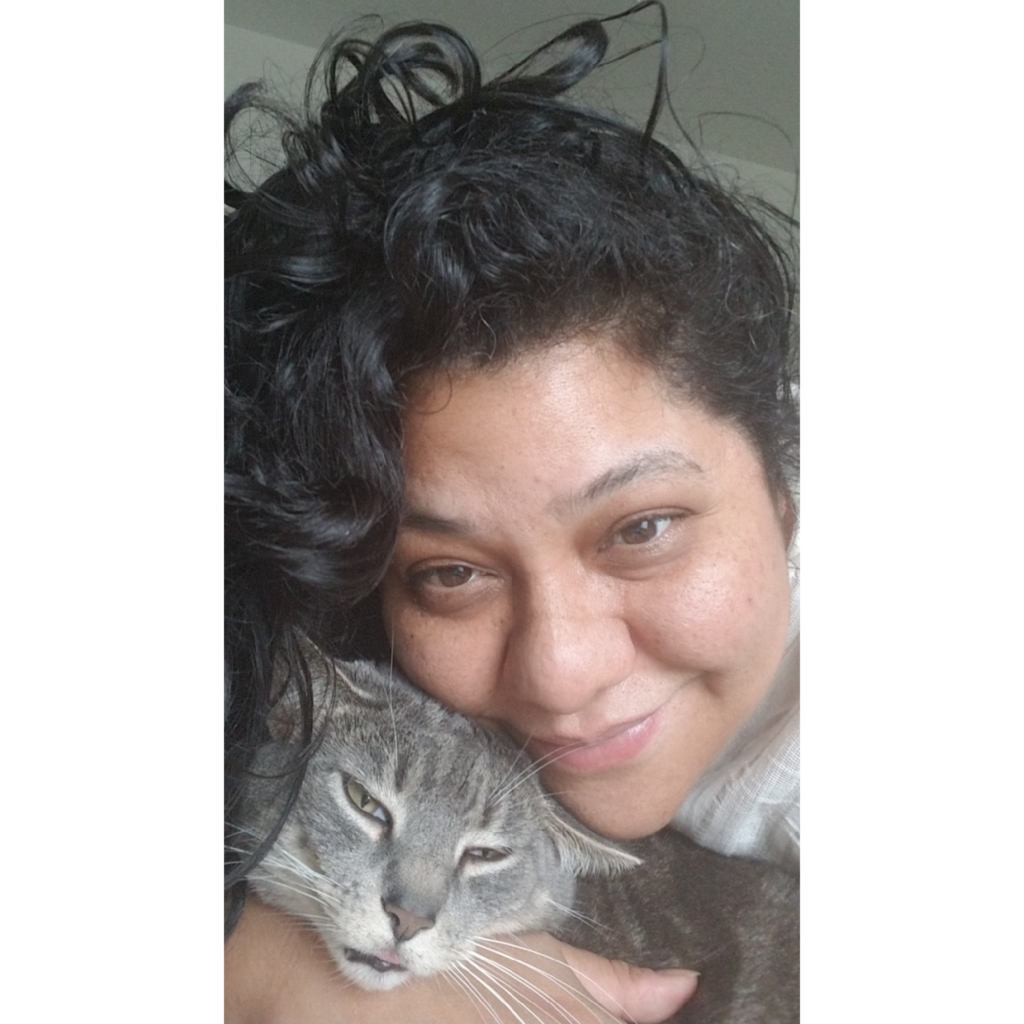 It seems like the times we are living in are drastically changing all around us lately; one thing that remains the same is my self-care routine to get me through life in a positive spirit. I am a person who is an advocate for mental health, for myself, and for my community. 
I always go to Goodwill for all the tools I need to get me through my healing journey. I know you may think this Self-Care thing is trending right now, and it's all people talk about these days, but for me, it's a way of life. I genuinely believe that if I am not taking care of myself and am pouring from an empty cup, then I won't be able to give and pour onto others with love. It is important and valuable to give yourself time to unwind, rest and do things that make you happy. 
Today I want to show you some of the things I do that nurture my body and my soul!
Tip #1:  GO ON A DATE WITH YOURSELF
For some, this concept might be scary but trust me, DO IT! You won't regret it. A great way to start is by making a list of things you really enjoy doing, things that brought you joy as a kid, or something you really enjoy doing for someone you love. I read this quote once that said, "I support my health, goals, and dreams by caring for myself."
A date with yourself is a powerful form of self-love. I remember when I was little,  I would make my mom breakfast and serve it to her in bed. I remember how happy that would make her and how she used to feel cared for when I did it, so for my date, I wanted to do the same for myself. I needed a sturdy tray and found the perfect one at the Hayfield, VA, Goodwill for only $9.99.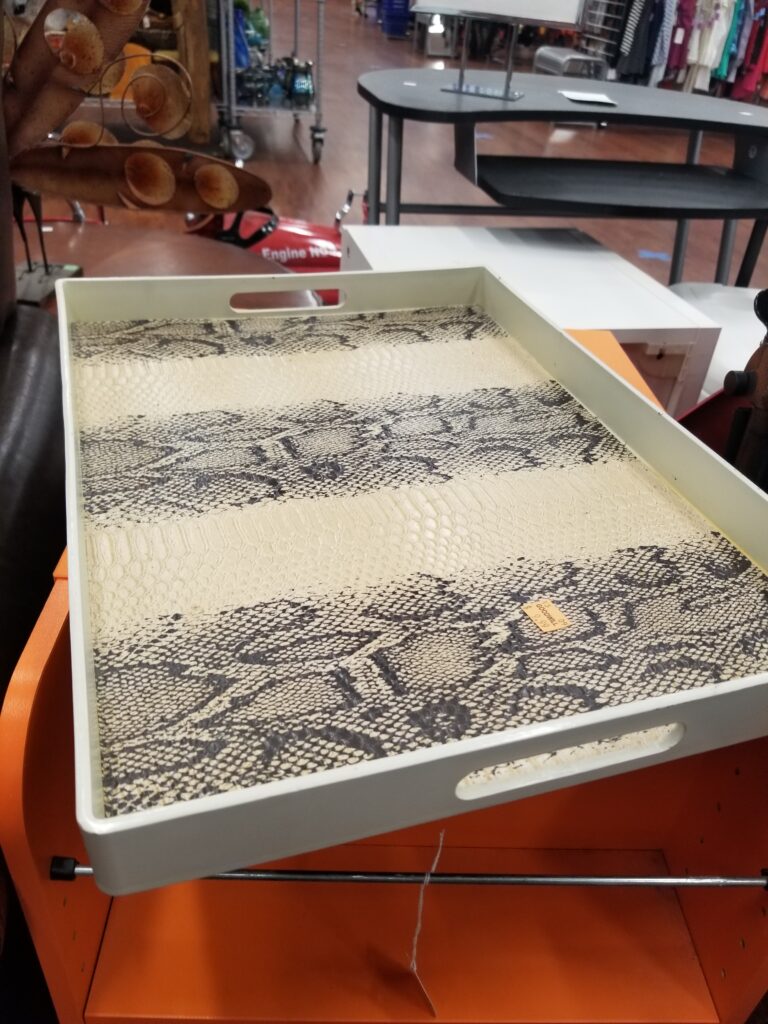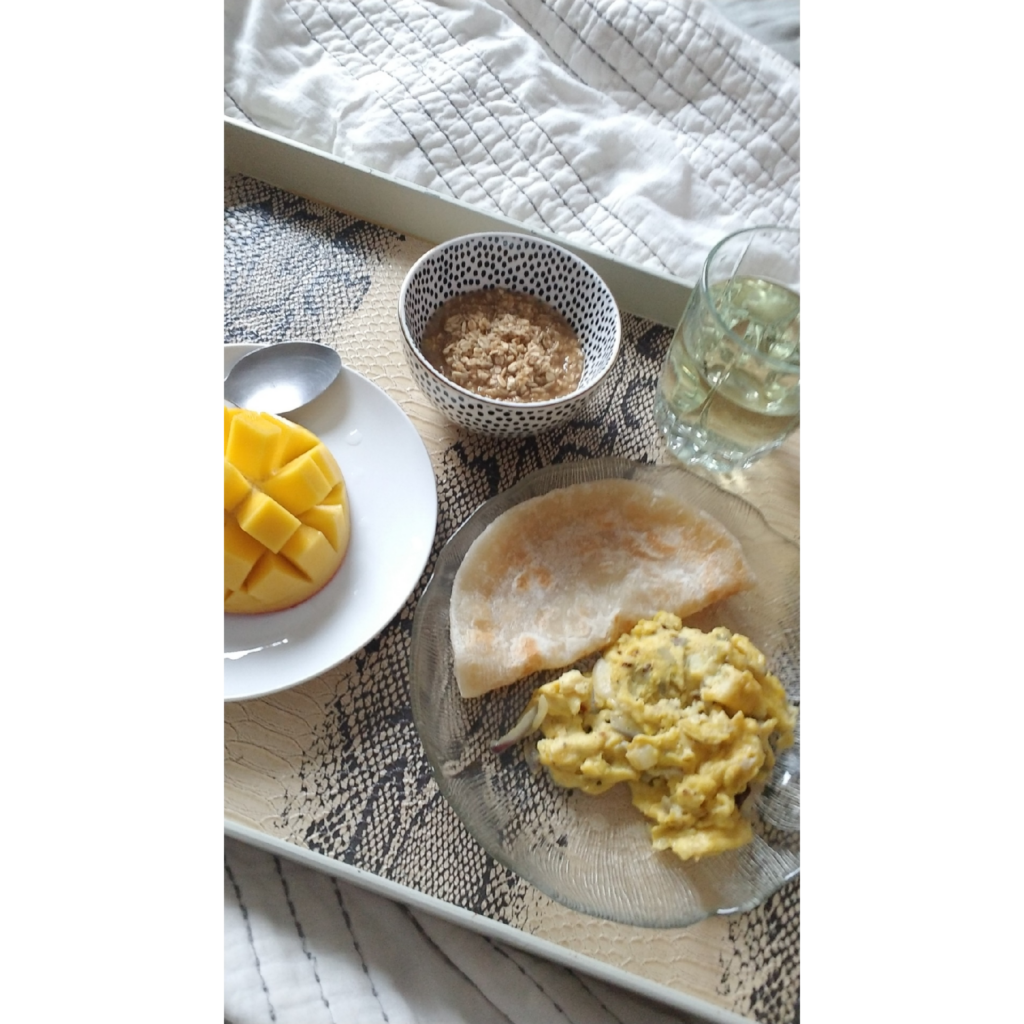 It was the ultimate experience on a budget. Luxury at your fingertips! Of course, all the dishes you see here were also thrifted for under $1 each. It doesn't have to cost you a fortune to do this! I always look for small bowls, especially to hold my rock collection. Something I've been collecting since I was a youngster. It feeds my inner child, and if she's happy, I'm happy!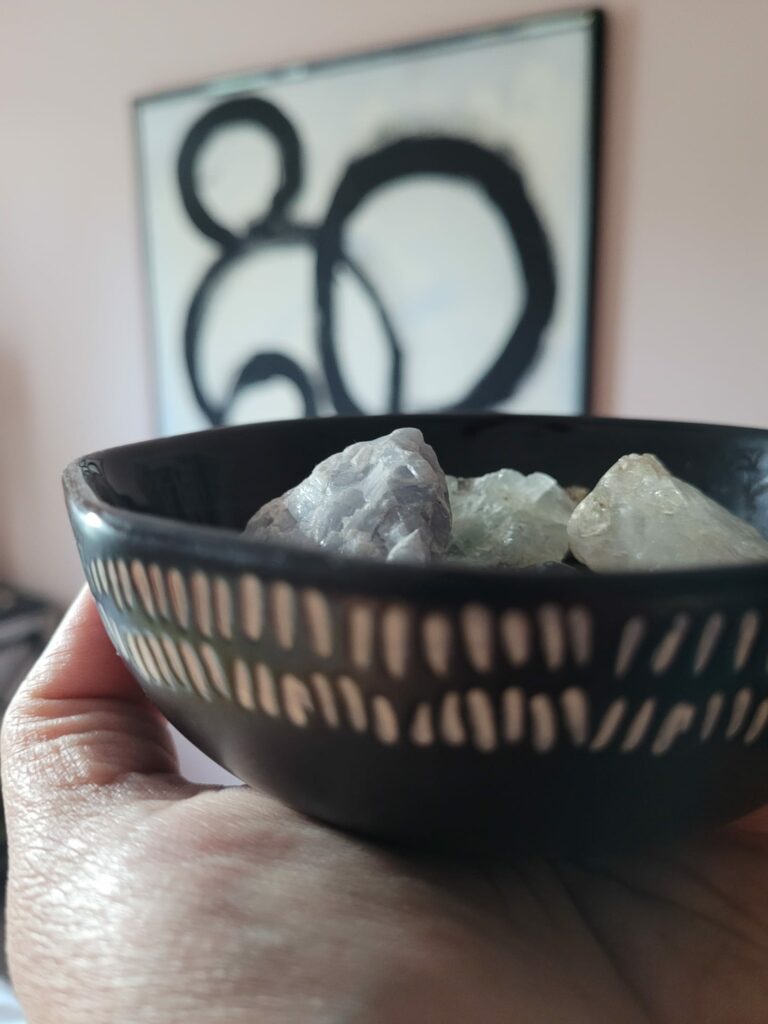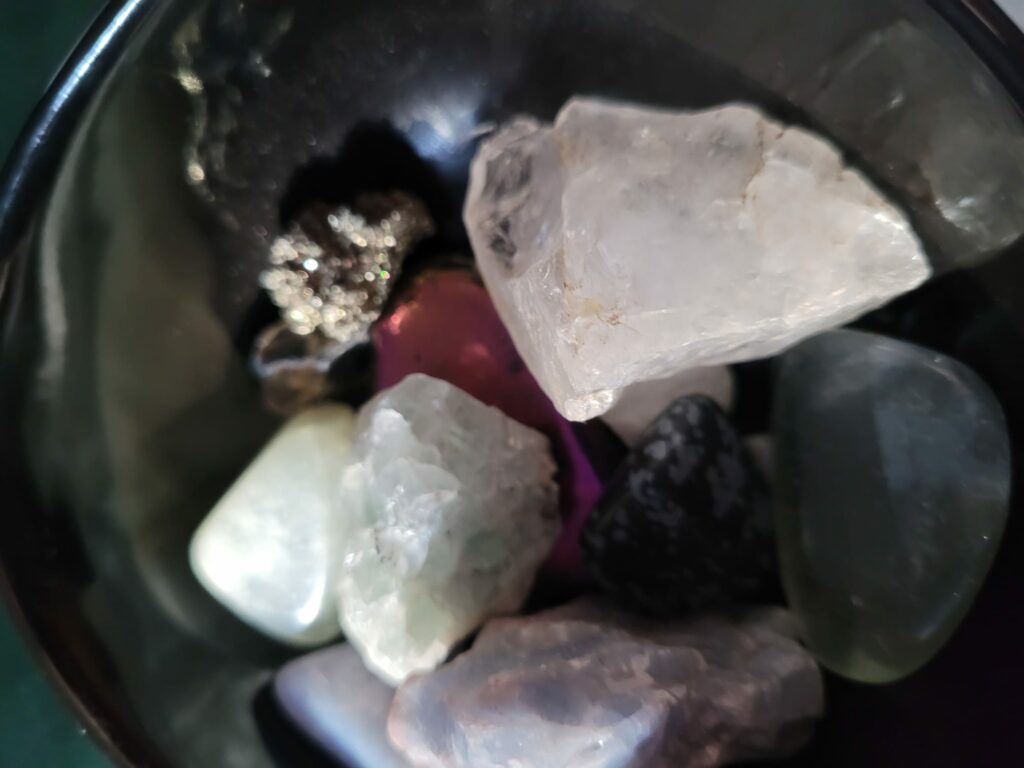 Tip #2: WRITE DOWN YOUR FEELINGS OR FIND A CREATIVE WAY TO EXPRESS THEM
The best way to let go of past traumas and unconscious resentments is by writing them down on paper. This has been a game-changer for me!
Every morning or whenever you get the urge, write down what affects you. This will put things into perspective, and you will know the root cause is to any problem. Write the beautiful moments too! This will help you appreciate what you have and also appreciate the beautiful people in your life that see you and love you. For this assignment, I needed the perfect journal.
I came across a really cute Buddha journal with blank pages during the holidays in December, and I bought it for myself as a gift. Only $1.99 at the South Dakota Avenue, DC, location.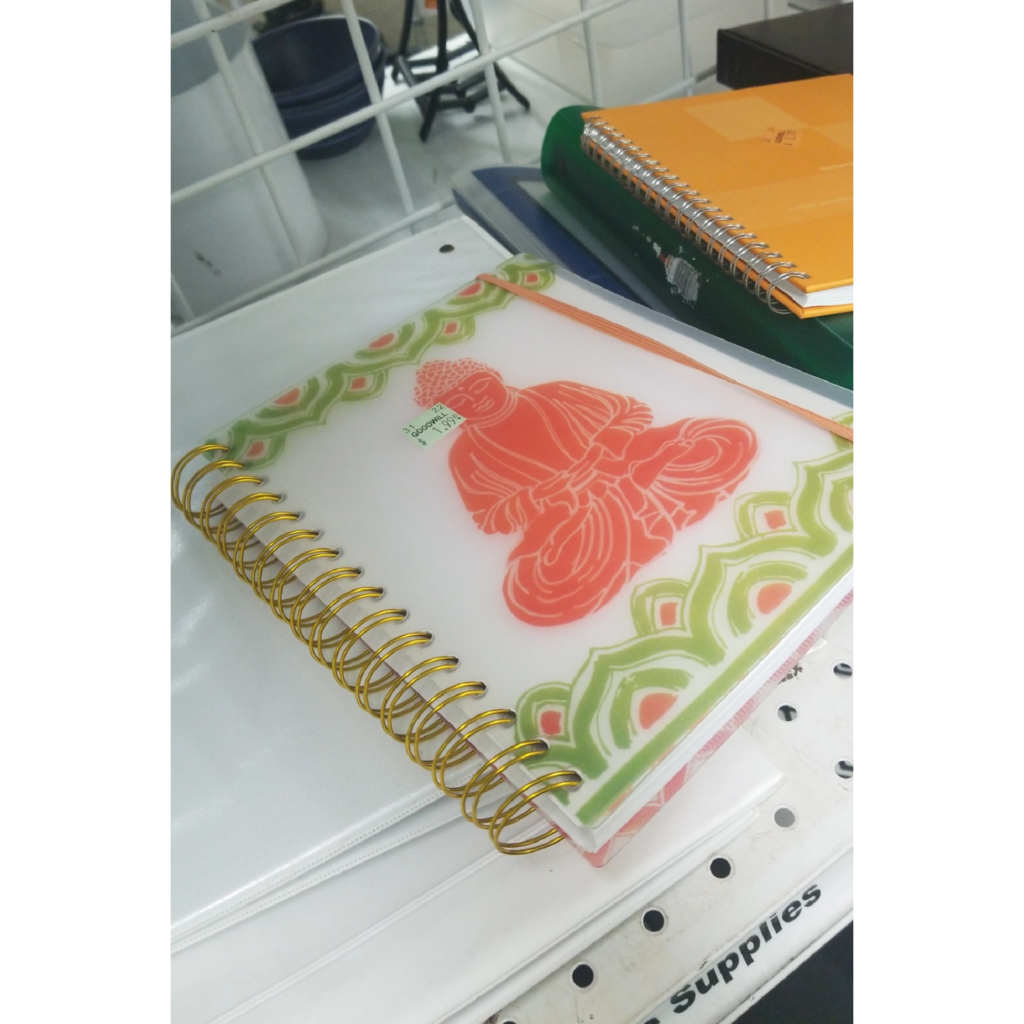 My cat Moon sometimes joins me for the writing sessions. Mostly to sleep but sometimes he gets playful and wants to distract me, haha!! His presence is healing to me so I don't mind.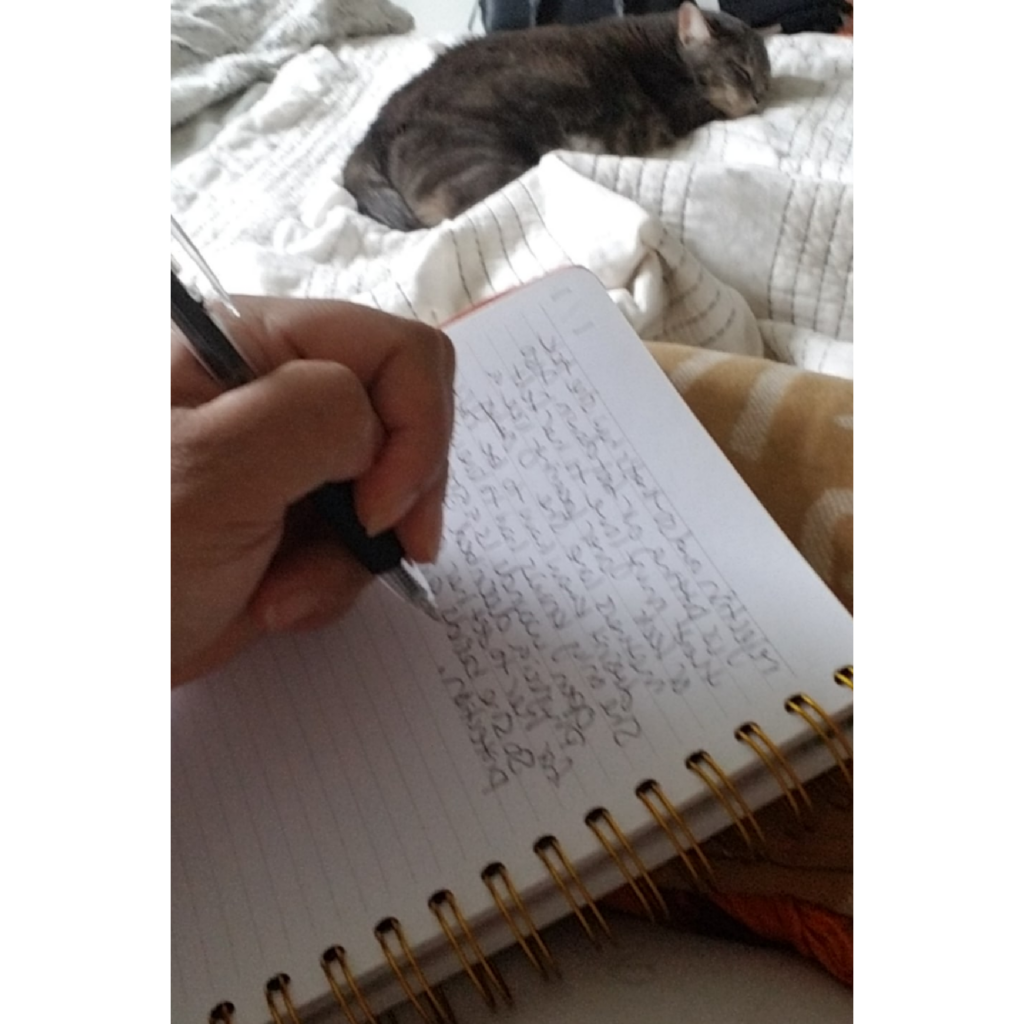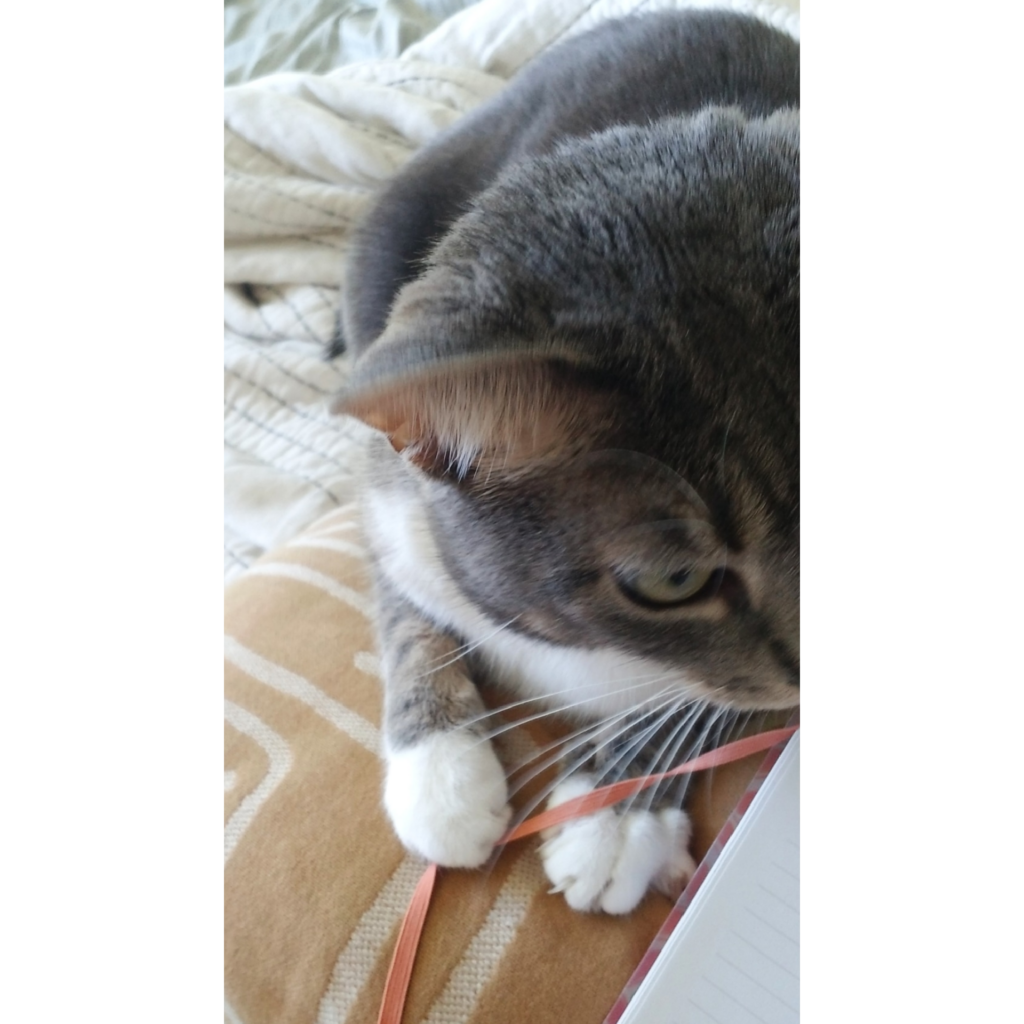 Another way I express my feelings is by painting and creating art. This might help you too. It's very therapeutic and gives you a moment to yourself. I found this drawing pad, brand new, for $4.99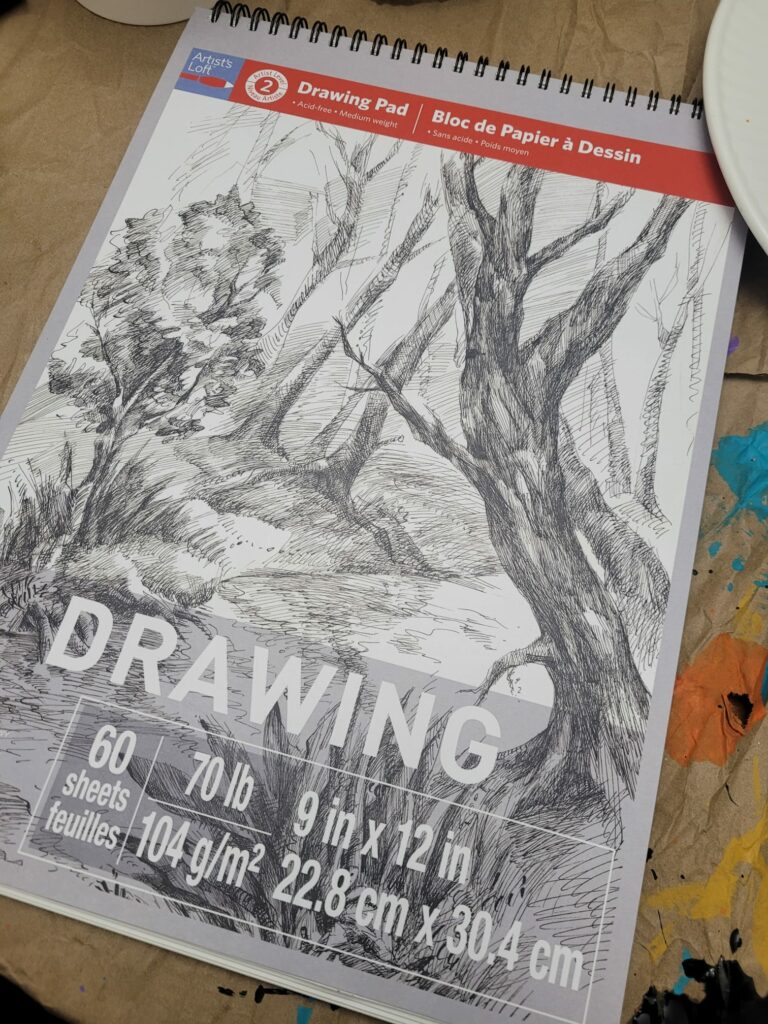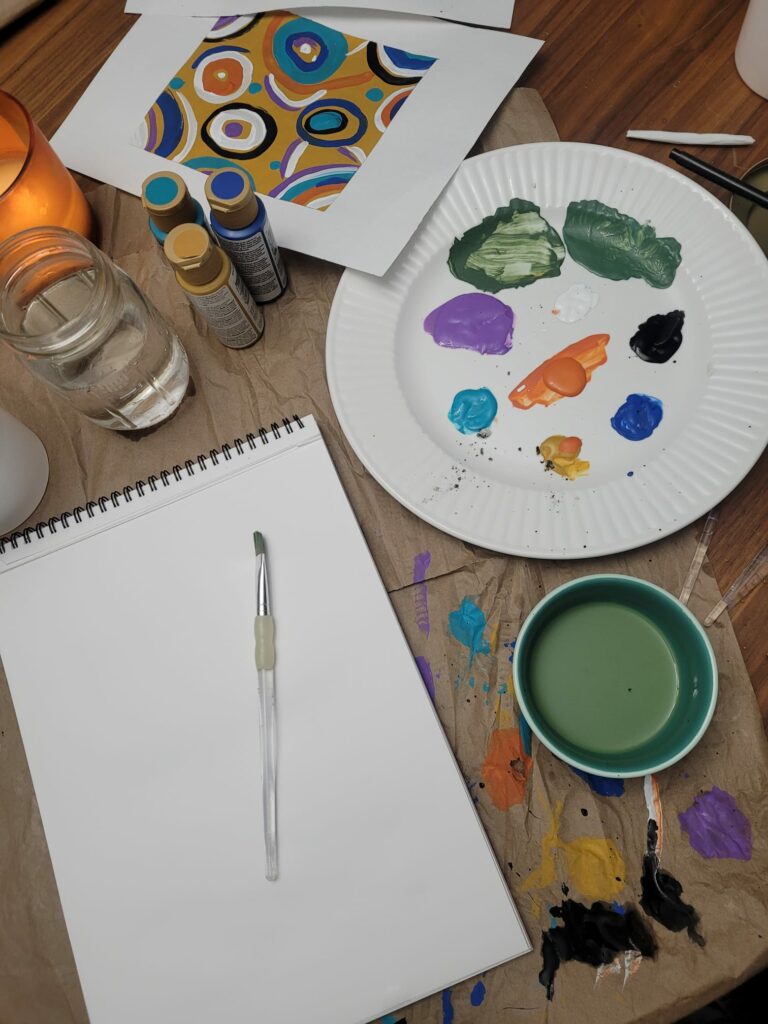 Tip #3: IMMERSE YOURSELF IN THE NATURAL ELEMENTS
My favorite thing to do is to surround myself with the natural elements: earth, fire, water, and air. I love going outside and grounding my feet when I'm feeling down and taking deep breaths of the amazing oxygen that the trees give off.
A natural way to bring that outdoor feeling indoors is to run yourself a warm bath to implement the water element. I love throwing lavender seeds in mine with Epsom salt. Light incense for the air element or burn essential oils to calm your spirit. Check out the candle section at Goodwill to bring in the fire element to your bath. I always find great ones for only .99 at all locations! I'm a candle lover, so I'm always on the hunt for great ones.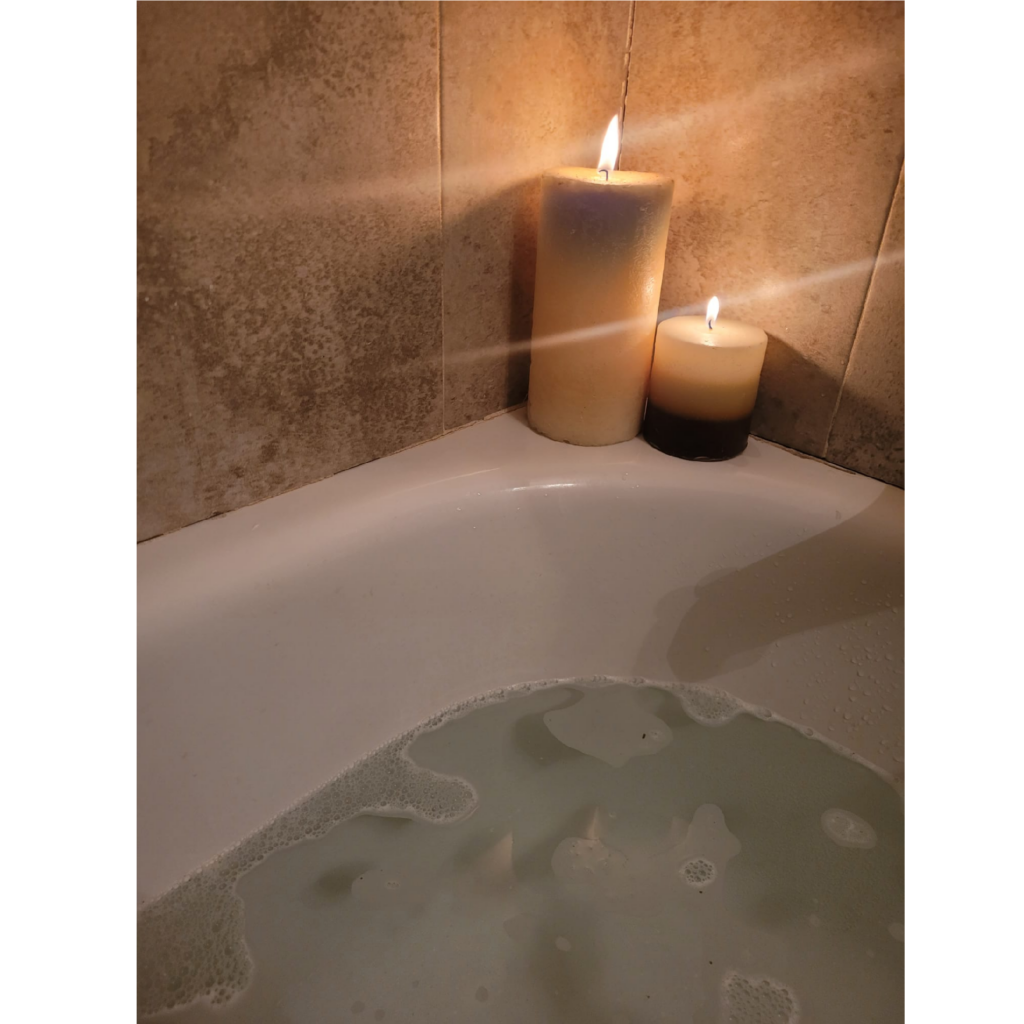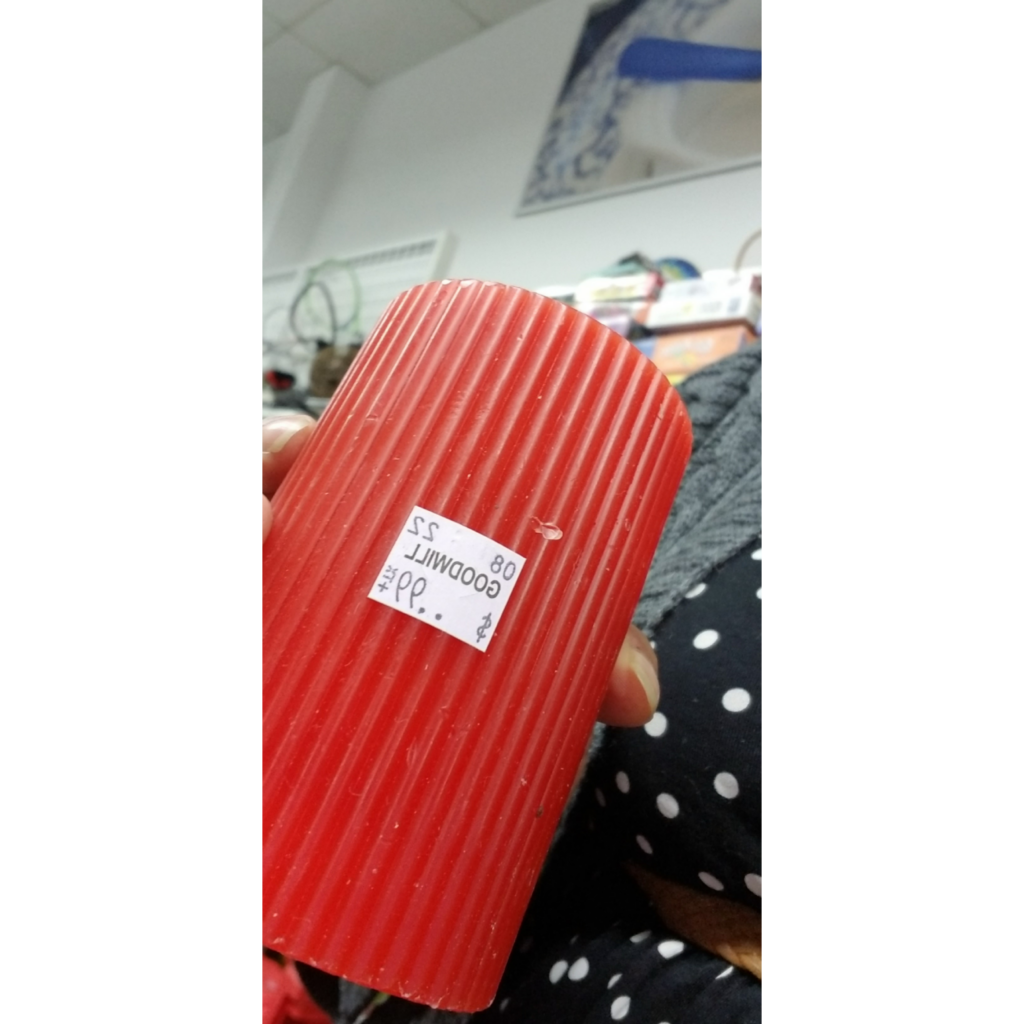 Plants, plants, and more plants!!! The best way to bring the outdoors in for me is to have plants throughout my home. They improve the quality of the air and also give you something living to care for. Of course, we need a cool plant pot for it to go in. I found a really cute etched ceramic pot at the Hayfield Goodwill for $6.99. Originally from World Market, retailing at $24.99.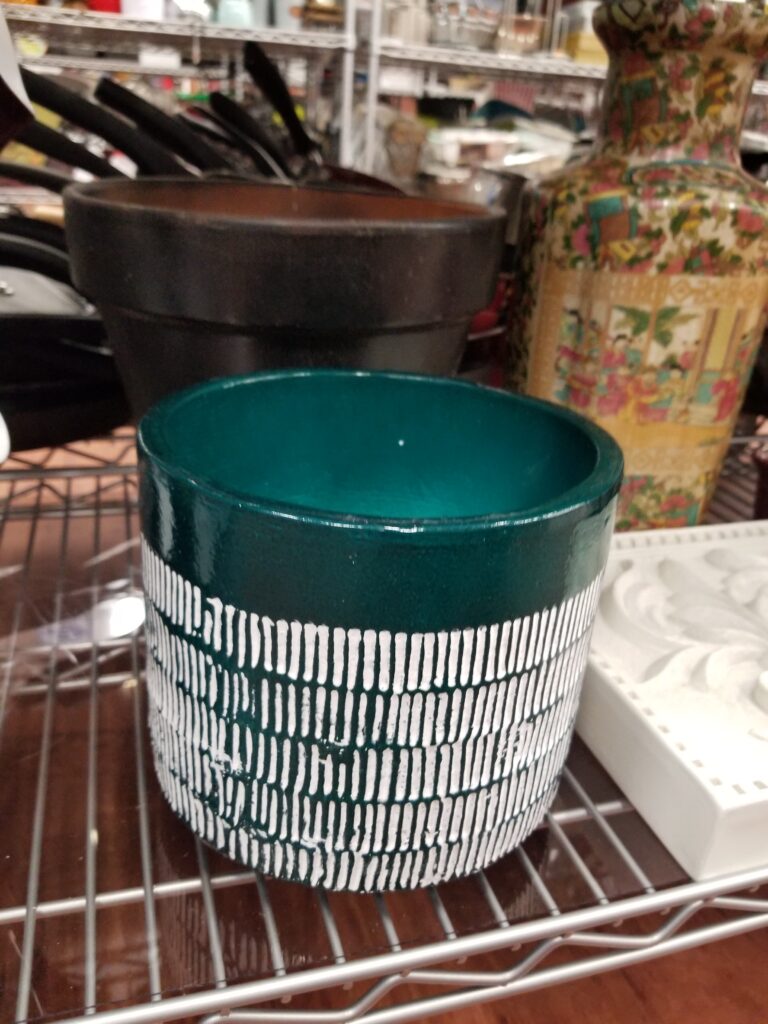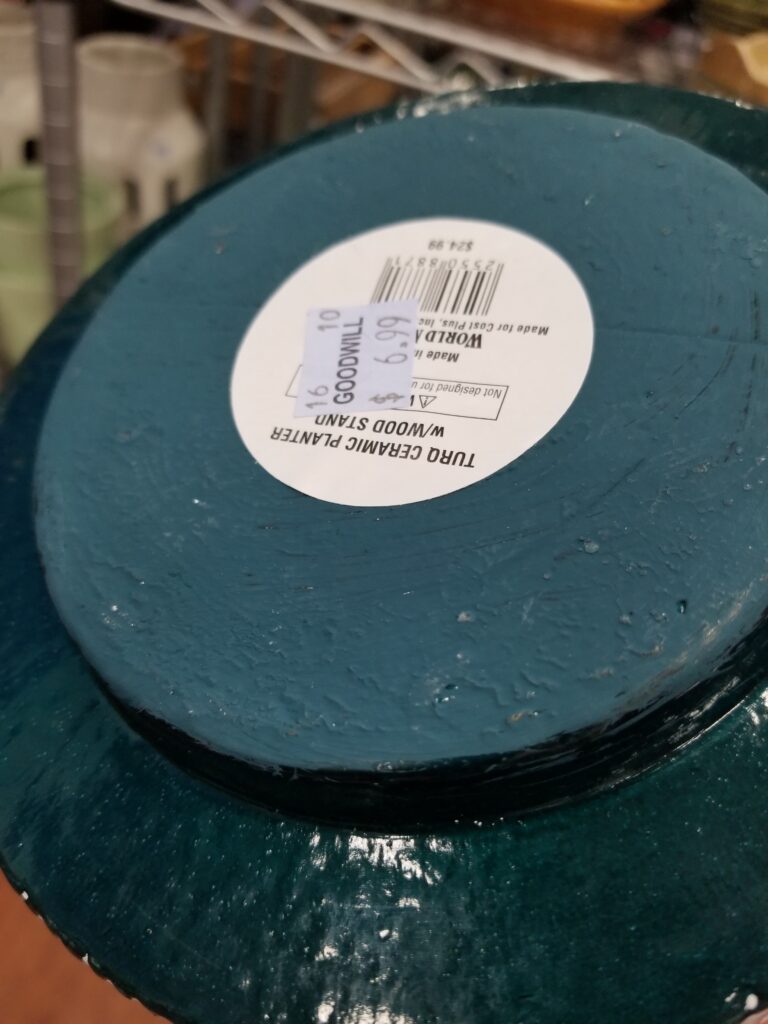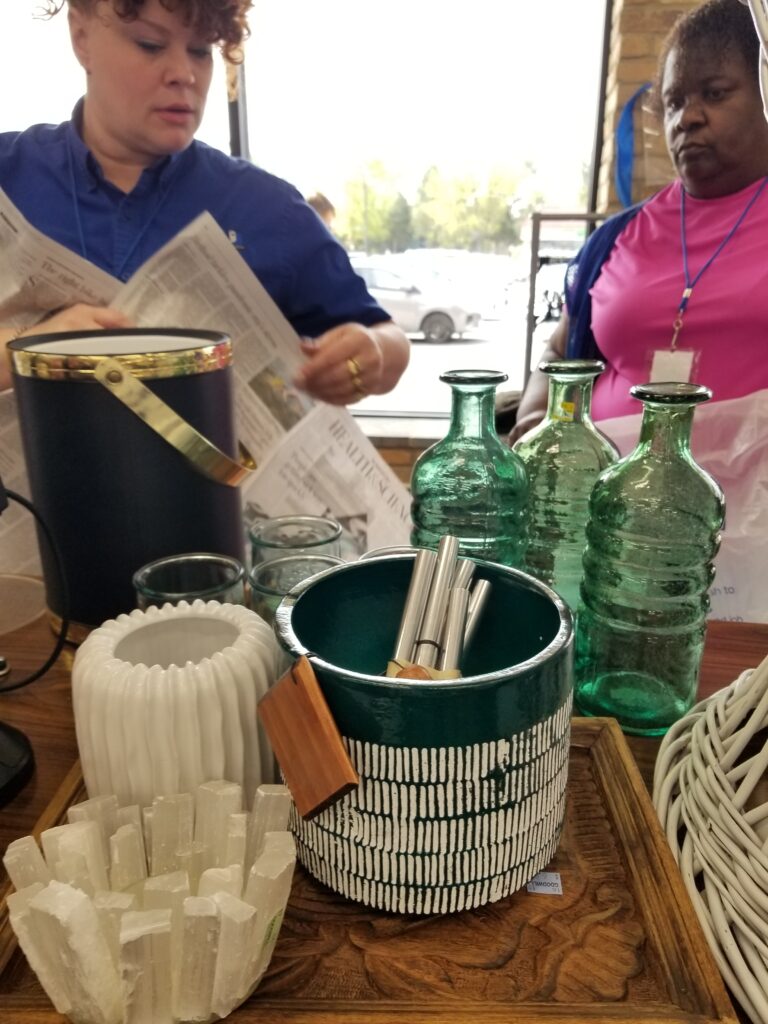 This is how I styled it at home!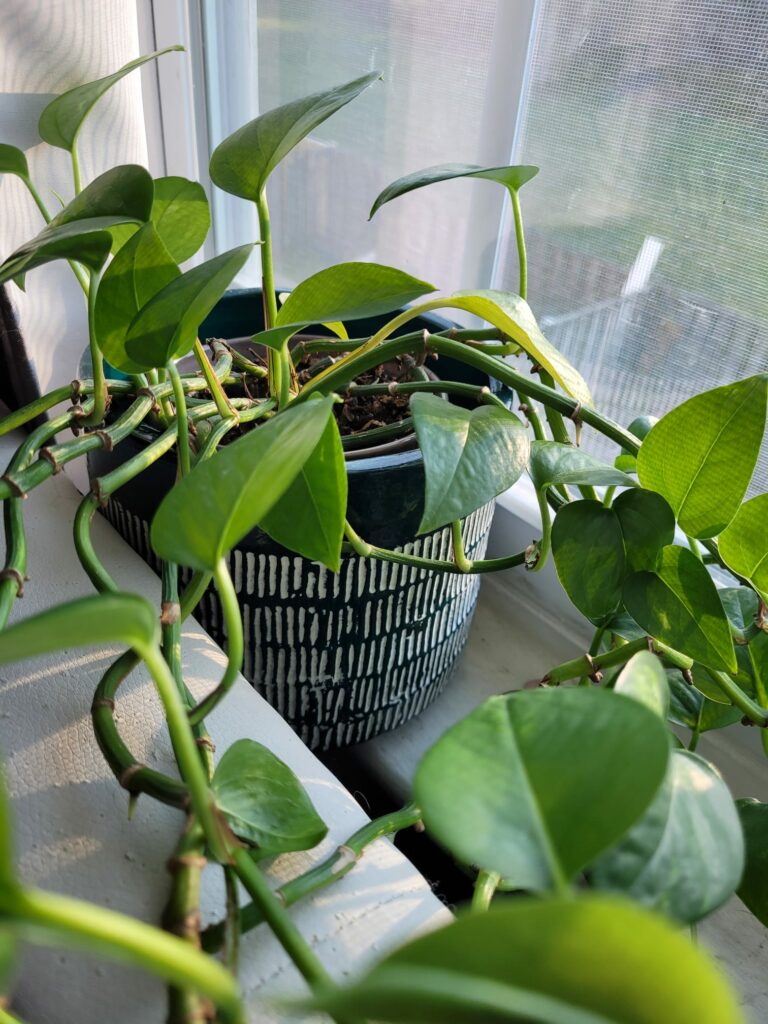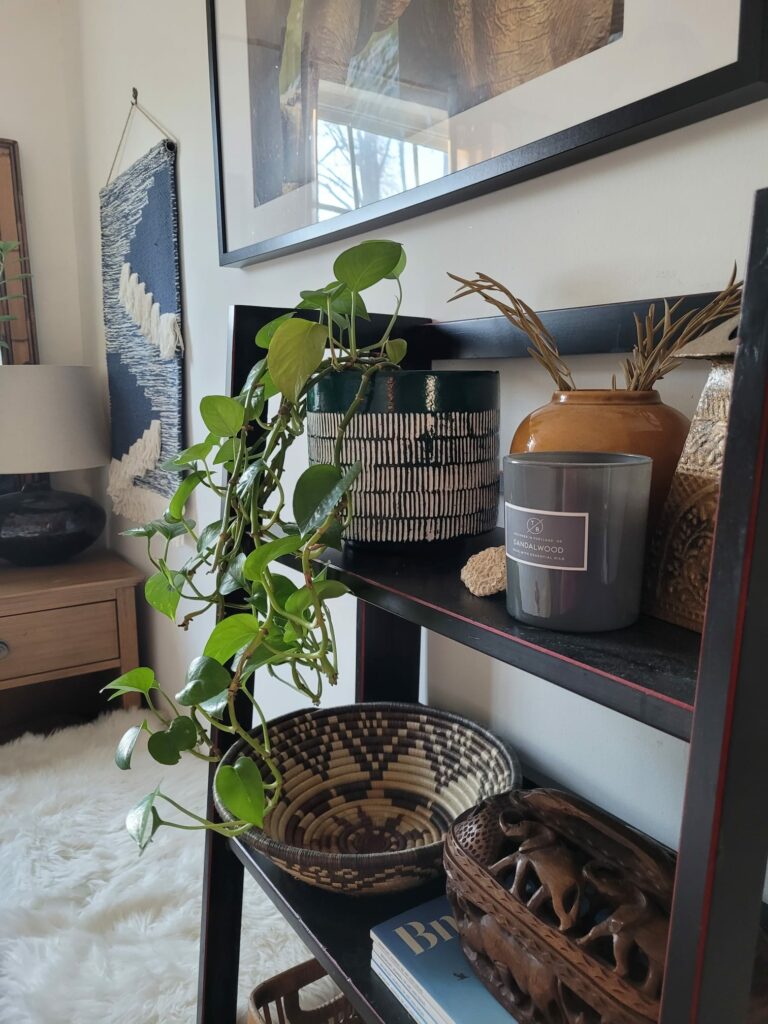 Tip #4: SURROUND YOURSELF WITH POSITIVE AFFIRMATIONS
I love it when I come across positive art; I put them in every room of my home to keep my spirits up and to remind myself how amazing I am, that I matter, and that I am needed in the world. I found these at the Edgewater, MD, location. Both are under $5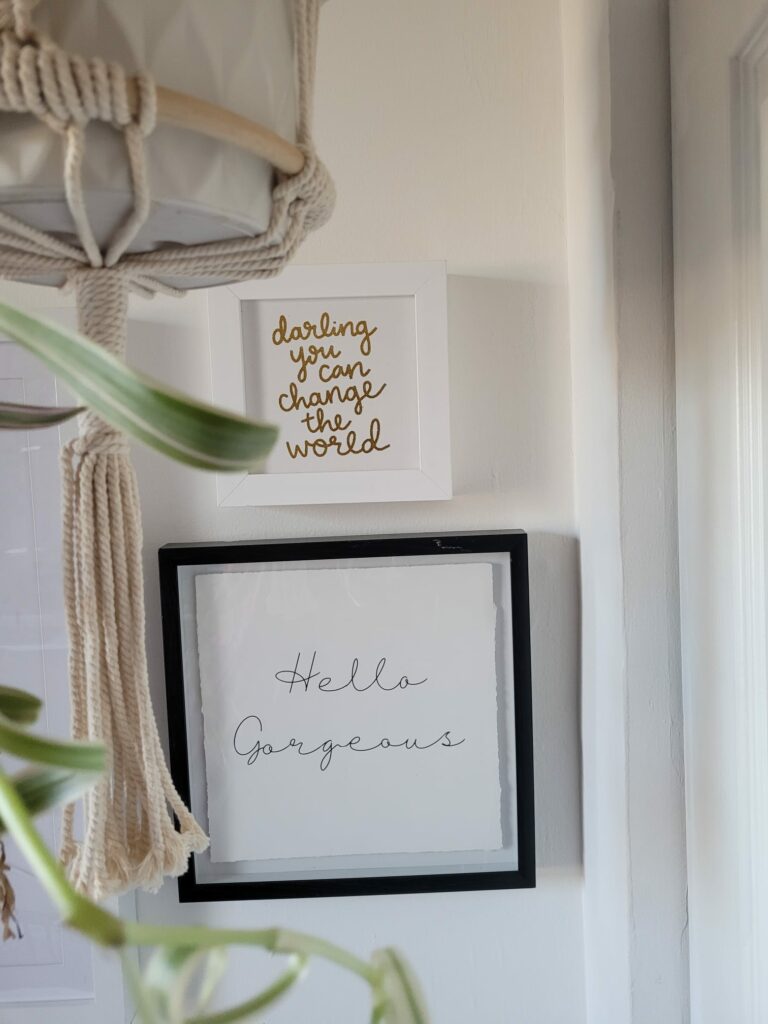 Tip #5: KEEP LEARNING AND GROWING
I love buying self-help books that speak of self-improvement, growth, and spirituality. I buy all my books at the South Dakota Avenue, DC, location. I've accumulated a great collection over the years. The best thing is they are all under $2.99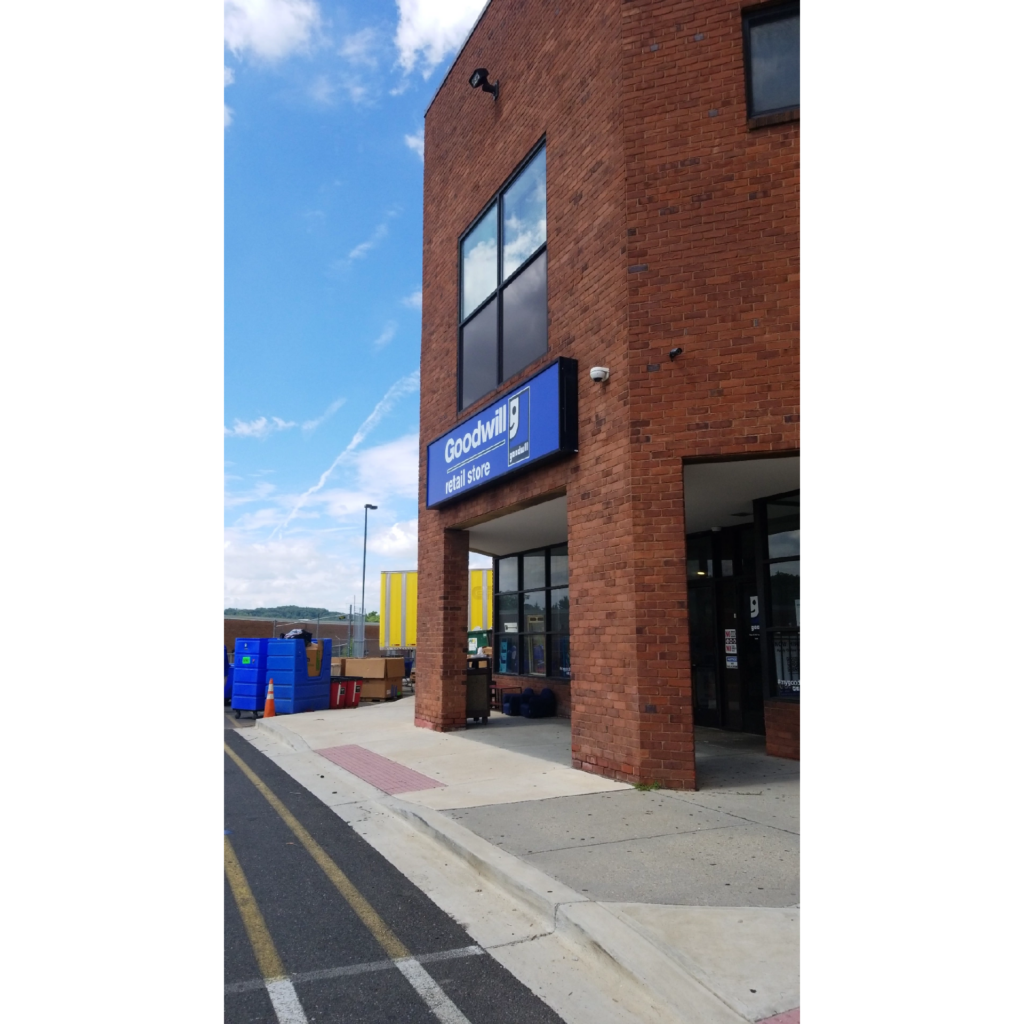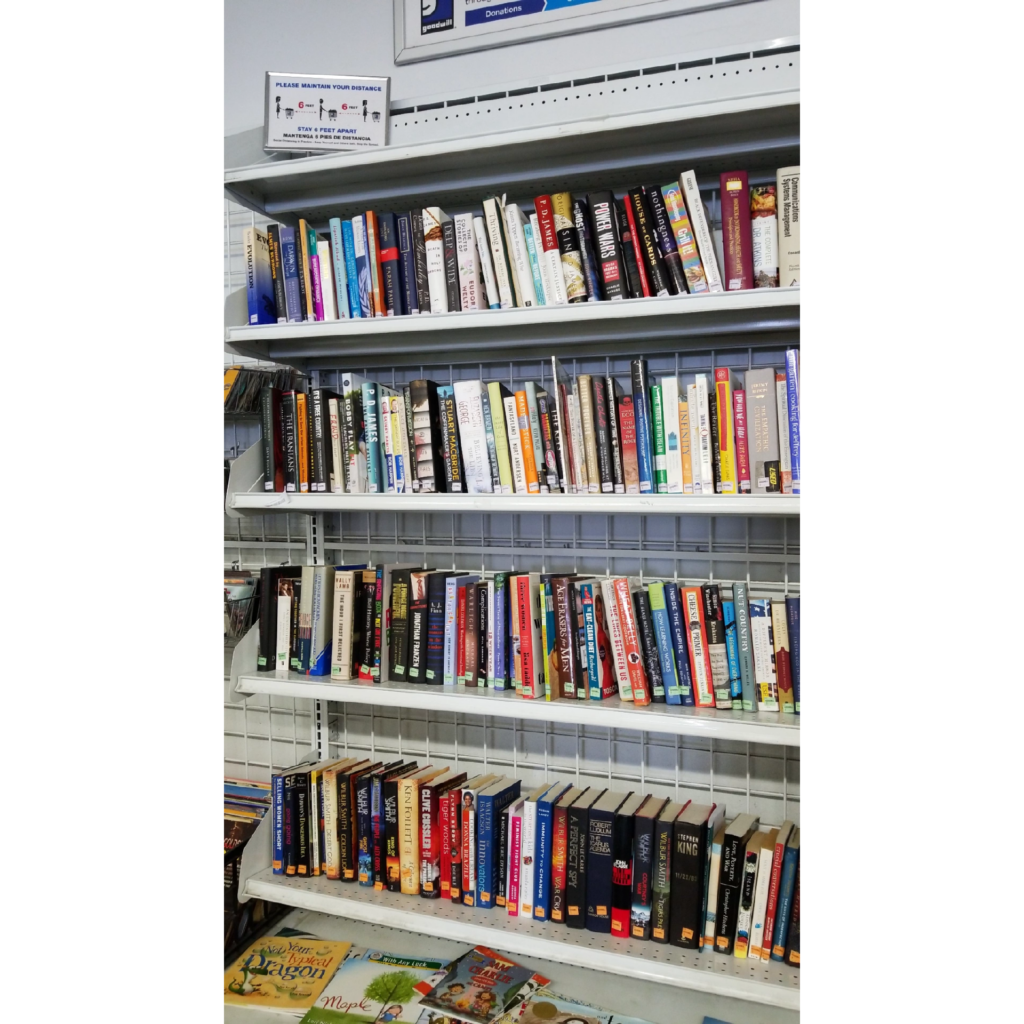 Here are my books in my home office! I have a small sofa in there, so it is the perfect little reading nook.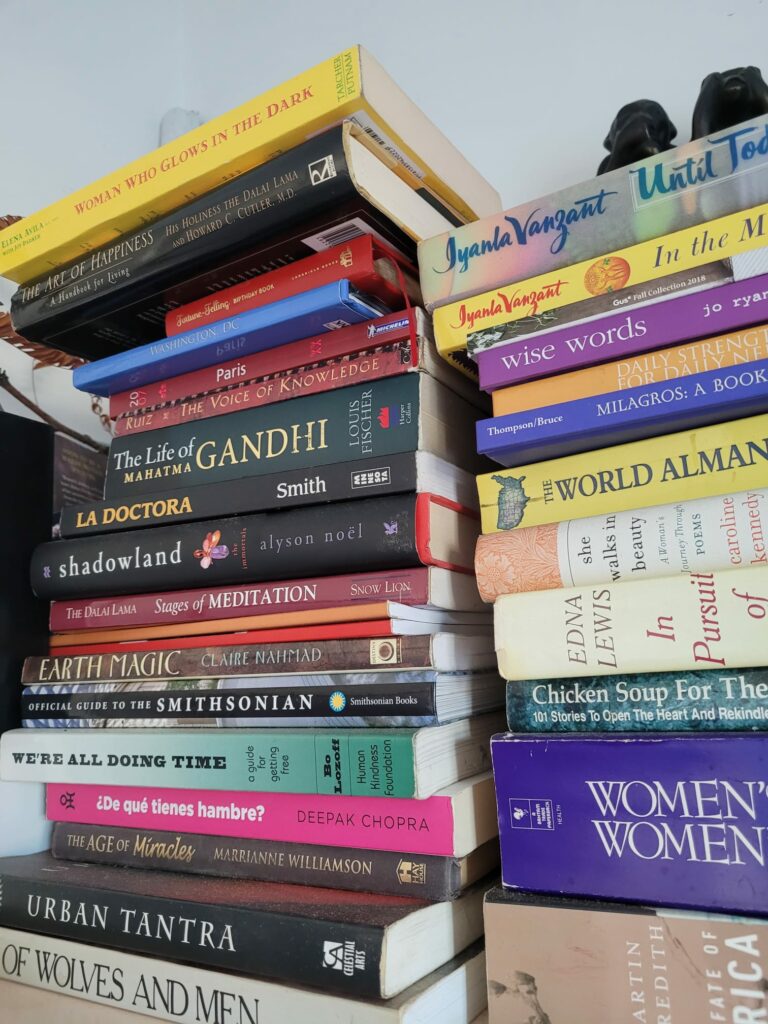 Tip #6: BUY THINGS THAT INSPIRE YOU
I love a good Buddha statue. Something about a buddha statue that just brings me peace and serenity. A great physical example of stillness and meditation. The best way to communicate with yourself, your body, and your spirit is by simply being still, and being in the present moment, and I love how the statues model this.
I found the best one ever at the Hayfield location in VA. Hand carved from a wooden trunk. It was heavy, and the quality was incredible! Which is why it cost $39.99, but well worth it. It could easily retail for more than $200. 
Here is where I found it at the store: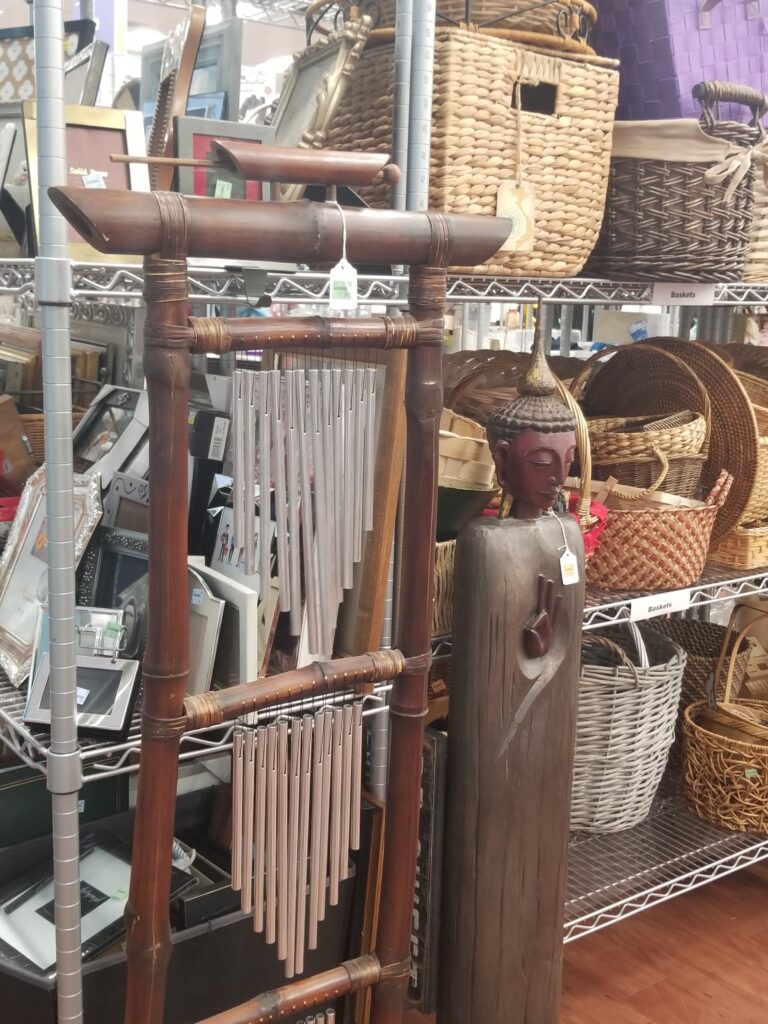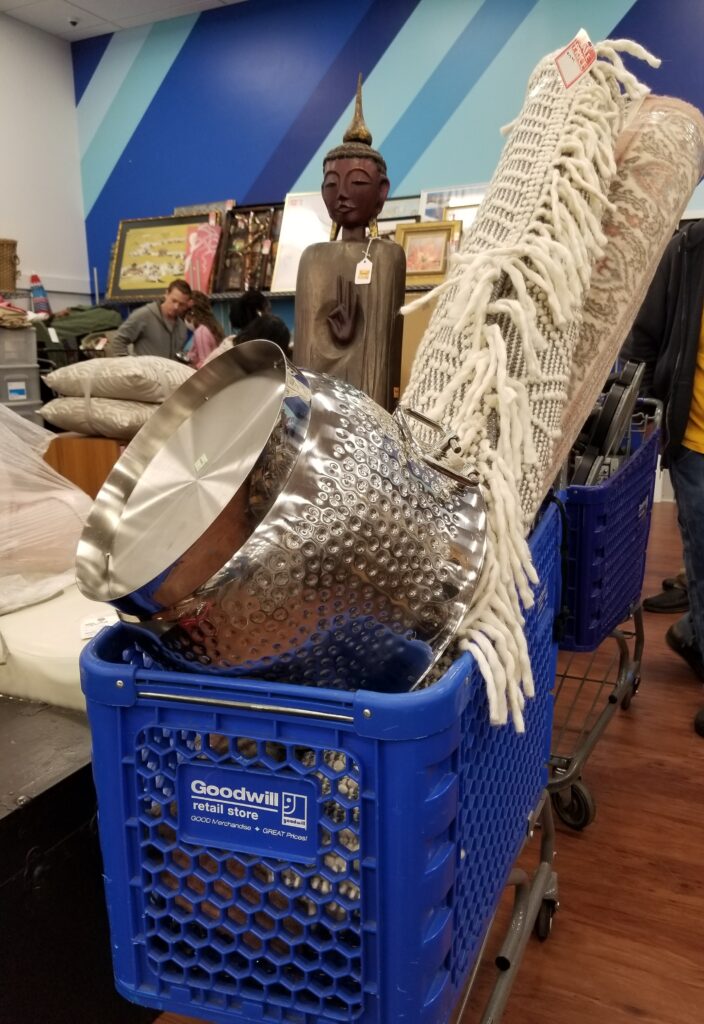 Here is how I styled it at home, surrounded by sunshine and natural elements!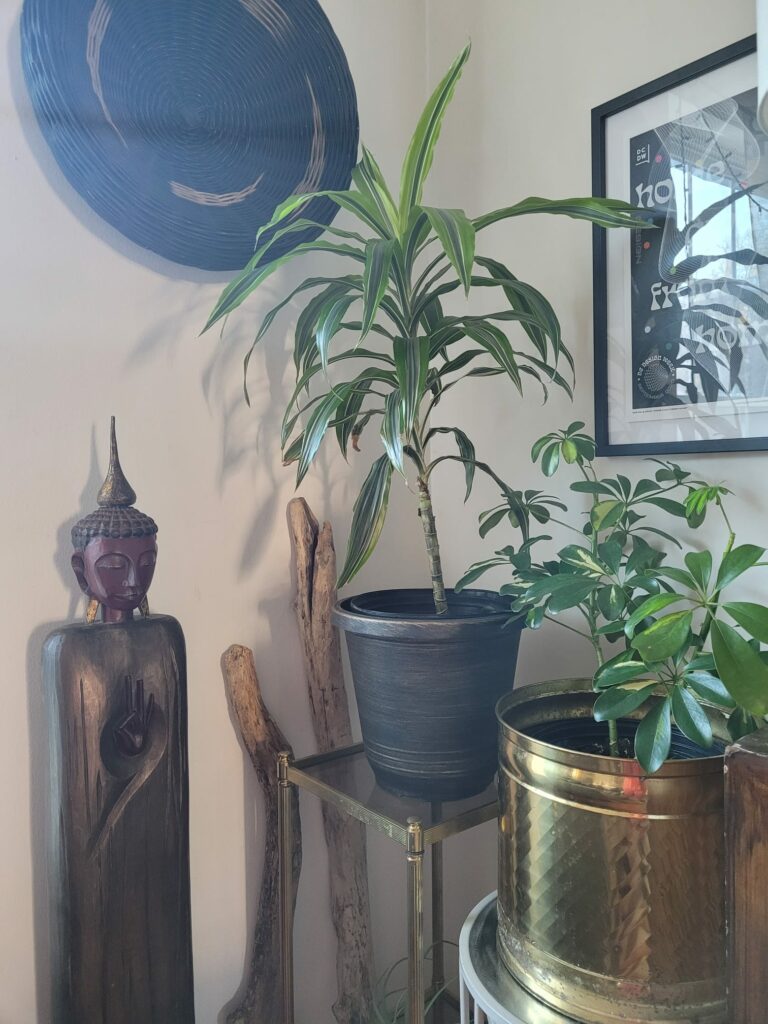 Tip #7: MAKE A SELF-LOVE JAR
One of my best friends, my sister of life, gifted me with a self-love jar one time, and it changed my life. You can do this for yourself or make one for someone!!
You simply come up with self-date ideas, breather moments, fun ideas, self-love ideas, etc. Write or type them and cut them into small pieces and fold them. Place it in a jar and open it when you need a reset. See the pictures below to give you an idea of what it is and how it works.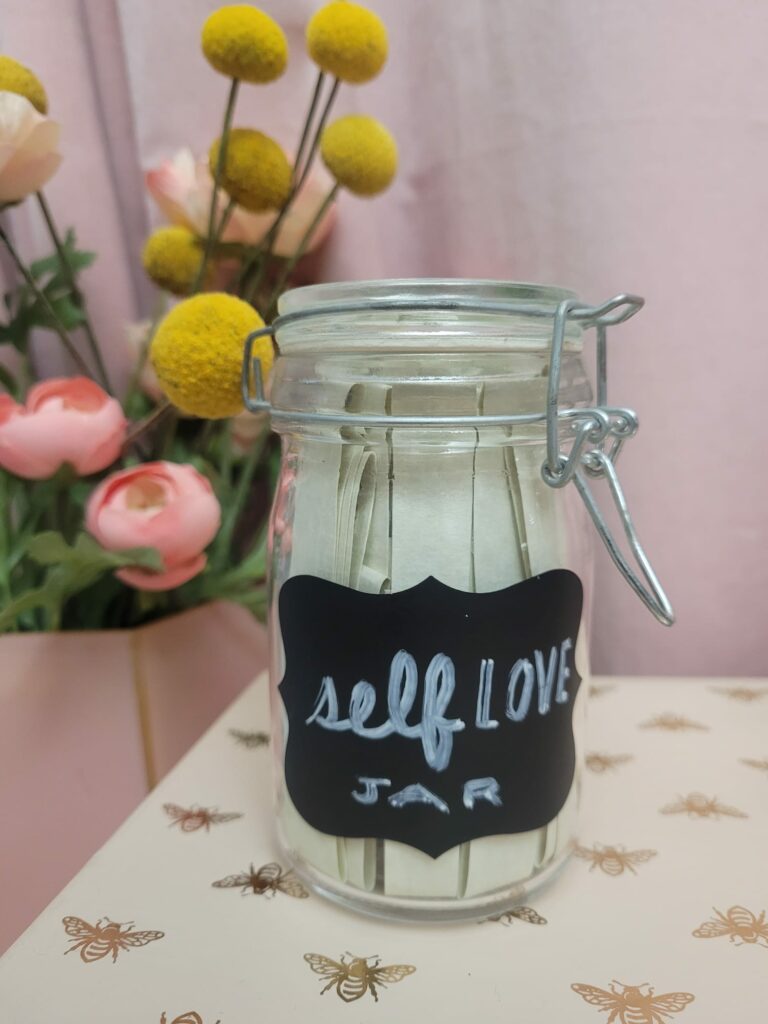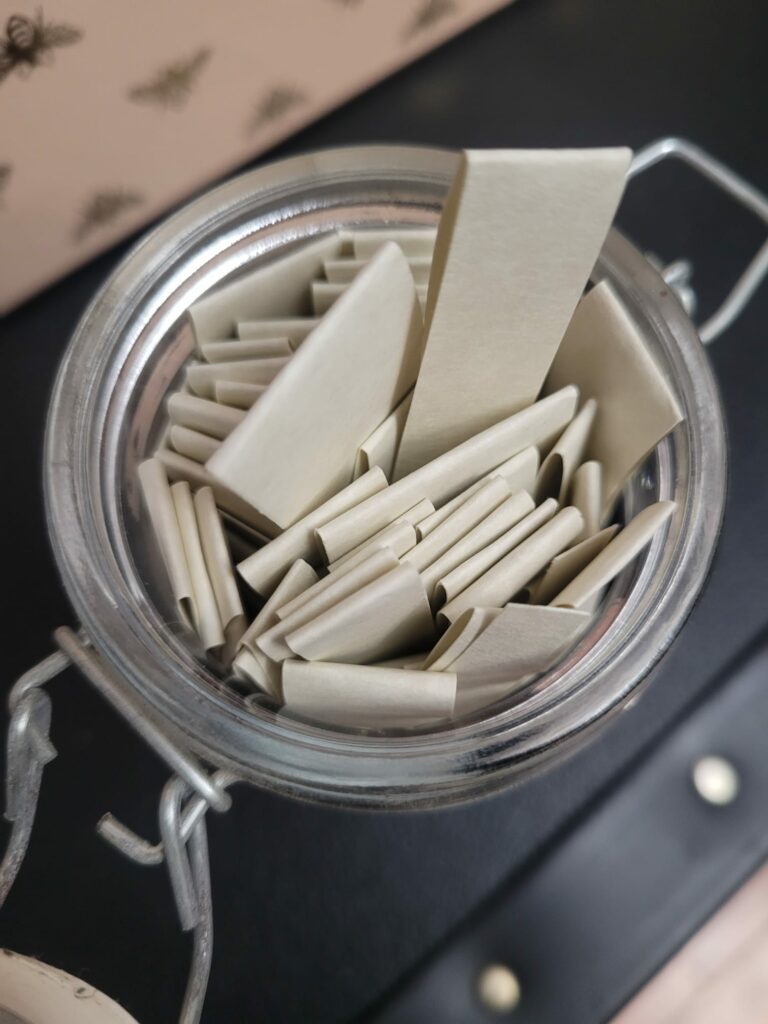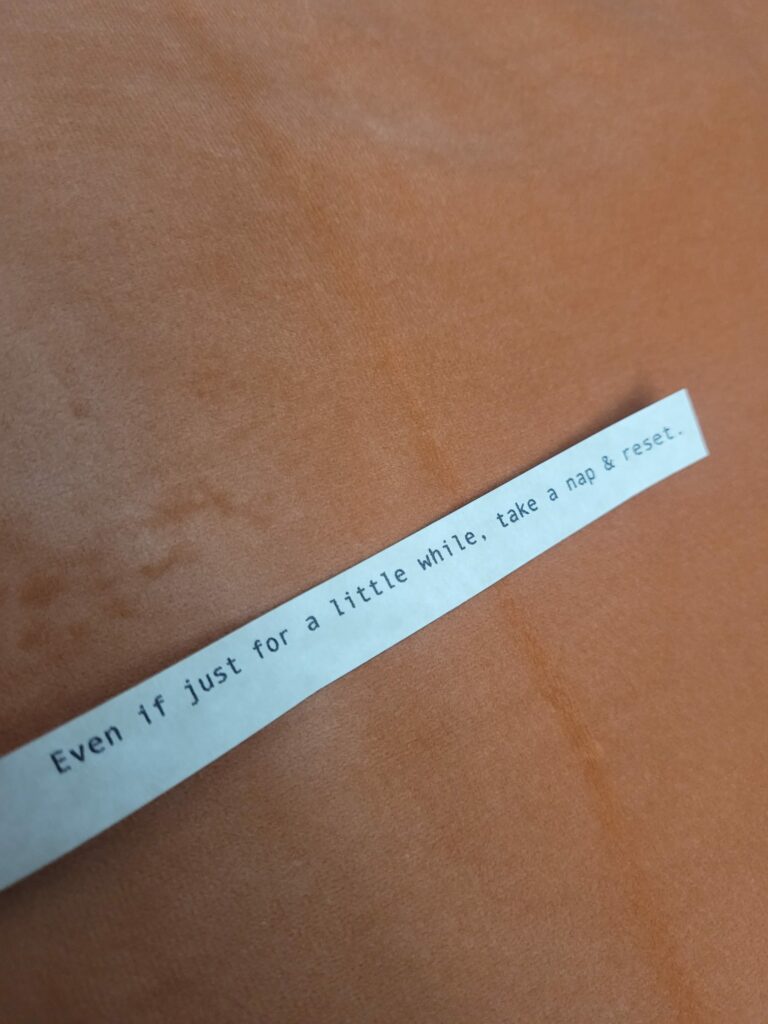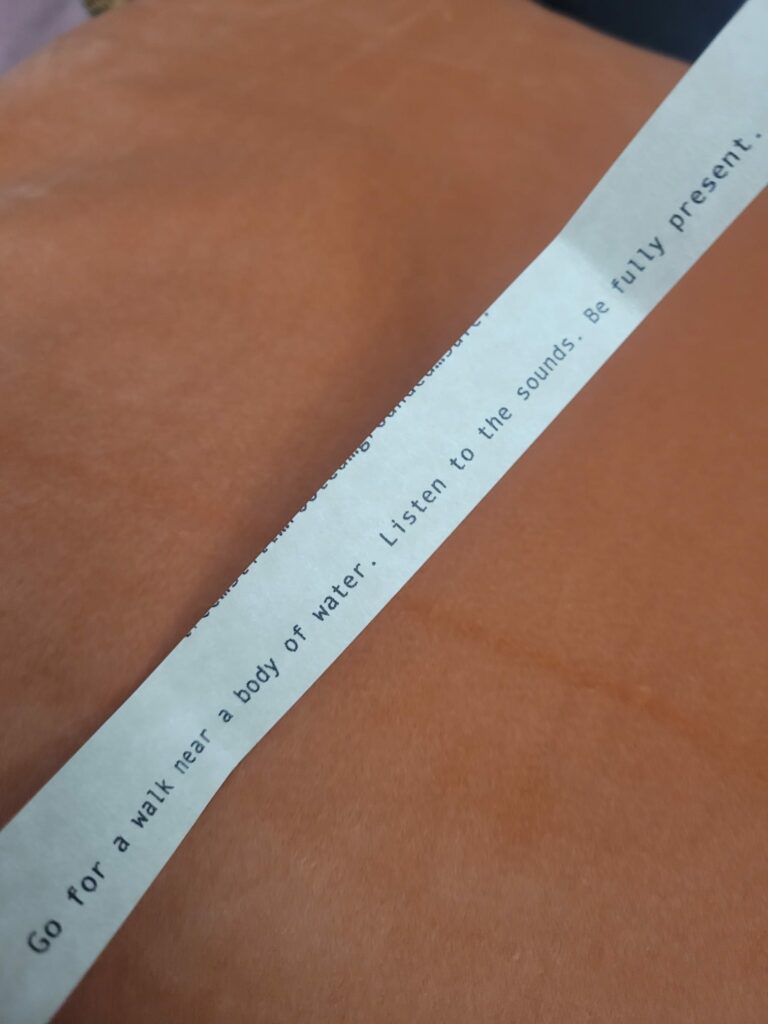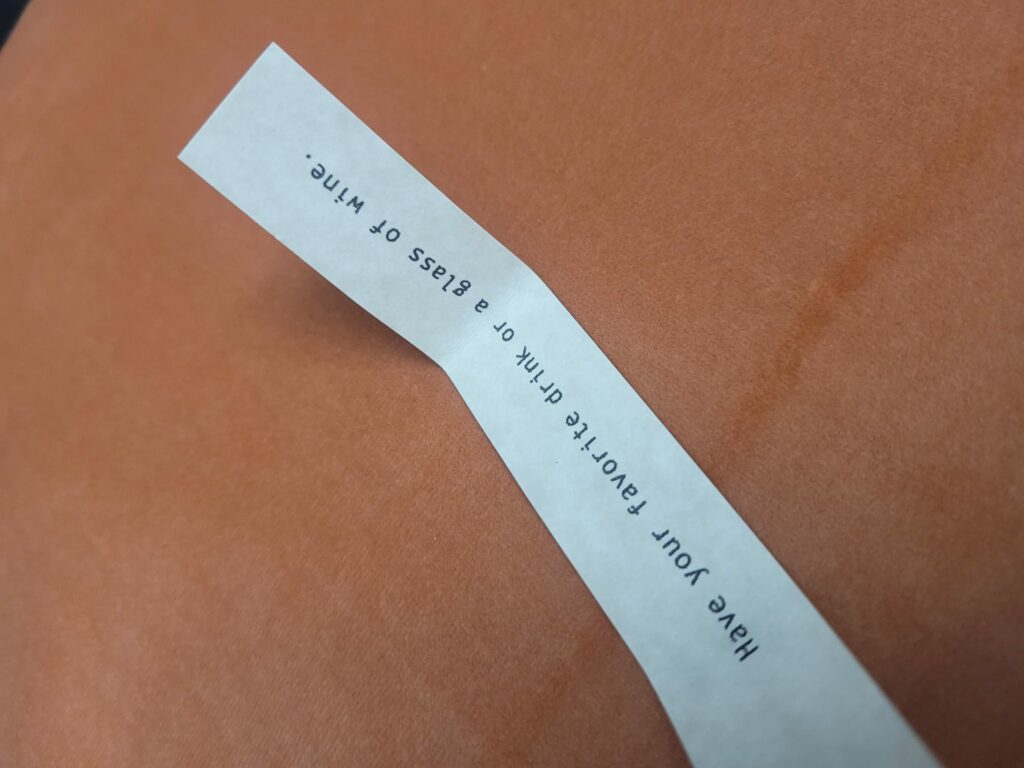 I decided to shop for a glass jar myself to make one for a friend in need of nurturing and care! I found a cute small mason jar for .99 at the South Dakota Avenue, DC location. Of course you can decorate it and bedazzle it if you'd like for extra flair. You can also spray paint the top for a fun pop of color.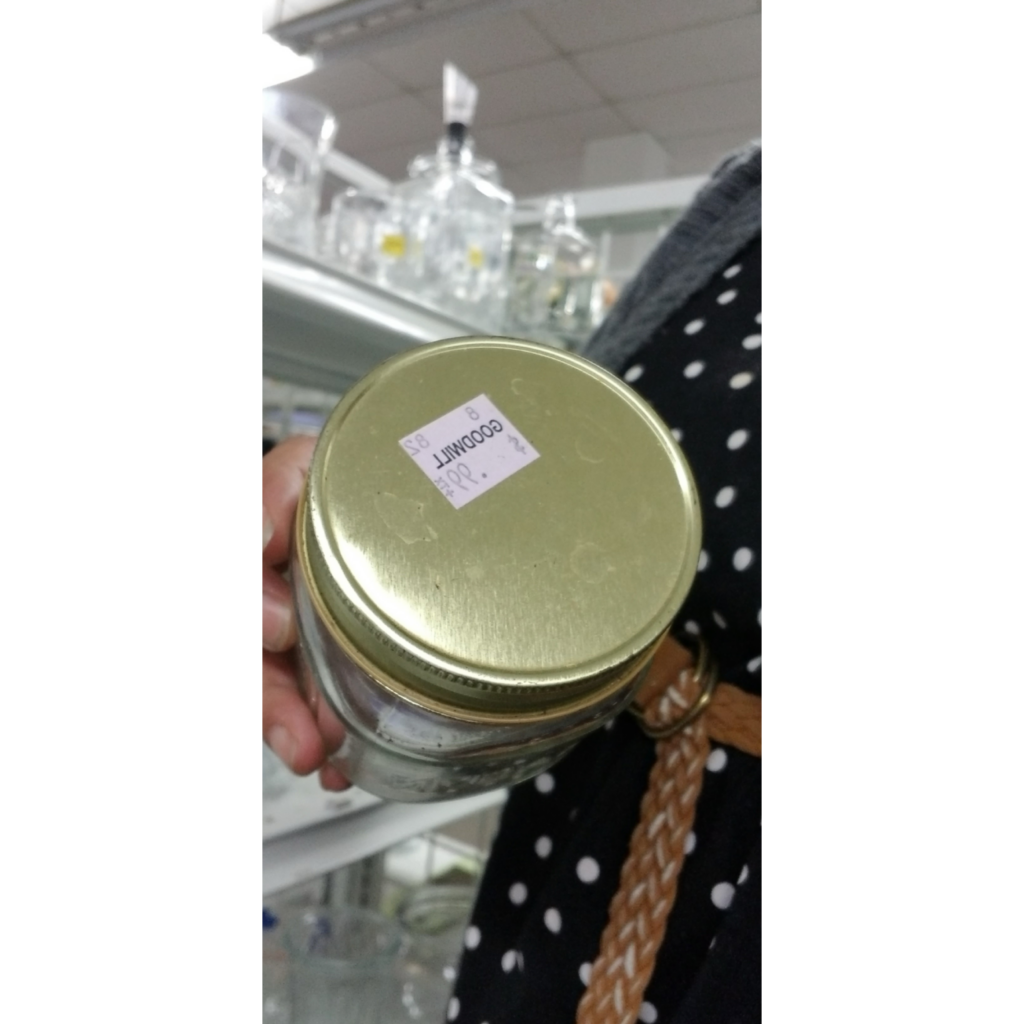 That's the end of my tips for you! I'm hoping these tips help you spend more intentional time with yourself and it allows you to make time to do the things you love this year while being mindful to reuse and recycle! I'll leave you with this cool quote I came across on IG,
"The most permanent person in your life is YOU".
Until next time my thrifty home decor enthusiasts!
Love & Design,
Cat Guerra
About our fabulous blogger: