It's designer time! Today's #MyGoodwillFind has me swooning because it's by one of my all-time favorite high-end designers; the timeless and fabulous Prada!
This Italian brand has been around for decades yet it's rare I find the label at Goodwill stores. I think this is because it's a high-end designer brand and fashionistas usually want to keep it in their closets for a very long time.
So when I saw this baby at the Bowie store my eyes opened extra wide!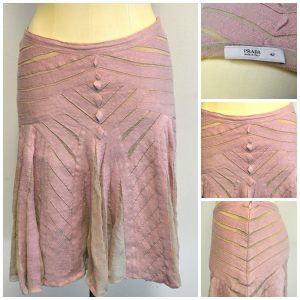 This is a textured, pleated, A-line skirt in a layered. dusty, pink color. The layers and textures are unlike any I've seen on another skirt before. This is a true testament to its design and high-end nature. It hits above the knee and is a size 42.
If purchased new, this couture skirt would have retailed for a minimum of $250 at Neiman's or Bloomingdale's.
So, I'll admit I'm not the best at styling A-line skirts because this style is not usually flattering on my body type. However, I'm trying to experiment more with fashion this year; making this the perfect challenge!
After doing some research and looking at a few blogger pages for inspiration I think I found a look!
My research showed me this style of skirt can look classy and clean with a boat-neck top. It doesn't matter if it's solid colored or polka dotted; boat-neck is the go-to style. This is a safe bet because the slim fit is flattering on most and it creates widened shoulders while balancing the bottom. Plus, I love how it exudes a European feeling like the iconic Parisian stripe.
With this type of top I'd rock simple, solid colored tights, a standard J. Crew gold or teal bauble necklace, and classic close-toed pumps.
Since this skirt is a muted pink you can still experiment with brighter warmer colors. Tones that would look especially snazzy with this Prada gem include teal, turquoise, gold, magenta, or cerulean blue. These are all rich, saturated colors that will pump more life into this what-could-be subtle skirt. To avoid being too muted and washed out I'd stay away from wearing light grays and blues.
In terms of handbags, a gold or colorful clutch will look perfect for a date night. However, if you dislike holding items in your hand, a $7 cross-body bag from Goodwill will look fashionable too.
How would you style this A-Line designer Prada skirt, fashionistas? Maybe you can provide me some tips!