Valentine's Day is approaching fashionistas! I know some of you are already starting to formulate date night plans.
A part of those one-night-a-year plans always includes the question, "What do I wear?!"
Well, today's #MyGoodwillFind might be your solution! If this baby had fit me, I would have worn it. No question.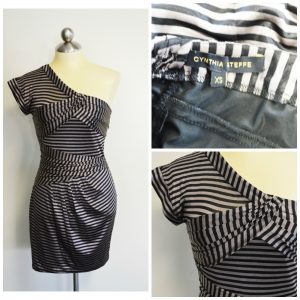 Today's gem is a dark, black and gold, metallic, one-shoulder dress by Cynthia Steffe in a size XS. The length hits above the knee and is cut sleeveless on one side. The material is silky and shiny and has ruching on all the right places.
At Neiman's or Nordstrom this dress would have originally retailed for at least $170. Cynthia Steffe goes for higher than many other brands because it's a premium, contemporary label. She's been designing dresses since 1989 and has no plans for stopping anytime soon!
I still really wish this dress fit me. Especially because I know exactly what I'd wear with it.
Similar to my outfit from Monday, I'd style this dress in a monotone, slimming look consisting of mostly blacks with statement pops of color.
However, unlike other outfits I usually style, this one would not necessarily include a black coat. Black coats always seem to be my go-to outwear. But when thinking about this dress camel or beige popped into my mind. Since the dress is both gray and black I think this warmer, neutral color adds to the color palette.
On the other hand, if you can't find a muted, neutral coat, black still works! 🙂 Especially in a blazer or trench cut.
Sometimes shoes are hard to pick out for a dressy winter look. You don't want your feet to get cold, but you still want your legs and ankles to look feminine. Heels are too bare and open toed shoes are chilly.
As a solution, I've found that heeled, knee high boots and small-ankled booties are perfect for keeping your legs warm without looking clunky. Boots that are form fitting and elastic at the thigh have been my go-to footwear this season for all types of dresses. They're also very much on-trend; seen on the catwalks of various high-end designers.
Finally, also like Monday's look, feel free to use accessories for a touch of color here and there. Deep reds, pinks, and greens will look fabulous against the gray. But most other colors work as well. Whatever you prefer!
How would you style this unique designer date night dress, fashionistas?