If this dress were an extra-small it would have been mine! Today's #MyGoodwillFind popped out at me while I was sifting through the Gaithersburg Goodwill racks. The color palette is just so bright and fun, I cannot get enough of it! Paired with some pink shoes this baby would be even more of a show-stopper.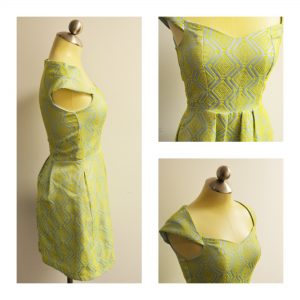 This Annabella dress (that I want badly) is a size small, textured, and ornamented with an abstract mint green and neon yellow print.
It's composed of a non-stretchy shell material that fits the body almost like armor when worn. The pleated skirt hits above the knee, showing off a slight section of the thigh. The neckline is sweetheart cut with the sleeves like shoulder petals. The back is a solid panel sewn with a metal zipper closure.
At full retail, this could have been sold at a boutique store, like Francesca's, for at least $70.
The first brand I thought of when I saw this dress was Kate Spade. The structured fit and color scheme scream this brand's essence – I honestly thought it was a KS piece when I first saw it!
Although it's a boutique brand, I'd still use this dress in an ensemble that is heavily candy and color inspired.
I'd further celebrate this dress's playful and whimsical nature with accessories that are saturated summer colors and iconic cute symbols.
For example, instead of maybe just opting for nude pumps, I'd add pink and orange flair into the mix by way of strappy heels or sandals.
I'd also use a handbag as a vehicle to create further visual interest. We all know Kate Spade is known for some of her handbags that look like objects or feature fun sayings and I'd integrate these very elements into my desired look. A gold clutch with a clever saying or fruit-shaped handbag would look absolutely stunning paired with today's #MyGoodwillFind.
Finally, we gotta talk about jewelry. The open neckline of this dress creates an opportunity to whip out a statement colorful or gold bauble necklace. Pinks, yellows, golds, and blues are all suitable colors to showcase in a standout necklace. I personally would pop in some pink to match with pink shoes, but the choice is yours! I would, however, stay away from silvers and pastels, because they would get lost next to the saturated yellow and mint color of this Annabella work of art.
How would you rock today's find, fashionistas? Are you feeling the Kate Spade vibes too?