Now that the winter season is in full swing, it's time to layer up!
And while wearing layers may include tanks, tees, sweaters, and jackets, this can leave you negligent on covering up your most important asset (pun intended). While heat primary escapes from your head, it also escapes from your extremities; including your hands and feet!
The winter season can be a bear of a time when finding the right outfit inspiration. It's easy to settle into a routine and unconsciously look like a potato for the majority of the season. Which is why there's no better time to think about the versatility and benefits of exploring tights!
Tights not only allow you to wear that short summer dress without worrying if you're over exposing yourself to innocent civilians but, it also can assist in elevating your style instantly! Luckily, there are tons of choices when it comes to tights. Various patterns, densities, and colors to choose from. Personally, I enjoy wearing neutral tones for my complexion and black shades as it coordinates best in my wardrobe. I source majority of my tights in bulk from Marshall's or T.J. MAXX for the best deal. Occasionally, you can find a brand new pair while thrifting too! Next, I will show you a few ways I enjoy wearing stockings in the winter:
With My Favorite Jumpsuit!
Just because winter has come, doesn't mean all my favorite pieces have to go! Stockings are the best way to coordinate when layering under thinner fabrics in their off season. It not only will keep you warm but, it will extend the wear of some of your favorite items.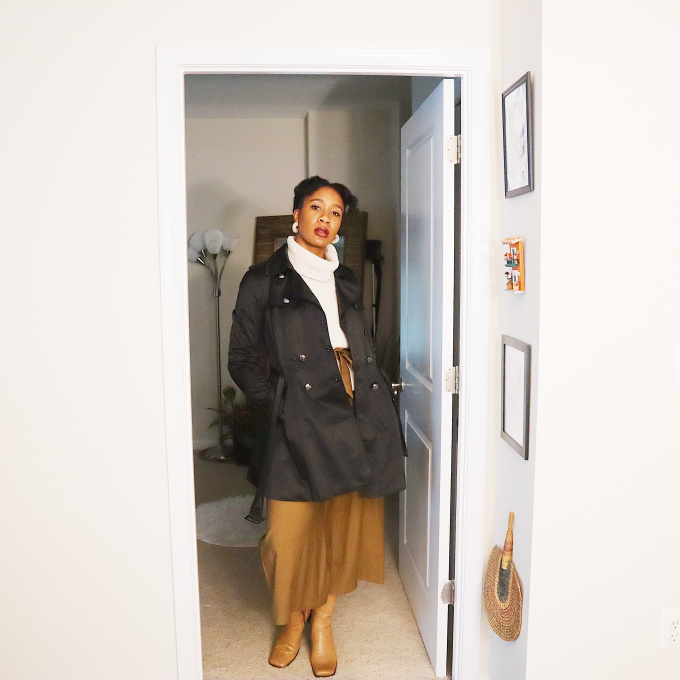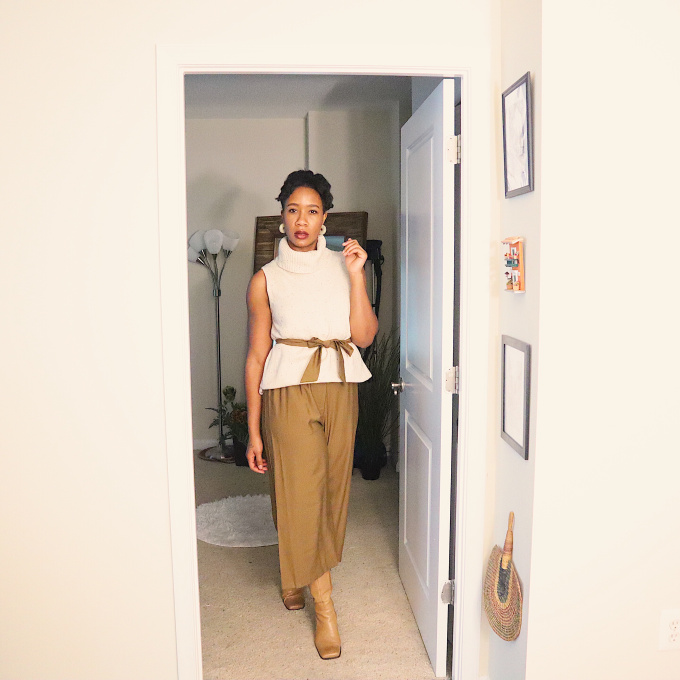 I picked up this olive jumpsuit on clearance at the end of summer and didn't get as much wear as I would have liked. To make it winter appropriate, I added stockings as a base layer, my tan square toe Nine West boots, a super warm ivory turtleneck sleeveless sweater dress, and a trench coat I found at Goodwill!
They Look Great with Boots.
The high boot & blue jeans look, for me, is not a style I gravitate towards anymore. Mainly, the thought of adding boots with a thick blue jean, for instance, has the tendency to break up the length of the leg on a person into 4 parts.
Depending how short or tall you are, this could end up not working in your favor.
I typically pair my favorite riding boots with tights under a dress or skirt that hits just above my knees. It showcases the length of your legs & also shows the beauty of the boots! After all, isn't that the reason you bought the boots in the first place?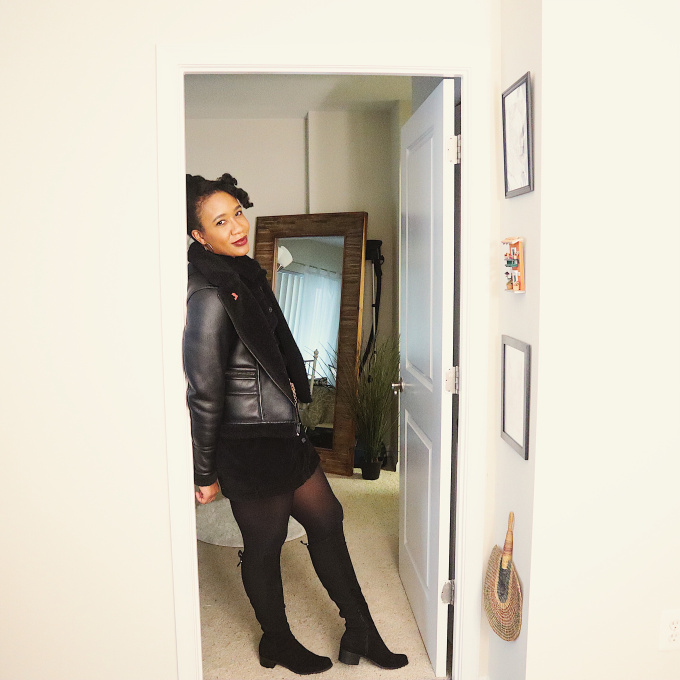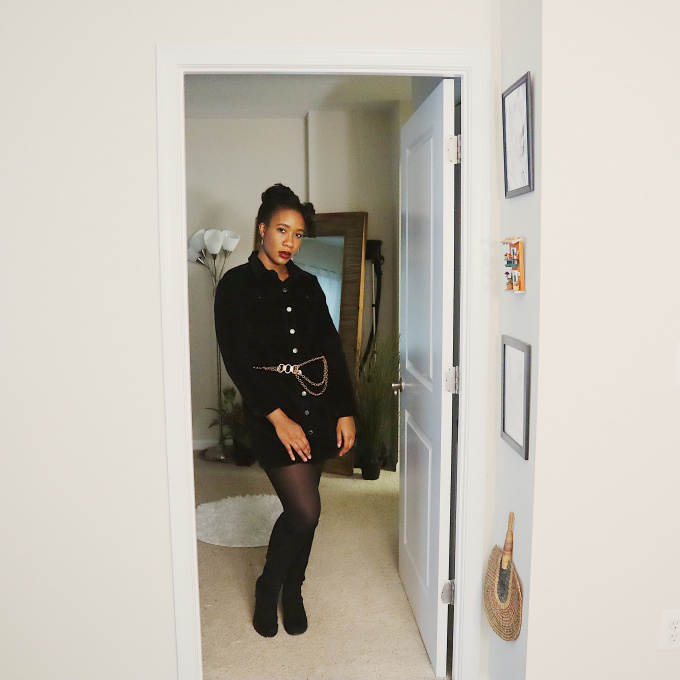 I layered my black tights under a corduroy long sleeve dress, tall suede black riding boots, my thrifted gold chain for a pop of color & Levi's shearling lined jacket!
With a Leather Skirt.
The look of a leather skirt in the winter is one of my favorite outfits to put together. The leather (in this case, pleather) adds an element of chic but sassy whenever I wear it. I got this skirt at a charity shop during my trip to London last month and have already worn it more times than I'd like to admit! I love how versatile the hue is when paired with the majority of the items in my closet.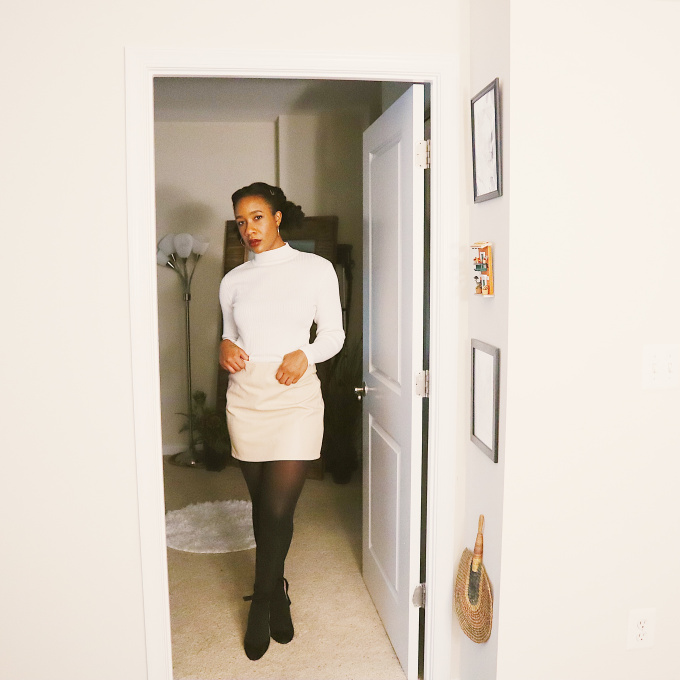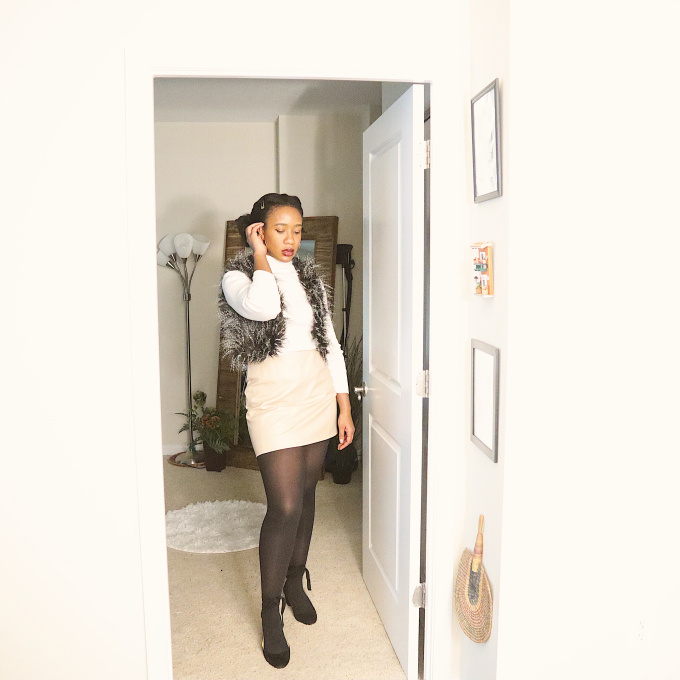 I especially enjoy styling this look with a mock neck sweater, thin black tights and my most recent purchase, suede Talbots ribbon shoes I picked up from Goodwill for $6! For an added flair, I might incorporate my fux fur vest for added texture.
And there you have it! Three outfits to incorporate your favorite pair of tights.
How do you I like to style tights in the winter? Tell me some of your ideas in the comments below!
-Danielle

About Danielle: