Fashionistas, this past Saturday marked the one anniversary of the grand opening of the Goodwill retail store in Bowie, MD. To celebrate this amazing accomplishment they offered a 50% off all donated goods sale. You know I was there!
Do you remember the store's exciting grand opening last year? It was filled with eager customers, fun finds, and good vibes all around. One year later, the store has gained even more charm (and gems!).
During my visit, I took home, as per usual, a cart full of great finds. But I was also able to put together a quick look under $15.
Not only did I find a fun spring look, I also took home a few other gems including some highly sought after name brands and vintage showstoppers.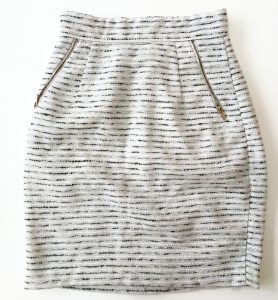 When perusing through the skirts section, this work-appropriate white, black, and silver textured, Chanel-like beauty from H&M made its way into my cart without question. At 50% off, I knew I was going to take this baby home.
It goes well with pretty much anything black in my closet. But yellow or blue would look nice up top as well.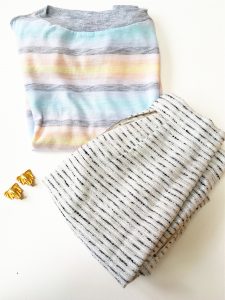 But then I saw this vintage, preppy shirt in the kid's section and fell in love with it as well. But to pair it with the skirt? This thought didn't cross my mind until I tried them on together. Somehow, this light color combo worked effectively together. And, voila! An outfit was born.
I think these pieces pair well together because it's form fitting and has a light color scheme. They both have slightly vintage vibes as well, which make them kind of a dynamic duo.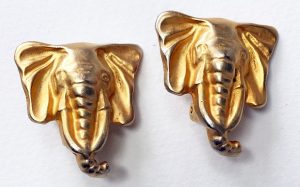 Finally, when I got home, I decided this look needed earrings. I immediately thought of the perfect pair!
You know me and my obsession with vintage. So the first pair I envisioned were my beloved gold elephant clip-ons from another DC Goodwill store. I usually don't tend to mix my silver and gold. But the silver zippers on the skirt are so subtle, I don't think it matters.
And that's my look! The top and skirt were about $2.50 a piece. In fact, my earrings (around $4), were the most expensive singular item in this spring ensemble!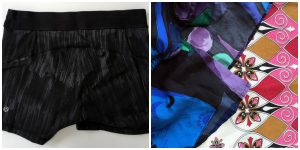 On another note, I also scored Lululemon shorts and funky patterned tops as well. The Lululemon shorts, at full retail, usually go for at least $50! Talk about a find of the day. 🙂
Each gem was under $5 and I CANNOT wait to wear them in the office or the gym.
Have you been to the Bowie store yet, dear readers? Make a trip and see if you can find a look for under $15 or $20 too! It won't be hard. 🙂