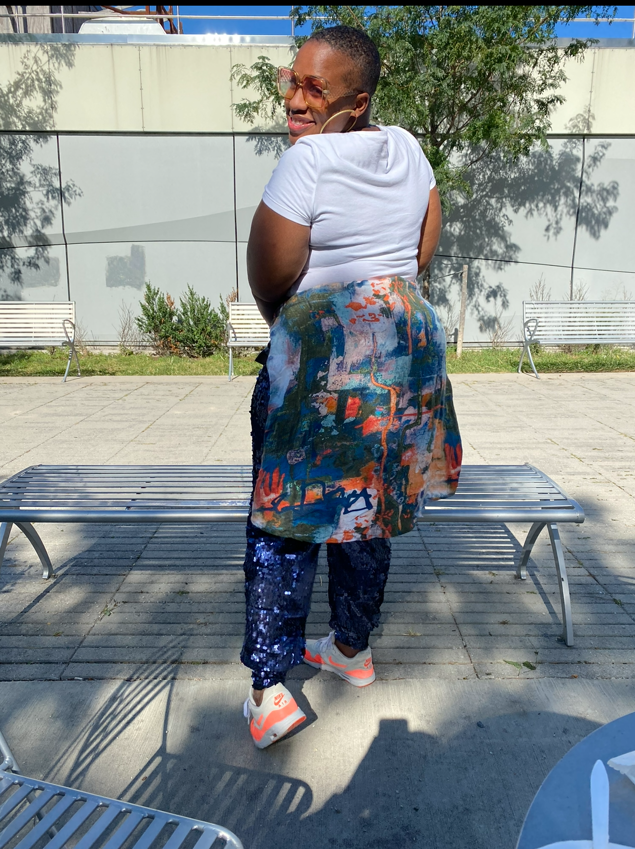 Last month, I celebrated my 37th birthday in New York City, which is my favorite city. The end of September is always a tricky time of year regarding weather temperatures and dress attire. My birthday plans were a complete surprise, putting pressure on what clothing options for the weekend. The only instruction given was to dress comfortably for walking. Before my trip, I settled on a pair of blue sequin jogger pants, a crop top, a lightweight bleached flannel shirt, and Nike Air Max sneakers. Because the weather can be unpredictable during that time, bringing separates would be the best way to go.


My absolute favorite part of the outfit is my blue sequin joggers pants. I found them at the South Dakota location Goodwill last year for $5.99 and wasn't expecting them to fit since the fitting rooms are closed. However, they are the most comfortable and warm pants ever. I wish I could find them in black sequins because I would wear them every week! Since the weather was in the mid 70's, I added a crop top that was $2.99, a bleached light flannel shirt for $5.99, and a pair of Nike Air Max sneakers for $17.99, totaling $32.96! Where can you find a better deal with one-of-a-kind goods?!


Since I am a total foodie, my boyfriend and I went to a food festival in the Williamsburg neighborhood in Brooklyn. There were all types of food, including Japanese souffle pancakes to chicken empanadas. The entire day was a vibe, and I was so comfortable in my outfit. Goodwill will always be my go-to at any event!