With the holidays truly just around the corner, create a gift that will be proudly displayed for many years to come.  Reuse an old canvas and pair it with maps to create a new piece of art to honor that special place.  While the DC flag was selected since that is where I work and live, you could easily follow these steps and create one for your own city, state or country, or even your favorite school. 
Thanks to DC Artist Andrew Ozkaya for the idea and inspiration!  Love to "borrow" a good idea and put my own spin on it.

Items needed:
· Art canvas
· Paper maps of your town
· Red poster board or thick craft paper
· Scissors
· Pen
· Mod Podge
·        Paintbrush
· Foam brush
· White paint
· Craft sponge
· Arts & craft spray adhesive
1. Shop for art canvases at Goodwill
Want to know a secret? 
Buying brand new art canvases from the crafts store can cost a pretty penny. You can get the same items for very little at Goodwill! All you need to do is to look beyond whatever its current image is and hunt for the size and shape you want.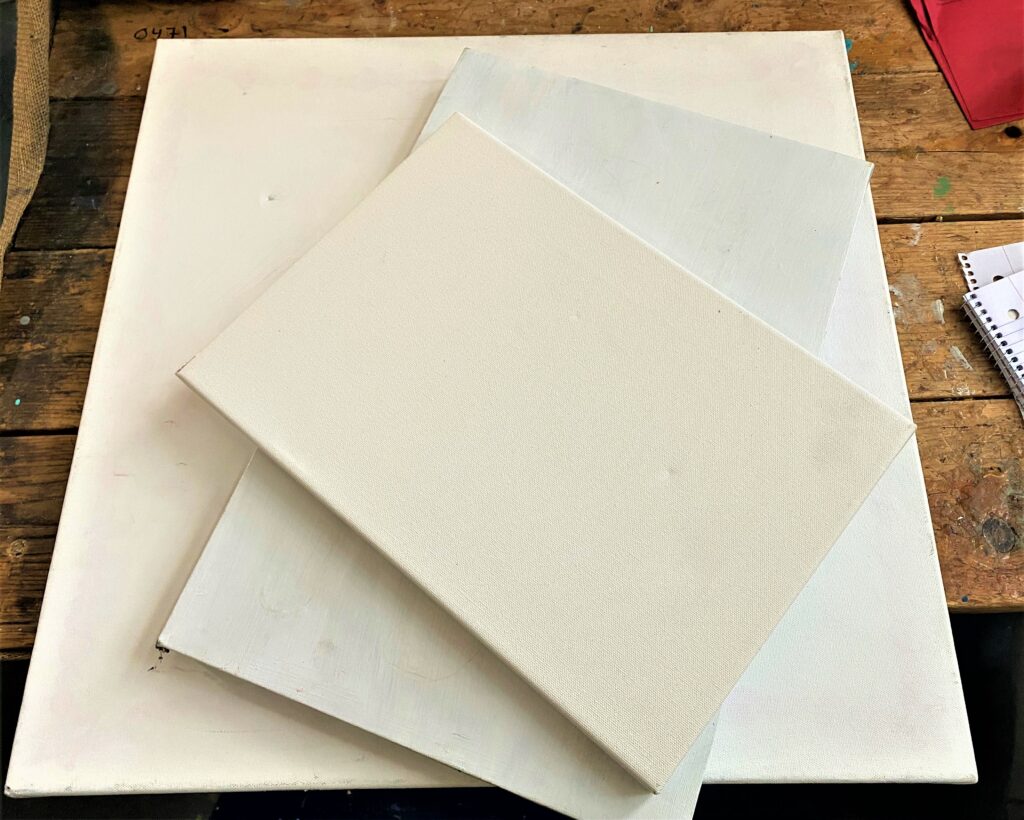 Goodwill always has canvases that people no longer want because of the art on them which is great for you because of the masterpiece savings. 
2. Use white paint to create a blank slate
You will want to neutralize your canvas with white paint or gesso. 
Brush on a couple of layers to cover over what is currently there. 
Let dry.  
The white paint was the ideal choice for this DC flag-inspired DIY project because of the flag's white background. Score!
3.      Mod Podge your maps
To provide some visual interest and to connect the DC flag to its city, paper maps of the National Mall and other neighborhoods were collected then cut. 
Based on the size of your canvas and the map, you may need to clip several to ensure it is covered. 
With a brush, apply a light layer of Mod Podge to your canvas and map piece backside. 
Position and add another light layer. 
You may need to brush away the excess.  Also, you will likely need to use your fingers to move out the bubbles/air pockets to ensure a solid, tight adherence of the map to the canvas. 
Let dry.
4.      Give it a light coat of white paint
We want the map to be visible but the colors to be more subdued so that they are part of the background. 
With a small craft sponge, blot on some white paint. 
Move the paint around with the sponge to allow the map to show through somewhat but not all the way. 
When you look at the final piece, we want the flag's stars and stripes to attract attention with the map pulling you in as you look at it more closely.
5.      Trace, cut, and secure your flag details
The DC flag is a great one to use for such a project because it is really simple: three red stars over two red stripes on a white background. 
On a scrap piece of thick paper, draw stars then cut them out.  This will be your pattern. 
On a piece of red cardboard, trace around the pattern then cut out the stars. 
You could use craft paper or repurpose a red envelope for this step. 
Measure your stripes with a ruler or other straight edge the cut them out.
6. Secure your stars and stripes
Now that your map-covered and white-washed canvas has dried, position your cardboard cut-out stars and stripes where you want them. 
You may want to enlist your ruler or tape measurer so that your middle star is in the center position above the stripes.   
Starting with your bottom stripe, carefully spray on a light but a thorough layer of your spray adhesive; do this over a big piece of cardboard or another item to capture the overspray.
Your fingers will get sticky and messy from handling so be careful and take your time! 
Place the stripe in position and with your remaining clean fingers, press into place. 
Repeat this step with the other stripe piece and each star, starting with the middle one and moving outward. 
When all pieces are in place, wash your hands then return to your art piece and ensure all edges are tightly secured; do this with your fingers.
7. Finish it with a red border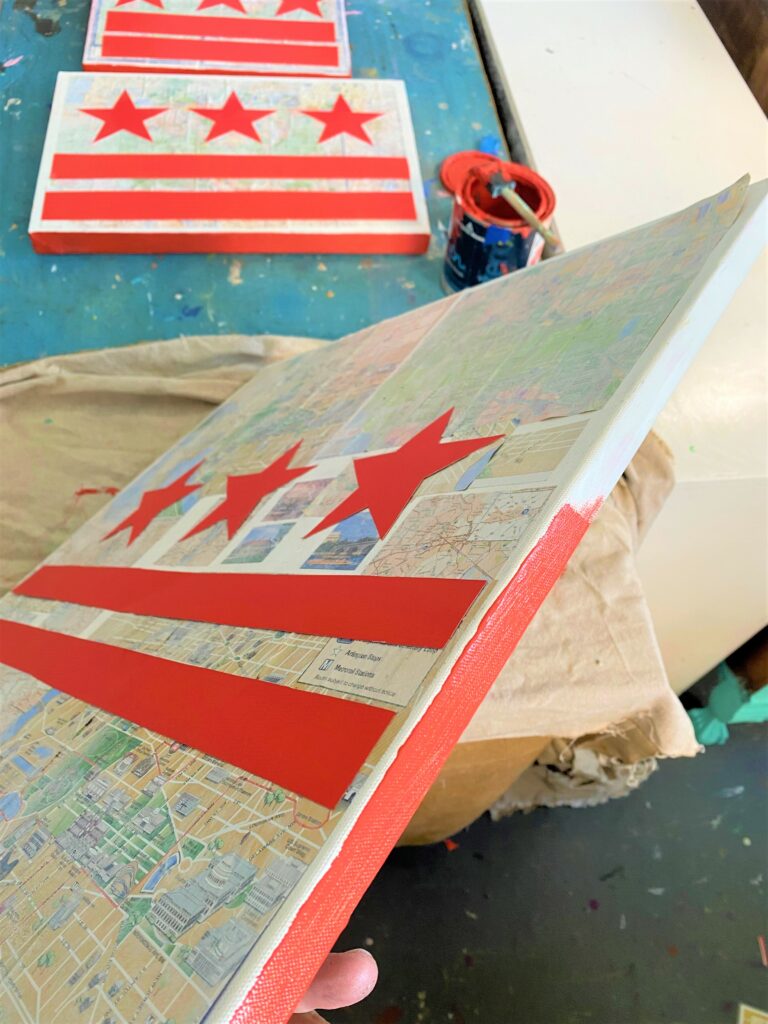 With a small foam brush, paint on a layer of red paint on the outer edge of your canvas. 
This will help to frame your DC flag art piece with a bold and matching band around it and will give it that nice, finished look. 
8. Display or give it away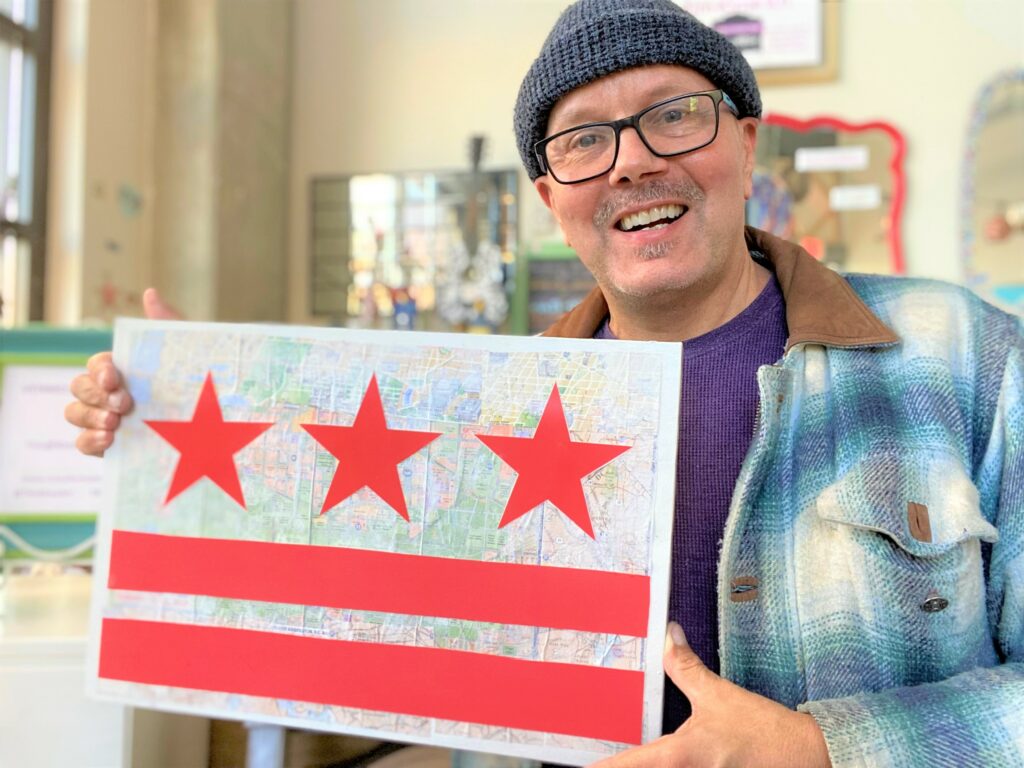 You will make someone feel very special when they receive this DC flag art piece – whether you created it in time for the holidays or any time of the year. 
You might want to make and keep one for yourself, too, to hang in your home or office to show your city pride. 
It certainly will capture attention as it celebrates and honors our Nation's capital!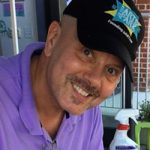 Tim Kime
Artist, Motivational Speaker, Life Coach
Tim Kime is an artist, life coach, connector. He is President of Kime Leadership Associates offering executive coaching, meeting facilitating and motivational speaking. He is also Chief Creative Force of Transformation Junkies which upcycles furniture and other household items into functional works of art. He combined his two passions—unleashing the potential in people and transforming items with the launch of the Art of Possibilities Workshops. These workshops are part upcycling, part dreaming, part goal setting.