What do I love more than finding a pretty little table to paint at Goodwill? Finding a pretty little table to paint at Goodwill—and it only cost $9.99!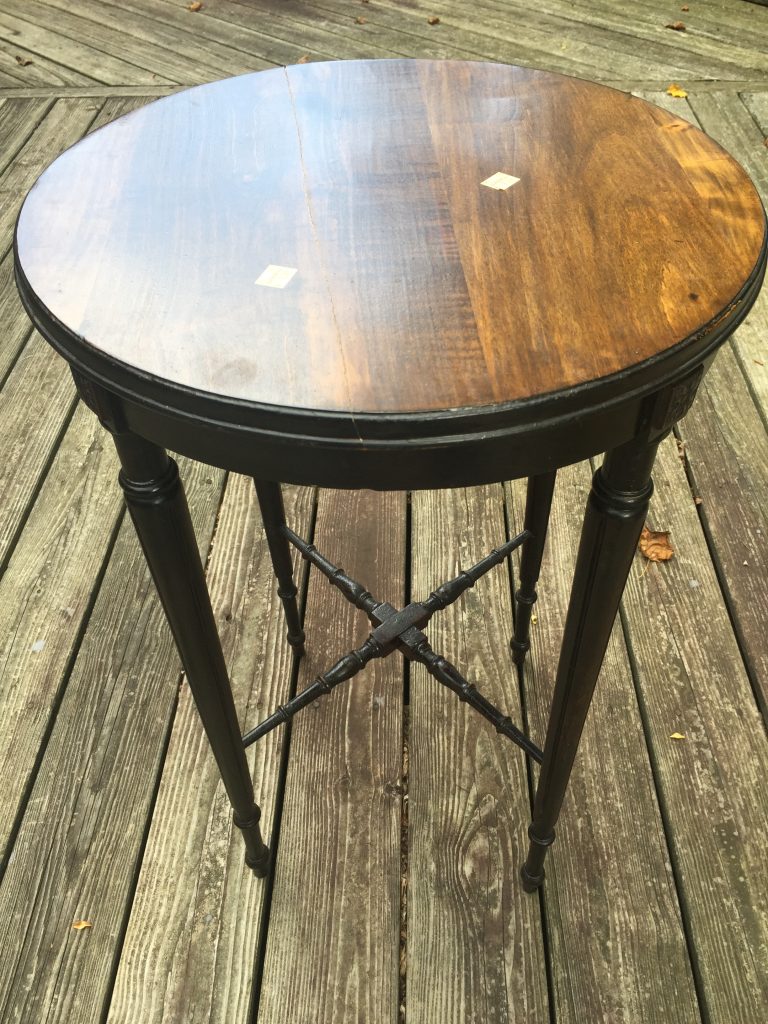 I found this beauty a few weeks ago in the Furniture section of the Goodwill store in Fairfax, VA. I loved the size, shape and, especially, the details on the legs. There was a crack across the tabletop, but it did not affect the structural integrity of the table. 
Besides, I knew I could camouflage the crack with paint products. Minor cosmetic damage on Goodwill furniture is never a deal breaker for me.
I have been experimenting with an iridescent furniture wax that adds a subtle shimmer when applied over lighter paint colors. You can see it around the edges on this jewelry armoire I painted in a swirly blend of blues.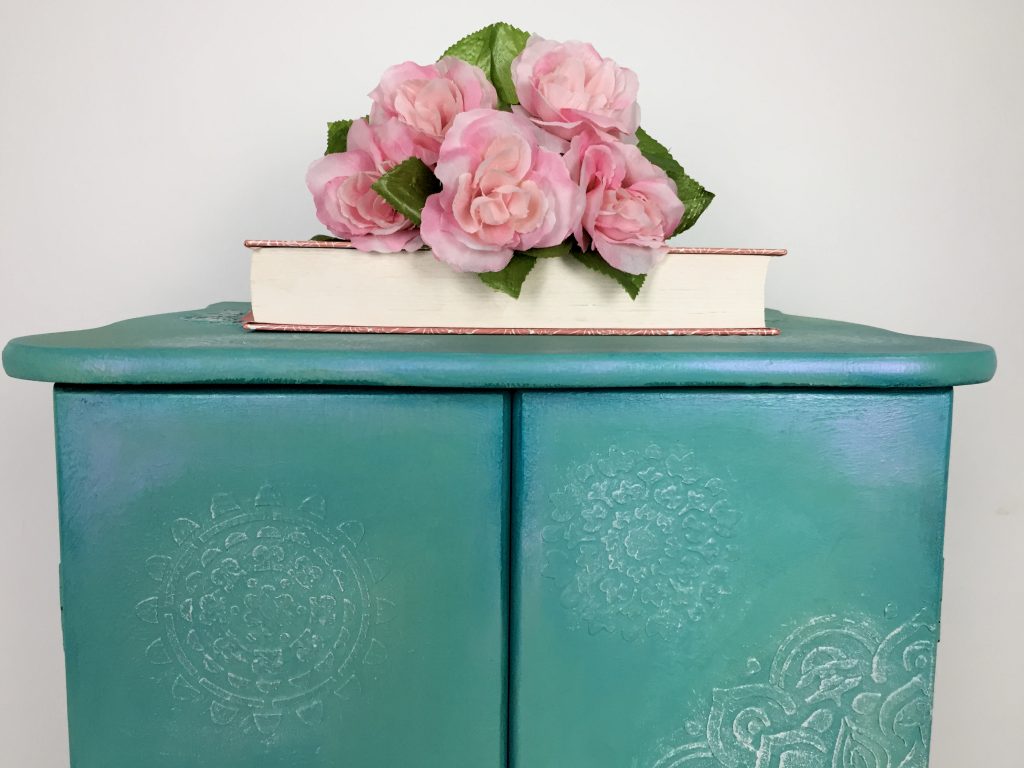 However, I knew the iridescent wax looks more dramatic and jewel-toned over darker colors. This pretty little Goodwill table was the perfect piece to give it a try.
First, I painted the entire table black. Then I added a powder called Saltwash to my paint and pounced it onto the tabletop to create beautiful texture. It looks and feels like stucco when it dries, but the next step is sanding it to knock down the rough parts.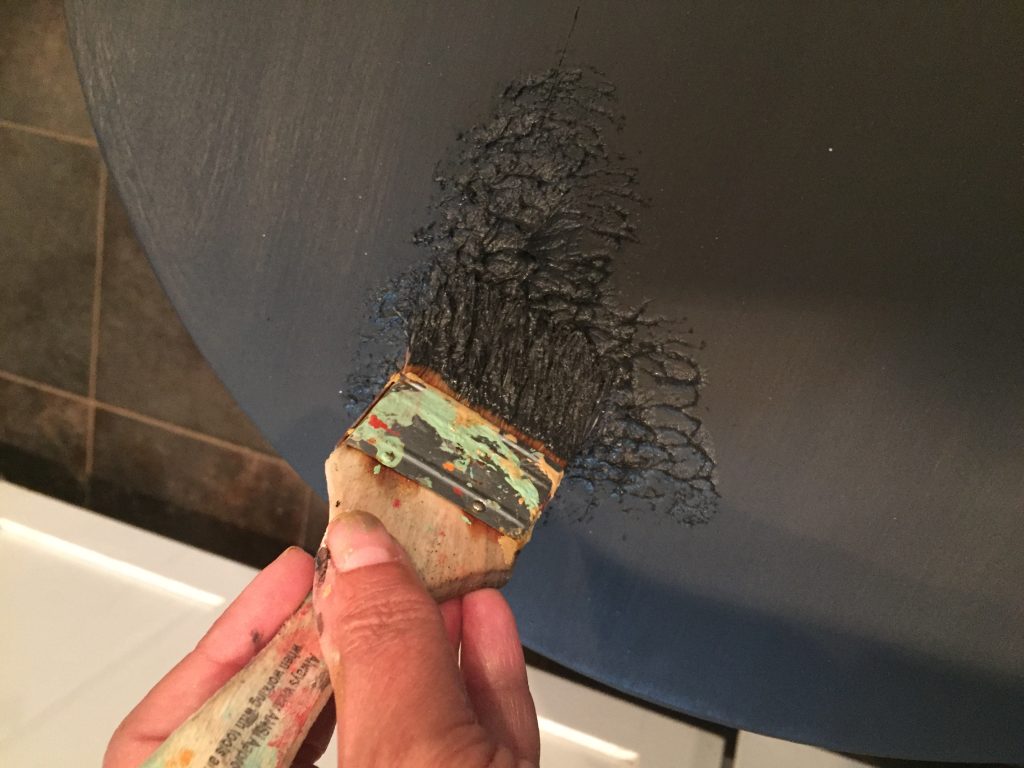 The final look has texture that camouflages minor damage like the crack, but the tabletop feels smooth and is level enough to set a drink on without wobbling.
Now came the fun part!
The iridescent wax is called Décor Wax by Redesign with Prima. The color is called Milky Way and looks white-ish with a tinge of pink in the tin, but changes color like a chameleon depending on what color paint you apply it over. When applied over the black paint, it turned a vibrant purple-pink color.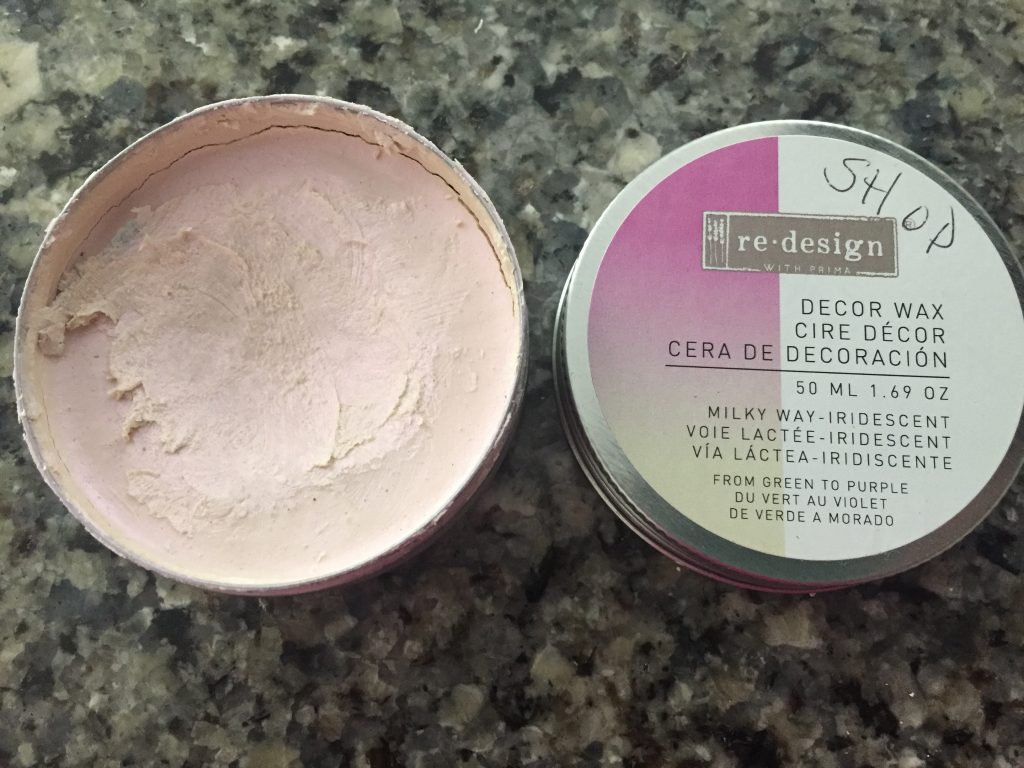 To apply the wax, simply wrap a rag around your finger and rub a little wax onto whatever areas you want to highlight. I focused on the detailed parts of the table legs and around the edges of the tabletop.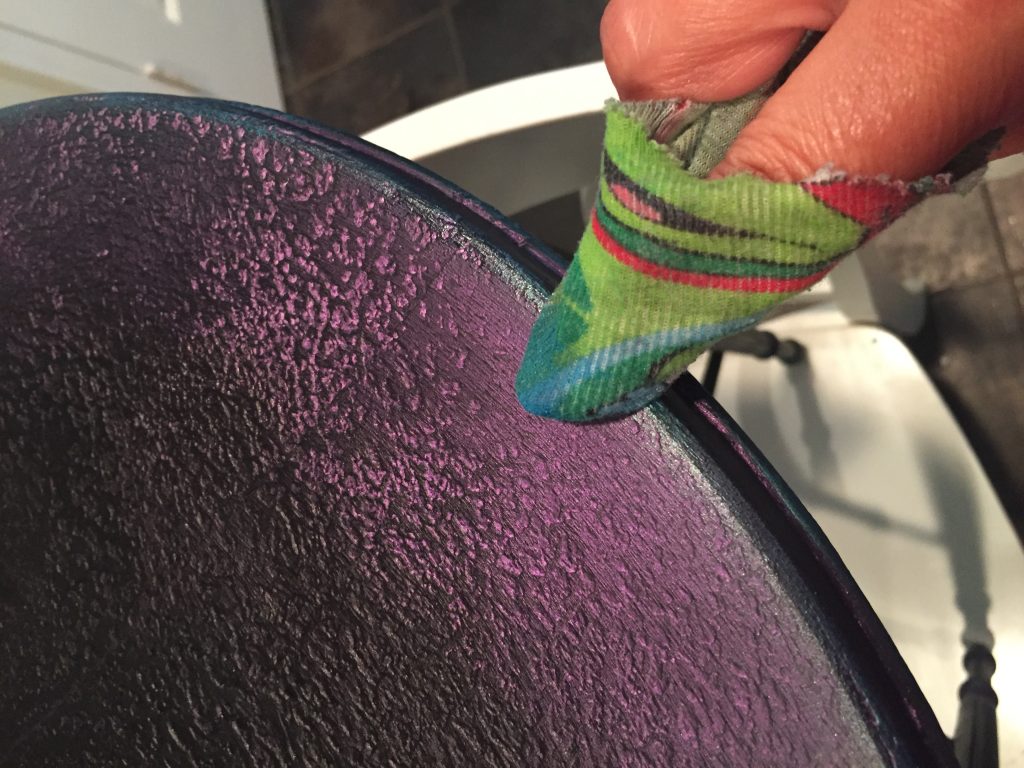 For the finishing touch, I added Dixie Belle Paint Company's Turquoise-Teal Gilding Wax on top of the purple. This toned down the brightness of the purple a bit and gave the table a jewel-toned, almost metallic-looking shimmer.
I love my pretty little Goodwill table even more now!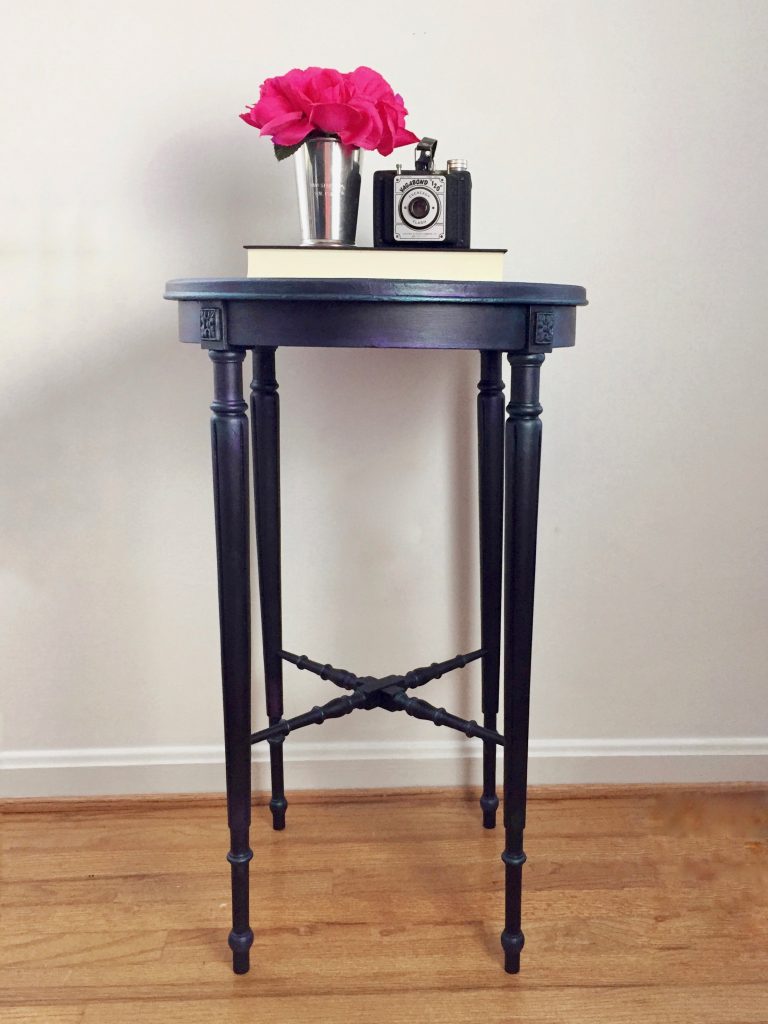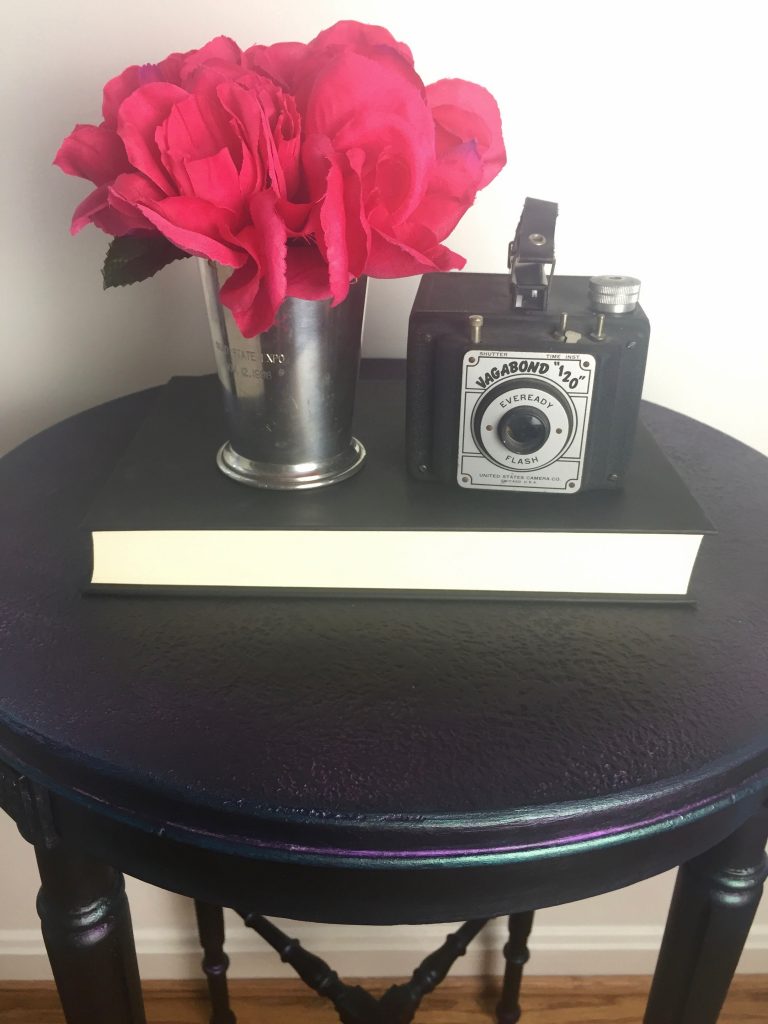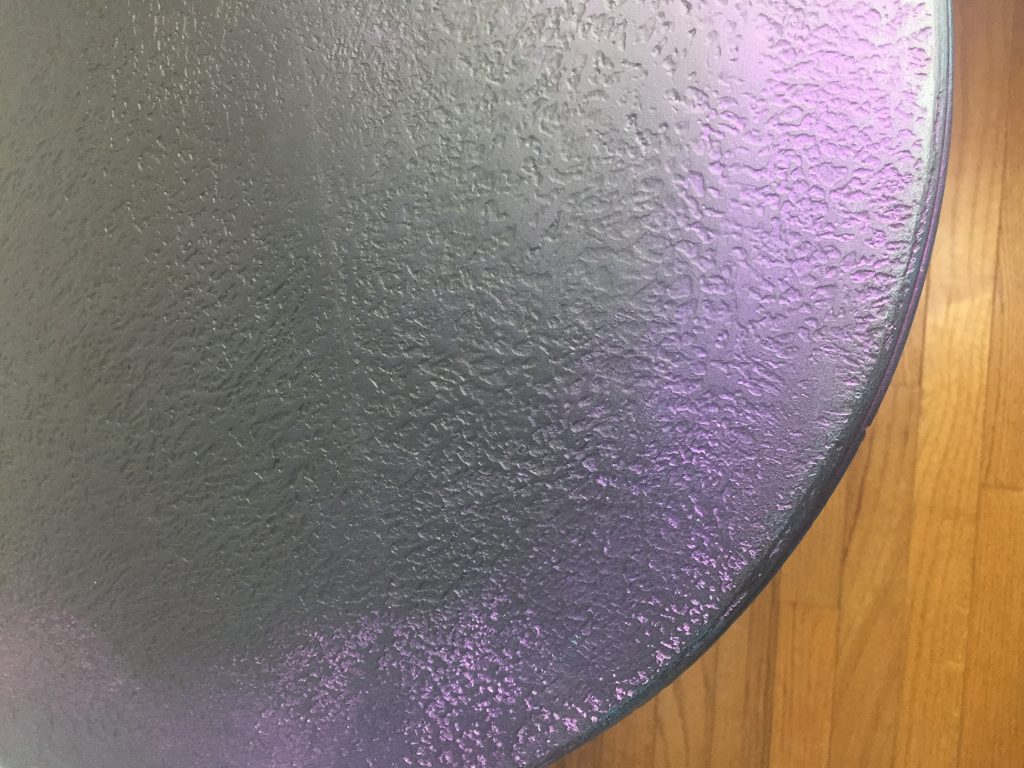 Pretty little Goodwill tables are great pieces to experiment with new paint products and techniques.
They are inexpensive and don't take very long to paint. (And they can always be re-painted if you don't like how your experiment turns out!)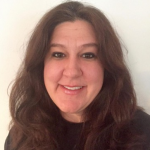 Courtney Mickalonis
Courtney Mickalonis
is an artist, teacher, and blogger at All Things New Again
,
www.allthingsnewagain.net
a furniture and paint boutique in Leesburg, VA. She finds old furniture that nobody loves anymore and makes it beautiful—and useful—again. Courtney teaches monthly furniture painting classes at their Leesburg studio and shares tutorials on her blog. Follow her on Instagram (@all_things_new_again) for more furniture upcycling adventures.