Take out your phone really quick, and pull up your Instagram App. Notice anything?
Besides the ads for skinny tea and waist trainers. Before you doubt the power of influence and trends, you might have already noticed one of the most popular spring/summer style trends happening this year. And from the title you've probably already guessed it – Gingham!
This print is back in full force this season and comes in multiple forms that will be sure to flatter most body types.
As a blogger, I've naturally become "obsessed" with this trend during the warmer months but, as a dedicated thrifty blogger, I did not want to pay full price just for said trend. 
I'm not sure if I need to say this anymore but, I took a trip to Goodwill (of course) and searched the racks with one goal in mind: Getting THE Gingham. While I found some pieces, my expectations seemed to be a tad high when my search yielded a bit short. To my frustration, I was having a hard time finding this print and something that was in my size. All strange since this particular print has been around since the mid-late 50's.
After a couple stores and many moods later, I came across what I am convinced is a true gem. Not only was it gingham print, it also was a skort. Yes, a skort- the marriage between skirt and shorts; and I have never been so proud to have a reminder of my awkward pree-teen years than to have a skort elastically held up around my womanly shape. That might have been a bit of TMI for some of you but, this is my life and I'm just sharing lol. I picked this one up for $5
While classically, we have seen gingham in black & white, the gem I found was in a beautiful tan and brown color. Which worked perfectly for my current summer wardrobe consisting of neutrals with accents of yellow, white and orange. This color combo I found has matched so well with many of my current clothing items and coincidentally my summer tan. It not only brightens up my daily outfits, it also aids in brightening up my mood!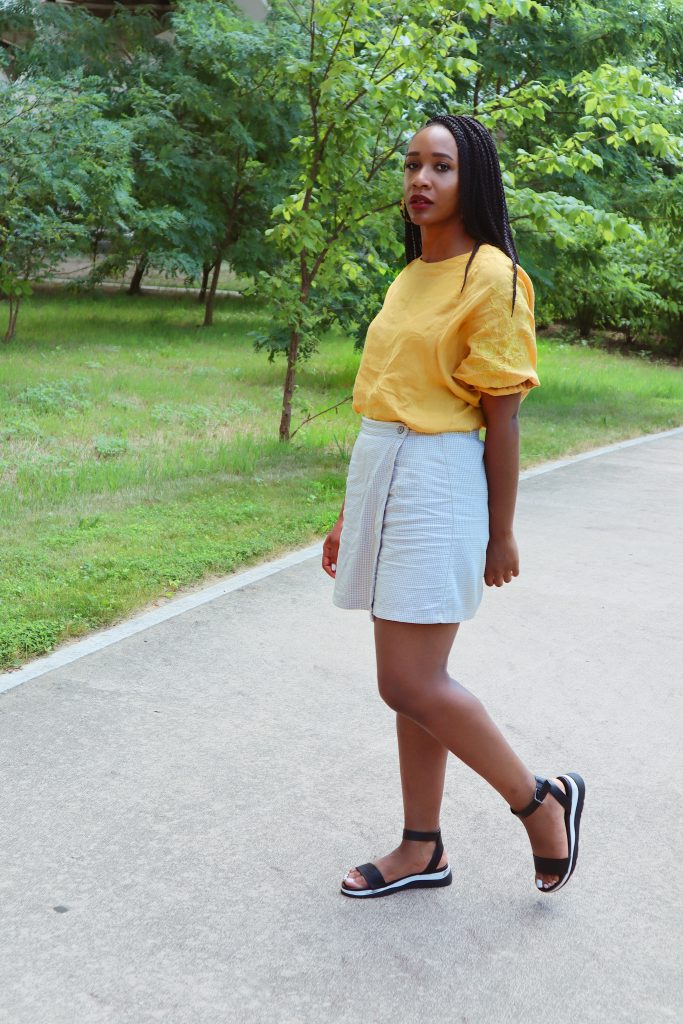 As you can see here, I've paired them with a couple shoe option. The first are my go to summer sandal. I found these from Target earlier this season and as you can imagine, they go with everything. To dress things up a bit, I also paired this outfit with some nude block heels I picked up from Marshalls last fall season. My top that is also thrifted, has no brand name and was purchased for $7. However, I do really love the subtle floral embroidery on the 3/4 puff sleeves. In combination, I'd say we've put together a chic summer outfit!
Both the top and bottoms are made of breathable fabrics, cotton and linen blend. Living in D.C, makes you consciously aware of the humidity and forces me to think very carefully of what I put on each day. Besides, what's the point of dressing cute if you are miserable?
Work smarter, not harder, ladies.