If there's one thing I love to find when I'm treasure hunting for thrifted items, it's a cheesy inspirational sign. I have a bunch of them in my art studio/1970's wood-paneled basement that I've found at Goodwill over the years.
But on a recent trip to the Fairfax, VA Goodwill store, I finally found the sign that was even too cheesy and too inspirational for me.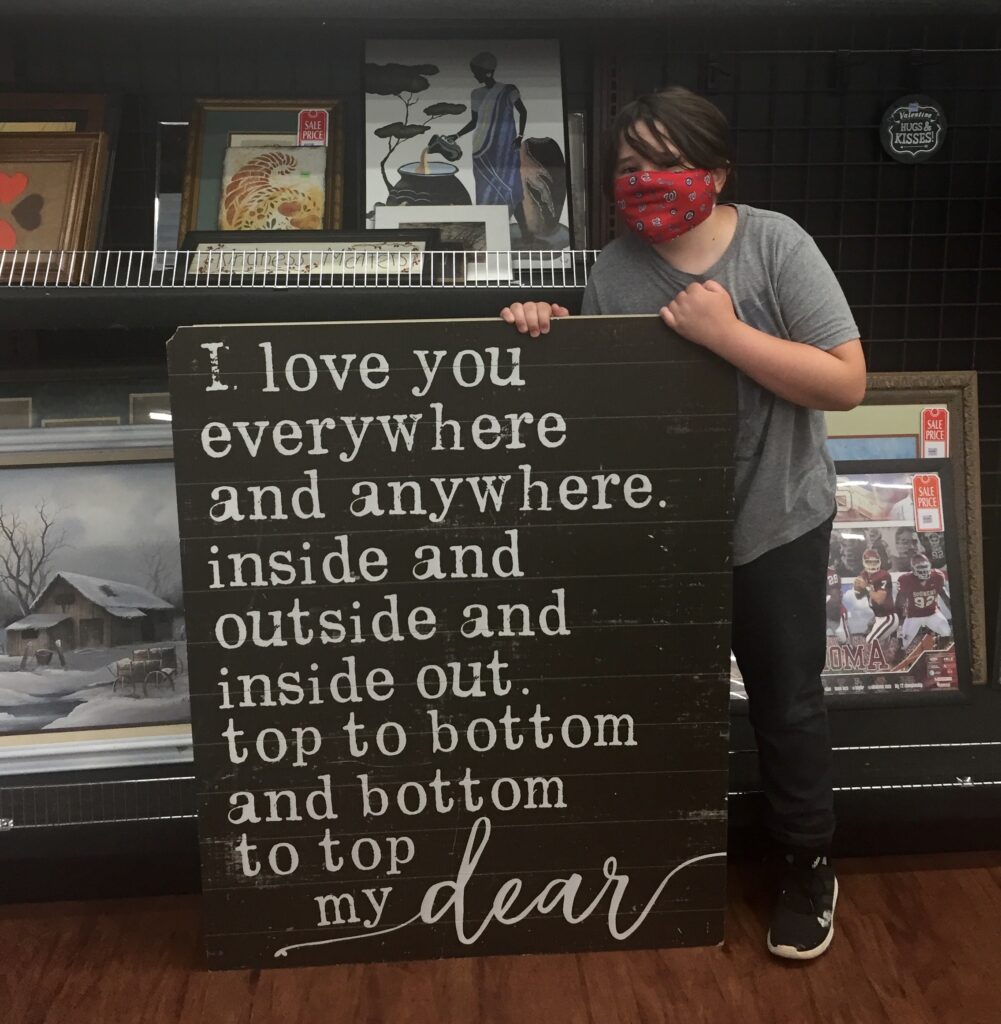 It was also BIG!
The message may have been a bit much, but the size was perfect to fit a blank wall on my back porch. At $8.99, the price was cheaper than purchasing new plywood to cut for my project. It was also ready to hang. I bought the sign to upcycle into original artwork.
I started by painting over all of that cheesiness. I used four different shades of green—painting them all on at the same time with the same paintbrush—so they blended together for the background. It took two coats of paint to completely cover the words.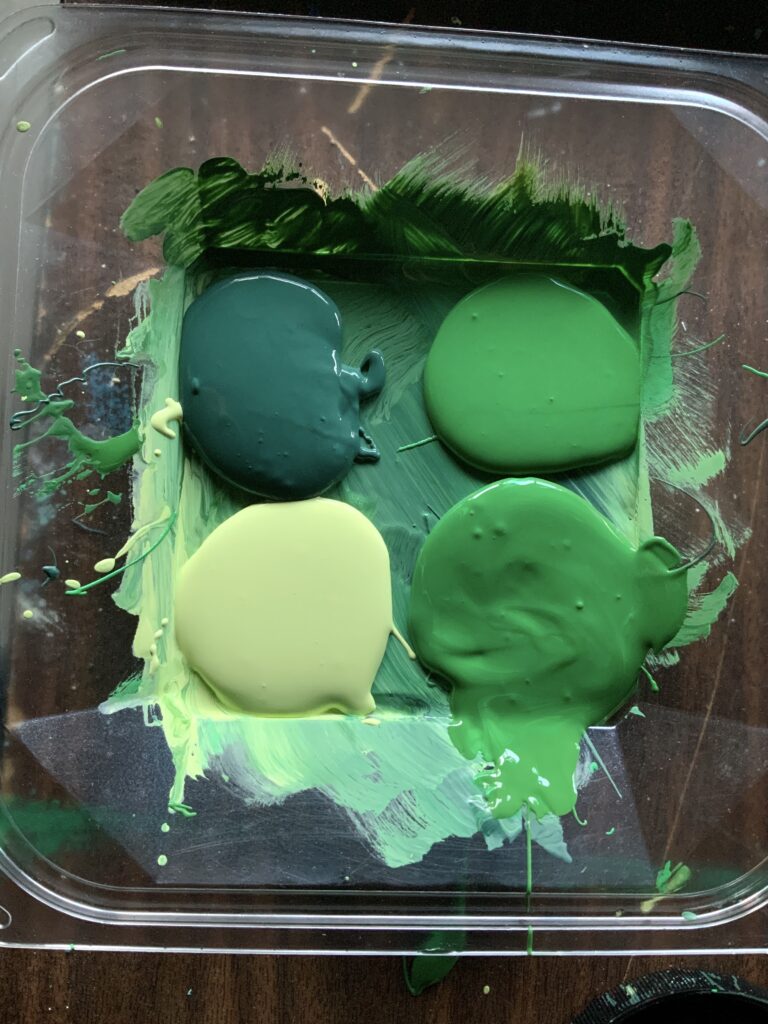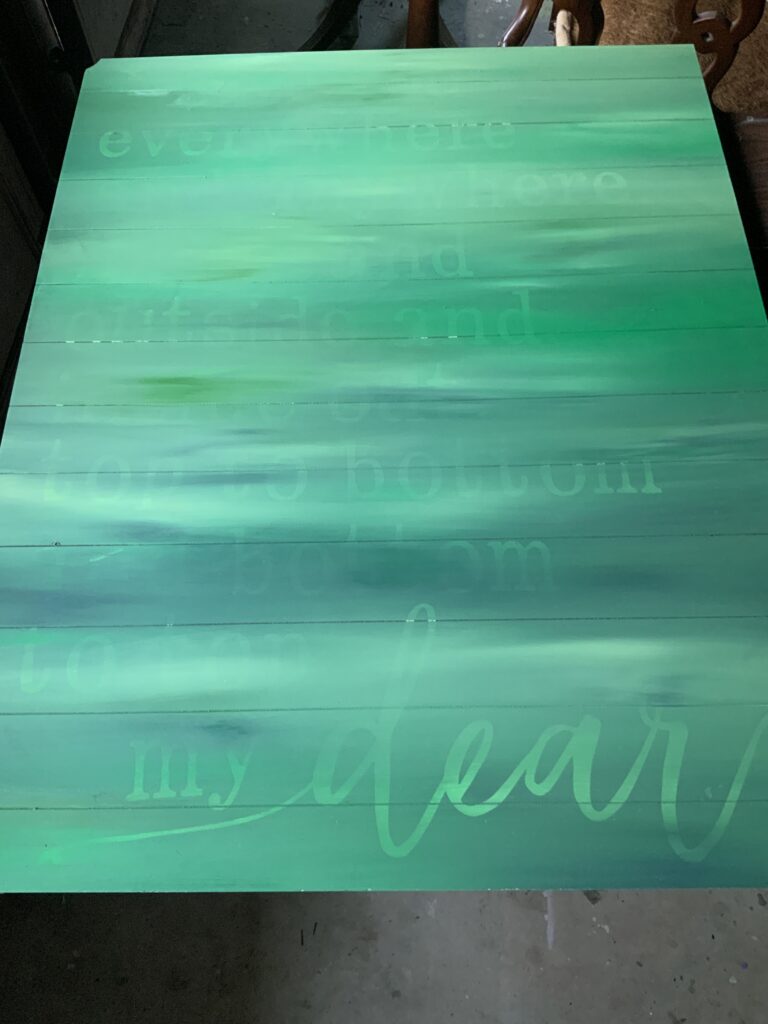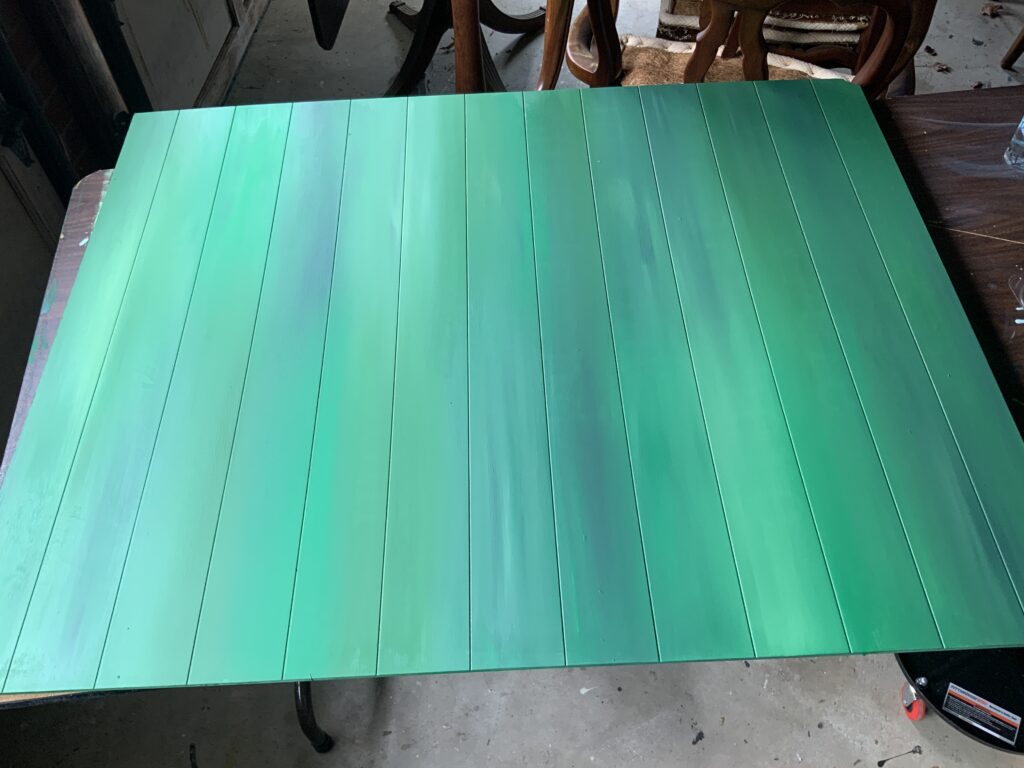 Here's a link to a live video I did over on Instagram if you want to learn how to paint the background: https://www.instagram.com/p/COtZWd4hBIs/
Next came the fun part!
I flipped the sign horizontally and painted big red tropical flowers on top of the green background.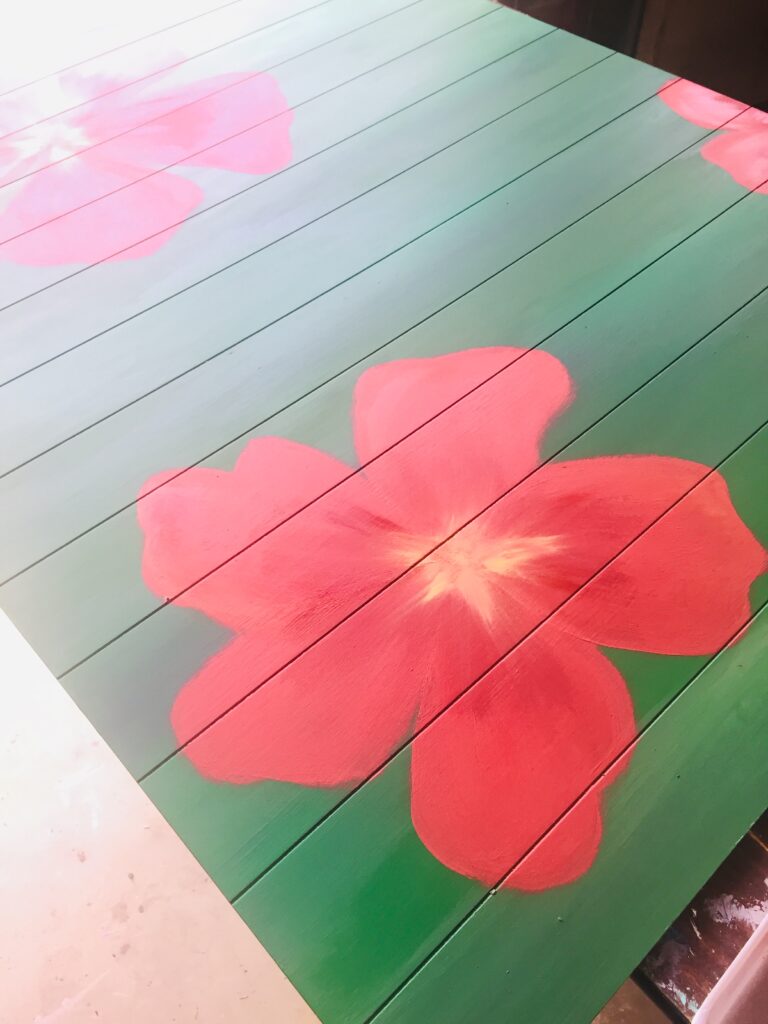 Then in the corners, I added pink flowers and smaller yellow flowers. I turned my paintbrush around and used the end of the handle to add a few dots here and there.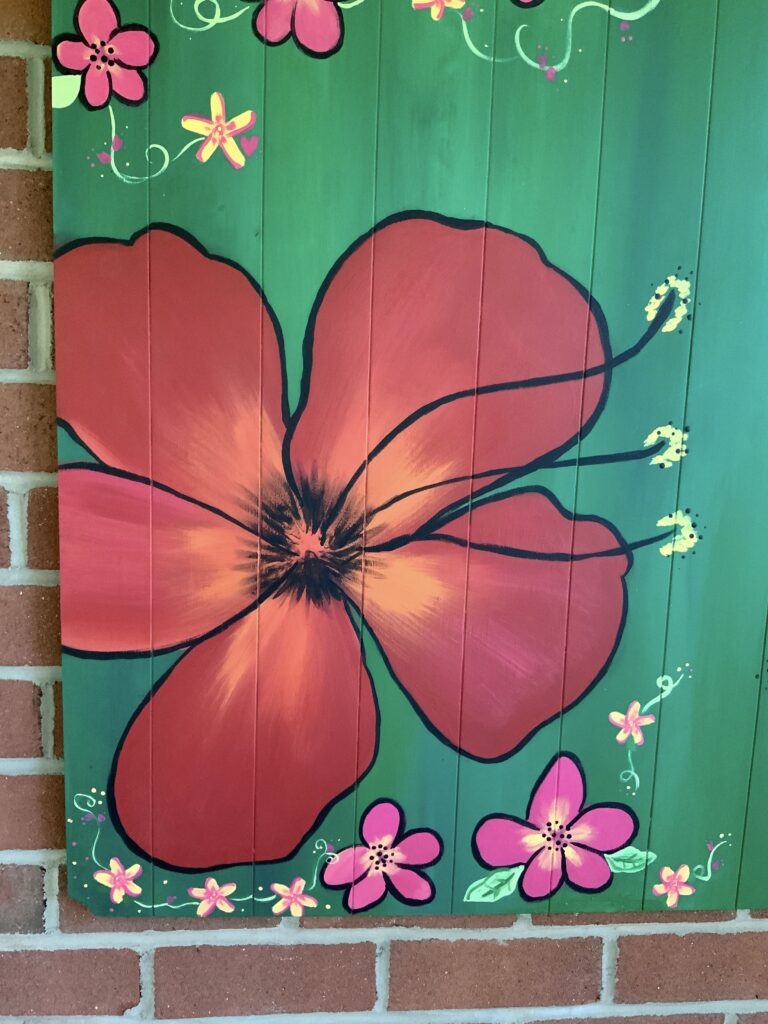 I love my new artwork!
The flowers pop against the brick wall and it makes this little corner of my porch more cozy and happy. This is my favorite spot in my home to enjoy a cup of coffee in the morning.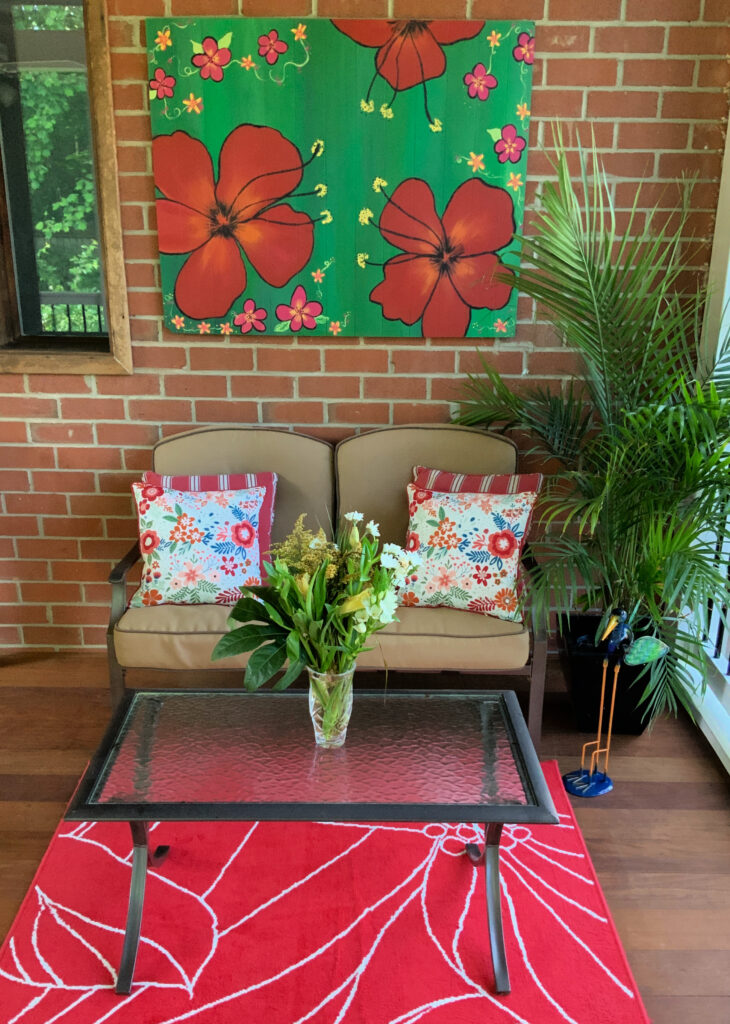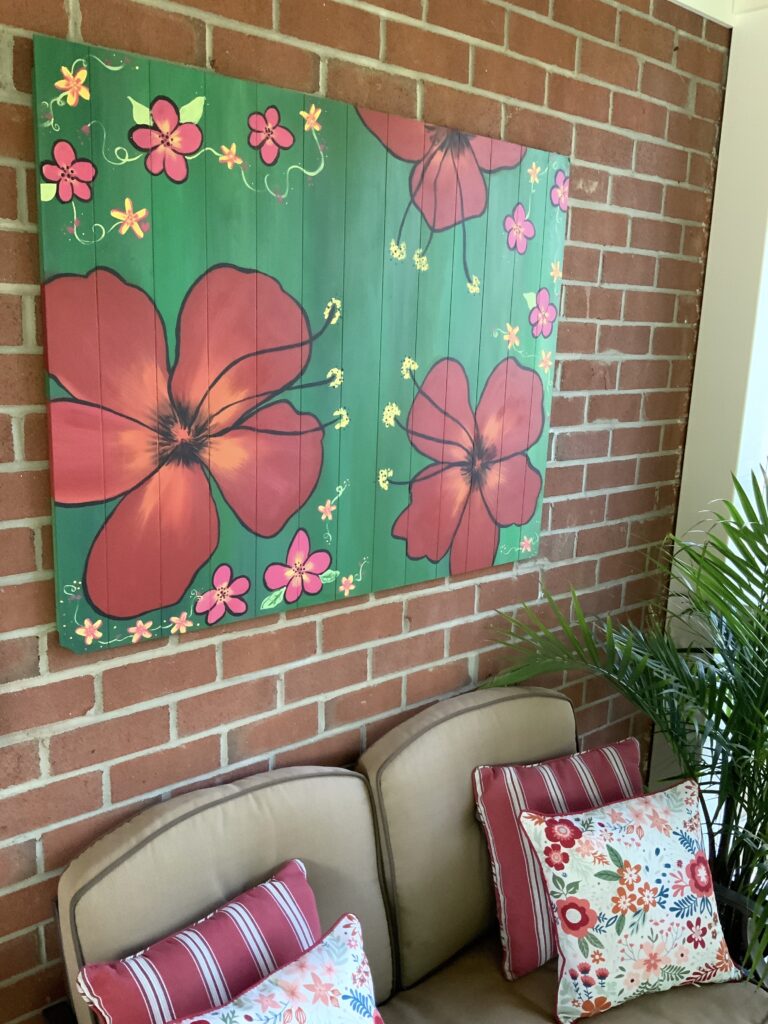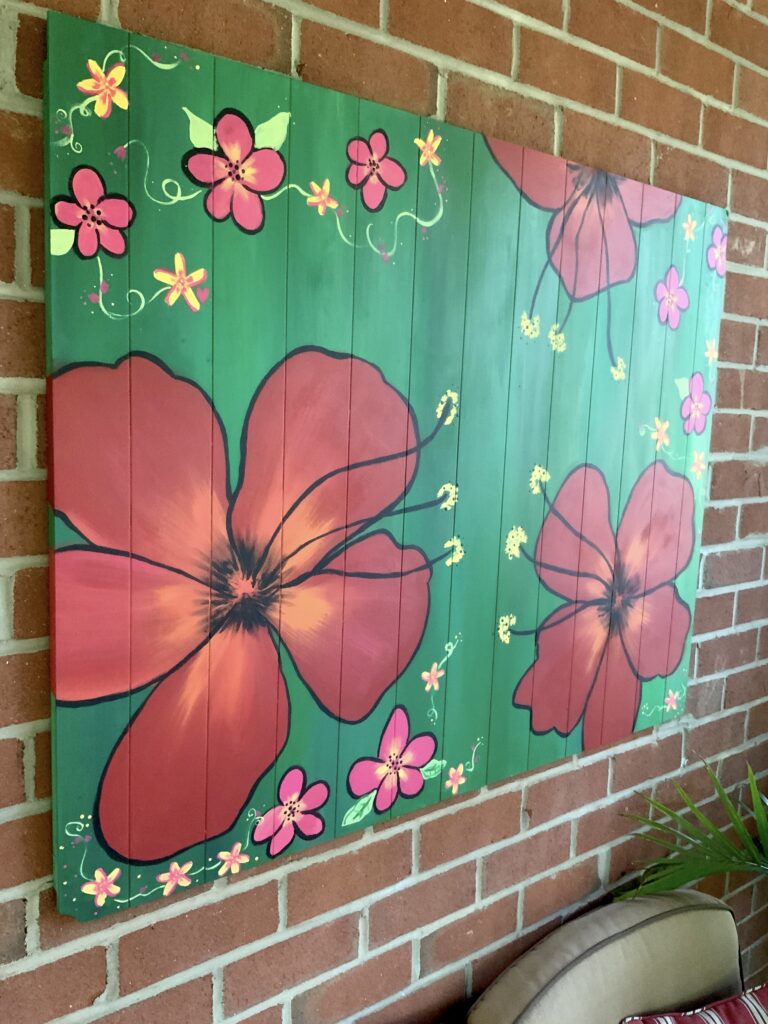 Don't be afraid to paint your own artwork – even if you don't consider yourself an artist (yet!). Flowers are an easy subject to start painting. Every 2nd grader knows how to draw a flower. You do too! It doesn't have to look exactly like a real-life flower. Add your own flourishes. Paint colors you love. If you don't like how your flowers look at first, keep painting over them until you do.
Most importantly … have fun!
The wonderful thing about upcycling your own artwork is that you cannot mess this up. Whatever you paint will be perfect for your home.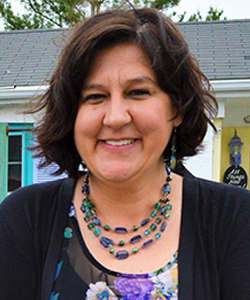 Courtney Mickalonis
Courtney Mickalonis is an artist, teacher, and treasure hunter at All Things New Again, a furniture and paint boutique in Leesburg, VA. She finds old furniture that nobody loves anymore and makes it beautiful—and useful—again. Courtney teaches a monthly Learn How to Paint Furniture class at their Leesburg studio and hosts The Furniture Painting Friday Show every Friday at 12 noon on the All Things New Again Facebook page.