Happy Friday, readers! Who's hungry? I know I am! Not only for Roro's delicious modern Lebanese food, but also to learn more about his personal Goodwill experiences. Who knew that one of DC's best food truck/restaurant owners was a DC Goodwill lover?
To send you off into the weekend with good vibes, I wanted to introduce you to Roro, the owner of Roro's, a food truck and restaurant operating in the DMV.

Roro is a first generation Lebanese-American who is fueled by the culture and tradition of Lebanese cuisine. He believes that Lebanese tradition and custom is centered around food – no matter what the occasion, we all get together and make memories with loud laughs and a full belly.
I first met Roro through DC vegan networks, for we both are vegan and have a passion for great tasting treats. Since meeting, I've partnered with him on many vegan food activations – which have helped us build a strong friendship.
Not only is Roro a chef, he's a huge advocate for American Foundation for Suicide Prevention and a Gold's Gym ambassador.
Now, let's find out how Roro finds his good at Goodwill!
Describe yourself!
My name is Roro. By way of Brooklyn, NY I have been in the DC area for a decade now and call it home. I am a chef and entrepreneur. I ran a restaurant and food truck locally and love creating plant-based middle eastern inspired foods. I would consider myself an introverted, extrovert. I love to cook and hit the gym in my free time.
When I'm not cooking or sweating it up at the gym I love to adventure around DC and check out the local art and music scene. I also have a deep passion to help and create change in my community so I also volunteer for local nonprofit organizations that raise awareness and funds for mental health research and suicide prevention.
How would you describe your personal style/aesthetic?
I would describe my style as comfortable yet expressive. 90% of the day I'm wearing my chefs apron or gym clothes. That other 10% is when I like to dress up a little more and express my creativity and character. I have been called an "old soul" and when I dress up I love to draw inspiration from the 1950's rocking a leather jacket and jeans or a vest and suspenders.
What role does Goodwill play in your life (cooking, style, morals, life outlook)?
Goodwill plays a huge role in my life.
I live right in the middle of several and frequent them often to either donate or purchase items for myself.
I have purchased tons of high quality and useful items from Goodwill over the years from clothes, to cooking ware, and even furnished 80% of my apartment with items from Goodwill this past year.
I love what Goodwill provides to the members of its community, not only in what you can purchase but it also give you an opportunity to give back.
How long have you been shopping at Goodwill? Any fun Goodwill stories?
I have been shopping at Goodwill for several years.
Oh yeah! There was a period of 3 weeks or so where I had frequented every Goodwill in the DMV area looking for plates for my own personal food photography.
I had frequented the same section and same Goodwill that one of the employees had come over and started chatting with me and turned out she was an aspiring chef and we talked about food for a little while.
It was a joy and a testament to the customer service and care Goodwill shows its people.
What's your favorite DC Goodwill find of all time?
Like I mentioned, there was a 3 week period where I was buying plates for my food photography and I stumbled upon this gorgeous black and white plate.
I have used it for years in my food plating and photography and it would of cost me 10x the amount I got it for anywhere else other than Goodwill.
What's your favorite DC Goodwill store and why?
The DC location in NE is my favorite. (South Dakota Ave., holla!) From when I first moved to DC 10 years ago I have gone to that store countless times and it is always busy and has the best finds.
What's your favorite thing about DC Goodwill?
Thing I love about Goodwill is how they create such a positive impact in communities across the board.
No matter your economic or social class Goodwill has something to offer you, and you always have something to offer back.
Whatever that may be, your belongings, your time, your money, or your energy Goodwill is creating a positive force for all lives in its communities.
How do you "find your good" at Goodwill?
Goodwill allows me to give when I can afford to and purchase when I am inspired to. There is no shortage of exchange, either by material possession or personal gratification, Goodwill helps you find everyone's Good.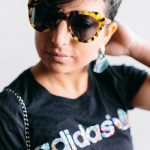 Carolyn Becker
A self-proclaimed thrifty spunky petite fashionista who works in the marketing field by day, and is an artist and musician by night. You can find her bragging about her designer Goodwill thrift finds on her Instagram: @petite_punk.