It's officially summer which means more exercise and walks during these summer evenings. I've never liked the idea of exercise, but with a cute outfit and atmosphere, I can conquer anything including a 5-mile walk through a local DC trail or exploring the National Mall.
The idea of spending lots of money to sweat through clothing doesn't make sense to me. During my latest Goodwill ventures to South Dakota Ave, I found myself browsing the activewear section. The section is separated between tops, shorts, leggings, and sweatshirts.
Have you seen the textured leggings that have been viral due to social media? They are supposed to give you light compression and lifts your butt! Well, I found a marbled pair with hues of gray, white, and black. The best part is that they have two pockets. I also found a charcoal gray graphic tank top that says Thunder Thighs. It's a perfect outfit for me and quite a steal for $4.99 for each piece.
Last week, I ventured out and sported my cute outfit as I took my walk. I was cool, comfortable, and fashionable. Check out the activewear section for your biker shorts and tank tops for a fraction of the price!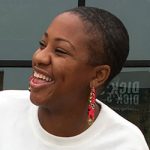 Amber Mixson
Fashion/Lifestyle Blogger
Amber is a 
fashion-blogging
 foodie and Instagram influencer with a passion for thrift store shopping. Her blog Eat N Style details her flair for cooking up not only tasty treats but inspired outfits as well. She has a passion for her community and is proud to serve others with her gifts. Follow her on Instagram (@eatnstyleblog) for more stylish tips and culinary adventures.