Thinking back to over a year ago, one of my very first posts as The DCGF outlined a brief guide to Madewell's clothing tags. Back then I was just learning about the brand and falling in love with it for the first time.
Fast forward to today. I'm still in love with the label! They continue to design classic and well-tailored items that are timeless and fashionable… including today's #MyGoodwillFind.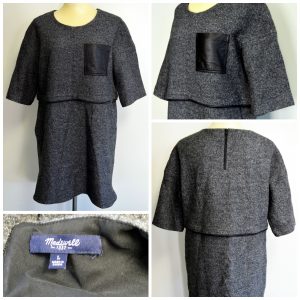 While perusing the racks at the Gaithersburg store I found this Madewell dress in a size large ready to be taken home. It's made of thick wool and polyester in a dark gray color, piped with small faux leather accents, and cut with a slick, high neckline.
When worn, this wool dress hits above the knee, making it the perfect piece for a winter day at the office.
If this were purchased at the Madewell store it most likely would have originally sold for at least $110.
Although it's not Valentine's Day quite yet I'm still feeling those vibes with this look. If it were me I'd style it in a monotone, mostly-black, winter Love-Day look with pops of gold and red.
Black ALWAYS looks good styled with other black items. This makes my recommended color scheme bulletproof and safe for any date night. Also, have you noticed when you wear all black you look slimmer? Another plus with this ensemble.
In terms of all-black items, I'd suggest wearing a pair of textured tights and killer shoes. Smaller heeled booties or pointy-toed heels are versatile and what most fashionistas already have in their closet. At Goodwill, these can be easily found for under $10.
My preference though would be to opt for smaller heeled booties. These are fancy looking but still comfortable when worn from dinner to the dance floor.
Lips and jewelry are the two avenues where I'd add a pop of deep red color to celebrate the month of love. Whether it's with a bauble, gemstone, bib necklace or MAC luscious poinsettia red lips, you can never go wrong.
If you do wear a big necklace with this dress always wear small earrings. You don't want to look like a Christmas tree out on your date… unless that's your goal! Keep it simple. That's what I always say when it comes to wearing multiple pieces of jewelry ;).
How would you style this look for date night, fashionistas? Would you wear red and black or another color scheme?