An abundant April 2023 to you, my fellow gifted thrifters and thrifty gifters!
Second month of Spring, Nisan and Iyyar of 5783, Arab American Month! Month of Ramadan, Holy Week, Easter, Pesach (Passover), Peaster/Eastover, Earth Day, Yom HaShoah (Holocaust Remembrance Day), and Arbor Day!
My family and I had a good Pesach, Passover. And Easter, Peaster and Eastover, since we're also interfaith. Both of our seder plates are from Goodwill – the one I decorate every year is from the DC Goodwill right here in Gaithersburg, and the decorative one is from Shop Goodwill.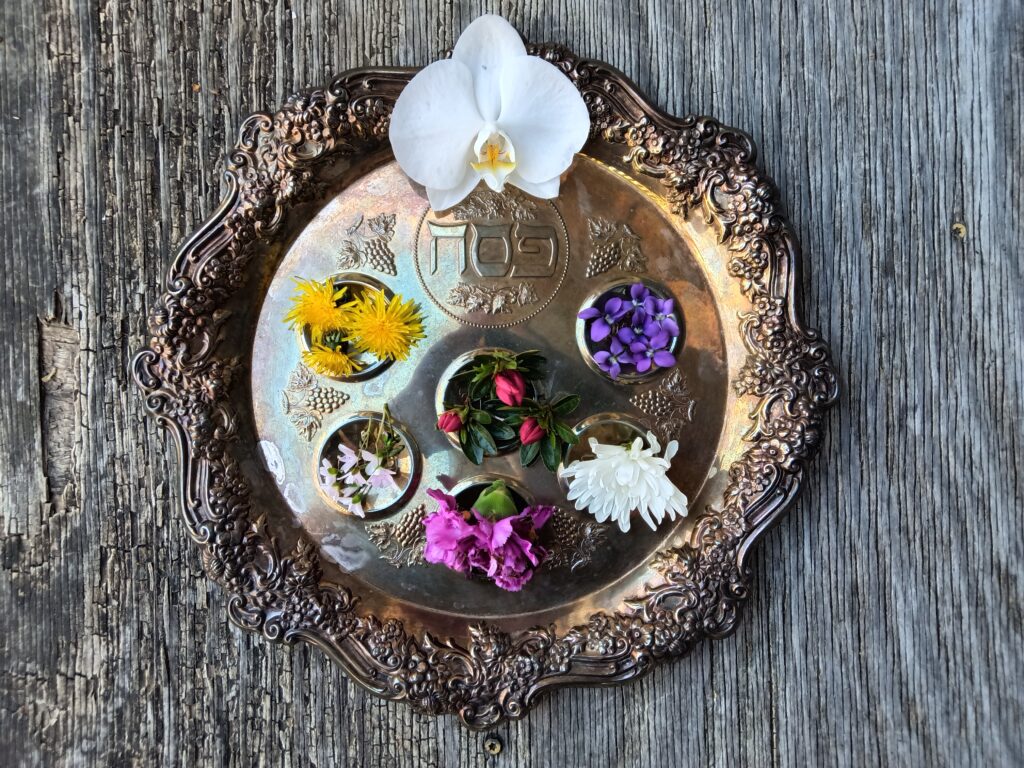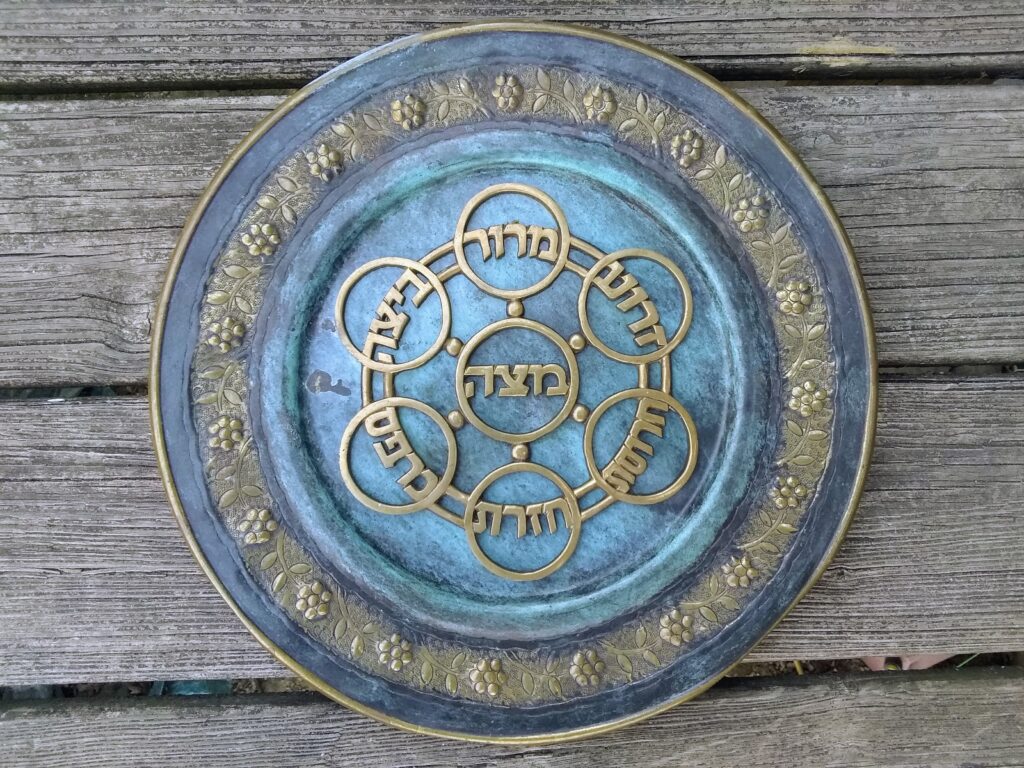 Yes, Goodwill has great seder plates, of all kinds, online and off. Like this lovely Lenox on their Shop Goodwill site, which is based on a 19th-century design. I've thrifted a few things from Lenox's Judaica collection, and they're very pretty and well-made.
https://shopgoodwill.com/item/164347254
Vintage Lenox Passover Seder Plate 24k Gold Trim Pesach Jewish Hebrew
And look at this framed drawing of a family at their seder. Look closely, too – most of it is made of micrography (Hebrew calligraphy arranged so that it creates images)! I need to try that someday.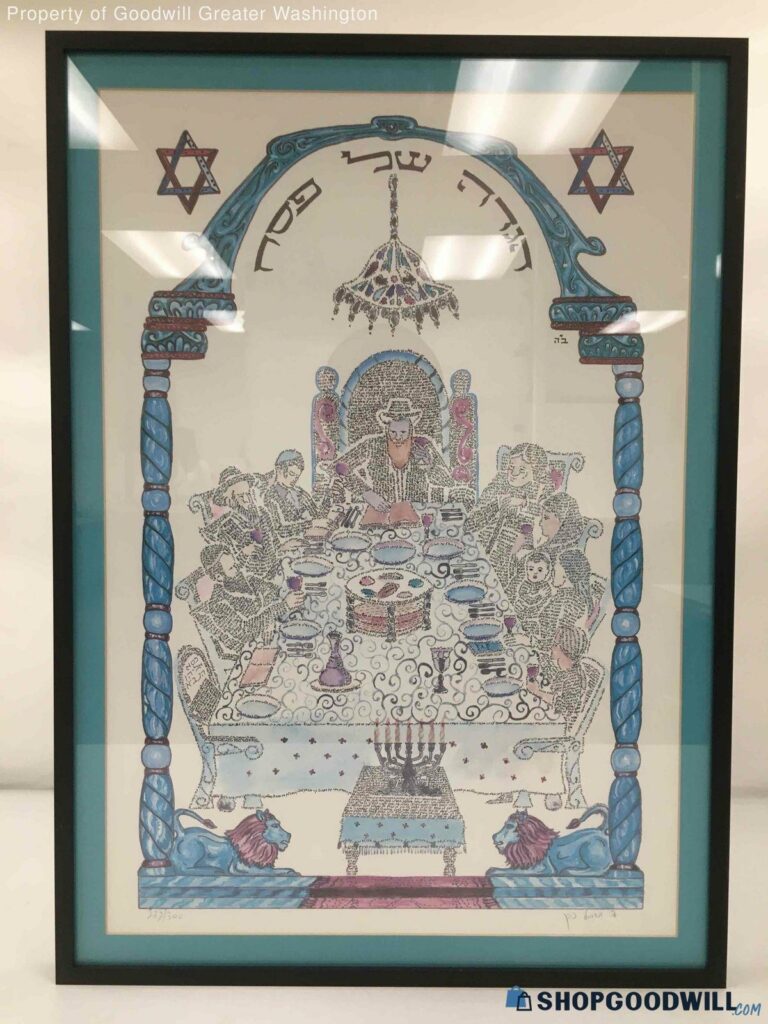 https://shopgoodwill.com/item/164747499
Signed Zvi Irrael Khan Star Of David Jewish Book Of Passover Print 15.5×21.5″
I was also pleased to see TWO of the late Zamy Steynovitz's artworks listed recently.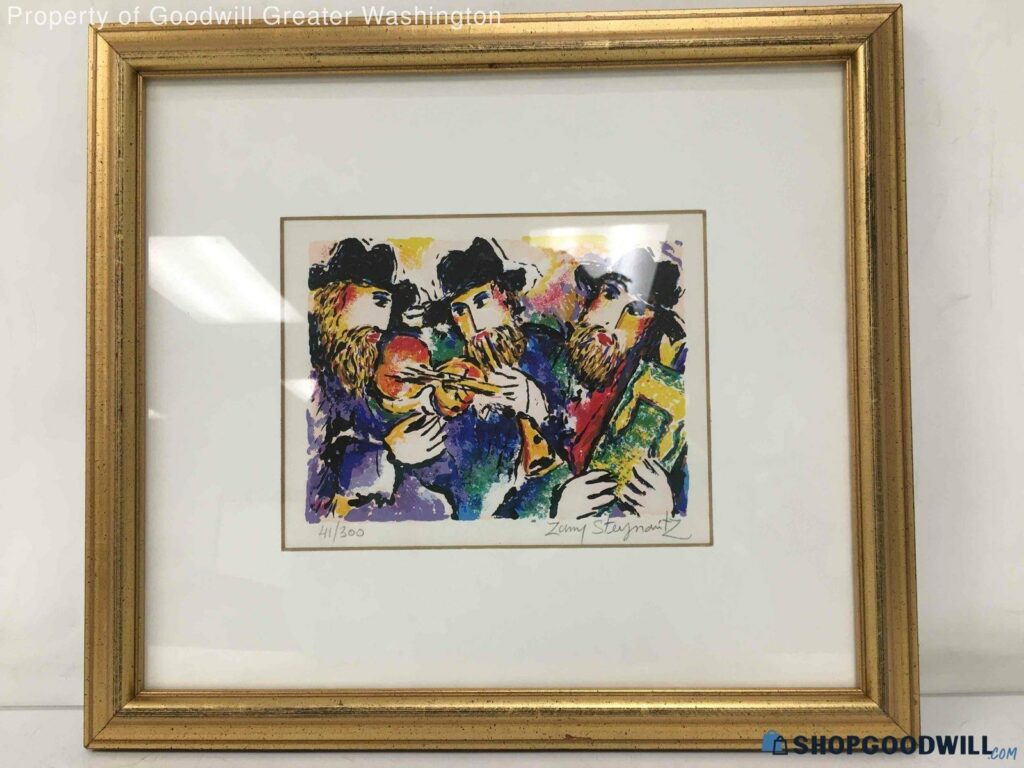 https://shopgoodwill.com/item/163502962
Signed Zamy Steynovitz Three Bearded Men Playing Instruments 41/300 12×13.5″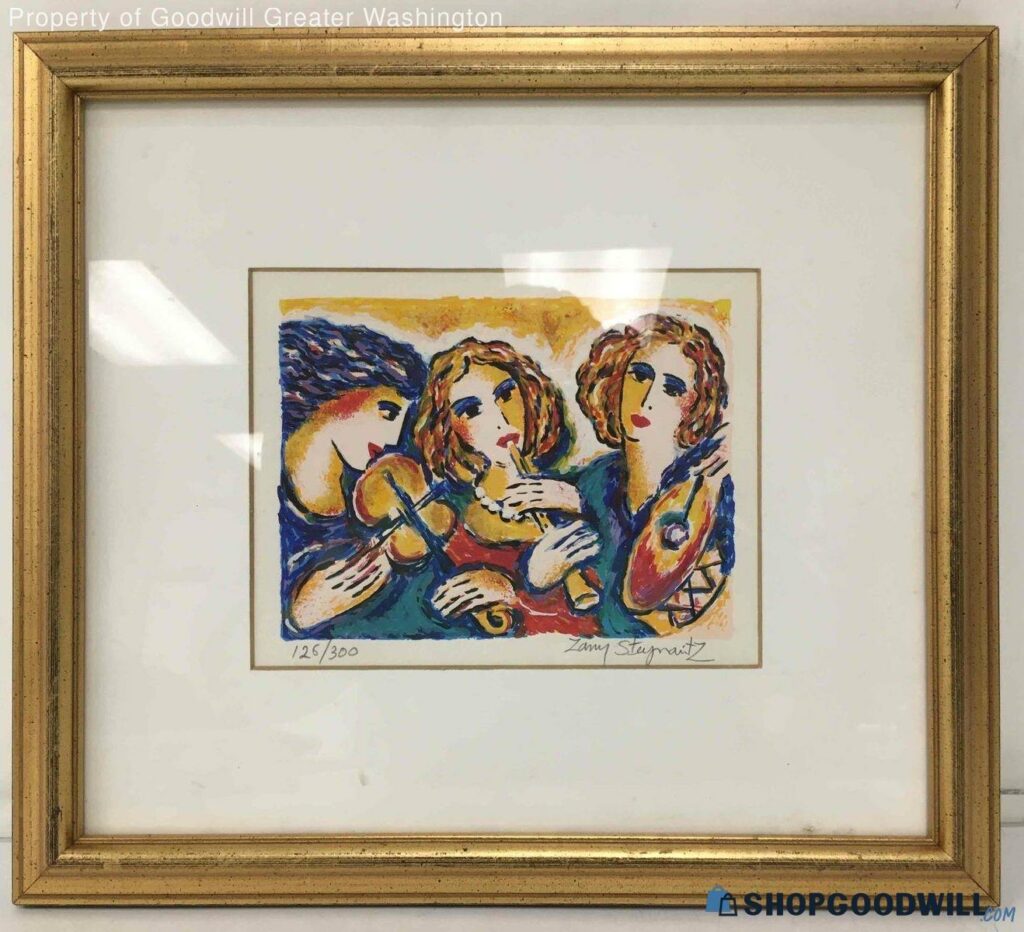 https://shopgoodwill.com/item/163503121
Signed Zamy Steynovitz Three Women Playing Instruments Print 12×13.5″ 126/300
My spouse and I own a signed artist proof of Steynovitz's "Shabbat Bouquet"! A friend and colleague won it for us at the silent auction at Massachusetts Transgender Political Coalition (MTPC)'s Lawyers* For Transgender Rights annual benefit event (*now Professionals).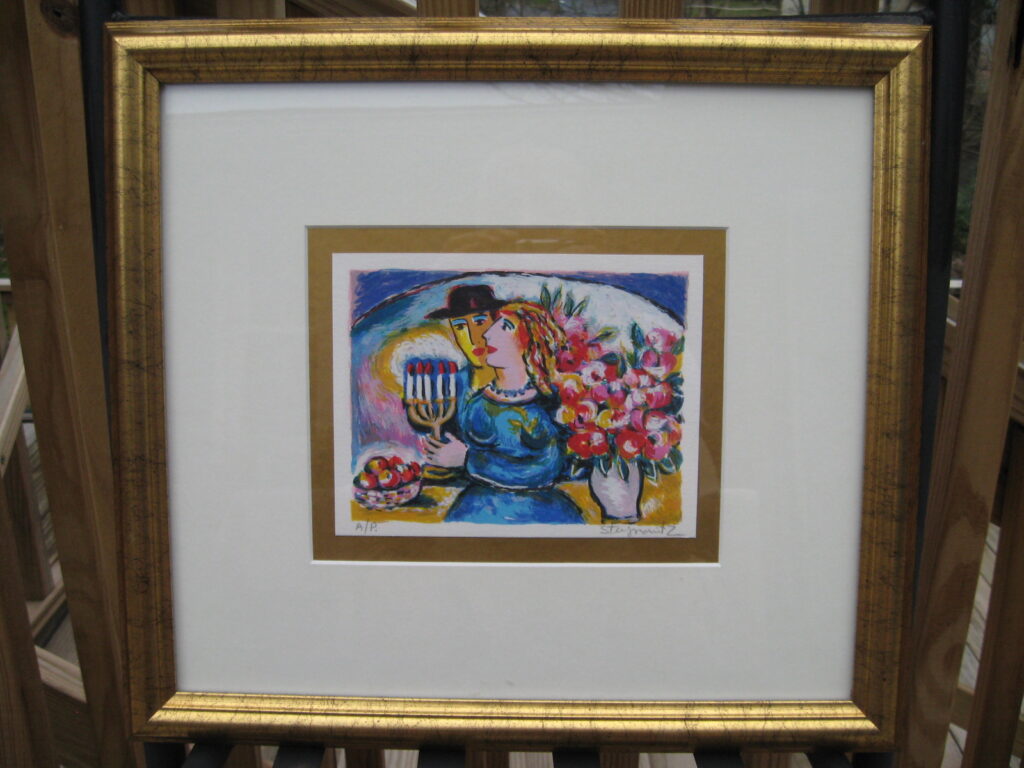 I especially like this piece because of the gold. Nu, don't feel bad if you thought it was a hamburger at first.  I did too!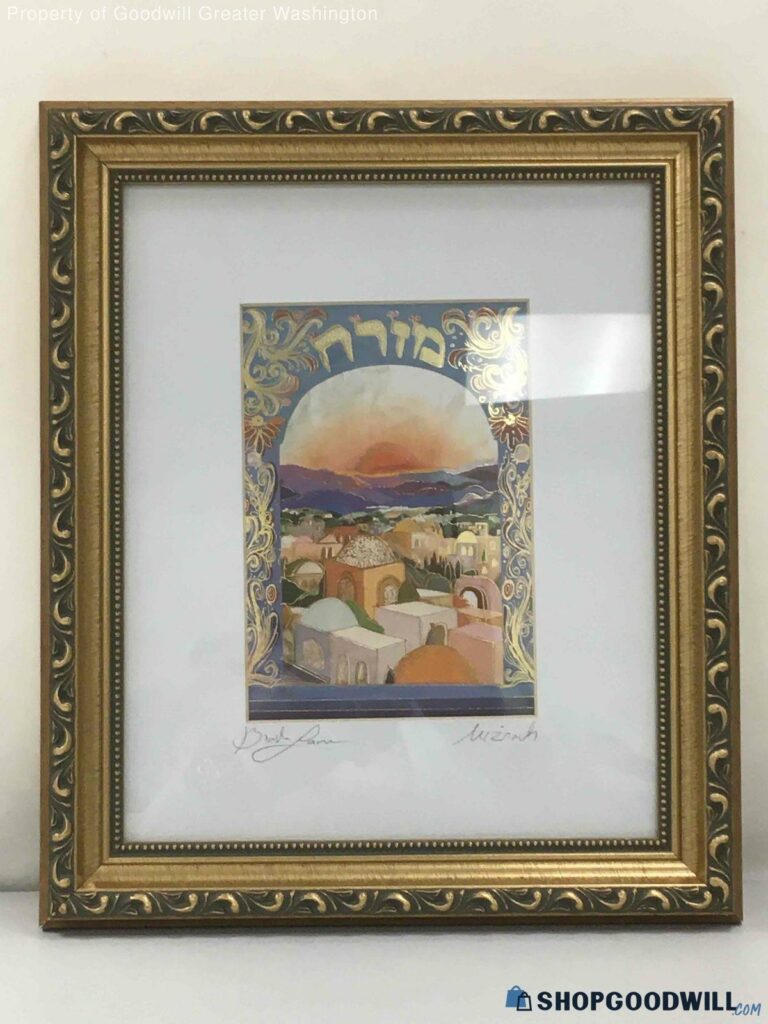 https://shopgoodwill.com/item/161999730
Vintage Signed Bracha Lavee Brym Mizrach East Jerusalem Framed Print 10.5×12.5″ – 3.19
An intriguing and complex take on a famously intriguing and complex poem.
https://shopgoodwill.com/item/163496832
Songs Of Songs Serigraph Print 6/125 Signed Raphael Abecassis 27″x21″
Not Asian-inspired, or Asian, but I can see what they mean. And there are Jews in Asia, and Asian Jews elsewhere in the diaspora. He's probably reading the Torah in book form, or another Jewish sacred text.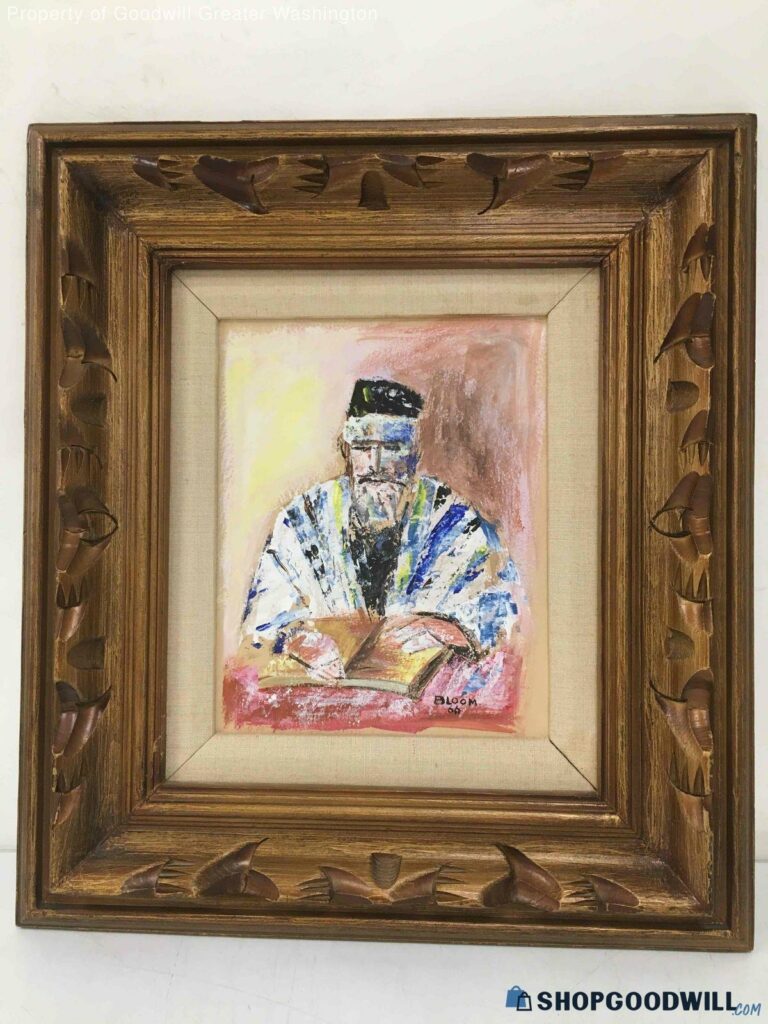 https://shopgoodwill.com/item/161763284
Vintage Signed Bloom 66 Asian Inspired Man With Book Framed Painting 16×18″ – 3.15
Nu, how could I do a post about Jewish artwork without some fiddlers? Fun fact: they're not always on roofs.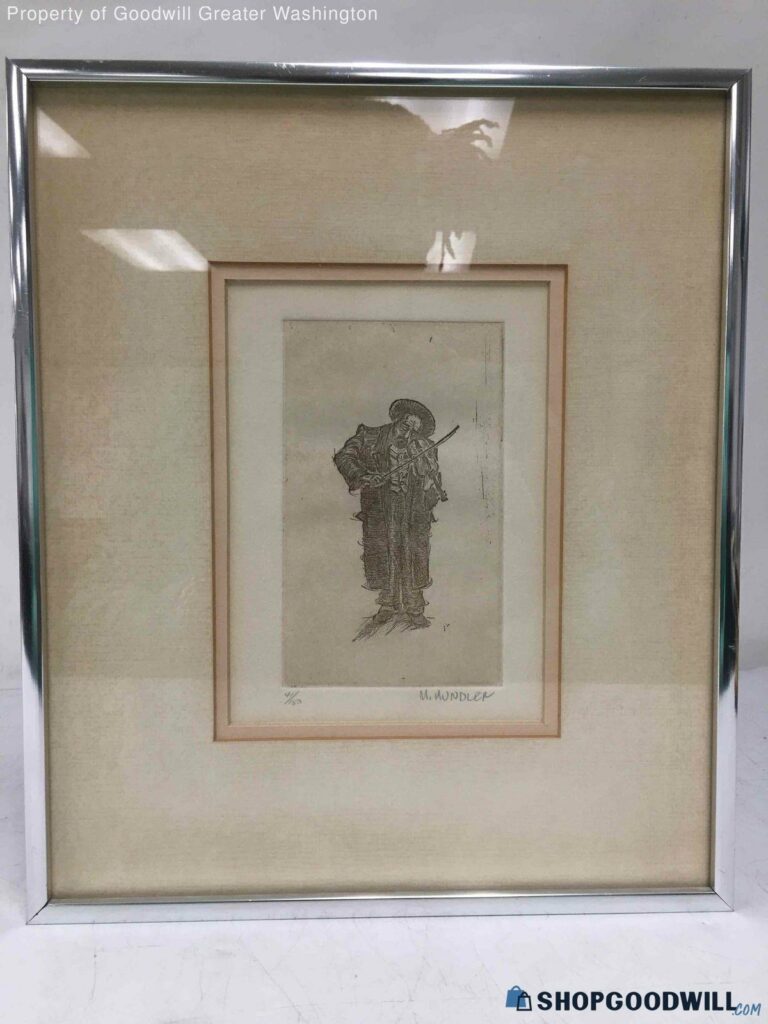 https://shopgoodwill.com/item/163503557
Vintage Signed M Mundler Man Playing Violin 41/150 Framed Print 11×13″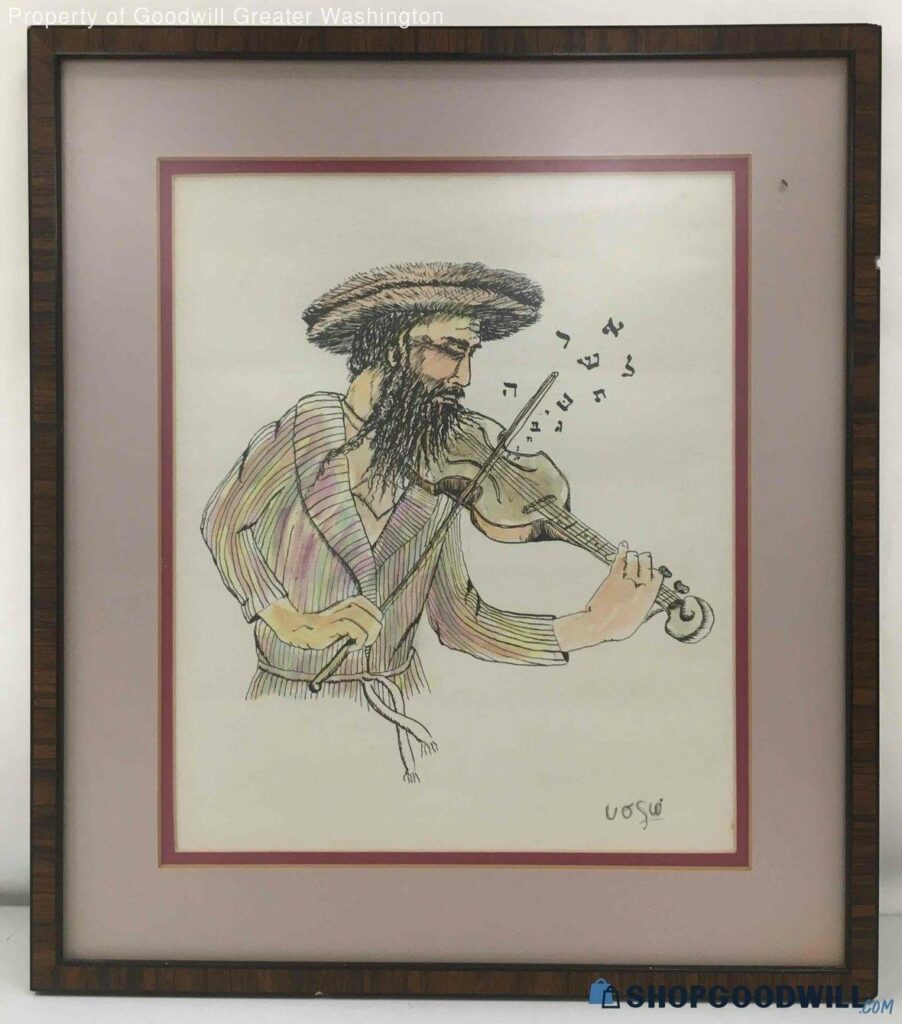 https://shopgoodwill.com/item/162005122
Man Playing The Violin Signed Painting 16″x14″ – 3.19
A man and his son? Grandson? Probably in the past, though there are still Jews that dress like this, including here in the US.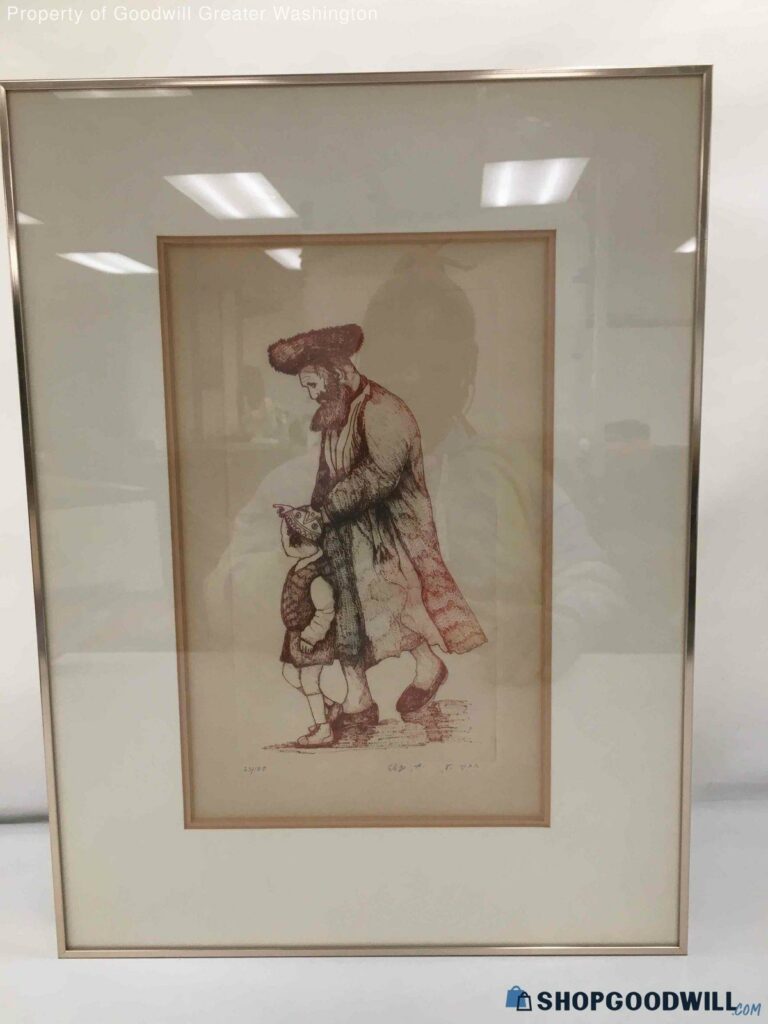 https://shopgoodwill.com/item/162000654
Vintage Signed Bearded Man In Robe With Boy Framed – Print 23/100 14×18.5″ – 3.19
A third fiddler, and oh so much more! Which looks like it was originally done using a batik technique, or something similar.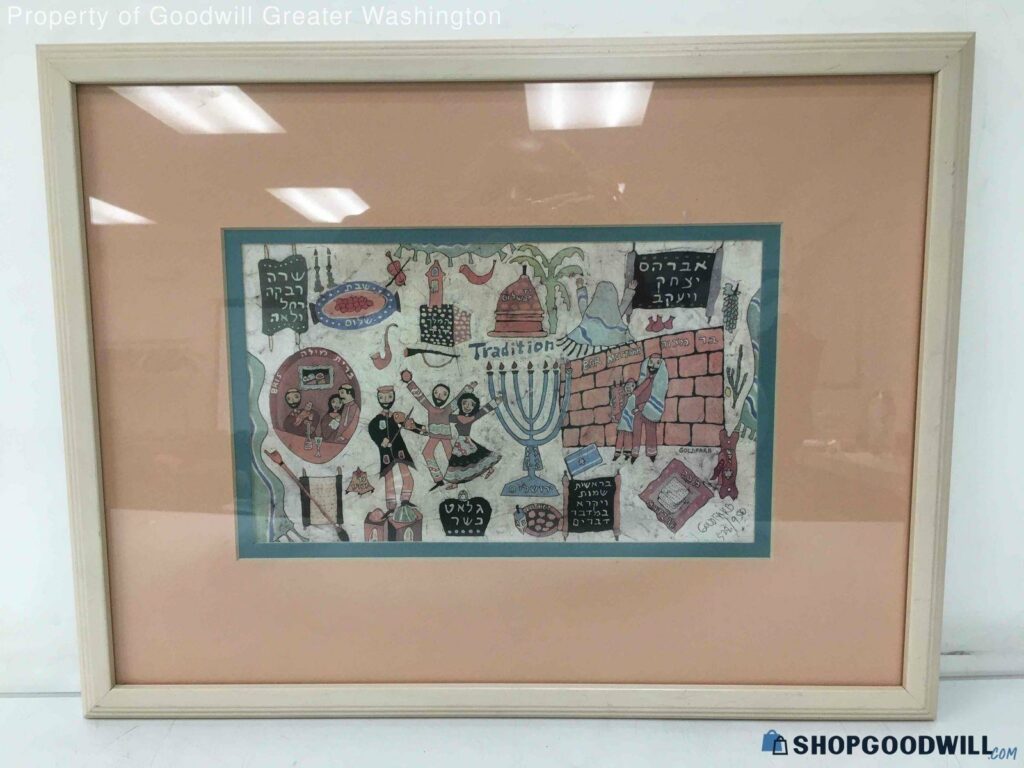 https://shopgoodwill.com/item/163580047
Vintage Signed Goldfarb Tradition Jewish Latkes Bar Mitzvah 528/950 13×17″
Nu!  Many reasons not to pass over Goodwill when you're shopping for Judaica and other Jewish items.  Especially if you're counting your pennies as well as the Omer.  I am, and Goodwill has helped me create a wonderful Judaica collection, and give some great Jewish gifts.  And speaking of calendars, mark yours for next month, May 2023, when I'll be back with more Goodwill items from my thrifting specialties.  
Similar Reads:
About our fabulous guest blogger: