An abundant April, my fellow thrifters!  Second month of Spring, Nisan of 5782 (Jewish month and year), Arab American Month. Month of Ramadan, Holy Week, Pesach (Passover), Easter, Peaster / Eastover, Earth Day, Bright / Pascha / Renewal Week, Yom HaShoah (the primary Holocaust remembrance day), and Arbor Day.
Chag Pesach sameach (happy Passover holiday, in Hebrew)! Zissen Pesach, (sweet Passover, in Yiddish)! Ramadan mubarak (blessed) and kareem (generous)!
This year, Passover is from the 15th (which was also Good Friday) through the 23rd.  And due to my love of Judaism, including Judaica, it's going to be my theme here this month.  Especially since Passover's theme is liberation, which we need all year – now more than ever.  And we can't achieve liberation without thrifting!  Thriberation?  Hmm.  That sounds like a health condition.  Or a treatment for one.  Possibly a debunked one.  Nu, we'll work on that.  Send in your suggestions.   
I thrifted our family's fabulous seder plate from our local Goodwill of Greater Washington right here in Gaithersburg!  It's silverplated, but I haven't polished it because the patina is so pretty – and includes some rainbows.  Every year, I decorate it differently and photograph it.  You, dear readers, are actually the first to see this year's photo!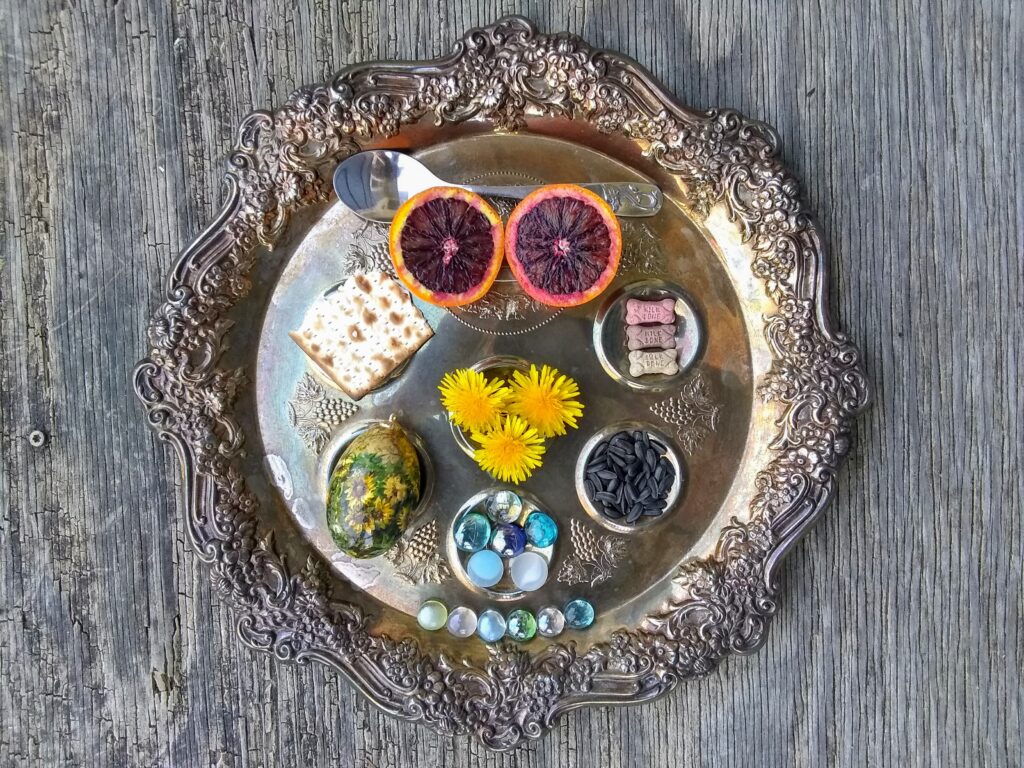 The spoon is for fat, ill, disabled and older folks (including my spouse). And it has a dragon, because I love them (and wrote about them here last November).
The orange is for people who are women and/or LGBTQ+ (including my spouse and I).
Matzah (a version of the unleavened bread we took when we left Egypt), because of course.
Dandelions from our yard are our maror / chazeret (bitter herbs – although dandelions are also tasty, and useful, and we're lucky to have lots) and karpas (vegetable).
Our dogters' Milk Bones are our zeroah (bone).
Our beitzah (egg) is a real chicken one, emptied and hand-painted by one of my aunts – with sunflowers because they're my spouse's favorite flower. This year they also symbolize Ukraine (whence my father's Jewish family immigrated around the start of the Russian Revolution that began in 1917).
Glass pebbles are our salt water / tears / Miriam's Cup/Well and charoset (bricks and mortar).
Sunflower seeds, which we use to feed the birds in our yard, are also for Ukraine.
(This year many people added a beet for Ukraine. And/or a pomegranate for formerly Orthodox Jews.)
Fresh seder plate items can be challenging to access, and afford (how much more so with the supply chain issues) – so don't be afraid to thrift yours, especially if you don't need them to be traditional, or traditionally kosher.
I also thrifted a second seder plate for us, just this past year, from ShopGoodwill.com. It's brass, with an unusual combination of modern and ye olde design. It has three feet on the bottom for better display on a flat surface. However, due to the distinctive design, it's tricky to decorate and use during a seder, so it's really more of a display piece – and it has a loop on the back for hanging on a wall. This is my first photo of it, and you are the first to see it!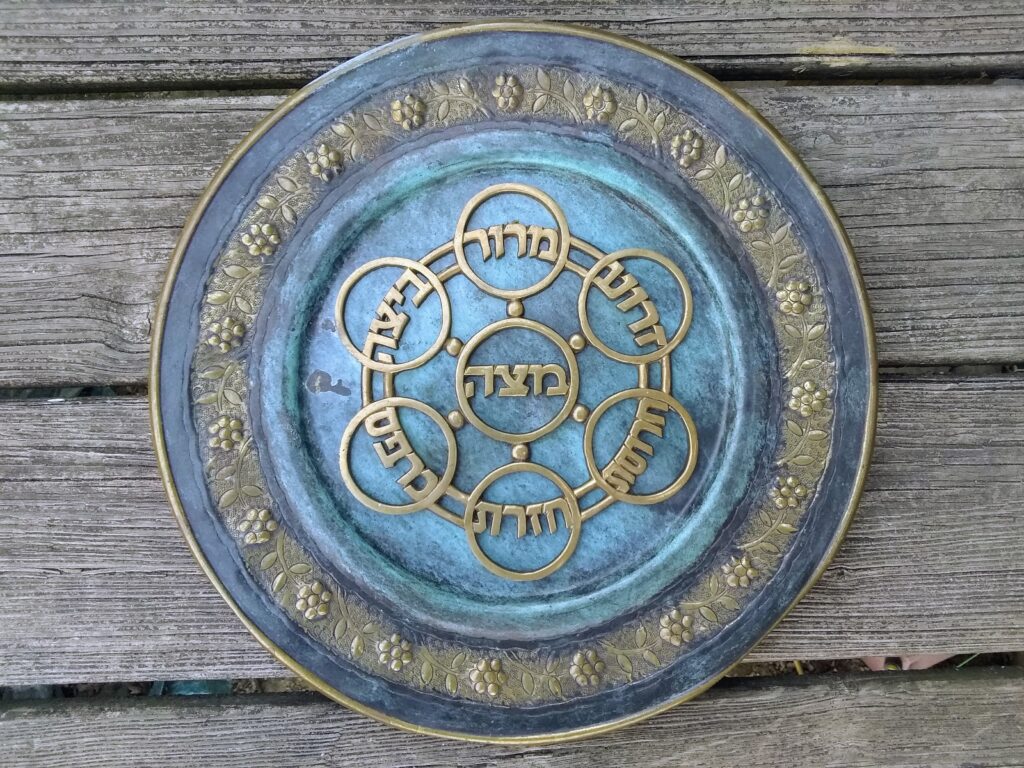 I've seen many other seder plates at DC Goodwills and Shop Goodwill, including this past year. When they're local, I save the links for this project. When they're not, I save the images for my social media. And don't forget to take photos of in-person items you want to remember and share.
Nu, you see why I say not to pass over Judaica when you're thrifting this Spring! Especially since many Jews do ritual cleanings of our homes for Passover, and that tends to cross over into finding things to donate. You would not believe the Judaica I have seen in, and thrifted from, Goodwill and other stores. Especially around Jewish holiday seasons. And some of it hasn't even been used, or opened!
But what if you don't need any more Judaica? What if you have dayenu, "enough"? Well, you may have news other Jews can use. And you may want to schmooze with them about it. Jewish people live almost everywhere in this country, but Judaica does not. I've been lucky to live, and thrift, in very Jewish places – the Boston area of Massachusetts, and this DC area of Maryland. The Jewish resources here don't exist in much of the US. The internet helps a lot, especially during the pandemic, but still has limits.
And a lot of Judaica doesn't retail, or resale, at thrifty prices – far from it. Too, while many Jews inherit more or different Judaica than they want from Jewish family, others – especially those who convert – don't inherit any. For everyone who says "Nu, I know Great-Uncle Whatsit bought this seder plate in Israel after the war, and all, but it's not our style, and it's going to Goodwill", there is a group of plateless people waiting to give that plate a good home.
I belong to a Facebook Group called "Judaica Thrifting", which connects Jews from all over the country and world with Judaica to sell or gift with Jews who need that. Members often post Judaica they've seen at or thrifted from Goodwill, online and off – including DC Goodwill. I haven't been thrifting in person since the Before TImes, but when I return I'm going to keep an eye out for items for the Group.
So far, I've given away an unused Hebrew stamp kit that's not made anymore.  I told myself I wasn't going to buy anything.  And…I've already bought a beautiful challah plate (for the special bread we eat at Shabbats and holidays) and a cool mezuzah (a decorative tube with a piece of the Torah inside that we put on our doorposts). 
Again, I wish you an abundant April! And may you share your abundance with others. And speaking of May, I may have some mermaids to share with you here next month, for MerMay.
About our fabulous guest blogger: