Part ballerina, part princess, all adorable! A small, upholstered side chair gets a starring role makeover that puts it center stage for a charm-filled performance. Try this fun and easy DIY project one time and you, too, will say it's "tutu cute!"
And doesn't my model, River, look so sweet on this piece with her matching colors?
Supplies Needed:
1. Small side table, ideally child-sized and upholstered
2. Child's shirt made from tulle
3. Pink spray paint
4. Painter's tape
5. Plastic trash or shopping bag
6. Scissors
7. Staple gun
Step 1: Dance on over to Goodwill today
You never know what unique and one-of-a-kind items await you was you saunter your way around your favorite Goodwill store.  During one excursion, I saw the sweetest little side chair that I know was a true find.  Its petite size, oval shape and carved legs made it ideal to take from wall flower to prima ballerina.  The upholstered back and seat were all done with such care and detail that it was truly from a bygone era.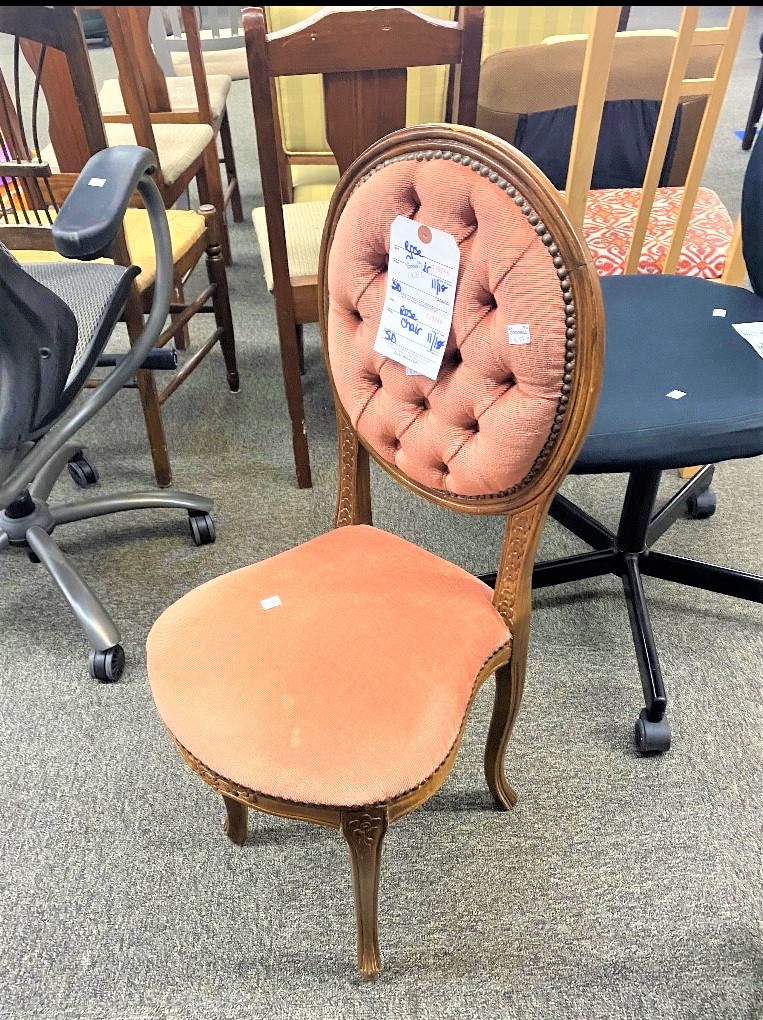 Pirouette your way over to the Girls and Women's sections to see if there is a skirt or dress with a fluffy, flowy bottom half made of tulle fabric to be partnered with the chair for a lovely duet.  A hot pink one was found in the toddler's clothing section.  While I was looking for a white one, the pink option ended up being the perfect dance partner given the little chair's muted peachy/rose-tone fabric.
Step 2: Practice makes perfect, so does good prep work
The chair featured here had lots of charming details from the tufted seat back to the hammered tack edging. However, the wooden framework was brown and boring, so it needed to be brightened up with paint. 
The wooden parts were carefully sanded then wiped down with a damp cloth to remove dust and dirt. 
To get her paint-ready, the fabric back and seat needed to be protected. Painter's tape was carefully applied along each edge and a plastic trash bag was cut apart and secured in place, also using painter's tape. Take your time with this step to ensure clean, crisp lines and to prevent any paint from getting on the fabric.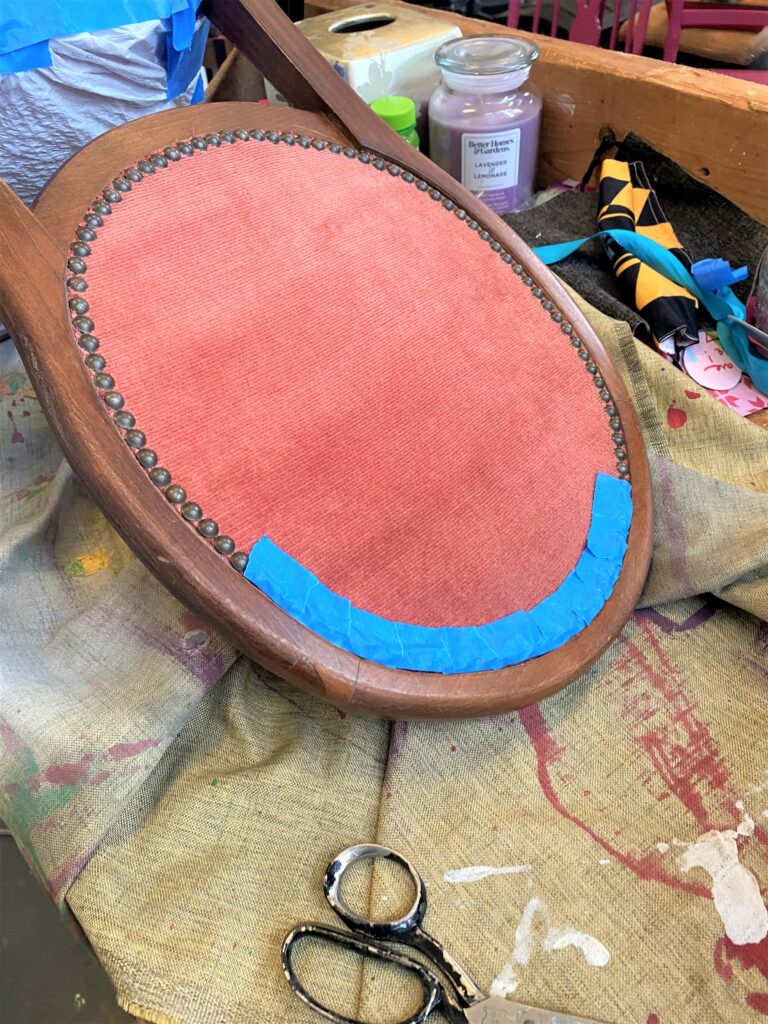 Step 3: Pretty pink paint pops
When we think of the ballet, often "Swan Lake" comes to mind. Some dancers wore tutu's in white and some in black. However, this little chair wanted to do her own routine, so a bright berry pink paint color was selected.
Place your chair outside or in a well-ventilated area and on a drop cloth. 
Spray on a light layer, let it dry then place the chair on its side. 
Add another layer to all edges and surfaces.  Continue this process of flipping it from side to side several times so that multiple layers are sprayed on her.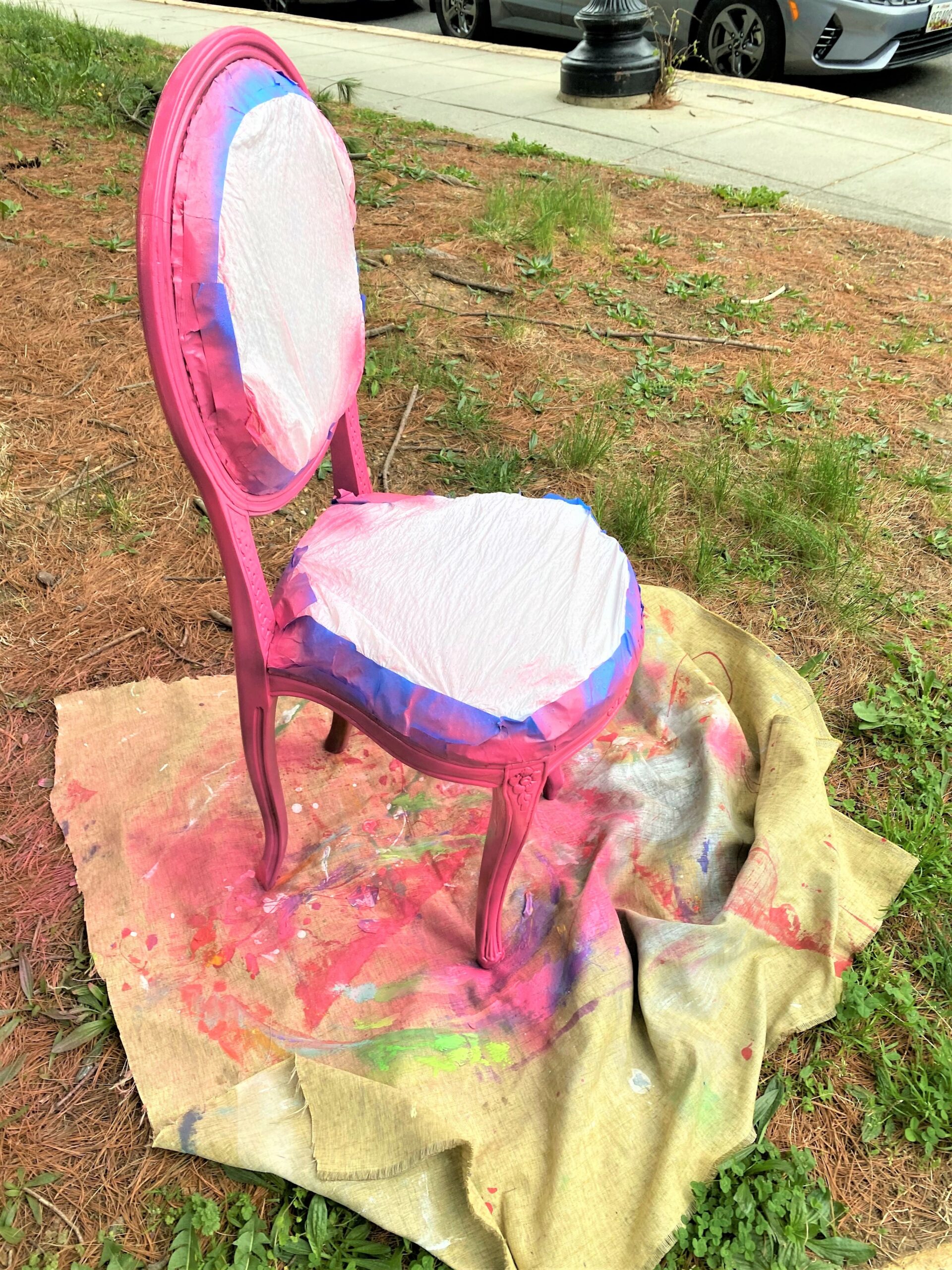 Design idea:
After the berry pink paint coat is solid on all wooden edges, consider adding a little bit more color and visual interest by "spritzing" on some light pink paint.  You will not add a solid coat but rather touches here and there.  If you have an older piece with some flaws or worn-out sections, this spritzing technique and light layering will help to mask and hide them.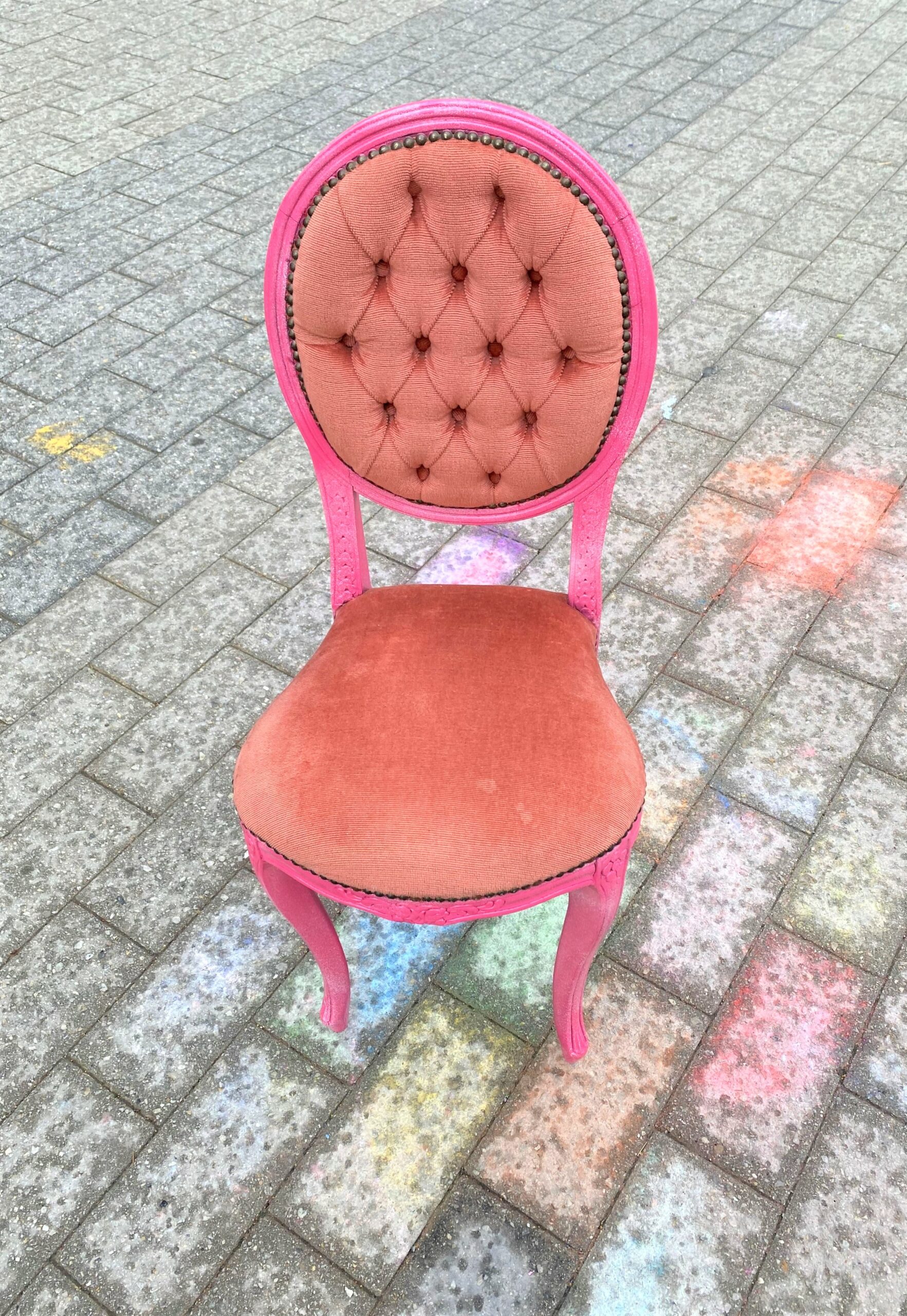 Step 4: Secure her skirt
After your paint has dried well, carefully remove all the painter's tape and plastic bags.  This will reveal the colorful frame that will make your side chair stand up to cheer, "Here I am!" 
I totally scored with the tutu skirt I found because it had an elastic waist bank with a nice satin top edge.  While I originally thought I would have to cut it in pieces to use, but the stretchy fabric allowed me to place the skirt over the chair and into position. 
However, knowing that little hands would be using this chair, I used my staple gun to keep it where I wanted it for good. A line of staples was added along the outer edge and the satin top edge was pulled up slightly to cover the staples.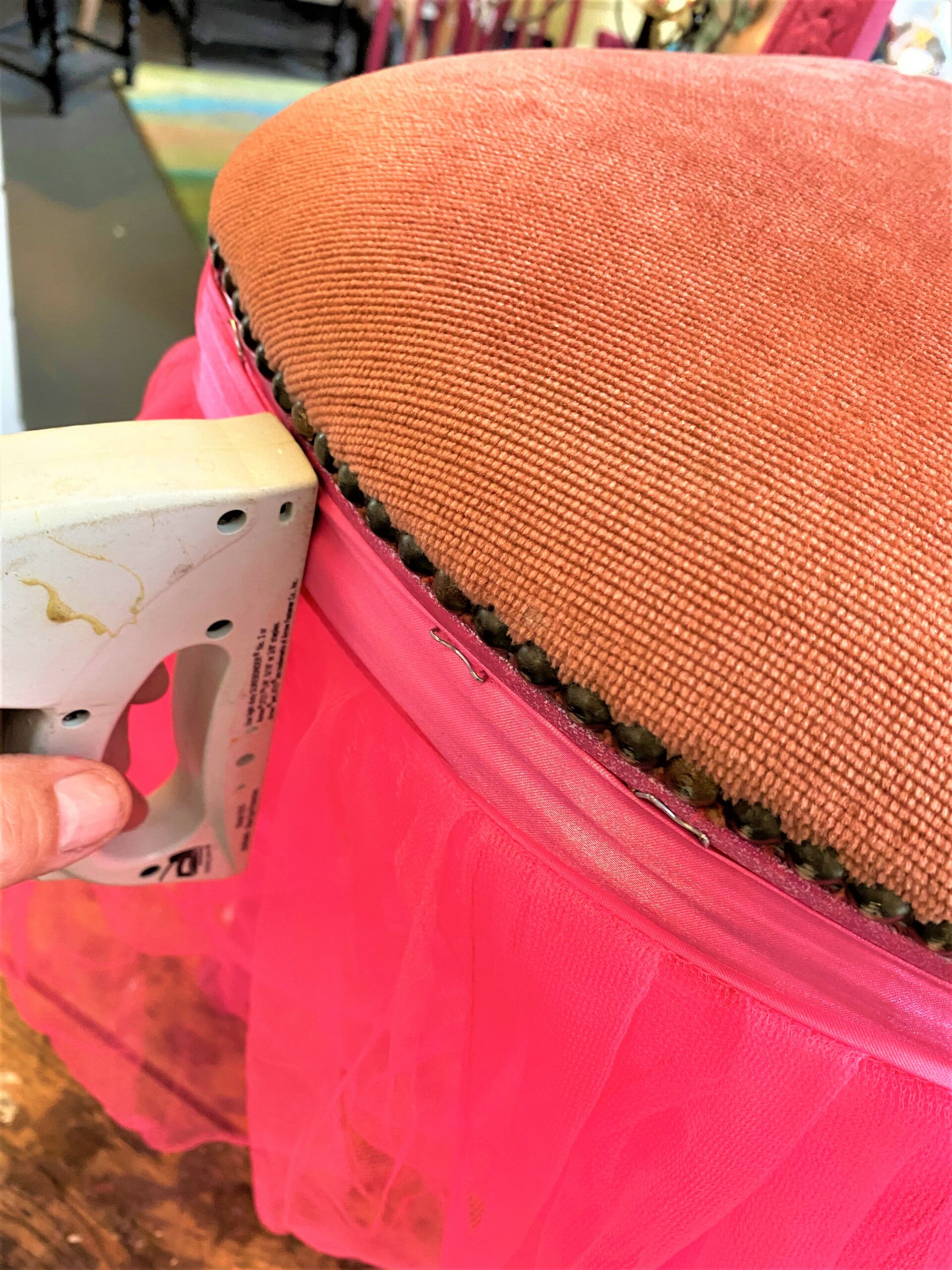 Step 5: Share with your sweetie
This ballerina chair makes a great gift any time of year for that special little one in your life. Position it in a bedroom corner to fill that part of the room with brightness. Use it as a desk chair because the child sitting in it won't want to get up soon. For grown up ballerinas, you can follow these same steps with an adult-sized chair that will make you feel like a princess, too. When you complete your ballerina chair, you will be ready to raise the curtain to start the show and will receive a standing ovation for your DIY efforts for certain!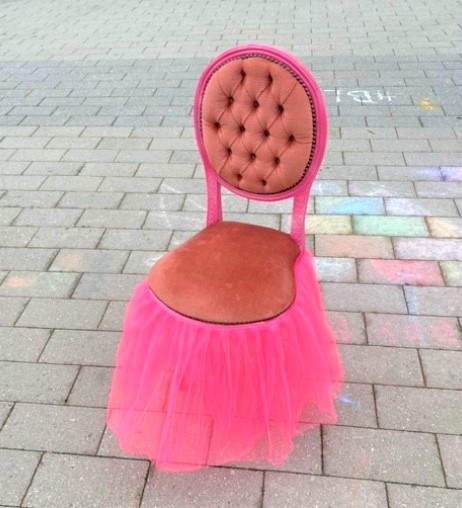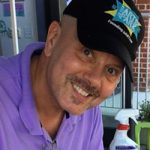 Tim Kime
Artist, Motivational Speaker, Life Coach
Tim Kime is an artist, life coach, connector. He is President of Kime Leadership Associates offering executive coaching, meeting facilitating and motivational speaking. He is also Chief Creative Force of Transformation Junkies which upcycles furniture and other household items into functional works of art. He combined his two passions—unleashing the potential in people and transforming items with the launch of the Art of Possibilities Workshops. These workshops are part upcycling, part dreaming, part goal setting.