I hadn't heard about The Clothing Company until I found this week's #MyGoodwillFind. After looking it up online I couldn't help but in love with their whole LA-inspired fashion line! Each dress has a particular, modern, classy cut composed of unique patterns and fabrics.
From this brand, I found a boutique dress in a size medium. As a bonus, it's brand new with tags! It originally retailed for $78 at a boutique in Gaithersburg, making it a true steal from DC Goodwill.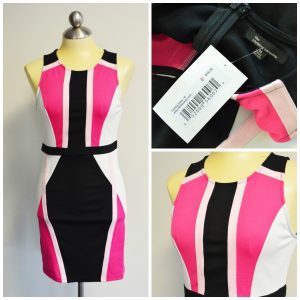 The dress itself is designed to be form-fitting and hits the leg just above the knee. It will accentuate your curves so if you're comfortable with that fit this gem is for you! What I love most about the dress is the pink, white, and black modern/Art Deco combo. It reminds of Betsy Johnson's clothing line without being overly frilly and flashy.
I'd further play up Betsey mixed with Chanel inspiration by using this dress to assemble an ensemble that embraces black pieces along with additional white and black color blocking.
To allow the dress to remain the star of any look wearing slick black blazers and flirty trench coats would be my best outerwear recommendation. However, if you'd like to add in a bit of variation besides black, I'd embrace white by opting for a warm cardigan to bring out the white in the dress. These details could be featured in ribbing or pockets.
Wrapping up outerwear, you know I love a good, black infinity scarf. And this is just the look to wear one! Just loop it around your neck and you're all set!
To keep the look warm, yet still fashionable, black solid tights will be your best friend. Whether they're fleece lined or a simple solid, black hosiery will keep your legs toasty while still slim. I've found brand new black tights at Goodwill for under a buck. Just look near the purses and accessories – you might even find an inexpensive designer pair!
Let's talk about jewelry. The higher neckline of this dress provides a solid opportunity to whip out blingy, bauble, or gold bib necklace. This type of shape will echo the cut of the dress's neckline and draw attention to the upper color-blocked detailing. Plus, in cold weather, the neckline will prevent the cold metal on the necklace from being uncomfortable. 🙂
However, if a big necklace isn't your thing, big dangly statement earrings will suffice. I particularly love black tassels. But you can play with any material you'd like!
Finally, I must mention shoes. Black high boots and classic black heels would be my go-to pieces to round out this look. Black leg-hugging boots will keep your legs warm in the cold weather and close-toed black heels are 100% office-and-weather friendly.
How would you style this My Goodwill Find, fashionistas? All black or would you mix in some more colors?