I sure have been hitting the Marc Jacobs jackpot at Goodwill these days! I've been finding this brand's designer gems at multiple DC Goodwill locations. Everything from clothing to bags… you name it, I've found it!
Some of the items have fit me. Unfortunately others have not. But luckily, I get to share one of my favorite #MyGoodwillFinds with you today!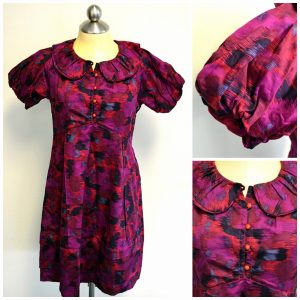 This is a stunning pink, purple, and magenta Marc by Marc Jacobs dress in pristine condition. This flirty winter number has a zipper on the side and hits just above the knee when worn. The material isn't too stretchy as it is 100% cotton. It's in a size 6.
A dress like this wouldn't be found at just any department store. Big names like Nordstrom or Bloomingdale's would sell a beauty like this for at least $300, maybe more.
My favorite part(s) of this dress are the tiny details. Everything from the petal Peter Pan collar to the layers at the bottom… I'm in love with it all. The attention to detail only found on designer gems like this one are unique and eye-catching.
I think all of us fashionistas can agree that today's #MyGoodwillFind is special and can stand on its own without too many other statement pieces. Everything from the sleeves to the collars keeps me saying "WOW!".
If I were to style this Marc Jacobs gem in a look it would most certainly be the star. The dress would be the main focal point, with supporting fun accessories to keep one's eye moving around the entire outfit.
With this retro-inspired dress, I'd wear a pair of tights (in this freezing cold weather) along with close-toed flats or black or deep red Mary Jane-style heels.
Because today's Marc Jacobs beauty emanates 1950's pinup vibes, Mary Janes seem to be the perfect type of footwear to wear as they originated in that era as well. To top it off, Mary Janes are always comfortable on the foot and can be found at Goodwill for about $7 a pair!
For outerwear, I don't think this dress needs a wacky, showstopper coat. Any other competing garment that is heavily detailed will detract from the already impressive details on this dress. Instead, I'd rock a traditional black or brown peacoat – something that's classic, feminine, and not overtly showy.
If you do have an itch to add one more touch of pizzazz to this dress, earrings and handbags would be the perfect avenue to do so. Do you have a vintage bag that you got at Goodwill but don't know what to wear it with? Wear it with this dress! Anything with beading or embroidery will look stunning against the fun, pink pattern of this dress's fabric.
Finally, I know you might be wondering about jewelry – so, I'm going to give you the quick scoop!
I personally would not wear too much jewelry with this dress. The collar is already a piece of art; the sleeves look like sculptures; and the pattern resembles a painting. So I'd keep it low key with jewelry, maybe rocking some bauble, rhinestone studs or small tassels. Do NOT wear a necklace with this dress! It would get lost in the fabric and compete too much with the beautiful collar.
So fashionistas, how would you rock today's designer Marc Jacobs #MyGoodwillFind? Would you take cues from the 50's and insert some vintage flair or keep it classic and simple?