Dear readers, do you love fringe but hate how it always decorates the bottom of clothing, leaving the strings to get caught in everything? Luckily, today's My Goodwill Find has the fringe look, but sports it in a way that's more practical and doesn't get dragged on the floor.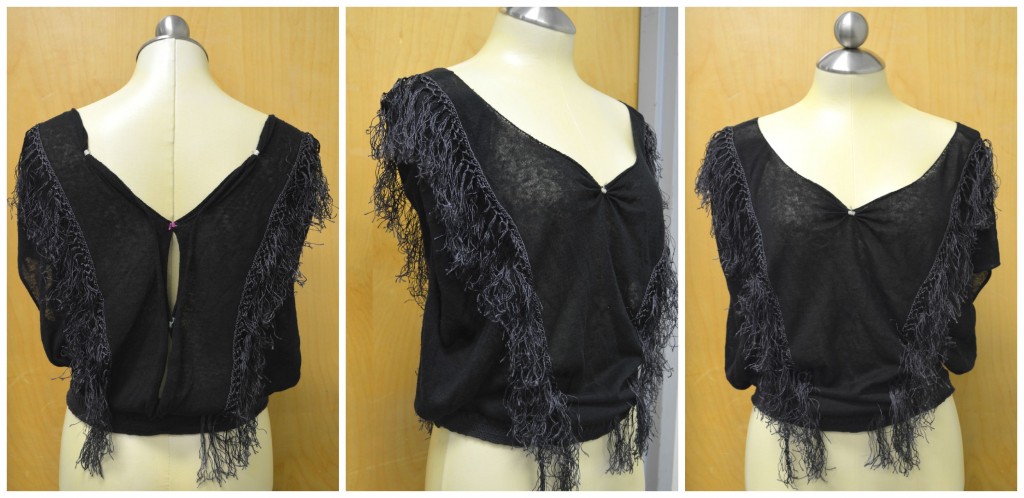 This small boho yet edgy Free People charcoal black blouse is perfect for a warm fall weekend look! The fringe is stringy and fun bringing this could-be plain black shirt to another level and making it a conversation piece. Its made of sweater material which allows the top to be a bit warmer, however, the cut of the open back does mean that you'll have to wear a plain black cami underneath. Thankfully, those are very inexpensive and something you can find tons of at Goodwill!
The pink and white embroidered detailing on the hems adds an unexpected yet much- needed and practical look. If these were not present, I can imagine the fabric would fray and become stringy after multiple wears.
A blouse like this would retail upwards of $100 at the Free People store, making this blouse a prized catch!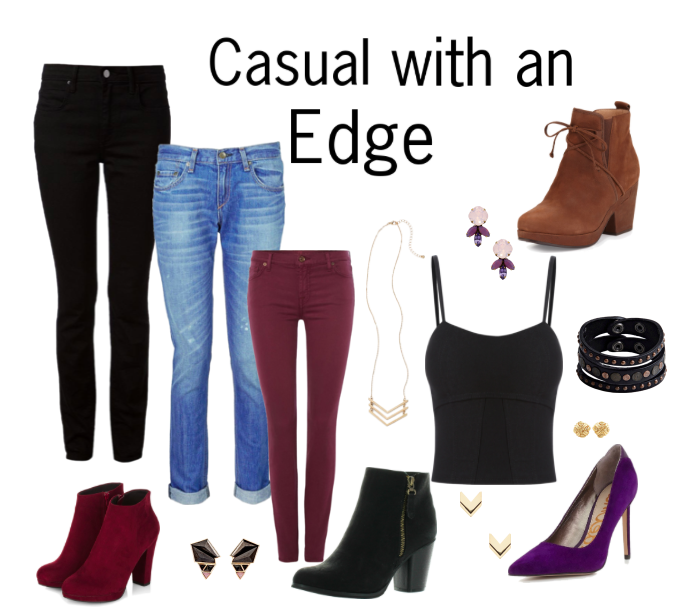 Image by Polyvore.
While you can toy with the idea that it  could be worn to work, I really envision it looking fabulous as a casual look for a weekend outing. It doesn't matter if we're talking day or night, a plain or colored pair of skinny pants or jeans are great options for the bottom half of the look. The skinniness of the pant is a nice contrast against the flowy and frilliness of the blouse. If colored pants are worn, I imagine beautiful fall colors like cranberry or a greenish dark blue would seal the deal.
For this fall, I think every woman needs a pair of heeled or wedge booties – and this is the perfect outfit to showcase a pair. With skinny jeans, I believe a nice wedge in combination with the bootie style will look sleek and sophisticated; the wedge will elongate the leg without allowing  the shape of a bootie to cut off the ankle visually. Similar to the pants, I think simple neutral fall colors like black, cranberry or brown would pair nicely. Because this particular top isn't a harsh black, I think combing black and brown shoes won't look off.
The top is wild with fringe so you don't need to go crazy with jewelry and accessories. Simplicity is key here especially with earrings and necklaces. To echo the neckline of the top, you can wear a nice long necklace with an interesting pendant. You might think dangly earrings could work, but I'm not a huge fan. Since the fringe says a lot, I believe it's best to keep it simple perhaps with a pair of smaller size post earrings. Finally, an arm party can happen, because the bracelets will most likely hit below the shirt and without over complicating the top half of the outfit. A leather cuff would look super edgy, while simple beaded bracelets and gold bangles will further boho chic touch.
How would you style this fabulous fringe top? Would you rock it with pants or even a skirt? Would you dare to wear it to casual Friday at the office?