Ever since I was a kid, I always watched the VMAs from MTV. The celebrity antics were addictive to watch, the music was seemingly amazing, and the fashion was shocking.
Although I did not tune into the program this year, I did get the chance to flip through endless photos of celebrity outfits. I want to weigh in and I have to say, overall I am thoroughly unimpressed.
In general, this year's looks aren't having me say wow, in a good or bad way. I think they're incredibly predictable, especially as fashion becomes more "shocking" and sexually charged.
Multiple themes seem to have appeared often on the red carpet, such as fringe, futuristic cuts, women's chests, neon colors, and mini dresses. Most of these trends, to me, were employed tastelessly with only a few ensembles barely making the cut.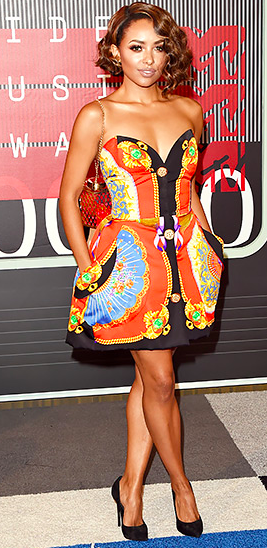 Image from US Weekly
Starting on an outfit that has made the cut, actress Kat Graham was one of few celebrities who played it safe style-wise. Her dress isn't too revealing, too short, or terribly out there in a good way. I love the print of the dress for it reminds me of a vintage Hermes scarf as well as the heart neckline – it's cute and flattering without showing too much skin. Finally, I love the simplicity of her suede pumps. They're classic, yet the shape is quite elegant and feminine. Overall, I give this look an A-.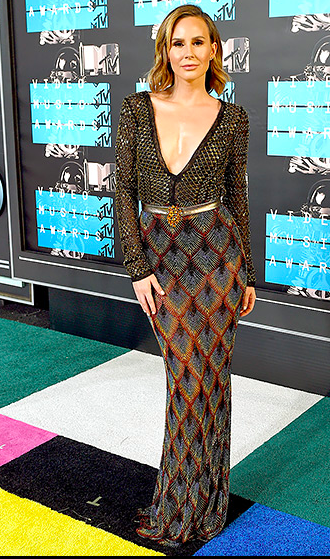 Image from US Weekly
This next look is also one that earned a passing grade. Famous TV presenter Keltie Knight sported this ornate beaded dress with a wild feather design. This is perhaps the only garment of the whole show that I enjoyed the plunging neckline; it's sexy and sophisticated without yelling sexuality abrasively. Most importantly, this long piece of art reminds me of a vintage beaded dress that you might find at Goodwill, with a modern and skin tight twist. I'd also score this maxi with a whopping A-.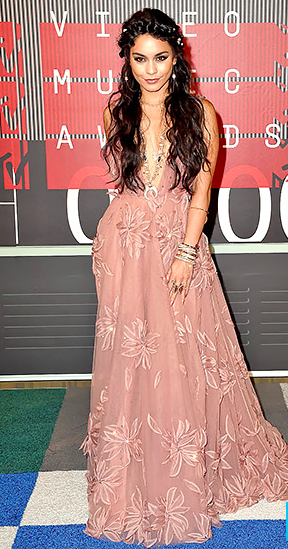 Image from US Weekly
Finally, Vanessa Hudgins almost converted me to a boho style with this appliqué pink long dress paired with gold bangles and long braids. This is another look of the evening that wasn't too risky or revealing — which I definitely appreciated. She kept her look very modest, with a twist of femininity and mystery. Similarly to the dress above, this one is like a piece of exquisite art for the floral appliqué shapes ornamenting the whole exterior of the dress are unique, designed with precision, and playful. For these reasons, I give the dress a B+.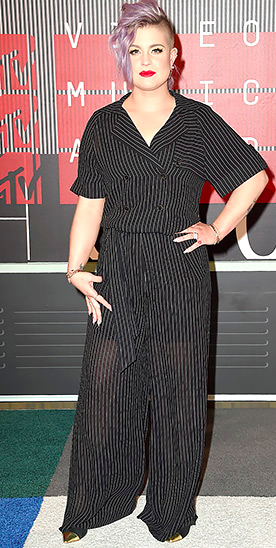 Image from US Weekly
And now for the bad. Kelly Osbourne looked like she was wearing a big ol' bag in this striped whatchamacallit dress? Two piece? I don't even know. On her body type, this ensemble is unflattering because it's simply too big. I suppose she's going for a look that's modern and the complete opposite of looks like Miley's or Nicki Minaj, which I do commend her for. However, to be blunt, it's ill fitting. C- for me….a passing grade because I love Kelly!
Image from Elle
Here comes Miley, the lady of the hour. I hated every single one of her VMA looks including this one. They were all too space age meets rave girl, which seemed immature especially if she's in her mid-late twenties. However, if you're a celebrity, I guess you can dress any way that you want. This year's Miley Cyrus is reminiscent of Lady Gaga's outlandish and buzz worthy style we all witnessed just years ago. It seems that as Lady Gaga fades from fame, Miley is stepping in to take her place with shockdom. I am not digging these poms poms and feathers, at all. Did this outfit come from the craft store? I give this look an F!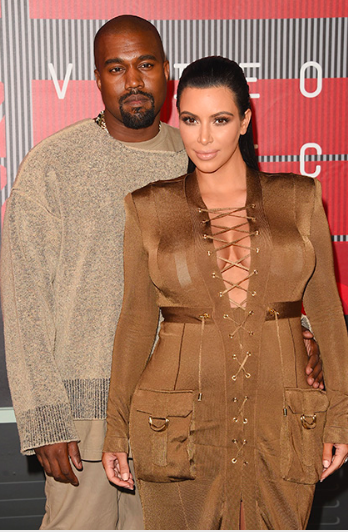 Image from ET Online
Kimye (Kim and Kanye combined) were both dressed pretty horribly at the VMA's, but Kim especially. Her dress looked like something like Robin Hood would wear in the forest while prancing around in green tights. I am strongly disliking this brownish color in combination with the texture/type of fabric. Now that I think about it, it kind of looks something something you'd purchase at the Halloween store. My last comment is: look at those pockets! They're so big and burly….I wonder what she needed them for. I give this look an E. I saved her from an F because every girls loves a dress with pockets (hahaha!).
What were your favorite looks of the VMAs, dear readers? Were you unimpressed, shocked…all of the above?