Before I hit up my local Goodwills, I like to do a little research so I have a general idea of what to look for when finding those trendy looks. I'll hit up a few brick and mortars, check out some of my favorite websites like
Asos
and
Nasty Gal
and cruise through street style blogs. You don't always want to know what your looking for but if you're trying out a specific trend it helps a lot.
Speaking of trends lets talk about the 90's. The 90's are trending so hard right now. It makes me wish I had saved my Adidas slides or my Jansport backpack. They say history always repeats itself and in the fashion world it's usually about every 20 years. It's weird to think that the 90's happened 20 years ago and is now officially vintage. And of course the best place to find your best 90's gear is non other than Goodwill.
My current obsession are dresses from the 90's. The first thing I do when I walk into a Goodwill is make a B-line straight to the dress section. What I look for in a trendy 90's dress is pattern and shape. Does its scream Cher Horowitz or Angela Chase? Plaid…Floral…Oversized…Babydoll…Goth. These are all key words when trying to find that perfect 90's dress.
The look I've decided to show was one of my last purchases from one of my favorite Goodwills in Seattle. I say this because I recently relocated to TX and believe me these dresses are now my savior in this heat. If you live in Seattle or want to visit check out the Dearborn Goodwill. It's HUGE and I never leave that store empty handed.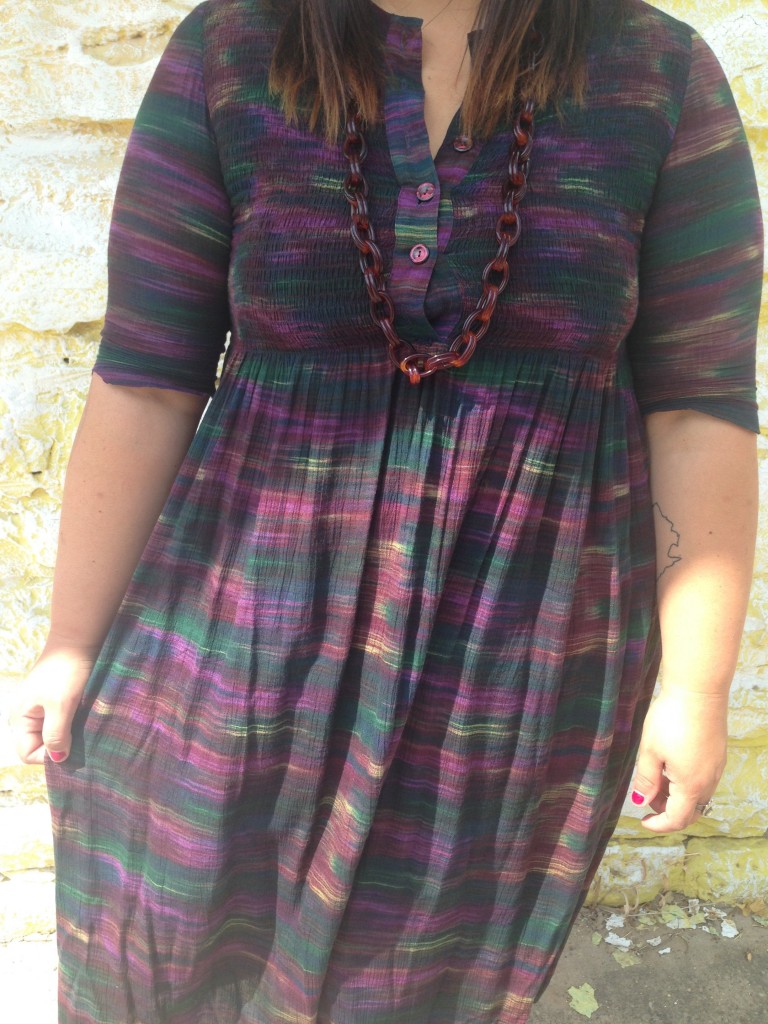 Let's start off with the dress. This mid-length Babydoll 3/4 sleeve beauty by Karin Stevens and designer in NYC. When I googled the label I saw a lot of this brand on eBay and Etsy. Here's your first tip ALWAYS GOOGLE!!! You knows it's good and vintage when you see it on these sights. It has a multi colored stripe pattern. The forest green and plum gives it a dark gothic school teacher look. This dress was $5.99!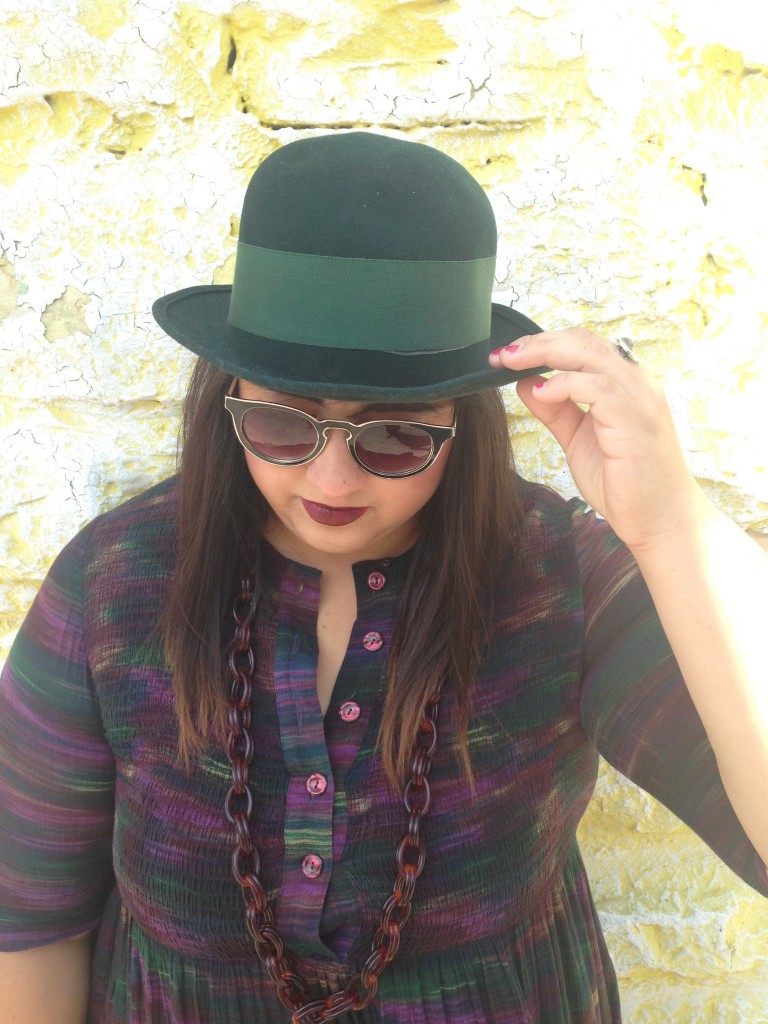 To complete my angsty Angela Chase look I added a few accessories. I paired this dress with a matching forest green bowler hat that I also found at Goodwill. I paid $9.99 for this hat. Hats are usually pricier but worth it. It's by Toucan and when I googled it their hats range from $80-100. So I think I scored on that. Because I own a steamer it also helps with reshaping the hat when it gets dented.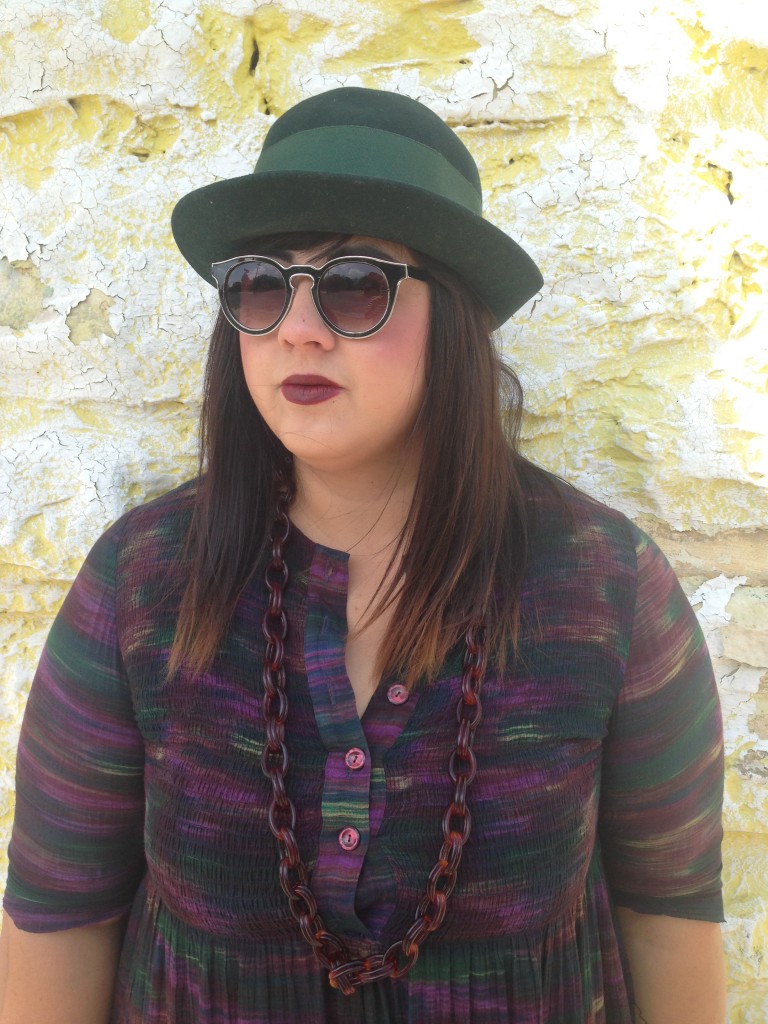 Then I added a simple vintage 70's plastic chain necklace. I know it's from the 70's but to keep that 90's vibe alive, I added what they would be in the 90's which would be repeating fashion 20 years before bringing us back to the 70's. The necklace was $5.99 at Goodwill. The sunglasses are from another shop for $8.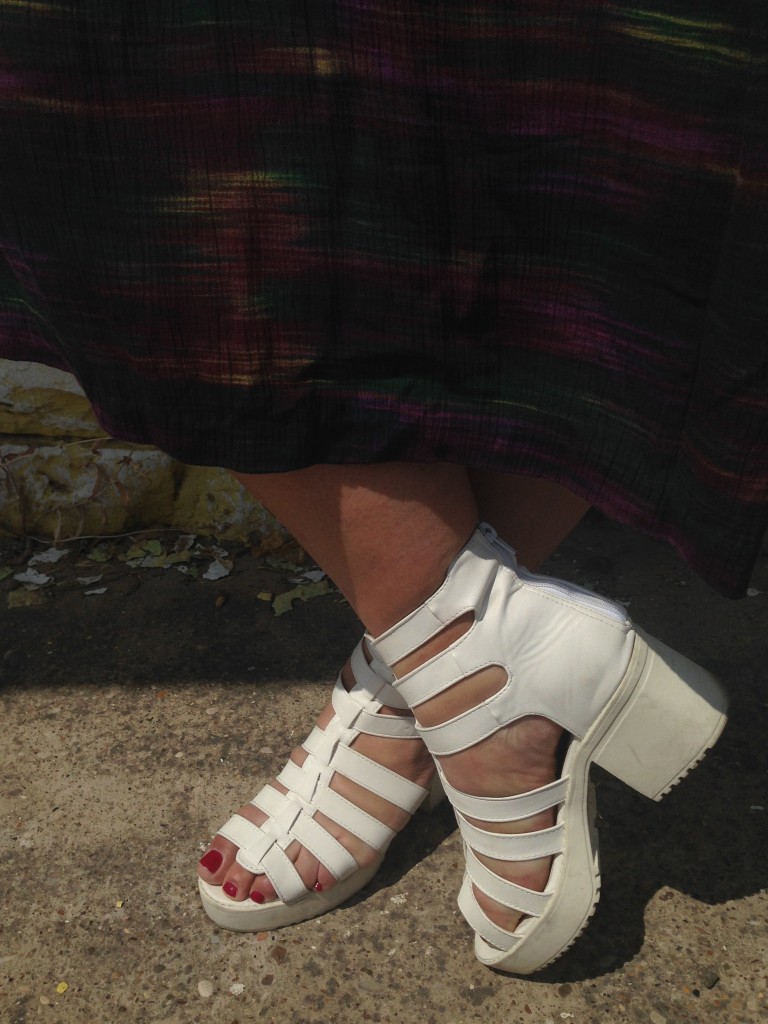 Fisherman Jelly/leather sandals were all the rage in the 90's. These are a modern take on this trend. These white strappy chunky heeled beauties are by Wanted. I purchased these from another shop on sale for $7.98. Even thought it's not from Goodwill, I was still able to get a bargain price!
A 90's look that doesn't break the bank! Are you digging this year's 90's trend? 
My name is Samantha Lopez. I went to school for Fashion Merchandising. I'm a Product/on Figure Stylist. Check out my website www.samanthalopezstylist.com. I am obsessed with thrifting and finding vintage clothing/furniture. My style is all over the place and I like to experiment with crazy things. My favorite piece I've purchased from Goodwill is my Oversized Shag Carpet Olive green Cardigan. For more inspirational looks like this and shopping tips for Goodwill check out my Instagram: The_Gathering_Pine and my Tumblr:thegatheringpine.