I've spent many years going to thrift stores skipping out on the swimwear and activewear sections. I always thought these items were like purchasing underwear and that even after laundering them, they were somehow "tainted". But, after actually searching these sections in recent years, my preconceived notions were totally wrong.
The main reason I started to seriously venture through these sections at thrift stores is because both swim and activewear can be so expensive. As someone who likes to have a million different colors of one type of item, my wallet cannot bear the cost of purchasing 10 pairs of yoga pants at full retail price.
Recently, I've found myself perusing the activewear areas in search of exercise tops and bottoms. I don't really exercise at the gym, so I can't seem to justify purchasing brand new items – I just won't use them that often. However, a girl always needs a collection of exercise pieces, just in case of the unexpected! I just purchased a Groupon for dance/fitness classes, so I've especially needed some garments to work out in style and comfort. Luckily the DC Goodwill stores always have my back; on some of my most recent excursions to Goodwill, I've found some amazing pieces to rock at my classes!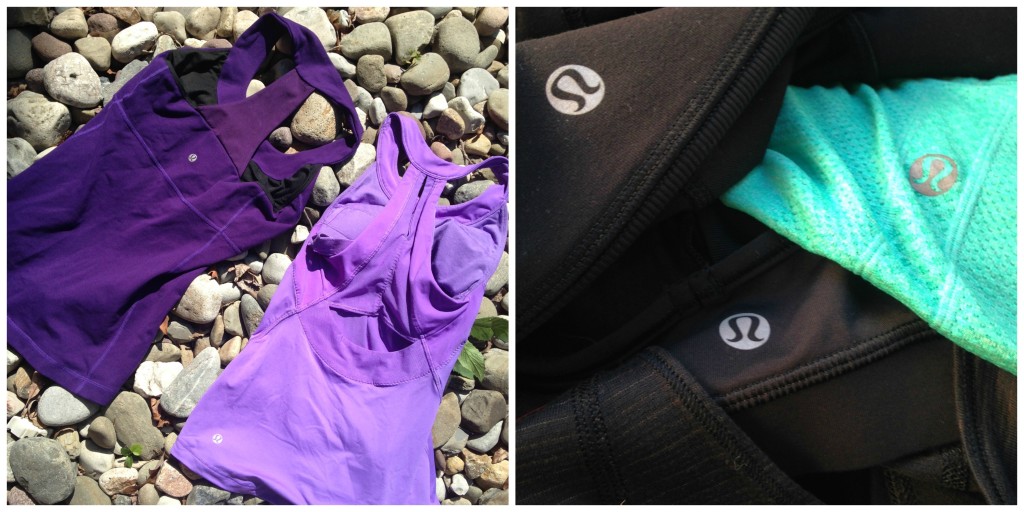 Lululemon, anyone? This brand has recently been all the craze when it comes to activewear and style. It's popular with literally everyone, from middle school students to older women. I don't blame anyone for loving this brand; their garments are of great quality and come in many unique styles and prints. There is something for everyone! Most importantly, their pieces are incredibly comfortable and versatile. You can wear Lululemon for running, yoga, or simply running errands.
This item was scored for $5 and would originally retail for around $60. I love the color of this piece; it's a vibrant dark purple and although I've washed it many times, the color has not faded one bit. This top is also very minimal, which I like a lot. Although I'm not sporting any in the picture, I feel like this piece would go well with a pair of printed leggings. Most importantly, like all Lululemon garments, this top is very comfortable and fits my body like a glove.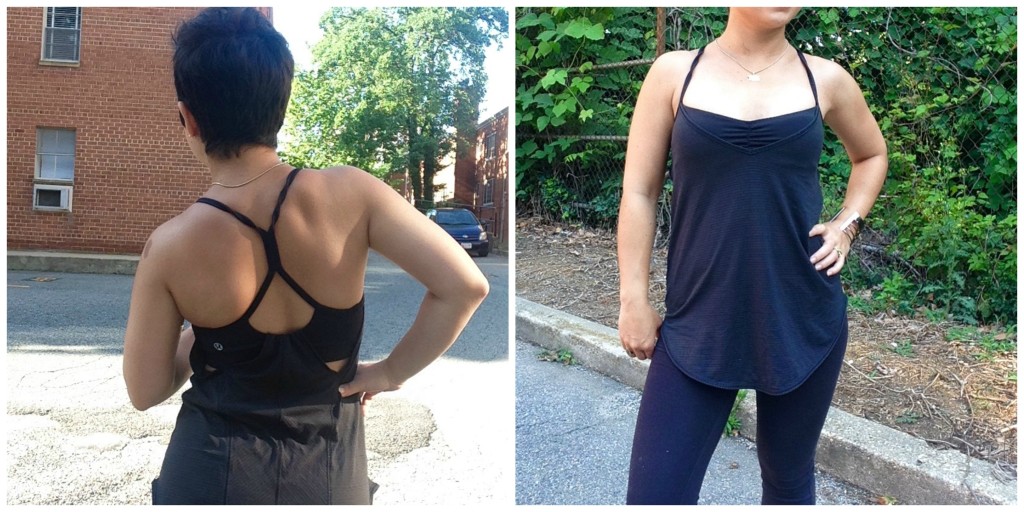 I recently scored this top from the Goodwill in Rockville. It's super comfortable and fits like a glove as well – not much of a surprise there! What I love most about this item is the built in bra that is attached to the outer layer of the garment. It makes this item really easy to sport when being active, and is incredibly breathable. The other day, I wore this top while running errands on a hot day and it allowed me to travel around with ease. I didn't really sweat at all because it was so airy and light, despite the 90 degree weather. I purchased this top for around $5; normally it would retail for around $80!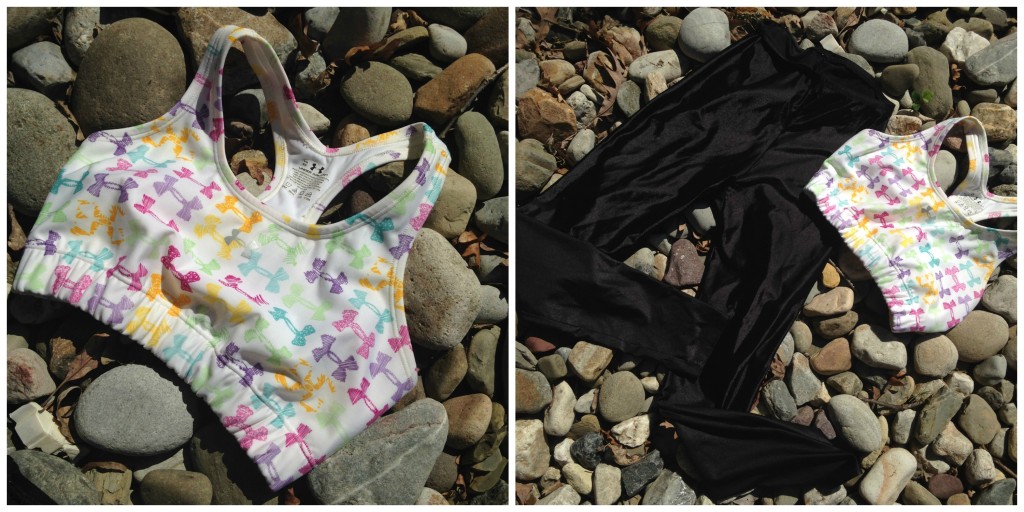 On a non-Lululemon note, I find other items of differing styles and name brands at Goodwill that make me just as happy. I see tons of Under Armour (like the top in the picture above), and lots of 80's gear – which I'm ALWAYS on the lookout for. So if you see any, let me know! I did find some recently, which I'm super excited about. The black leggings in the image above are high-waisted American Apparel style leggings from the 80's. I scored these at the most recent Modage Style Goodwill Bus Tour and have yet to wear them. Hopefully, I'll get to wear them soon at my dance/fitness classes.
Have you been surprised by a recent activewear find? What's your favorite?

Carolyn is a petite fashionista with a knack for all things glamorous and designer. She enjoys making art, going to punk shows, thrift shopping, and walking the cement sidewalks of DC. Carolyn has a fashion blog where she posts her most recent thrift finds: petitepunkindc.wordpress.com