Lately, I've been finding myself attracted to purchasing cross-body envelope handbags or clutches this fall season!
Cross-body bags made the recent Fall/Winter 2015-2016 trend list, but they're not necessarily new to the fashion scene. Designers this year gave some of our favorites from previous years a nice makeover. On the runway we see lots of these hand free bags adored with metal chain straps, animal prints paired with suede or leather, and even buttons or pockets. They're also versatile because you can easily tuck the chains in and use it as a clutch.
We all know envelope bags were big this spring and summer, but as we transition into the fall we're going to see larger sizes. If you think you can't rock these for the office or a nice evening out, think again! Designers have added a nice slip through for your wrist allowing you to hold it in place.
I'm drawn to these particular styles because of their large size. I can fit my wallet, phone, and various items in these purses without scrambling for space. They're also small enough so that I don't have to walk around with a giant tote all of the time (which I often do). The shape is modern yet feminine, and I've noticed they come in various textures and materials. I've seen many girls wearing this handbag on the streets, and while I'm not usually one to always follow trends, this one was especially compelling to me. I love the idea of having a purse that resembles an envelope, holding my belongings.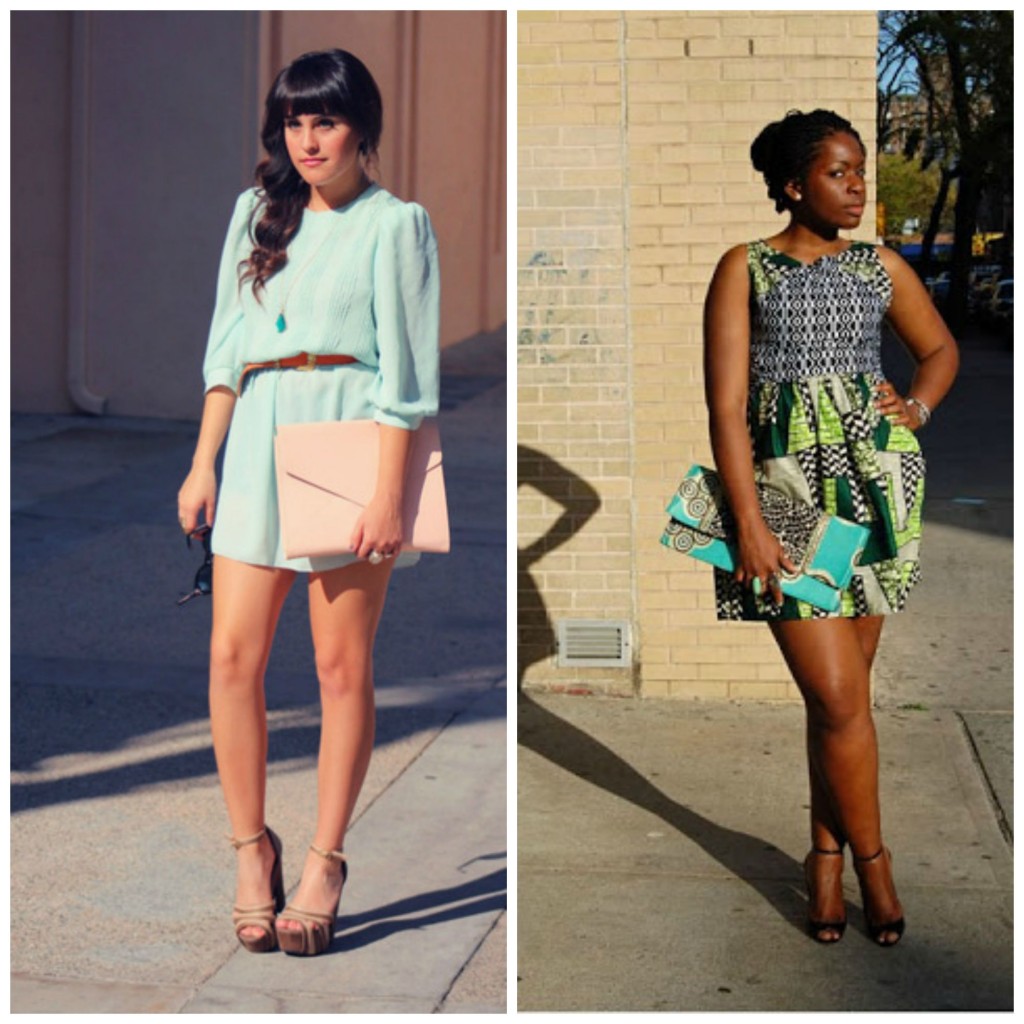 Looks from LPS and MiaLallure
When I'm having days where I don't know how to rock my envelope bags, I look to other bloggers for some pointers. These two outfits from LPS and MiaLallure has helped me figure out how to wear my bags for a few summer and fall dressy transitional looks. I love how both of them are rocking a shorter skirt and using the purses as clutches. I never hold my bags as clutches, for I fear that I'll leave them somewhere. However, these two looks are convincing me to try it out at least once!
I also enjoy how they're both sporting clutches with a color that is not appearing anywhere else in their respective ensembles. The additional color adds a "pop" to the outfit palette and it's working flawlessly. The colors are not too out there and nonsensical — the shades and tones match other elements of the outfits.
Just in time for the season my handbag game at Goodwill has been extremely on point! I must have procured at least 5 new purses within the past month, and I'm very excited about it. I've been on the hunt for purses to spice up my collection, and luckily, I have not come up short.
Let's take a look at these trends from the racks of Goodwill to my closet: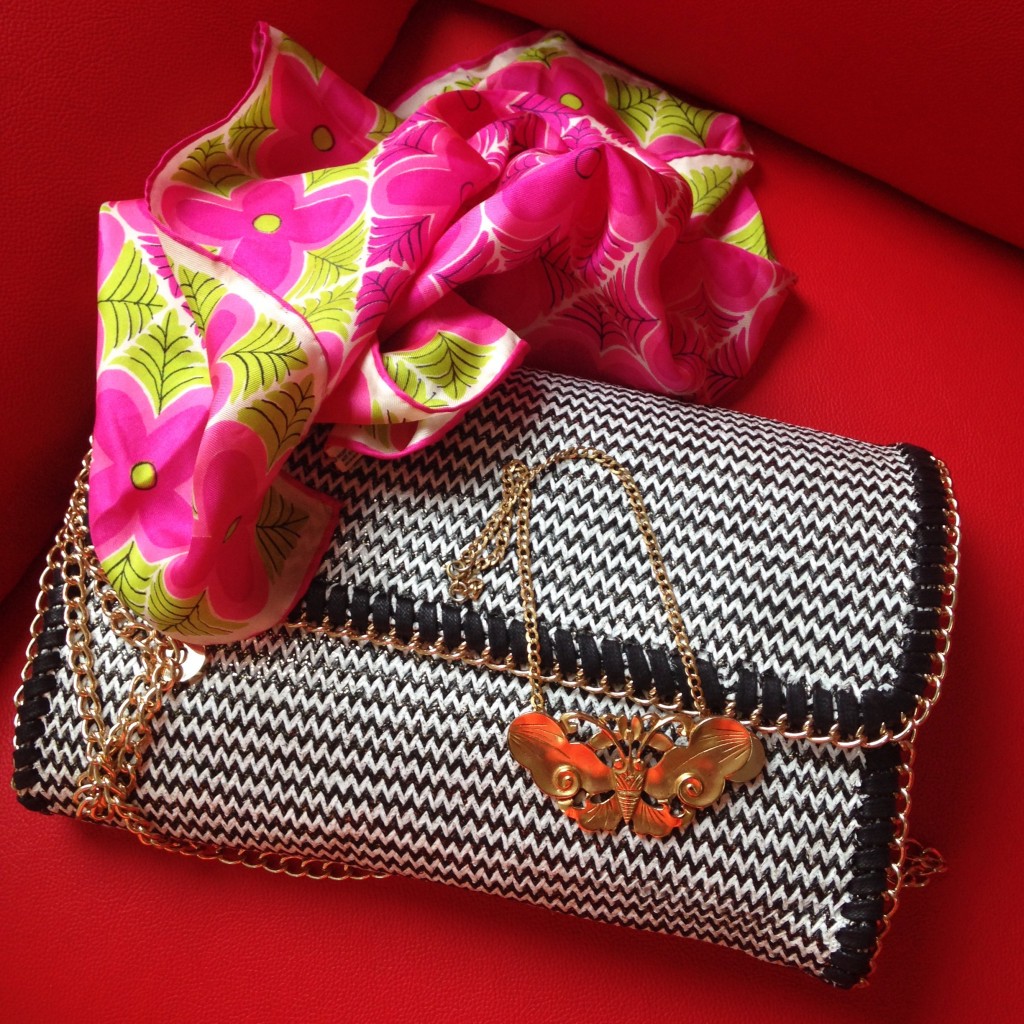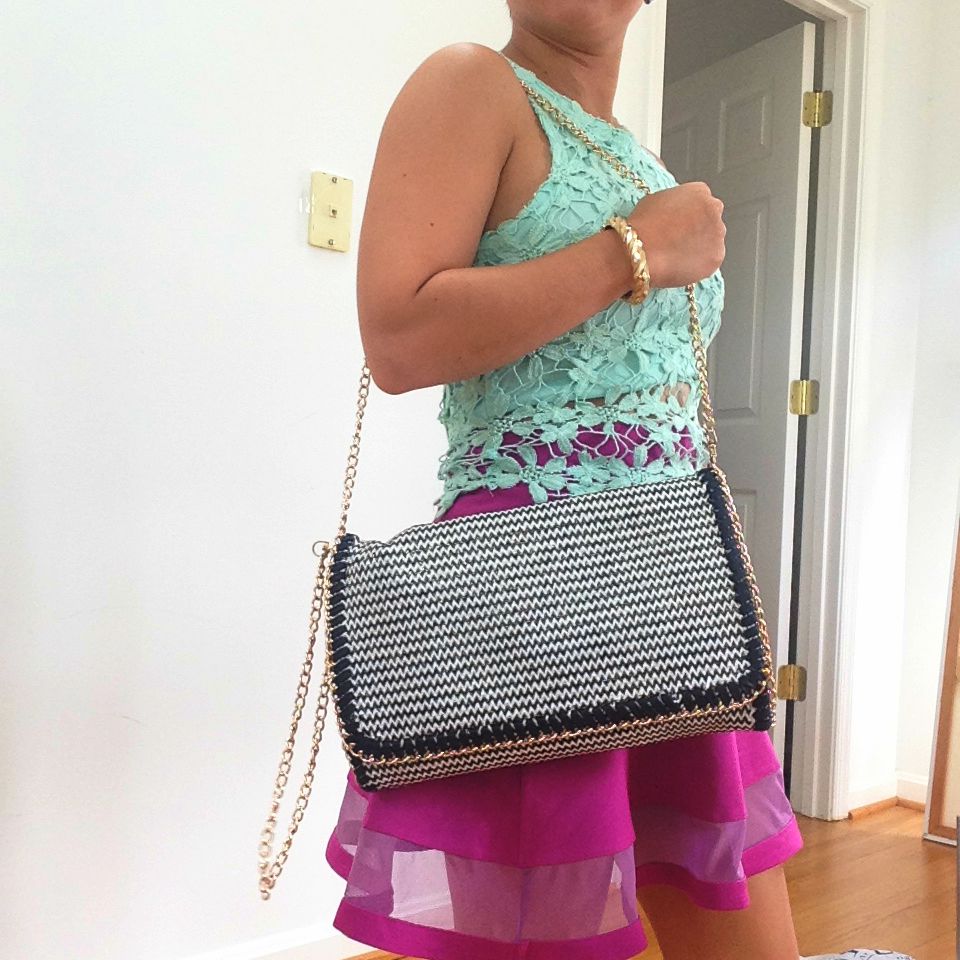 I scored this black and white one this past weekend from our Gaithersburg store. It was brand new with tags and cost me about $5. Looking it up online, I found out that it's from Nordstrom and originally retailed for around $80.
What I love about this purse is that it features my most worn colors and shades: black, white and gold. It matches literally everything I own! I will definitely get a lot of use out of this beauty! I also like the chain strap and detailing throughout the bag for it's a bit edgy yet sturdy. Usually chain straps hurt my shoulder because the metal digs into my neck. Luckily, so far, I've experienced zero pain or discomfort! To top it off, there are little gold specks through the black and white weave of this purse, flawlessly tying in the gold of the chain throughout the whole handbag. I love details and attention such as this!
How would you wear this bag, dear readers? I think it could be worn during the day or ESPECIALLY on a date. It's casual with the woven detailing, but fancy with the gold elements!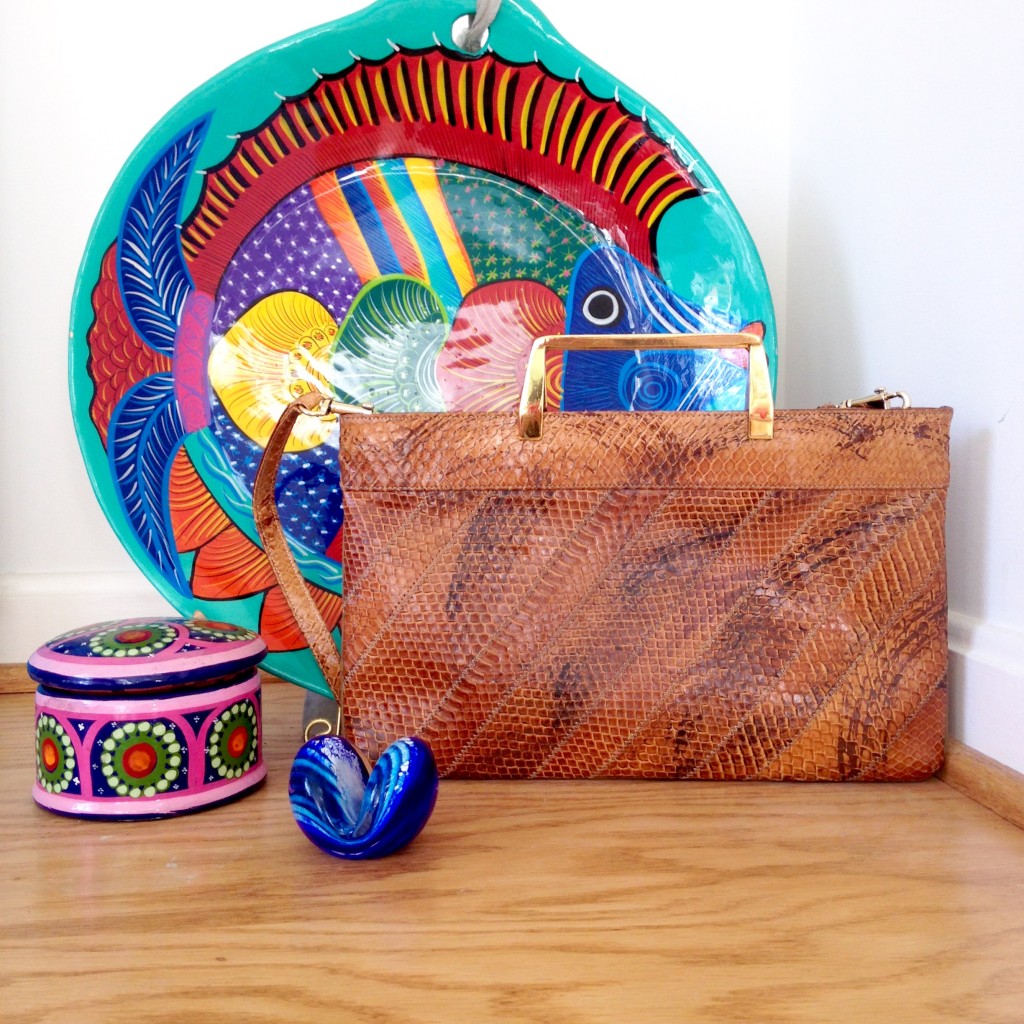 This one is vintage, baby! Although it's not exactly an envelope style purse, it still has the shape. This vintage 1970's snakeskin beauty with brass handles was scored at the Rockville location for around $5! I don't usually wear anything that's brown, but this bag seems to match almost everything I own. My favorite part about the bag are the brass handles. It's a great quality bag and has a shape that I don't see on bags very often. The size of the bag is a bit smaller than what I'm used to, however, it still fits all of my junk (haha!).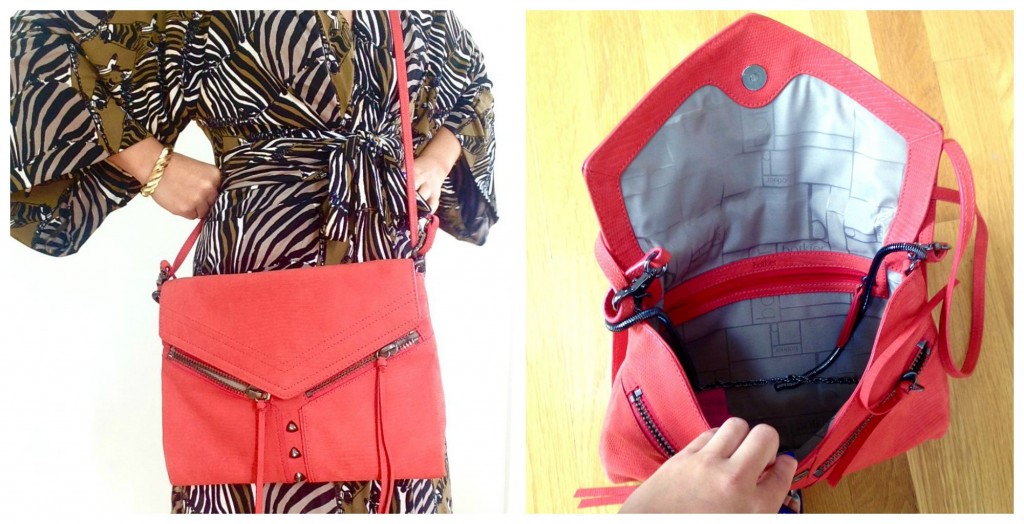 Finally, this third treasure and another envelope bag is one that has sat in my closet for the longest time..until this year. I had no idea how to wear it with the reddish pumpkin color and gunmetal colored hardware. I was stumped. I never got rid of it though, because it's real leather, and is by a designer called Botkier. Originally, this bag was around $300-$400 bucks! I scored it at last year's Goodwill Trunk Show in Chinatown.
Luckily, I've given it a chance this season and have been wearing it a lot! I usually add it to an all black outfit; I think black is a great canvas for items that you're not sure how to wear.
What do you think about these fall handbag trends? Would you consider adding it to your collection?