Every time I see Lululemon items on the racks at Goodwill, I scream inside with oodles of excitement. My eyes light up and I do a little jump because I know I've found a treasure.
Today's My Goodwill Find surely made me feel the emotions above and more.
Although they've been having a few issues in the media lately (don't all brands?), Lululemon is my all time favorite brand for purchasing workout and activewear.
Their styles are unique, the cuts are flattering, and their garments are typically incredibly well made and withstand the test of time. I actually have many Lulu tops in my closet, which I wear to dance classes, fitness classes, and simply out on the street. The tops are so cute and versatile that they can be virtually worn anywhere.
Today's Small/Medium (more on the medium side) top is a vibrant turquoise and gray top, made of Lululemon's signature stretchy, comfy, and snug material. There's a little pocket on the bottom, which is perfect for placing money and other tiny knick knacks.There are no bra pads in it, which is fine, because you can wear a simple sports bra underneath with no issue.There are elastic scrunchy details all through the top, making it not-so-basic, and flattering in all the right areas.
And top like this….wait for it….originally retails for upwards $80. Yes, you heard me. That's almost a $100 dollar bill! Thus, my Goodwill find is undoubtedly a treat.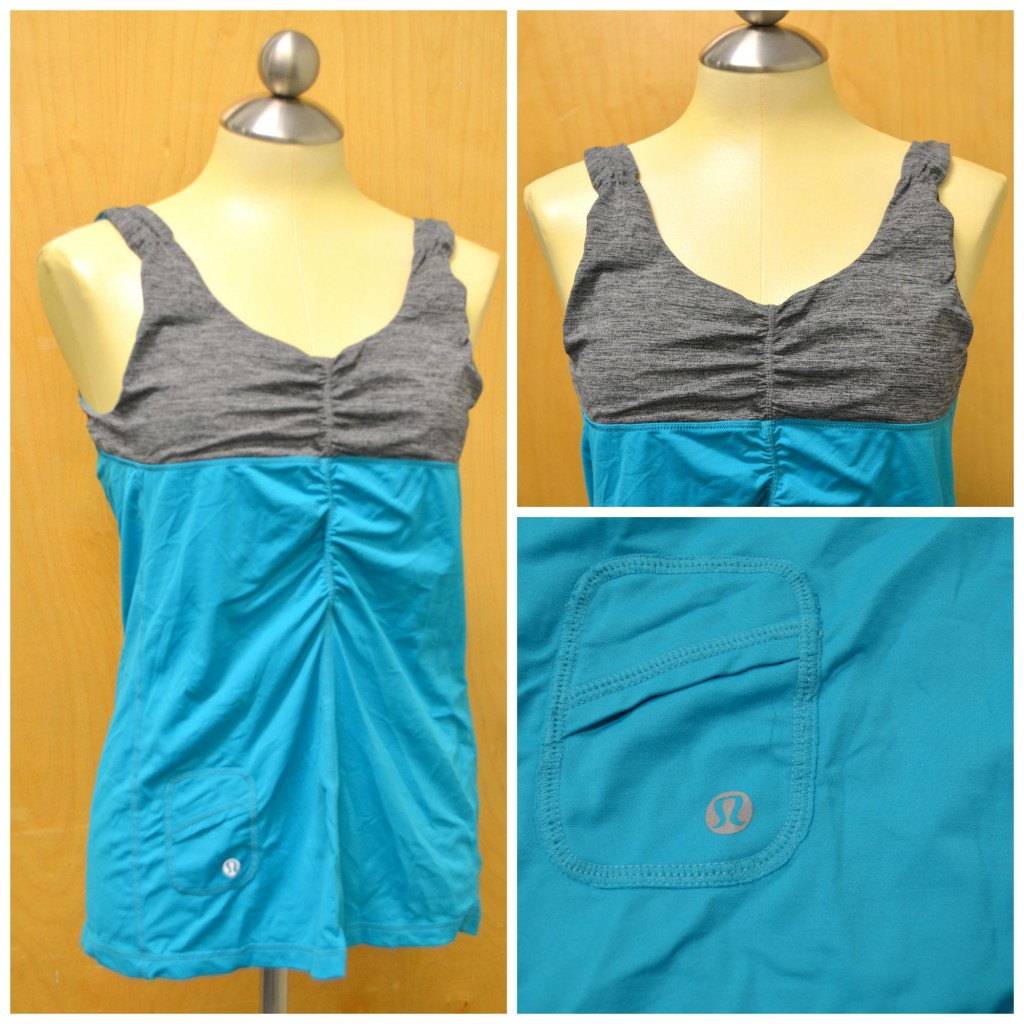 One of my main mottos with workout gear is: wear what you want.  
When working out, going to the gym, or embarking on a long run, why not look fashionable, cute and push the edge a little bit? You're already sweaty and going a bit out of your comfort zone. Why not just embrace it?
Therefore, for activewear, I love to mix and match my gear no matter the climate or type of exercise I'm engaging in. Workout gear these days is so super fun and playful that I try to celebrate it and buy whatever looks interesting or unique.
That being said, with today's Lululemon top, I would either go simple yet chic OR very playful n' unique.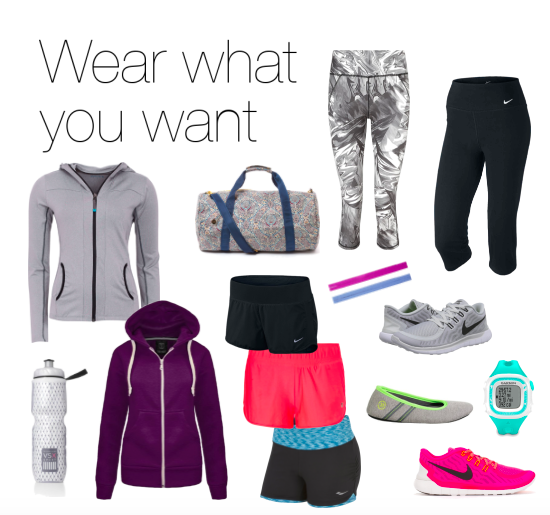 Image by Polyvore.
For a playful look, I'd go full force with color and patterns. To complement the bright turquoise, a peachy salmon color, or bright pink would add a nice touch; the warmth of the colors would vibrate with the coolness of the turquoise in a compelling and eye-catching manner. I'd also jump for a pant or short that has a funky or mod pattern, such as gray. Prints containing grays, pinks, oranges, and blues would definitely look nice and cohesive. They would all add an artistic element to the more basic Lulu top.
A simple look will also be successful! If you don't want to draw too much attention, black leggings are a safe bet and quite easy to find. Colors like grays and blues to match the top would also look nice and classy…but don't go too matchy matchy! You don't want it to look forced!
My color sensibilities from both types of looks translate to various gear: jackets, leggings, shorts, tanks…the possibilities are endless. And it doesn't just stop at clothing. I try to mix it up with headbands, water bottles, shoes, totes and duffle bags too.
When I work out, I want to have a bit of fun and really get into my exercise. When running, I listen music that gets me pumped. I want my gear to do the same thing. I want to feel confident and at ease….all knowing that my "fancy" gear was purchased for almost nothing and that the money I did spend was creating jobs and other opportunities in my community! Have fun with fitness!
What type of gear do you like to sport while working out? Do you prefer to go for a simple look or a more playful one?