Any seasoned Goodwill Fashionista knows shopping can be tiring! It takes a lot of focus and stamina to have a successful visit, or visits in my case!  In order to move seamlessly and energetically from one Goodwill to the next, one needs to be in a great mood, comfortable, hydrated and well fed!  Saving money on gas and being chauffeured in a luxury tour bus also helps!
The Modage Style Goodwill Bus Trip had all of this in mind!  Being new to the DMV area, I jumped at the chance to attend this trip and shop with like-minded fashionistas!  Being a full-time student leaves me with a small clothing budget and little time to explore the area for secondhand clothing stores so I was super excited to attend because the trip was all planned out for me!  I could relax, munch on goodies, chat with other fashionable fashionistas, and shop!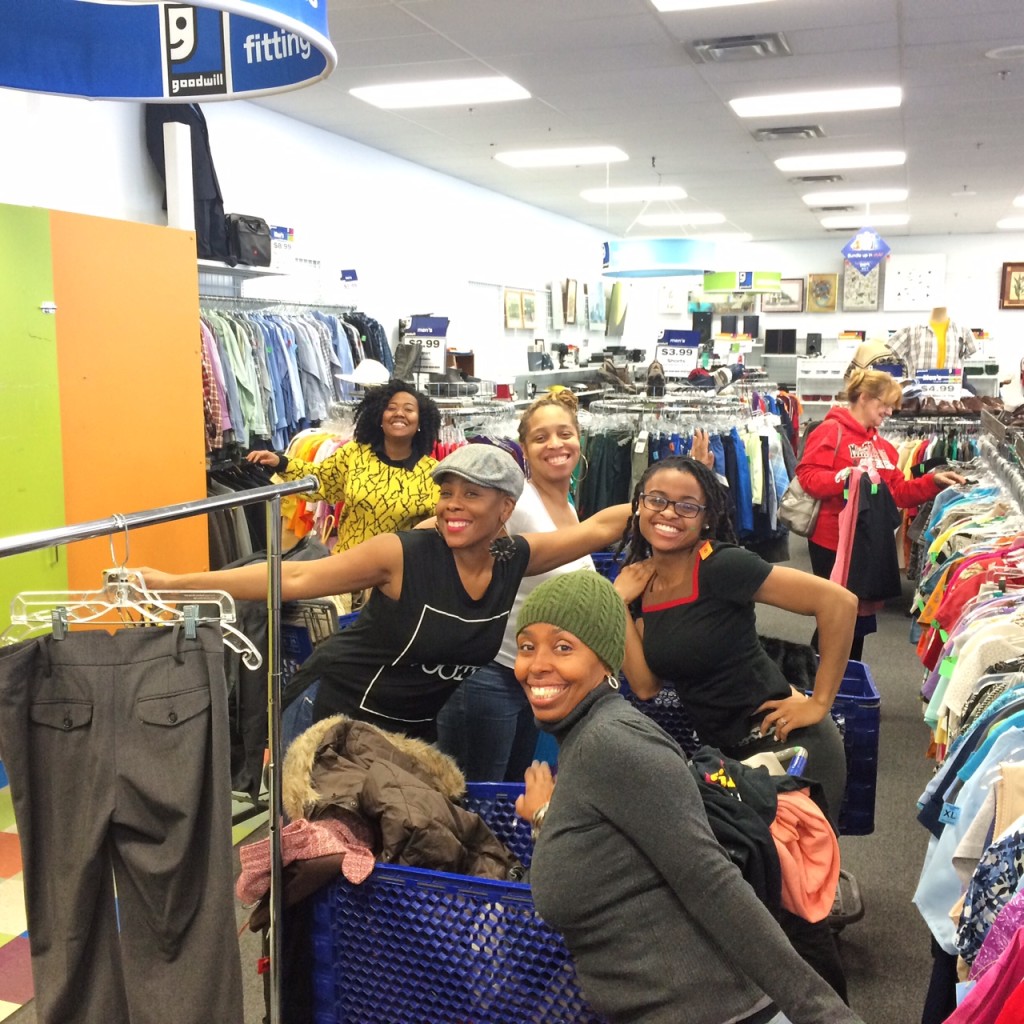 My fellow fashionistas and I felt like VIPs that day as we stepped off of our tour bus and strode into different Goodwill stores that awaited us.  Curious shoppers were baffled by our luxurious transportation-some asking if we were out of towners, while others asked if we "were just riding around in a bus all day?" I sensed that the former was disappointed to hear that we were mere locals, and that the latter, clearly did not know what they were missing!
Goodwill is one of my favorite places to shop since I have a very limited student budget.  I can always find basics like denim jeans, blouses, sweaters, and dresses.  When I went on the trip, my goal was to purchase professional clothing for my upcoming summer internship and networking events, as well as comfortable stylish clothing to wear to school.
My fashionistas and I made off like bandits that day-looking out for one another, making fashionable suggestions and even pulling fabulous items for one another if we thought it would look great on another gal!
Check out my looks put together from the items I purchased on the tour!
Here, I added a red braided belt that I already owned, for a pop of color to this light blue and white lace striped Madison Leigh dress.  I pulled this look off with three different shoe options (white leather cap toe espadrilles were 12.00 from Target; Sandals were 12.00 from Payless; New Balance sneakers were 60.00 from Champs Sports).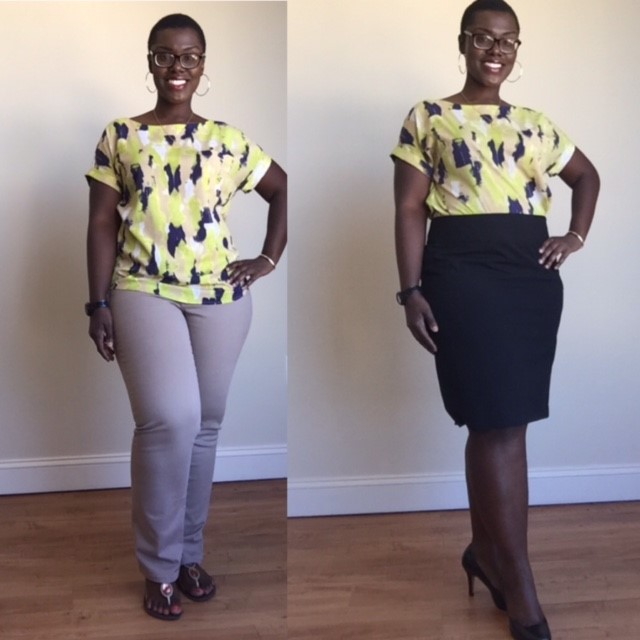 Total Weekend Look= $10.00     Total professional Look $9.00
(minus the shoes)
This Ann Taylor Loft blouse gave me a double bang for my limited buck!  It easily pairs with this khaki colored Lee stretch jean (left) for a comfortable weekend outfit or with this Black Banana Republic pencil skirt (right) for a breezy professional look. (Sandals were 12.00 from Payless and Cole Haan Nike Air pumps 50.00 on eBay.)
This was one of my favorite looks this summer! This completely put together professional look was achieved by pairing an off white vintage blouse with a black Ann Taylor Blazer, and a black Express mermaid skirt.
This look almost didn't happen until my fellow fashionistas convinced me to purchase this top!  I am so glad that I took their advice!  The coral mandarin collar Calvin Klein ruffle blouse is paired with the Express mermaid skirt again.  This look is professional enough for the office but fancy enough for dinner afterwards! (Shoes were $10.00 from Nine West Outlet)
This beautiful orange Banana Republic cardigan kept me warm in my air-conditioned office this summer, but I know that I will wear this well into the fall.  It coordinates nicely with this Ann Taylor necklace that I previously purchased from a Goodwill in New York. The Old Navy white t-shirt underneath and the Banana Republic pencil skirt were regulars this summer during my internship as well!
I took a risk on this look, opting to purchase this multicolored Aztec like print H&M cardigan. While it was off of my style radar, it had much potential, as long as I kept the rest of the outfit simple.  I paired it with the white Old Navy T-shirt and an INC curvy denim jean.  This is comfortable enough to wear to school but stylish enough to hit up the movies afterwards. (Perforated Dolce Vita shoes were 25.00 from TJ Maxx)
My mission was accomplished as I walked away with a new wardrobe, which I could mix, match, and create plenty of looks I still had money left in my pocket, and even made some new friends! Needless to say, I am looking forward to the next shopping tour!
For the September 20th Goodwill Fall Shopping Bus Tour register here: goodwillstyletour.eventbrite.com

Erika is a student and native New Yorker with a passion for all things fashion, style, and beauty.  When she is not beating the books, studying hard, or taking part in her student government, she can be found shopping, looking for bargains, watching Goodwill hauls on YouTube, and trying to recreate vegan meals.  Find her on instagram @youngladyscloset