Over the past year, I seem to have phased out wearing cardigans in favor of rocking blazers, big open sweaters, and jackets over sleeveless tops.
I still have them in my wardrobe, tons actually, but I somehow completely forgot about them as a wardrobe options. I guess we all go through phases, right? This one was mine.
Despite that, one of my goals this fall is to start wearing cardigans more often. I've always loved them, even if I haven't worn any recently. They're breezy, come in all shapes and sizes, and are quite versatile. You can find them in virtually every color and fabric, making them a classic garment that will never EVER go out of style.
In order to start my season off on the right foot with cardigans making an appearance, I've done a bit of digging to find out many ways to wear these fashion staples. I've come to realize that they don't have to just be thrown over a dress or sleeveless top because you're cold, they can be worn many different ways and play a large role in your outfit.
1) When you're feeling hot, you can wear a cardigan as a vest-like addition to your ensemble. 
This styling of the cardigan is very unique and out-of-the-box. A friend taught me this styling method in middle school and I've been hooked ever since.
What I love about it is that it's a perfect way to get your cardigan off your arm when it's warm out. I've lost many cardigans on the metro because I couldn't fit it in my tiny purse. With this fashioning, you're keeping your treasured garment off of the floor and a new funky addition to your ensemble. In fact, some might not even realize it's a cardigan and believe it to me an intentional portion of your outfit!
Admittedly, it might take a few tries to tie a cardigan around your neck like this at first, but you'll get it down. It's quite easy. You can also do this with any type of long sleeved button-up too!
2) Wear it as a bow around your purse.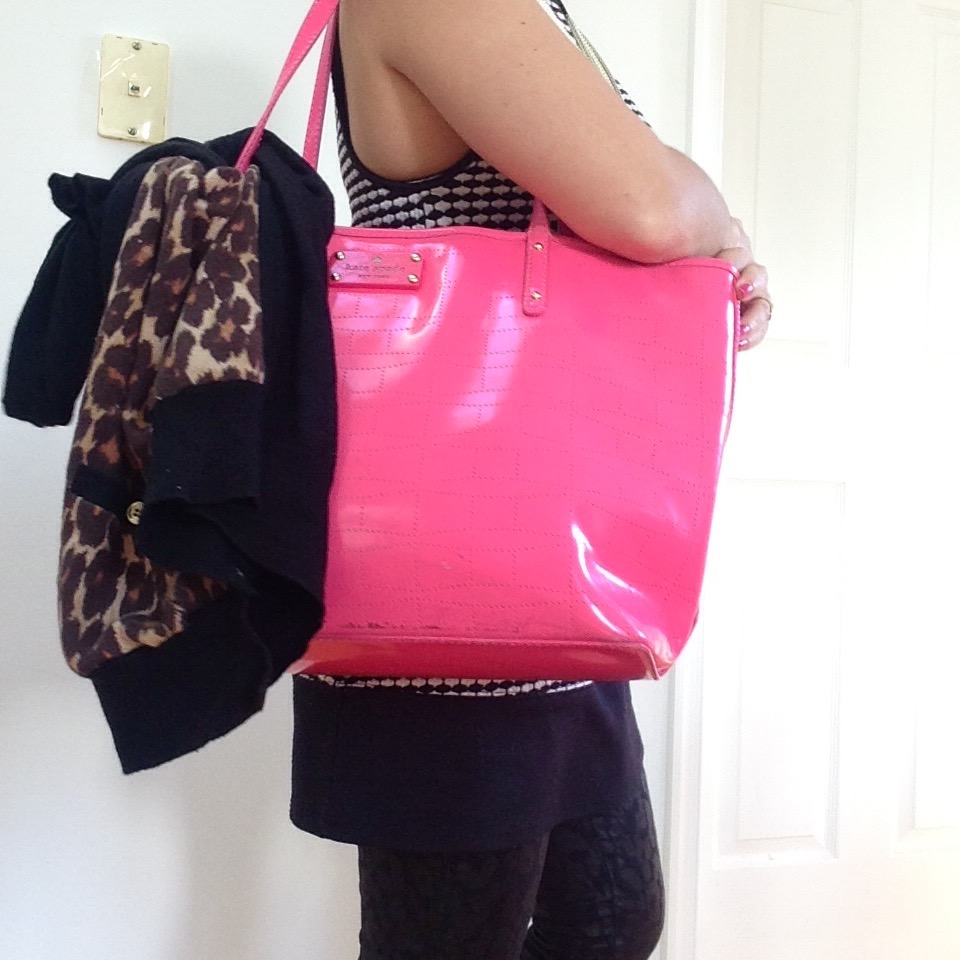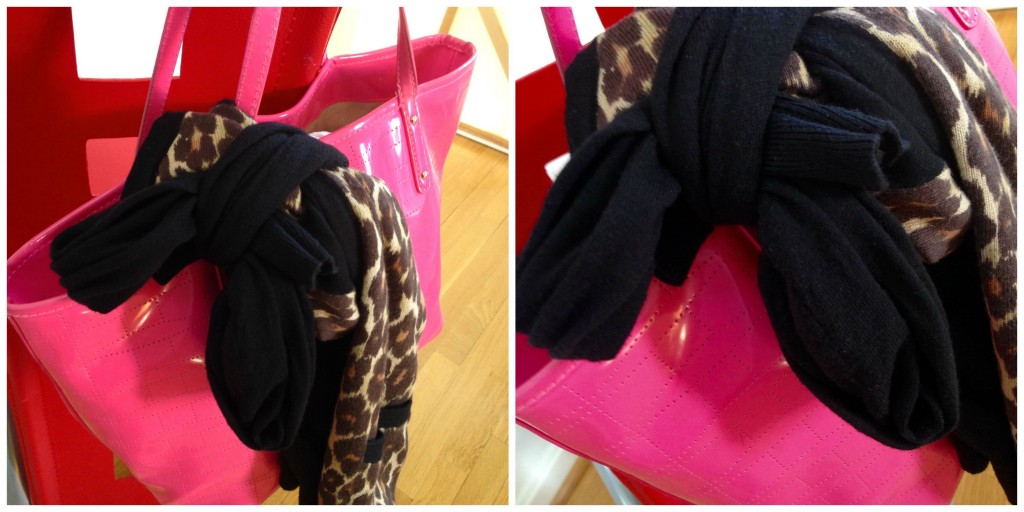 This is another way to get that cardigan off your arm, and in a place that won't get lost.
You know how some ladies wear scarves around the handles of their purse as a decoration? This is the same thought process here. Looping the cardigan like you would a scarf will add an endearing and playful element to your satchel or tote. As a warning, I wouldn't do this with a cardigan that's too bulky or delicate. Do it with a basic cardigan that can withstand being tied a few times. No serious damage will occur from this method, however. Phew!
3) Always, do some pattern mixing.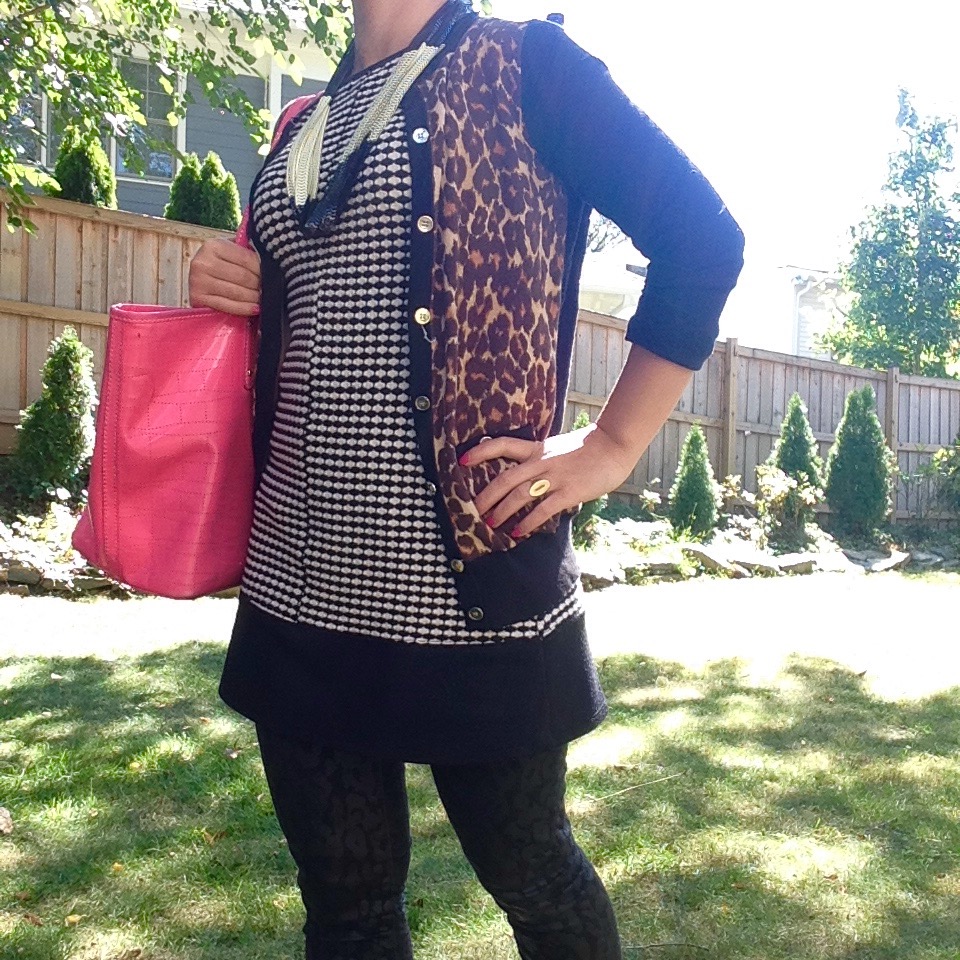 Just because it's a cardigan doesn't mean you can't have fun with it! Mix some patterns, baby!
Pattern mixing with a cardigan is the same way you'd pattern mix with any two items. Pair like colors and patterns together…..florals and stripes work…stripes on stripes….the whole nine yards. I would suggest playing around with items in your closet to see what works. Just try some pairings out, even if at first you think it will look silly. Some of my best pattern mixing is a result of me tossing items out of my closet getting ready for work, and letting them fall on the floor next to one another. It's like a collage!
 Do you have any tips for wearing a cardigan this fall, dear readers?