Dearest readers, as much as I love sandals and wearing them all of the time, I know that I'll have to retire them as the cooler seasons make their way to the DC area.
In my opinion, sandals are the shoes for spring and summer. They're breezy, usually comfortable, and allow your feet to breathe. Even if it's raining out, you can wear sandals; because when the storm clouds clear, the warm temperature will dry off your feet.
In the past year however, I've seen more and more women wear socks and sandals in the fall and winter. Not with open exposed feet though; instead, with socks. The socks are used to keep your feet warm, and add another component to an outfit. Oftentimes, I've seen everything from flat-footed to platform heel sandals worn with frilly, sheer, chunky, colorful, black, thigh-high, or small types of socks. The trend has appeared not only on the streets, but on high-end fashion catwalks from big names like Marc Jacobs and Prada. Both these brands often mix prints of socks and sandals together.

Image from Searching for Style
I think they all look silly. It's a fashion no-no!
Socks and sandals to me not only look off, but the trend seems so impractical.
What if you get your socks wet? They certainly will not dry off very quickly.
And what if they get dirty? Your feet get dirty when wearing sandals, but that's the nature of wearing open toed shoes. Socks, on the other hand, I would think can get very dirty very quickly and then you're walking around in dirty socks all day. Gross! Also, what if the sock attracts something grody. Will the dirt come off? I cannot justify paying a lot for a cute pair of socks, only for them to become filled with street grime.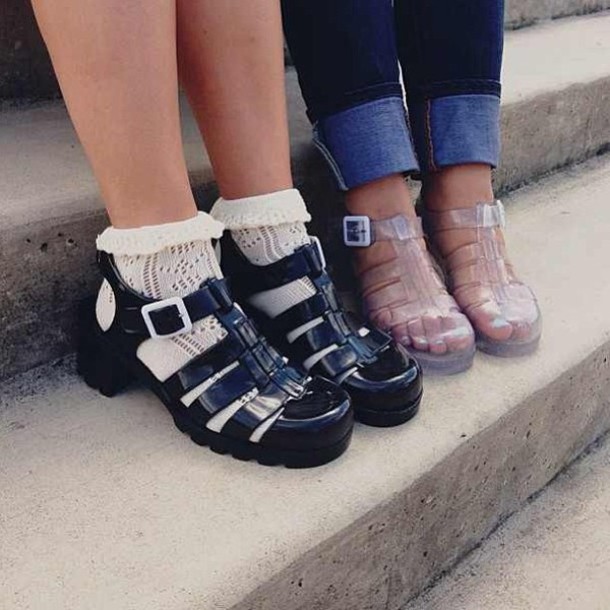 Image from Artistic State of Mind
95% of the time, I see jelly shoes being worn with socks. People complain already that jelly shoes get hot. So why would you wear socks with them? I can imagine your feet would feel like they're in a furnace, and that sounds far from comfortable and practical.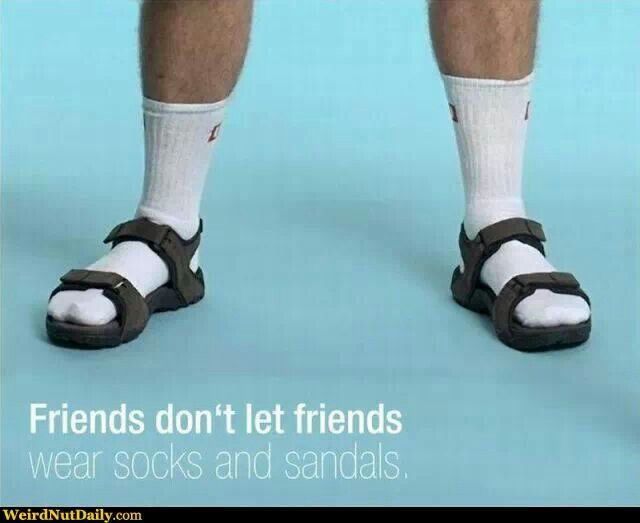 Image from Weird Nut Daily
Most importantly of all, socks with sandals reminds of something that high school boys wear after playing sports or older men wear with Tevas. When I see ladies wearing this look, I can't help but wonder if they were inspired by fashion-less and immature 15 year old boys or weird older guys.  I never understood those trends, and I guess I'll never know how it really originated! (Wikipedia says that the Romans actually might've sported this trend centuries ago-ha!).
Which side are you on? Is this a fashion faux pas, or fashionable?