"Follow your dreams. And just pursue it – regardless of what people say, regardless of how old you are – cause there's no limit to it." – Troy, Artist, Poet, Rapper, Goodwill Excel Center Student
Growing up, Troy was a quiet guy. However, his mind was electric —formulating ideas, prose, and unique artistic visions at a mile a minute.
To this day, his visionary spark is still alive and well. After an array of life experiences, he's been able to thoughtfully come out of his shell, creating art for the world to see, and even hear at the Goodwill Excel Center's first ever talent show in late 2019. A poet, musician, visual artist and chef – Troy's creativity captures all the senses.
—
For this edition of, "Student Style," we sat down with multi-talented artist and GEC student, Troy, to learn more about his ever-evolving artistic practice, creative inspiration and experiences as an adult learner, dedicated to earning the high school diploma that truly he deserves.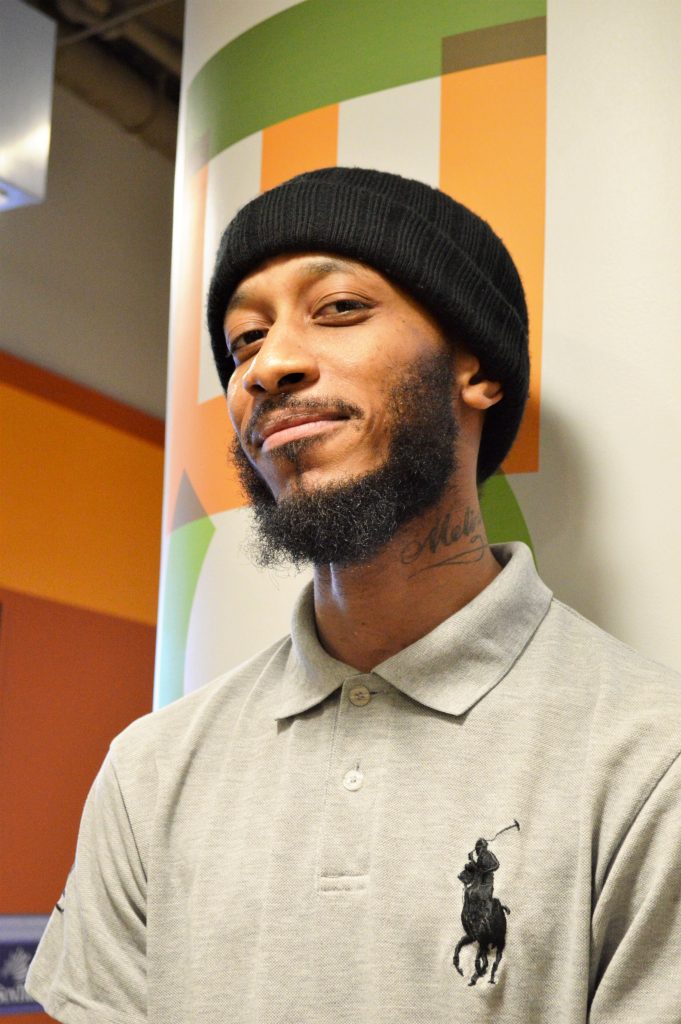 —
The Roots of Troy and Birth of His Love for Cooking
Born in Belize, Troy's life began with a deep love of family and an appreciation for his various culturally-rich surroundings.
It was then and there where he first found his appreciation for flavorful cooking, abundant in Central American spices and scents.
After many years of growing up in Belize, Troy moved to the US with his now three sisters and six brothers, living in places like New York, Maryland and now, DC. In each place he's lived, Troy has carried his love of culinary experimentation, polishing his kitchen talents with the guidance of his grandmother. Oxtail and stewed chicken are just a few of the dishes that Troy now confidently and carefully constructs.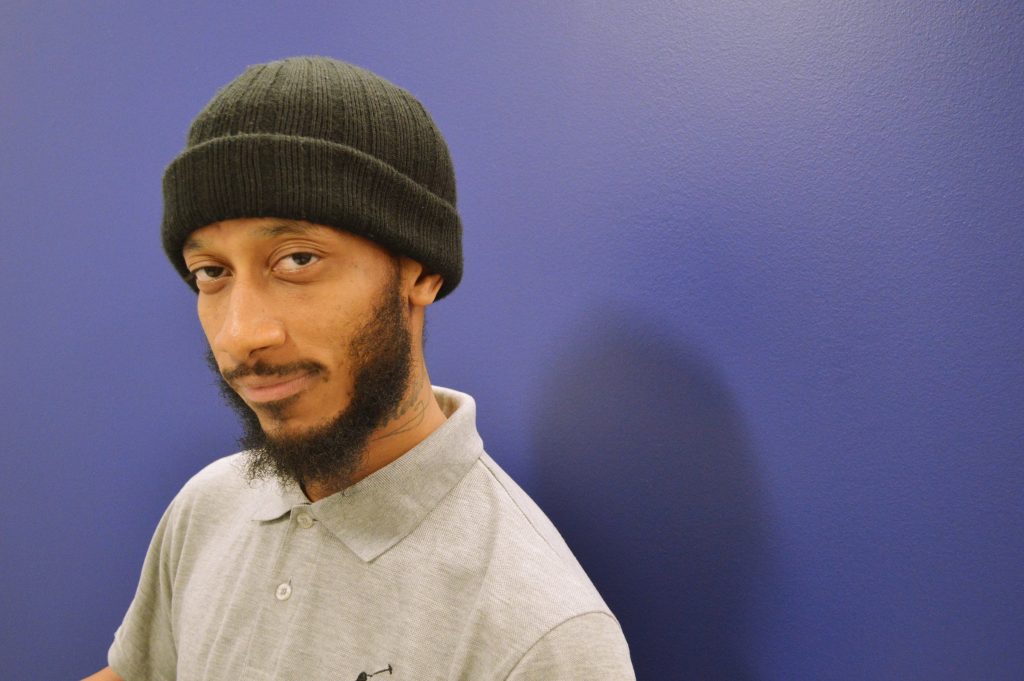 Troy's travels were an integral time of growth during his journey of becoming an adult and prolific artist. In each place he's lived, there have been moments of struggle and hardship. There were times when Troy couldn't focus on his future. Life happening behind the curtain, outside of the walls of any classroom, moved his focus from school to just getting through the aspects of daily life.
But it was this time, these struggles, that have shaped Troy into the man that he is today. These painful, sometimes conflict-heavy times, have inspired him to write, to rap, to cook – to create. Although he didn't formulate art during his years of finding solid ground, they without a doubt are a reason why he is now so bountiful within his artistry.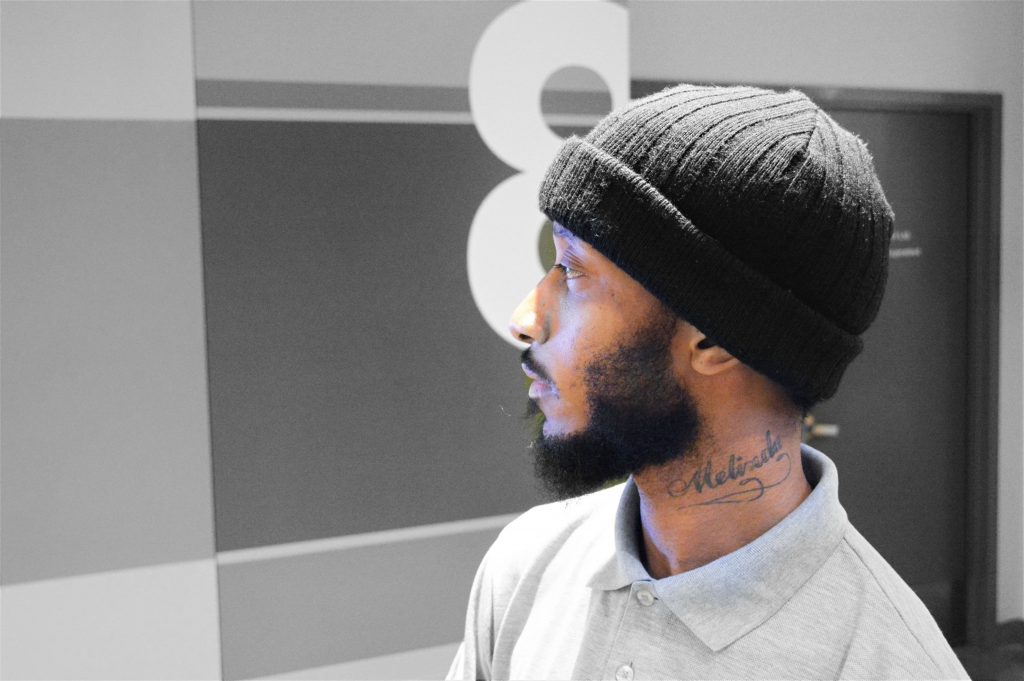 An Eloquence in Words and Visual Composition
Artistic Practice
Stories and emotions are not only told through his culinary creations, Troy communicates his inner thoughts through poetry, rapping and drawing.
As the title of this article states, Troy's artistry is fueled by the real moments in life, both positive and challenging.
During this interview, he shared many drawings with us to illustrate his dynamic talents.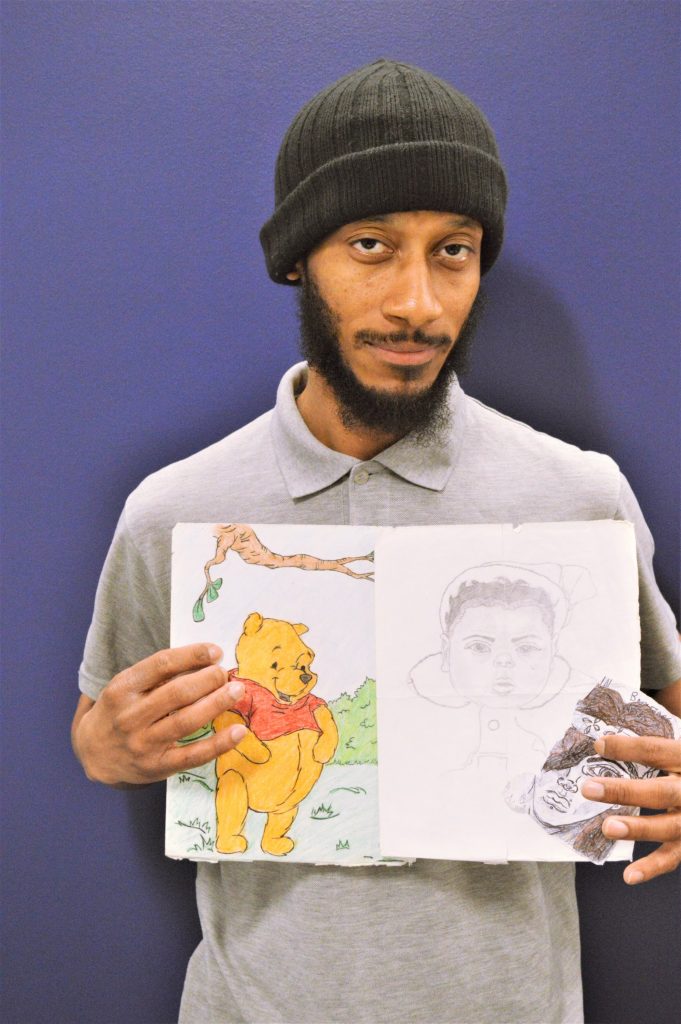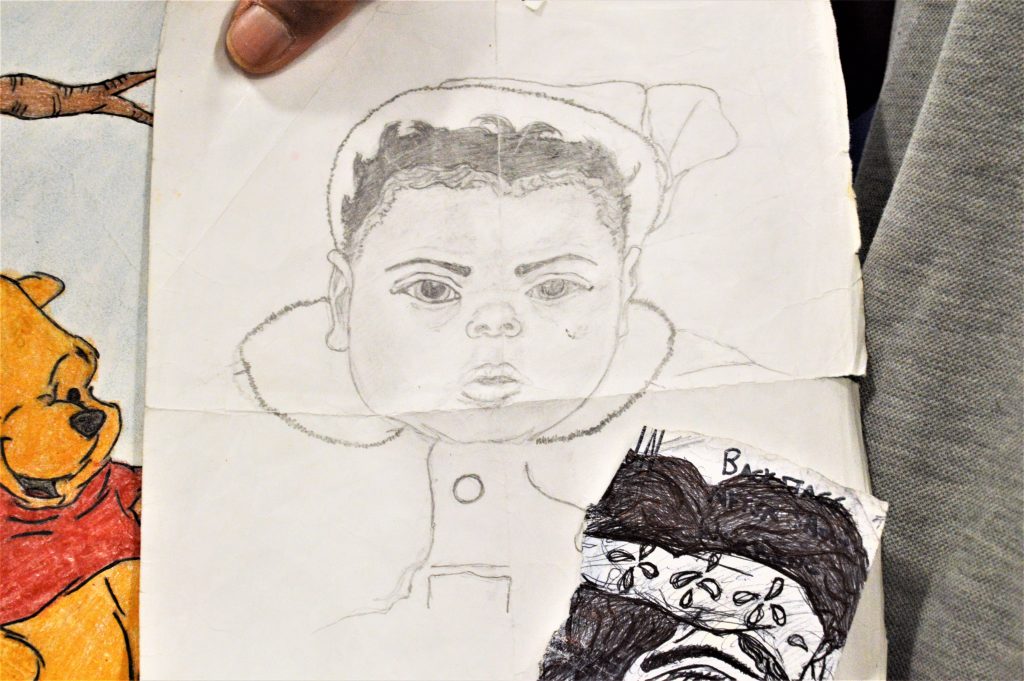 Among his works of art, we were particularly draw to the photo of his best friend, where he captures her confidence, fierce aura, and beauty, through expressive line work. Her eyes especially are full of life and feeling.
This small delicate drawing that fits within the palm of one's hand was crafted while Troy was on break at his job. With a pen and paper, he let his imagination come to life, allowing his creativity to take the lead. Although this drawing was created years ago, he carries it in his wallet to uplift him when challenges arise.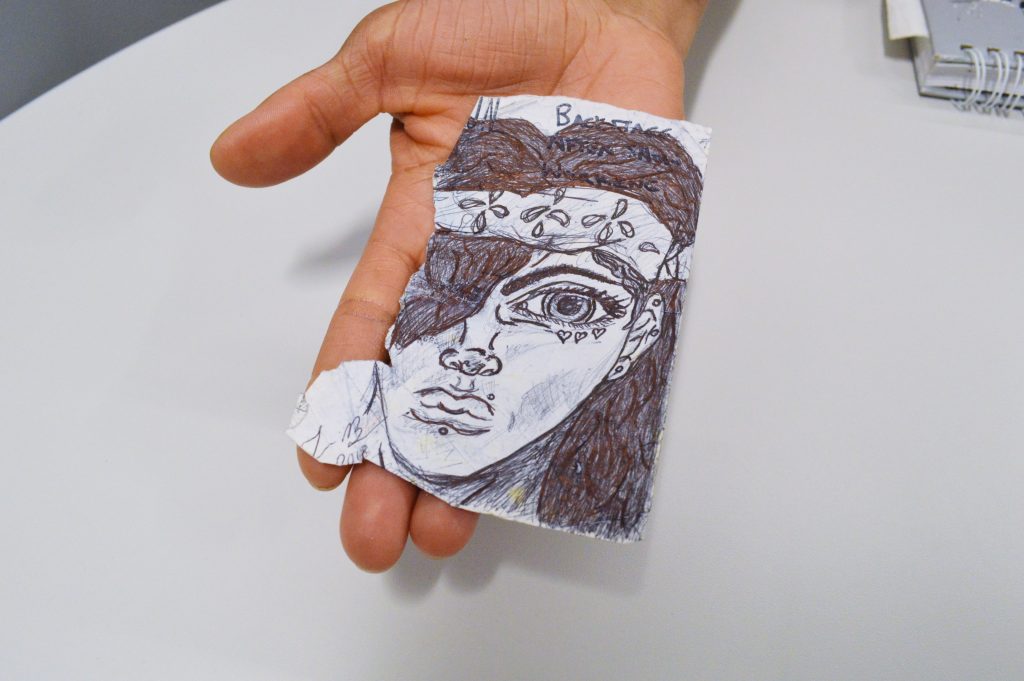 A delightful portrait of Ms. Lula Mae Thomas, our oldest and most mature GEC graduate, is within his portfolio. When describing this piece, Troy noted that Ms. Lula Mae is one of the people that inspired him to enroll at GEC. It's because of her drive, optimism and disregard for her age, that motivates him to keep on keeping on in school, no matter what obstacles block his path.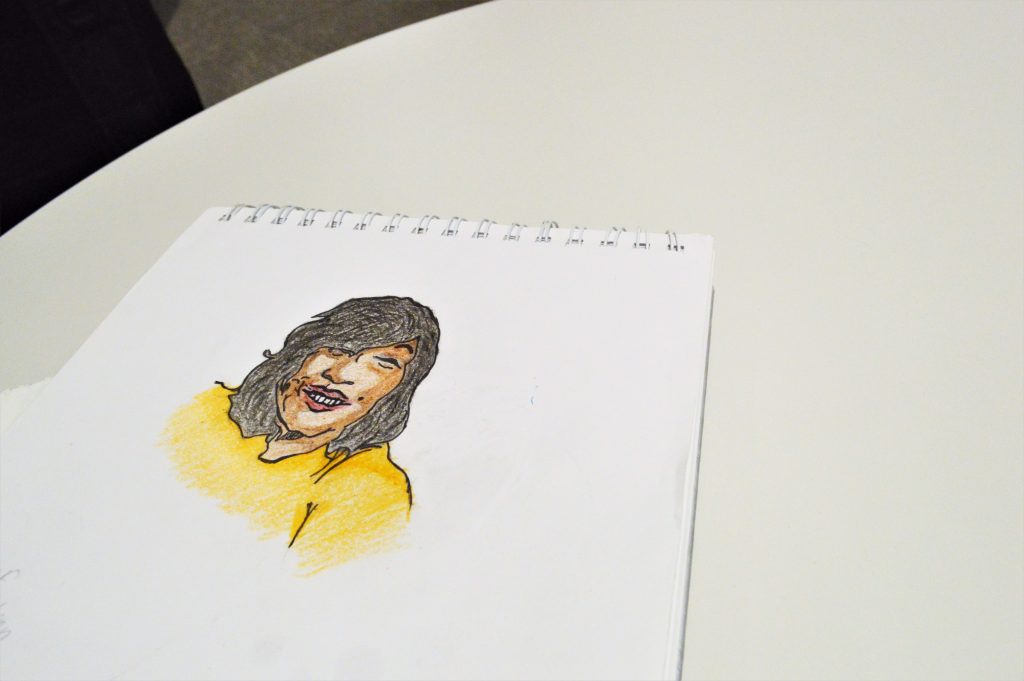 Poetry Through Beats
Late last year, we had the unique opportunity to see Troy rap at the first ever GEC Talent Show. With great courage and passion, he immediately captured audience attention. It would have surprised you to know that he recently got back into his practice after a substantive hiatus.
But now that he's back creating magic, there's no stopping Troy from writing, rapping and mixing.
Troy's notes that DC rapper Wale is one of his main sources of musical inspiration. This is not surprising. Just like Wale's work, Troy tells personal stories in his poetry, and unlike other rappers, his work is about the life path, as opposed to money, shopping and unnecessary consumerism.
Community collaboration is also a main part of Wale's practice that has Troy taking notes. He's always trying to unite DC communities, working with other artists to create even stronger more meaningful rap compositions.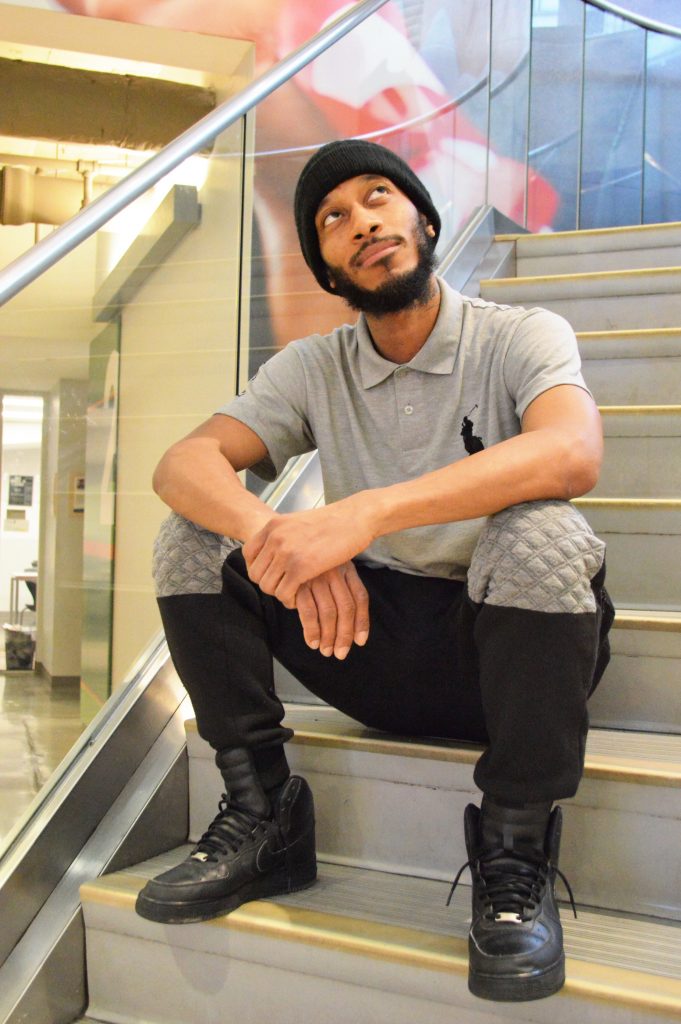 Journey to GEC
Years, perhaps even decades ago, Troy describes his previous outlook towards school as apathetic. He didn't really care about his education and he wasn't worried about it; there were other priorities in life that warranted his attention such as his mother's health.
Experiences at prior educational institutions also felt mandatory yet unnecessary – like he was going through the motions. And his attitude towards education didn't just come from within. His teachers didn't seem to care either, about Troy, or his growth as a young man just trying to find his way.
Due to other focuses outside of the classroom, Troy found himself in a state of angst, resulting in a fight at school that affected his record and subsequent years to come. It was this very situation that had a domino affect on Troy's future and attention to education, which was later reconstructed around the time he enrolled at GEC.
Now that Troy is back on track to earning his high school diploma, he now knows that school can now actually be a place of trust and growth.
"You live and learn."

Troy, about his journey through education
When it comes to education, Troy proclaimed that environment is everything and people need care and attention as they're finding their way through life as a teenager. At GEC, Troy feels that his needs are now met and that the teachers are actually invested in their students.
"It's more than a job. You need to have a support system at school to do well. Mentality is everything."

– Troy, about the his views on effective learning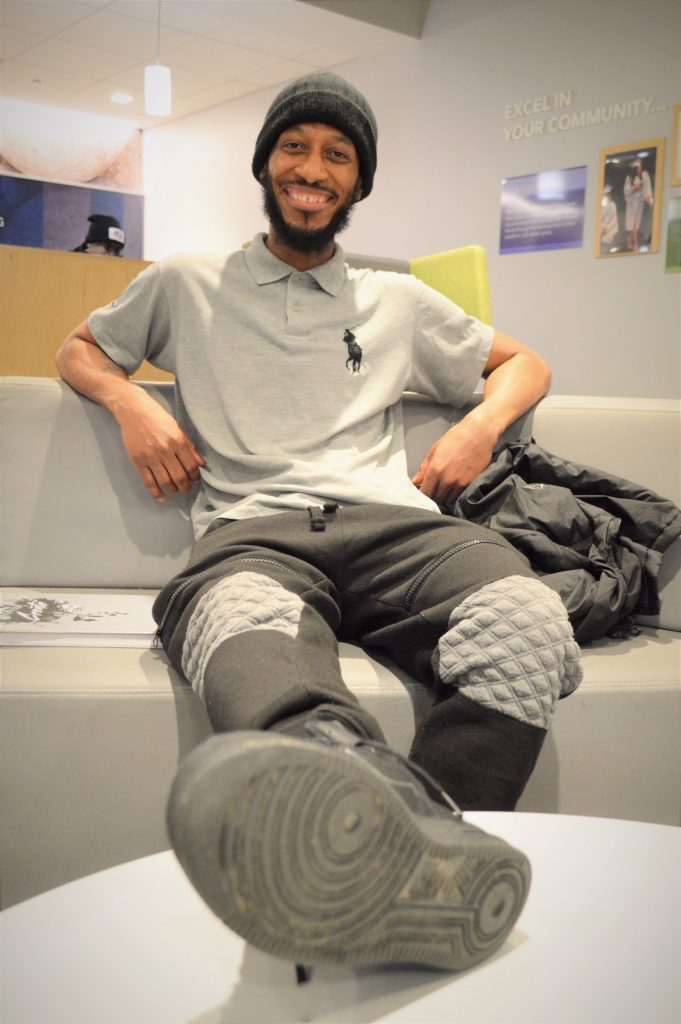 As a result of his renewed excitement for learning, paired with attentive guidance from his teachers and coaches, Troy is proud to announce that for the first time in a very long time, he's on the Honor Roll.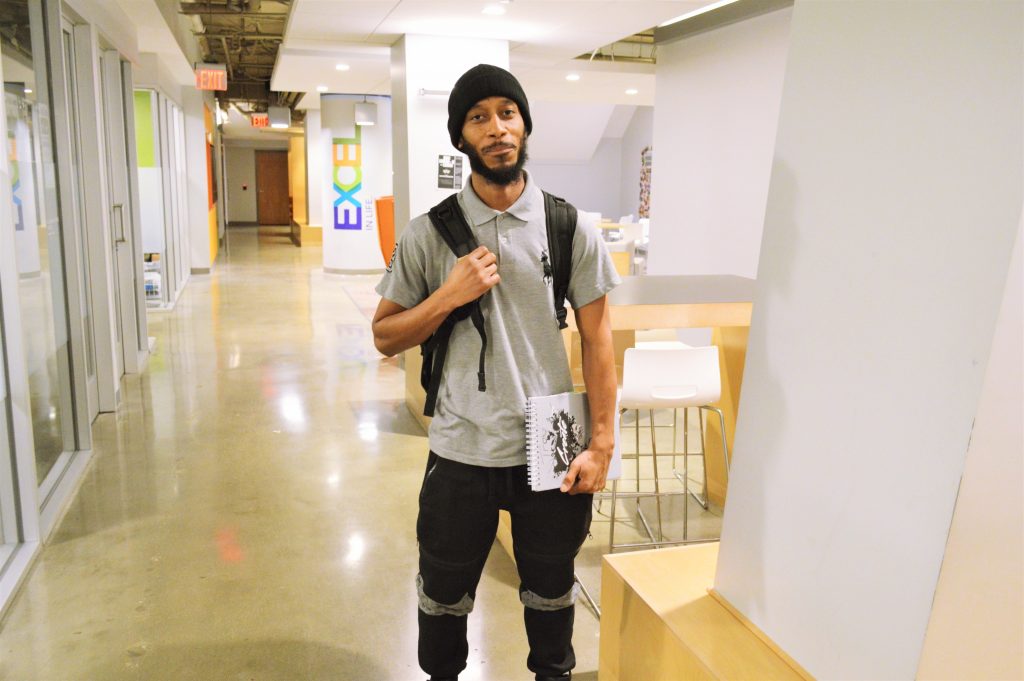 Troy has great relationships with fellow students. He sees that everyone has the same goal, to excel, to graduate. Everyone is super supportive. He doesn't want to go anywhere else – it was meant to be.
The Future Ahead.
Outside of being a GEC student, Troy works at MGM National Harbor where he is able to interact with the community and provide excellent customer service – something that he personally loves.
I love knowing everyone can have a good experience because of you. You have a true affect on someone's day, because of the details and paying attention.

– Troy explaining his love of Customer Service
Along with growing his Hospitality experience, Troy would like to study art within a higher education setting. With a now large portfolio of art, his goal is to land a scholarship. From what we've seen from the pieces he showed us, we think he's well on track to get the financial support that he's working towards!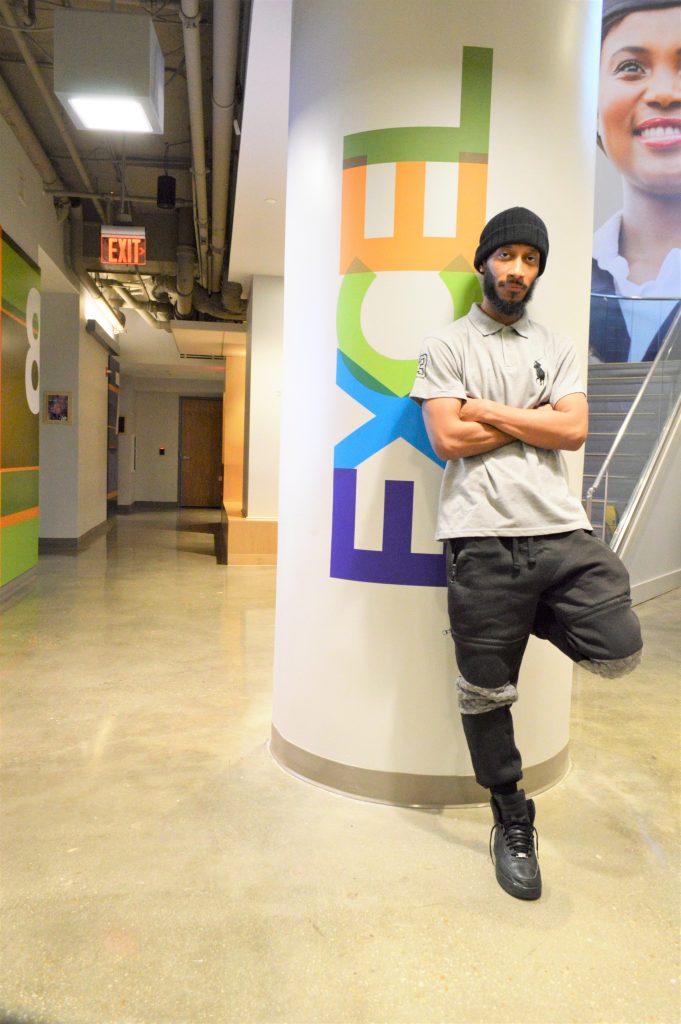 The Goodwill Excel Center (Goodwill's tuition-free diploma granting adult charter school) is lucky to have Troy, this artistic genius, within their student body. He can offer fellow students tips and tricks on how to keep on going even when the times are tough. He deeply knows that life is always changing, and that the daily delights of every day living can be the very thing that motivates you to keep on moving and keep on creating.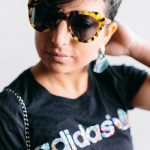 Carolyn Becker
A self-proclaimed thrifty spunky petite fashionista who works in the marketing field by day, and is an artist and musician by night. You can find her bragging about her designer Goodwill thrift finds on her Instagram: @petite_punk.