Make your home bloom with these simple flower arranging tips!
Given the recent beautiful weather, gardens are sprouting right and left. Celebrate Mother Nature by creating works of art with flowers by following these simple tips. This blog was inspired by my wonderful friend Mwende who surprised me today with a big bouquet of flowers. Each time I see them, it makes me happy because of their beauty and fragrance and that they were given out of love! You will be happy, too, when you follow these easy tips!
1. Go gaga at Goodwill for gorgeous glassware
After just one stop at your local Goodwill store to hunt for glassware and I promise that you will never buy vases anywhere else. For just a few dollars, you will have a wide selection of glass and ceramic vases, as well as ones made of pottery, that are perfect for this project.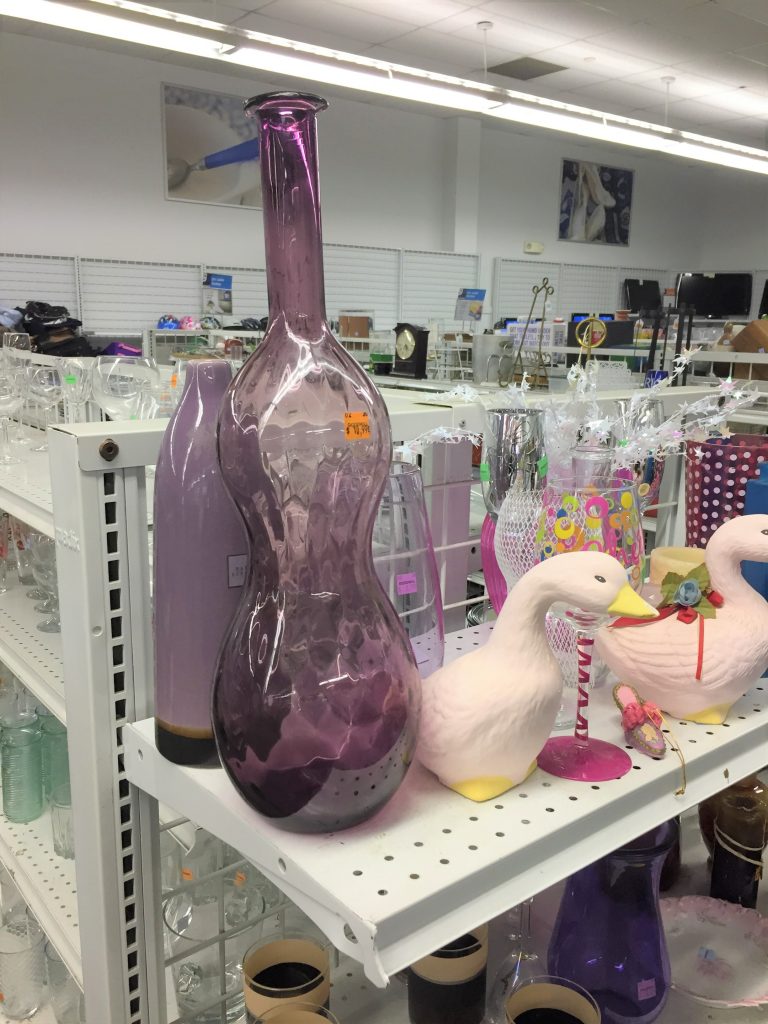 And any style of vase always timeless look when holding fresh flowers. Over the years of shopping at Goodwill, I have picked up a variety of vases, some of which I have "upcycled" with paint and even belts. Most recently, I scored big by finding several very tall black ones with a small opening for just a few flowers. These helped to make a big statement when used for flower displays at my church, Unity of Washington, DC, where I and others provide arrangements each week.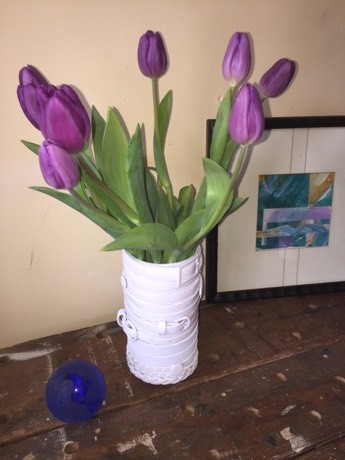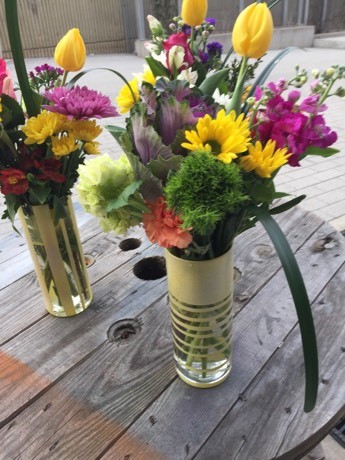 You can also have fun with your vase choices by repurposing old tea pots, small buckets and even rubber boots as containers to hold your blossoms.
What good will you find during your next Goodwill shopping trip?
2. Fill with water & greens
Now that you have your lovely vase, fill it with fresh water and, if possible, greens. What are greens? They could be clippings from bushes, like the boxwoods I have in my yard, or bundle of the small fern-like leaves you pick up where you buy your flowers.
Cut these into pieces to fill in the top part of your vase and help to create a foundation for the flowers.
In addition to helping to support the flower stems, greens always look so nice and fresh.
If you have any flower preservative, add it now.
Also, consider adding a small splash of bleach to your water to help keep it smelling fresh.
3. Cut, clip, insert your flowers
To create a floral arrangement that will make Martha Stewart proud, remove your flowers from the store wrappings.
Next, give them a fresh cut using your scissors, so they easily drink up the water and keep looking nice.
Place one flower in the center of the vase, then work your way around it, filling in with other flowers going from front to back, side to side.
If your bouquet is comprised of a variety of flowers, you will want to start this step with the same flowers using them all and spacing them out.
Then move to the next kind, spacing them out, too. Don't be afraid to turn your vase around as you go so that you place the stems in spots throughout the vase.
Position them at various heights, too.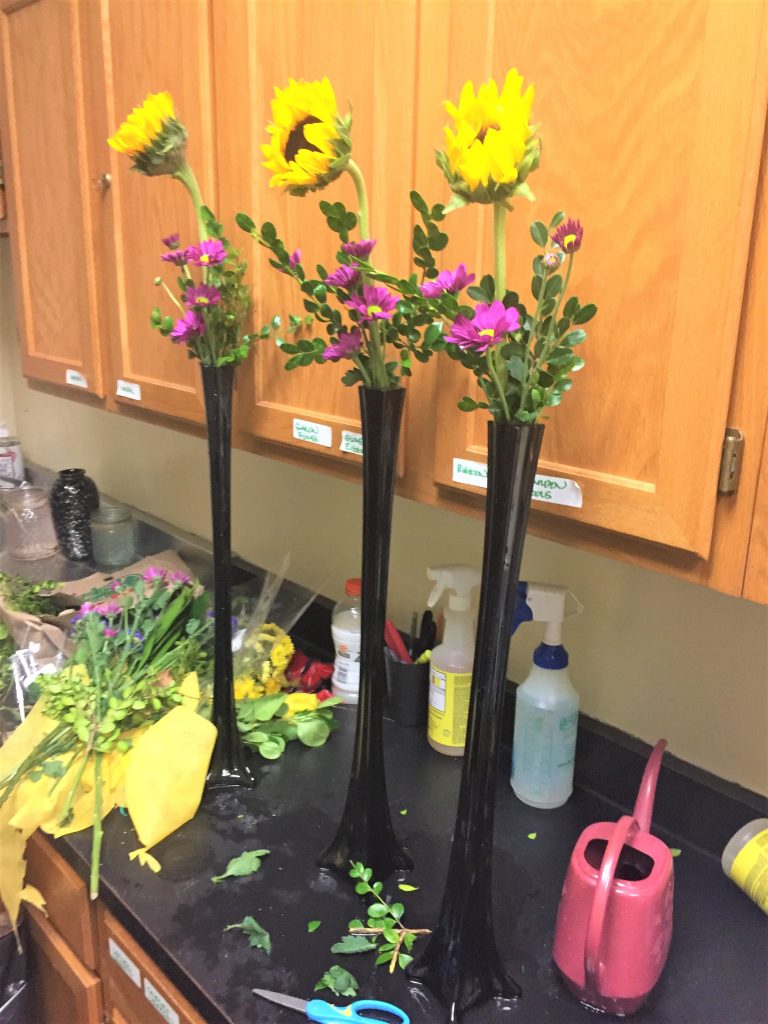 Expert Tip: One thing that drives me crazy, flower-arranging wise, is when people are given a store bought bouquet and all they do is remove the wrappings and plop the whole thing, all together at the same time, into a vase. By taking just a few moments to add one flower and one stem at a time to your vase and spacing them out, your arrangement will look fuller, more balance and more beautiful. And it's fun!
If you are adding flowers to several vases and want them to match and look cohesive, add greens to each vase then add one flower to each vase and keep repeating this step (add another flower to each vase, and another, and another) so that way your bouquet or bouquets are lovingly spread out among each container. Given that this is nature, don't worry if each arrangement is perfectly balanced. I find an organic feel follows Mother Earth.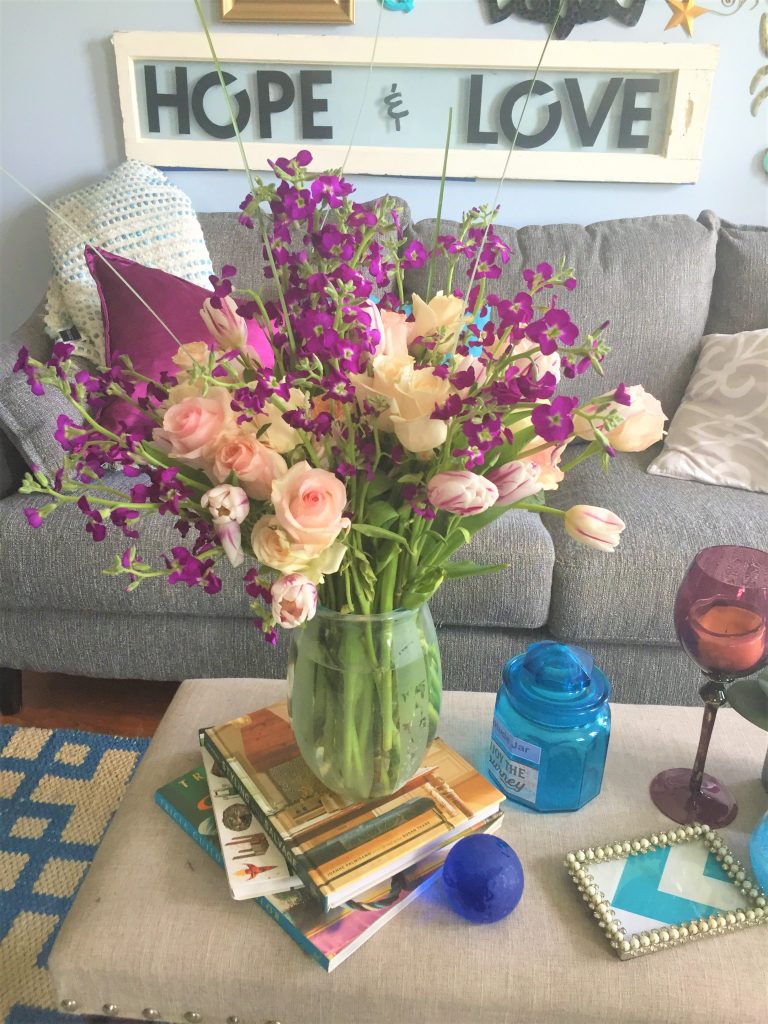 4. Add visual delights
Once all your flowers are in place, consider adding tall twigs, branches or other decorative touches to the arrangement. What about tree branches with small buds or a clipping from a pussy willow tree? Beautiful! How about peacock feathers? Perfect.
I recently found some silk butterflies on wires that were charming accents. Given that Easter is coming up, you could add cardboard bunny cut outs or Styrofoam eggs to add some whimsical fun.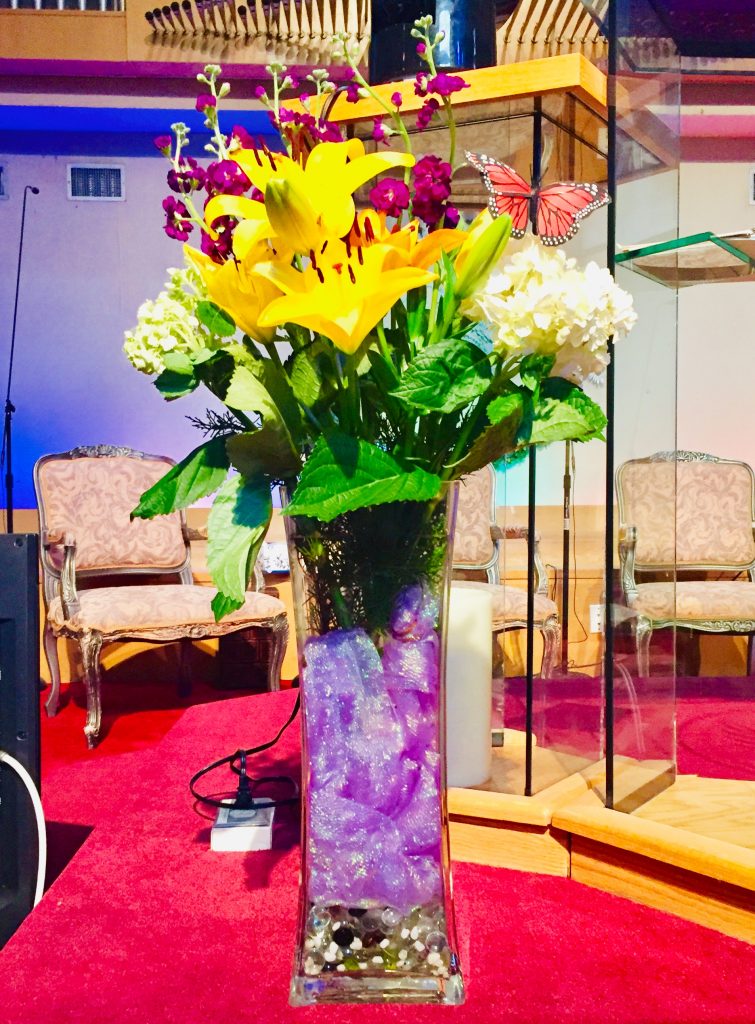 On Martin Luther King Jr.'s birthday, I added several of his most famous quotes to the arrangements I created for my church.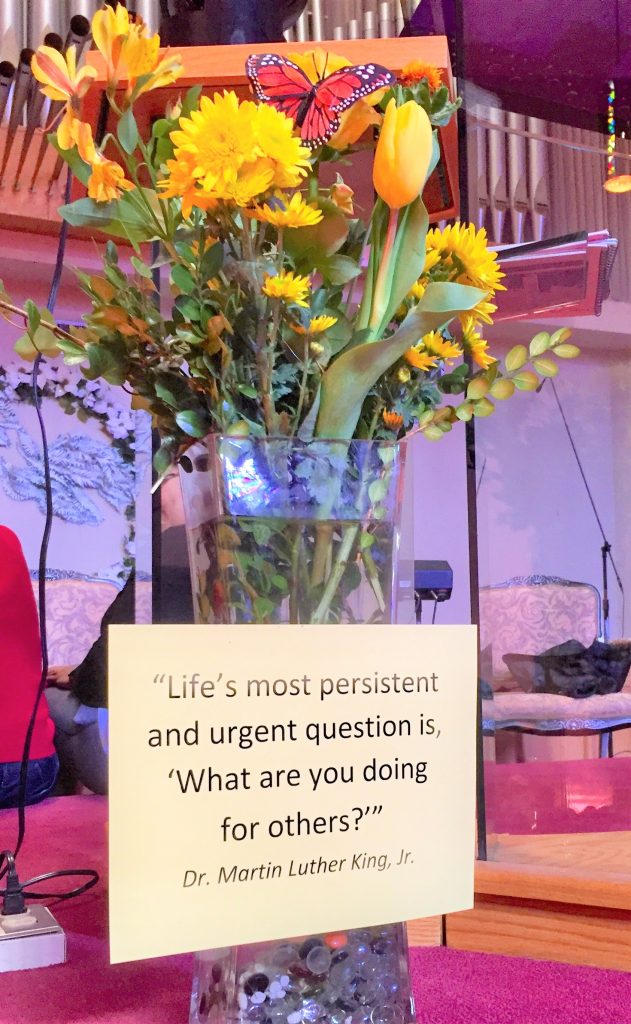 You would wrap an old silk tie around the vase for Father's Day.
Have fun and think outside the box—or outside the vase. These unexpected or unusual details will make your arrangement feel very special and unique.
Design Idea: If you have a clear vase, consider adding whole lemons, oranges or apples to the water. Clearly this would need to be done before you add your greens, above at Step 2. This special pop of color will also add extra visual interest to your overall arrangement and make it even more memorable! You could also add fabric or colored plastic, too, to the water to weave in more color to a clear vase.
5. Keep an eagle eye on your arrangement
After you have followed the steps above and created a flower arrangement that makes you happy, you will want to keep an eye on it over the next several days to extend its life as long as possible.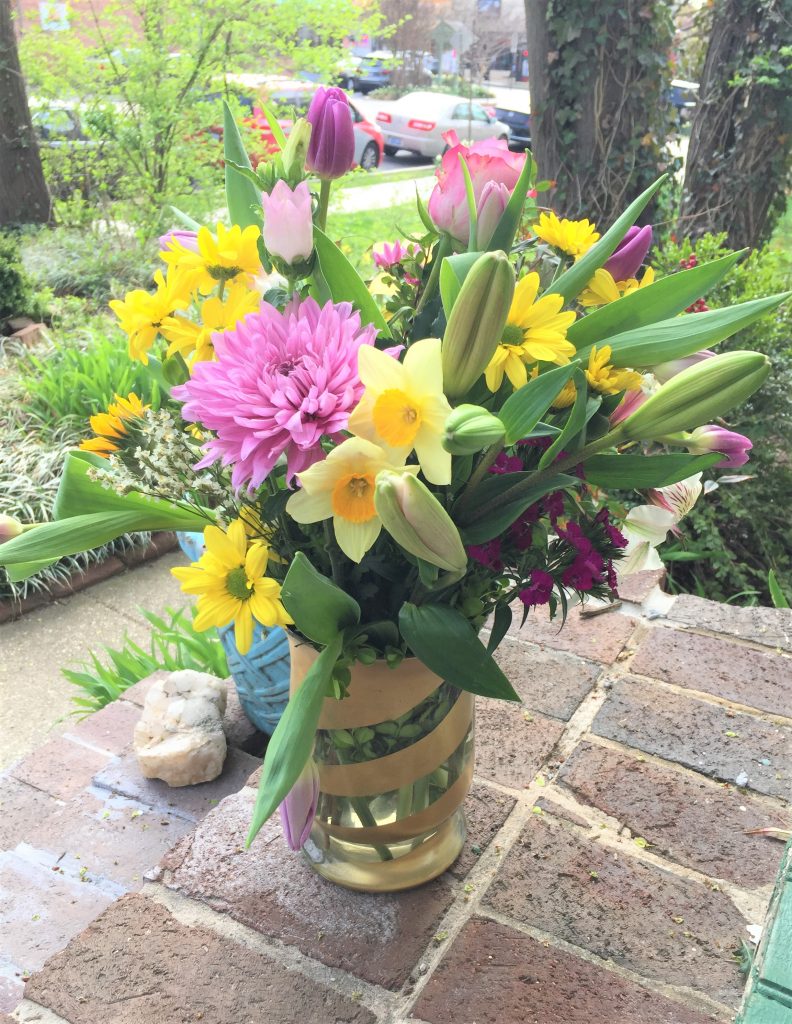 Ensure you add fresh water on a regular basis. You might want to clip the flower stems again so carefully remove them one at a time, cut and return to position. And don't be afraid to re-arrange your arrangement as flowers fade away. Toss out the old ones and keep the others, possibly moving them to a smaller sized vase.
There is something so elegant and inviting about fresh flowers. Following these simple steps will ensure your arrangement is beautiful and welcoming for all who receive or see it.
And remember, men love to get arrangements, too. Thanks again to Mwende for the lovely flowers! You made my day!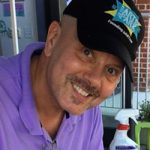 Tim Kime
Artist, Motivational Speaker, Life Coach
Tim Kime is an artist, life coach, connector. He is President of Kime Leadership Associates offering executive coaching, meeting facilitating and motivational speaking. He is also Chief Creative Force of Transformation Junkies which upcycles furniture and other household items into functional works of art. He combined his two passions—unleashing the potential in people and transforming items with the launch of the Art of Possibilities Workshops. These workshops are part upcycling, part dreaming, part goal setting.