Welcome to my first post on this blog! If you know me, you know I love jewelry. If you don't know me, my love of jewelry will soon become glaringly, glitteringly obvious.
Goodwill of Greater Washington is one of my favorite sources of jewelry, including their site on Shop Goodwill.
And while traditional jewels — made of gemstones, glass, and other materials — have their place, art glass has a special place in my heart. Especially dichroic (two-color) glass. Art glass is usually handmade and comes in every shape, size, color, shade, metallic, pattern, texture, and translucency (from perfectly clear to completely opaque); many art glass pieces combine two or more colors and/or other aspects. You can actually make art glass at home, especially small pieces like jewelry, if you have a space that is well-cooled and well-ventilated enough.
Art glass is best known in the form of vases, figurines, and other "tchotchkes" or knick-knacks (small decorative items). But it has long and increasingly been used to put the jewels — and beads — in jewelry. Art glass is usually set in sterling or gold, but pieces are available in all other metals and metallic finishes as well. Art glass "jewels" are sometimes combined with gemstone and/or glass jewels in pieces of jewelry. There are some fabulous pendants where the largest "stone" is art glass, and the secondary ones are natural stone or colored glass in coordinating colors.
One of the oldest, most famous, and popular sources of art glass, including jewelry, is the Italian island of Murano; when you hear "Murano glass", or "Murano-style glass", that's what they're talking about. While Murano jewelry is very distinctive, and therefore rather expensive, there is now so much of it that it is relatively easy to thrift.
Dichroic glass (or "dichro") is art glass that includes thin layers of metals and/or oxides, enabling the glass piece to display two or more colors, and/or iridescence, depending on the viewing angle and lighting. It's so beautiful and magical.
Not only can you recreate any naturally occurring jewel in art glass, but you can also create many others! Have you ever wished some of the jewels in science fiction and fantasy were real? They are!! And, they're affordable.
Dichroic glass isn't the easiest thing to explain, or photograph — due to its color-changing nature, it's better seen via video, and best in person. But, once you see it, you'll get it, and not forget it. And, you'll probably want to start collecting it or continue adding it to your collection. I have a collection of dichroic glass necklaces, pendants, earrings, and rings, which I hope to share with you in a future post. I am hoping to thrift some bracelets soon.
Here's the centerpiece of my collection — the incredible dichroic glass bib necklace I got at our Goodwill of Greater Washington right here in Gaithersburg!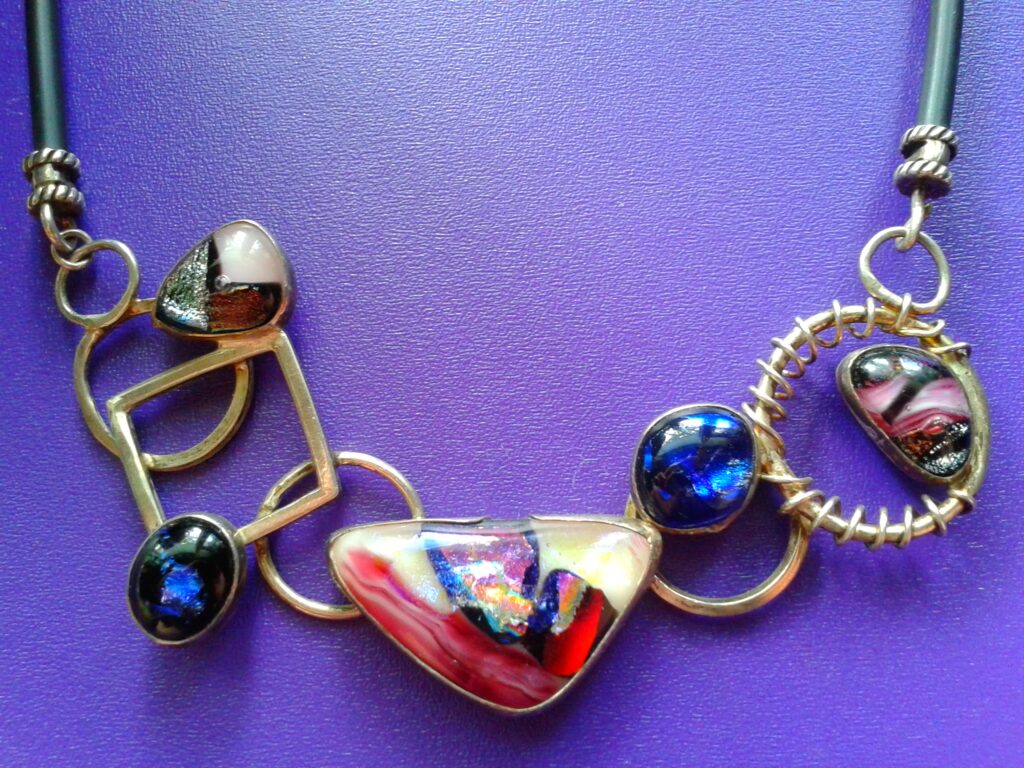 And here's the very pretty necklace I got at a Finding Your Good Meetup at the Goodwill of Greater Washington next door in Rockville — an unusually shaped pendant, handmade into a necklace with ribbons, pewter-tone findings, and beads.
Along with three rings — I got two of them during the same visit (!) to our Goodwill here in Gaithersburg, and it reminded me that I had a loose dichroic glass jewel in my bead box. So, I bought a stretchy silvertone ring "blank" just like the other two rings here used and glued my loose jewel onto it just like someone had done with those.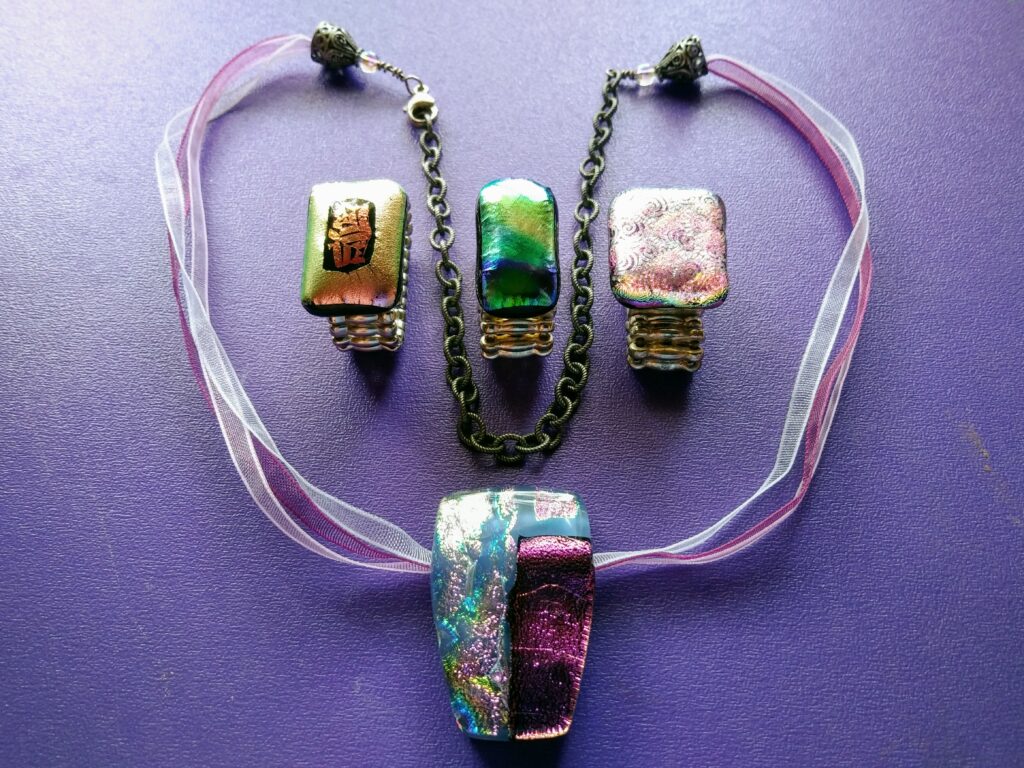 And here's a trio of dichroic glass pieces I got on DC Goodwill's Shop Goodwill site this year — two wire-wrapped pendants and a loose "stone".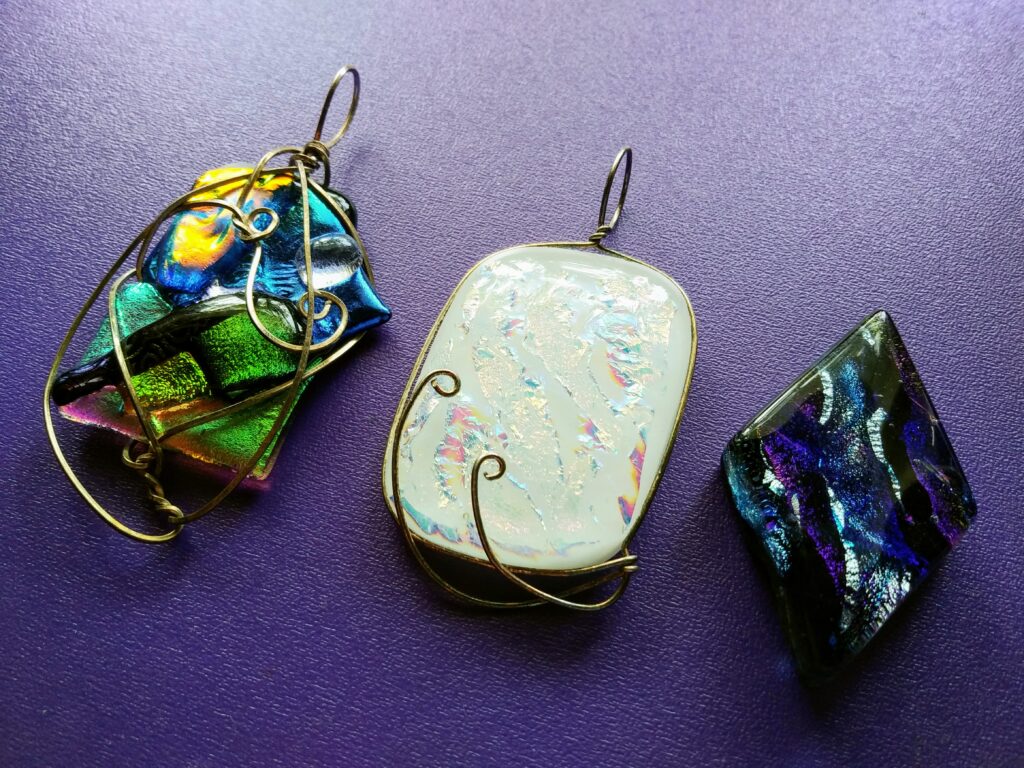 The first is a good example of fused glass — two or more pieces of art glass stuck together when the glass is still warm enough to be soft. The second is a wonderful imitation of opal (and exponentially less expensive). The third is in shades of my favorite color — purple!
As I mentioned in regards to my rings, loose dichroic glass jewels are great finds. You can glue them into a metal setting or glue on a bail, wrap them in wire, use them in another kind of art or craftwork, add them to a display or altar, carry them with you as a "worry" stone, and more.
Speaking of wrapping up, let's do so by taking a look at a few of the dichroic glass jewelry items I was tempted by on DC Goodwill's Shop Goodwill site this year.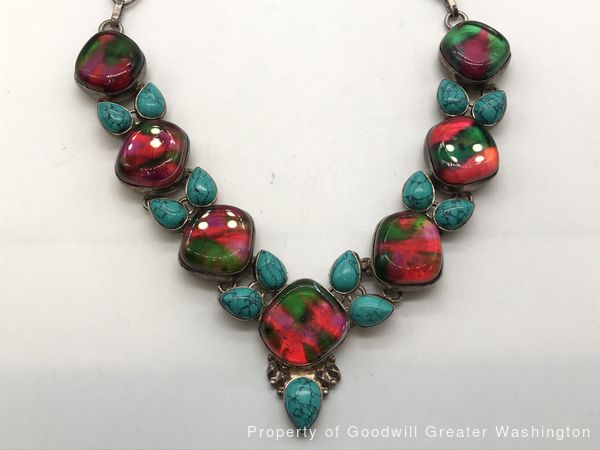 A necklace of seven dichroic glass jewels and 13 howlite cabochons dyed to look like turquoise, all set in sterling.
https://www.shopgoodwill.com/Item/126031225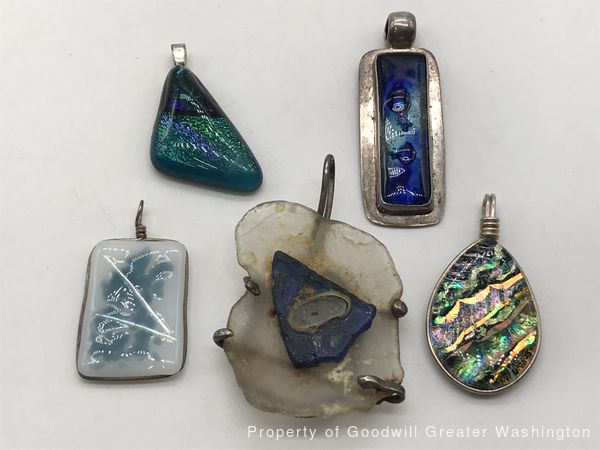 A lot of five handmade pendants — three dichroic glass, three other art glass, and one sea glass.
https://www.shopgoodwill.com/Item/125110336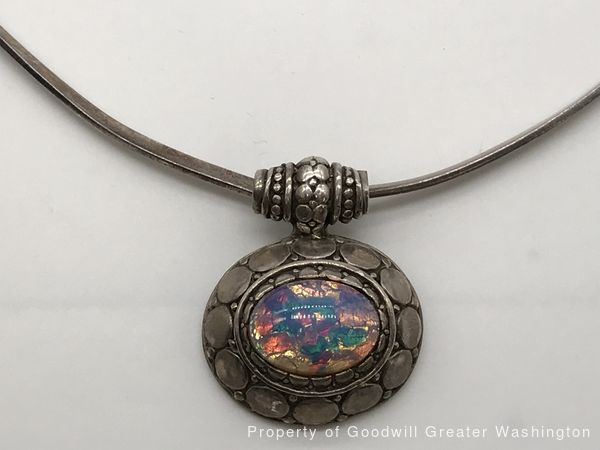 A vintage necklace — a dichroic glass jewel set in a detailed Mexican sterling pendant on a simple sterling torc.
https://www.shopgoodwill.com/Item/125805355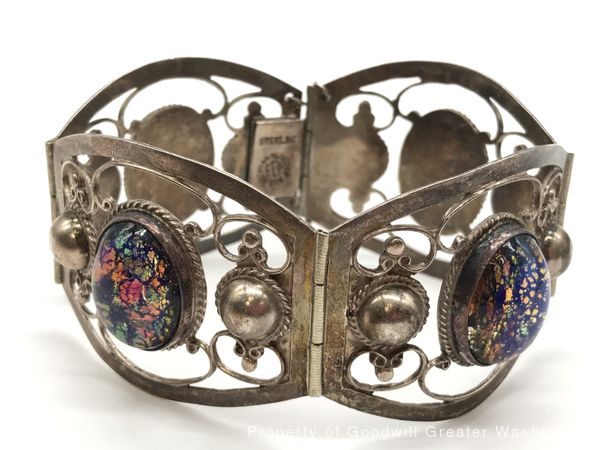 A coordinating vintage bracelet — four dichroic glass jewels set in a large, intricate Mexican sterling openwork cuff.
https://www.shopgoodwill.com/Item/126427634
I hope you enjoyed this glimpse at my favorite form of glass! I thought it would make a strong, sparkling start to my blogging here. I also adore Roman glass, stained glass, glass mosaics, and sea/beach glass. So, I'm sure you'll be seeing those in my future posts. Until then, happy glass gathering!
About our fabulous guest blogger: